For what to serve with chicken, take a look at this list of easy and delicious side dish recipes that pair well with this classic protein! Whether you like your chicken grilled, baked, seared, or fried, I have all the best side dishes for turning it into an incredible meal. From noodles to vegetables and everything in between, there's something here for everyone!
Recipes That Go With Chicken
Chicken is one of the most used proteins in the world. In fact, it comes in second only to pork with about 44 billion pounds of chicken produced annually in the U.S. alone!
It is partially due to chickens' incredible versatility! It can lend itself to a wide variety of flavors and textures making it an easy choice for dinner any day of the week. The next time you have chicken on the menu, be sure to try out some of these delicious complementary side dishes!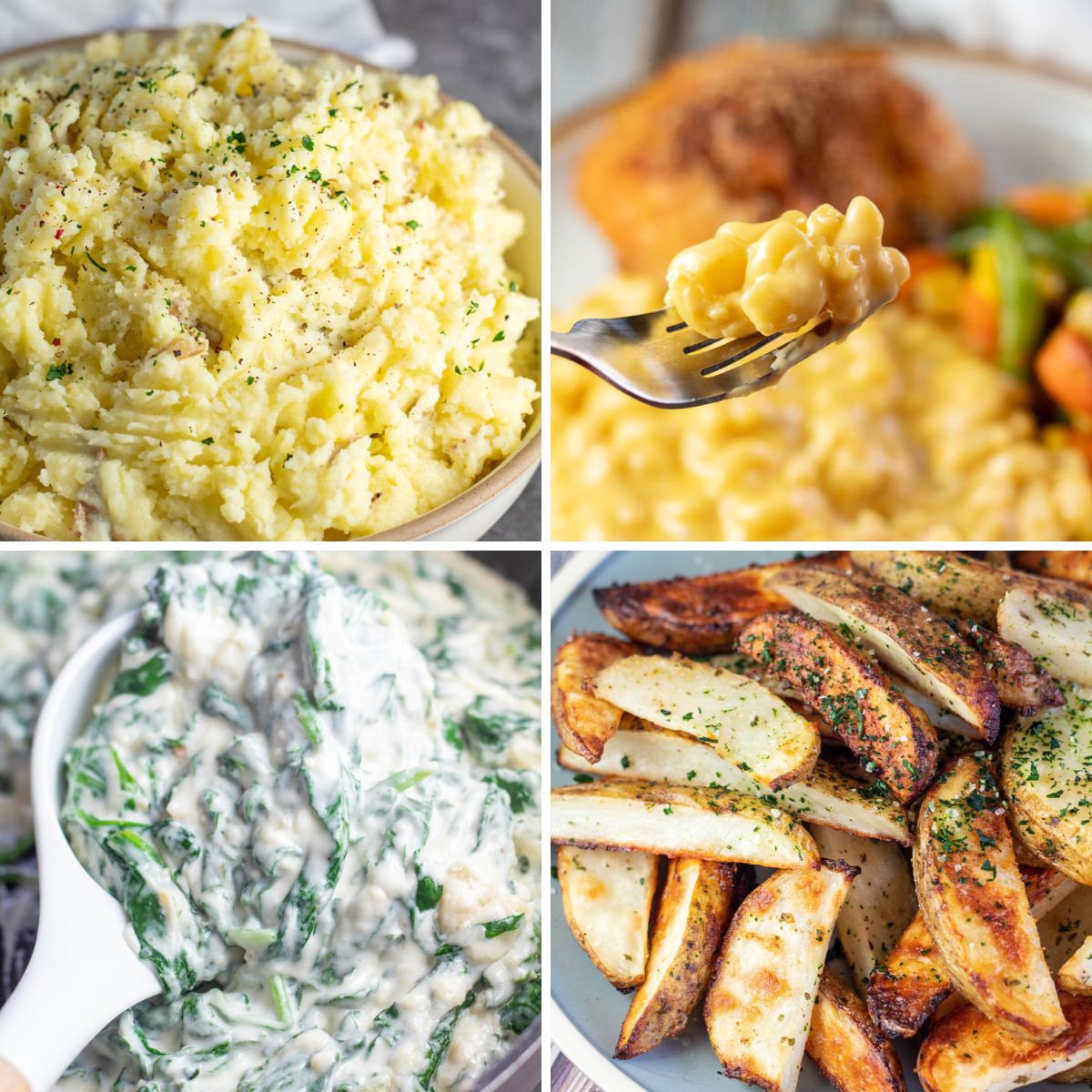 Jump to:
Sides To Serve With Chicken
Most vegetables and starches pair wonderfully with chicken in all of its forms. You can enjoy lighter pairings like broccoli and creamed spinach or go for comfort food with macaroni and cheese or mashed potatoes. No matter what you choose, it will be delicious!
1. Yellow Mashed Potatoes
Yellow potatoes are naturally buttery and make for some incredibly creamy mashed potatoes. All you need is a few simple ingredients and about 25 minutes of time!
2. Sauteed Green Beans
Sauteed green beans are a simple vegetable side dish that can be whipped up in just 10 minutes. You don't even have to blanch them!
3. Creamed Spinach
Creamed spinach is a classic steakhouse side that pairs wonderfully with grilled chicken. It is rich and creamy, plus you can make it in about 30 minutes!
4. Ranch Roasted Potatoes
Everyone knows potatoes and chicken go together in more ways than one. Sure you can go with french fries, but I prefer these roasted potatoes tossed with dry ranch mix. They are crispy on the outside but fluffy on the inside and full of flavor!
5. Wedge Salad
Elevate your salad game by serving a large wedge salad as an appetizer or to accompany your chicken. I make mine with blue cheese dressing, bacon, and tomatoes, though you can certainly play around with your topping choice!
6. Steamed Broccoli
Steamed broccoli is always a delicious (and nutritious) side dish choice when serving chicken. You can keep it simple with salt & pepper or play with flavors and add some cheese sauce or lemon butter!
7. Velveeta Mac and Cheese
This ultra-creamy 20-minute mac and cheese is always a hit with kids. It's also a one-pot recipe, so cleanup is a breeze!
8. Cauliflower Mac and Cheese
This low-carb version of mac and cheese made with cauliflower is just as indulgent and satisfying as the real thing. It is loaded with sausage, 3 kinds of cheese, and crushed pork rinds for added crunch!
9. Boiled Potatoes
It is incredibly easy to make these tender baby potatoes. They are buttery and perfectly seasoned with only a few ingredients!
10. Creamed Corn
In just 15 minutes you can make some sweet and creamy creamed corn! It pairs well with fried, grilled, or baked chicken, so no matter what's on the menu, creamed corn is a great choice!
11. Sour Cream Cornbread
Any type of cornbread will pair with chicken, but this recipe made with sour cream is extra moist and fluffy! Cornbread can be used to soak up soups or sauces, or you can keep it simple with a pat of butter.
If you don't have sour cream, try my Jiffy cornbread without it!
12. Air Fryer Asparagus
You can roast, bake, or saute asparagus but it doesn't get easier than cooking it in the air fryer! This is a great way to get some nutritious green vegetables on the plate with little effort.
13. Turmeric Rice
Yellow turmeric rice is a great choice if you are cooking with Middle Eastern or Indian flavors. It's fluffy and aromatic, plus it is a good way to introduce some new flavors to your family!
14. Potato Salad
Potato salad is an American classic that pairs wonderfully with chicken no matter how you cook it! In my recipe, I use gold or red potatoes with a simple blend of seasonings that gives this potato salad the perfect balance of creamy and tangy.
15. Pan Seared Brussel Sprouts
You will love these easy pan-seared brussel sprouts for making a nutritious dinner in a snap. They get lightly caramelized and crisp on the outside but stay tender on the inside!
16. Fettuccine Alfredo
Chicken fettuccine alfredo is an Italian classic! You can serve it on the side of your chicken or you can slice or dice your chicken and toss it with the pasta and alfredo sauce.
17. Refried Black Beans
Refried beans can be served with whole chicken breast or thighs or you can use them to accompany chicken tacos or enchiladas! It's a restaurant-quality side dish that I often serve with my restaurant-style Mexican rice and homemade tortillas.
18. Sweet Potato Fries
Crispy sweet potato fries are a nice alternative to traditional french fries. Don't worry, they are just as tasty in all your favorite dipping sauces!
19. Breaded Okra
Breaded okra and fried chicken are a match made in heaven. Both are delicious dipped in country gravy or homemade ranch dressing, too!
20. Greek Salad
A cool and refreshing Greek salad will pair wonderfully with baked or grilled chicken! The crispy vegetables, salty olives, and feta cheese are coated in a homemade Greek dressing which is incredibly easy to prepare.
21. Honey Roasted Carrots
Even the kids will get excited about honey-roasted carrots! They are delightfully tender and perfectly sweet, which is a surefire way to get everyone to eat their veggies.
22. Southern Coleslaw
Creamy, crunchy coleslaw is the perfect way to dress up sandwiches and tacos! You only need about 5 minutes, a head of cabbage, mayonnaise, apple cider vinegar, and some seasonings.
23. Roasted Yellow Squash
With a little garlic powder and Parmesan cheese, you can easily make some super-flavorful and perfectly tender yellow squash! You could also try serving your chicken dinner with my creamy yellow squash soup!
24. Southern Fried Corn
Not only is Southern fried corn easy to make, but it is buttery and filled with bacon! Also, you can totally use canned corn to cut down on prep time.
25. Sauteed Mushrooms and Onions
Sauteed mushrooms & onions are a versatile side that can be eaten on their own, used to top off a grilled chicken breast, or mixed into rice or pasta. It's a great quick way to add some savory flavor to any meal!
26. Fried Cabbage
Pan-fried cabbage is a classic Southern side dish that is surprisingly full of flavor for how simple it is! The cabbage becomes tender and buttery which makes a wonderful contrast to the salty chunks of bacon.
27. Microwave Cauliflower
You can quickly make perfectly fork-tender cauliflower in your microwave! You can dress it up with seasonings or cheese, or enjoy it with a simple dash of salt & pepper.
I hope my recipe ideas has helped you decide what to serve with chicken for lunch or dinner! Let me know which side dishes you chose in the comments below!
>>>>See all of my recipes HERE<<<<
🍗 Tasty Chicken Recipes
📋 Recipe