Knowing how to scald milk quickly for mashed potatoes is a crucial trick to ensure you have light and fluffy potatoes! In this article, I'm going to show you how to quickly and easily scald milk for any recipe! Trust me, it is worth the extra effort!
Scalding Milk For Mashed Potatoes
Making mashed potatoes is a pretty straightforward process. However, some small details make the difference between standard mashed potatoes and delicately fluffy and creamy perfection!
One of those important details is the use of scalding milk. While it may not sound like much, I'm about to tell you why it matters and how to do it quickly!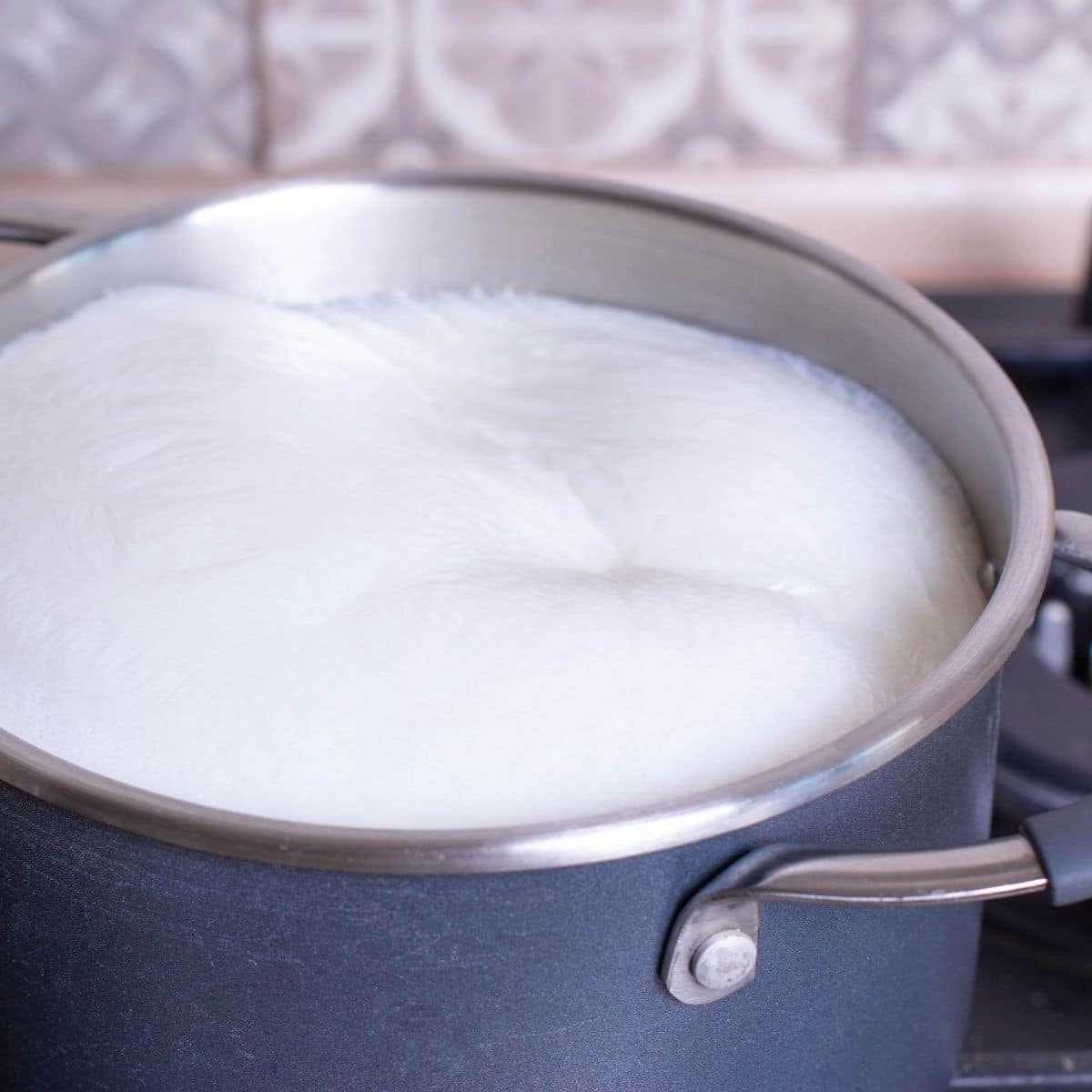 Jump to:
Why Should I Scald Milk For Mashed Potatoes?
Scalding milk is the process of heating milk in a saucepan until it is almost boiling and then letting it cool. While this may seem like it wouldn't make a difference in your mashed potatoes, it is actually a very important step!
When making mashed potatoes, it is crucial to add hot (scalding) milk to your potatoes and not use milk that is straight from the fridge. When hot, the potatoes absorb the milk better and you won't accidentally overmix them.
Overworked potatoes can get a gluey and gummy consistency that is hard to swallow. This is exactly why you should never use a food processor to mash up your potatoes- it overmixes them!
How To Scald Milk On The Stovetop
To scald your milk quickly, I suggest using a heavy-bottomed skillet for the best results. You could also use a wide and shallow saucepan, but the milk will heat up much faster due to the larger surface area.
To get started, add your cold milk to your saucepan and then heat it over medium heat, stirring frequently.
The milk is scalded once bubbles begin to form around the skillet's edges and the milk reaches a temperature of 180-185°F (82-85°C).
How To Scald Milk In The Microwave
Using the stovetop is my preferred way to scald milk, however, you can do so in the microwave. In the microwave, you'll have less control over the temperature and it's not as easy to keep an eye on the milk.
Pour your cold milk into a large microwave-safe container.
Place a wooden spoon across the top of the container to prevent the milk from scorching.
On 50% power, heat the milk in 30-second increments, stirring between each interval and keeping an eye on the temperature.
Other Recipes That Use Scalded Milk
Bread, cakes, or ice cream recipes may call for scalded milk to be used. It's important not to skip this step for various reasons.
For bread recipes, the whey in milk can prevent the yeast from rising. Scalding the milk weakens the whey and helps to ensure that the yeast will rise. In fact, it actually causes the yeast to rise faster!
Scalded milk absorbs and enhances flavors! Whether you add vanilla, coconut, lemon, or any other spices, the milk will take on the flavor. This is a critical step for making a perfect ice cream base!
In cake recipes, scalded milk will quickly and efficiently melt butter and dissolve sugar.
Tips For Scalding Milk
While the milk is heating, make sure you are stirring frequently as milk can burn easily.
You'll know your milk is scalding when the small bubbles form around the edge of your saucepan. If the milk comes to a boil, you've cooked it for too long.
The hot milk can be added directly to your potatoes. However, if using another recipe, scalded milk is typically required to be cooled to about 110°F (43°C).
If used for baked goods, a temperature of 138°F (59°C) will kill the yeast, so make sure it is properly cooled.
You can only scald milk that contains dairy. Non-dairy milk (such as almond milk) doesn't contain the same proteins.
Sometimes a recipe will include the process of scalding, so it will factor in any evaporation loss. If it doesn't, it is best to measure out your milk after it has been scalded (so add more than you need to begin with).
Now you know how to scald milk quickly for mashed potatoes or any other recipe! Use scalded milk to ensure you have the fluffiest mashed potatoes possible!
🥔 The BEST Mashed Potato Recipes!
📋 Recipe
Print Recipe
Leave A Comment
Love This Recipe?
Click On A Star To Rate It!
How To Scald Milk Quickly For Mashed Potatoes: Instant Pot Mashed Potatoes
Knowing how to scald milk quickly for mashed potatoes is a crucial trick to ensure you have light and fluffy potatoes! In this article, I'm going to show you how to quickly and easily scald milk for any recipe! Trust me, it is worth the extra effort!
Pin Recipe
Share on Facebook
Ingredients
Instructions
Add water to your Instant Pot until it is about 1" deep. (This should take no more than 1 ½ cups of liquid -*see note).

Salt the water with 1 teaspoon of salt and add the prepared potatoes to your Instant Pot.

5 lbs russet potatoes,

1 teaspoon salt

Set the valve to 'sealing', then press the 'manual' button to set your Instant Pot or pressure cooker to 12 minutes.

The Instant Pot will take some time to come to pressure and once it does, let it cook until the timer runs out.

When the cooking time is up, switch the valve to the 'venting' position. *If spattering happens, turn the valve back to 'sealing' then wait a moment and try again.

After the Instant Pot is done 'venting', carefully open the lid and add the milk, butter, and salt & pepper to taste. Use a potato masher or a ricer to finish mashing the potatoes to your desired consistency.

½ cup milk,

¼ cup butter,

each, salt & pepper

Transfer to a serving dish or portion out and serve immediately.
Equipment You May Need
Notes
You are aiming for 1" of water or broth on the bottom of your Instant Pot. How much liquid that takes will depend on the model of your air fryer. So, start with 1 cup of liquid, but don't use more than 1

½ cups total.

If using broth instead of water, adjust (reduce) the salt accordingly.
See post for scalding the milk used in this recipe to make the very best instant pot mashed potatoes ever.
You could also use Yukon Gold potatoes in this recipe. Their skin is more tender which makes them ideal for skipping the peeling process if desired.
For garlic mashed potatoes, add a few garlic cloves to the potatoes before cooking. After cooking, just mash everything together!
To store: Place leftover Instant Pot mashed potatoes in an airtight container and enjoy within 3 days. Once cooled, leftover potatoes can be frozen in a heavy duty freezer bag or airtight container for up to 3 months. Thaw in the fridge before reheating.
To reheat: Put the leftover mashed potatoes in a baking dish with some extra butter or milk and cover with foil. Bake at 350°F (175°C) until warmed through, usually 20-25 minutes. I like to give it a mix halfway through and add more liquid if needed. Once hot, stir and serve. Alternatively, individual portions can be popped in the microwave.
Nutrition
Calories:
227
kcal
(11%)
|
Carbohydrates:
42
g
(14%)
|
Protein:
5
g
(10%)
|
Fat:
5
g
(8%)
|
Saturated Fat:
3
g
(19%)
|
Polyunsaturated Fat:
0.3
g
|
Monounsaturated Fat:
1
g
|
Trans Fat:
0.2
g
|
Cholesterol:
14
mg
(5%)
|
Sodium:
286
mg
(12%)
|
Potassium:
965
mg
(28%)
|
Fiber:
3
g
(13%)
|
Sugar:
2
g
(2%)
|
Vitamin A:
164
IU
(3%)
|
Vitamin C:
13
mg
(16%)
|
Calcium:
47
mg
(5%)
|
Iron:
2
mg
(11%)
holiday side dishes, how to scald milk, Instant Pot Mashed Potatoes, potato recipes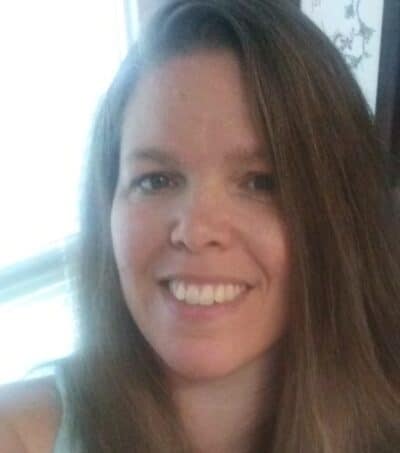 Angela is an at home chef that developed a passion for all things cooking and baking at a young age in her Grandma's kitchen. After many years in the food service industry, she now enjoys sharing all of her family favorite recipes and creating tasty dinner and amazing dessert recipes here at Bake It With Love!