If you want to know what to serve with Cajun shrimp, check out this list of delicious side dishes that will help you complete your meal! These recipes all complement the zesty Cajun flavors from the shrimp and are sure to make your meal perfect! Whether you're looking for a vegetable dish to serve on the side or a hearty meal to add your shrimp to, I've got the recipes you need!
The Best Dishes To Serve With Cajun Shrimp
My Cajun shrimp is super quick to make and is overflowing with flavor! They can be eaten by themselves as a snack or appetizer, or you can pair them with another dish to make a complete, delicious meal!
I've put together this list of what to serve with Cajun shrimp to give you some ideas for what to make for your next meal! No matter which one you choose, it'll taste wonderful with your Cajun shrimp!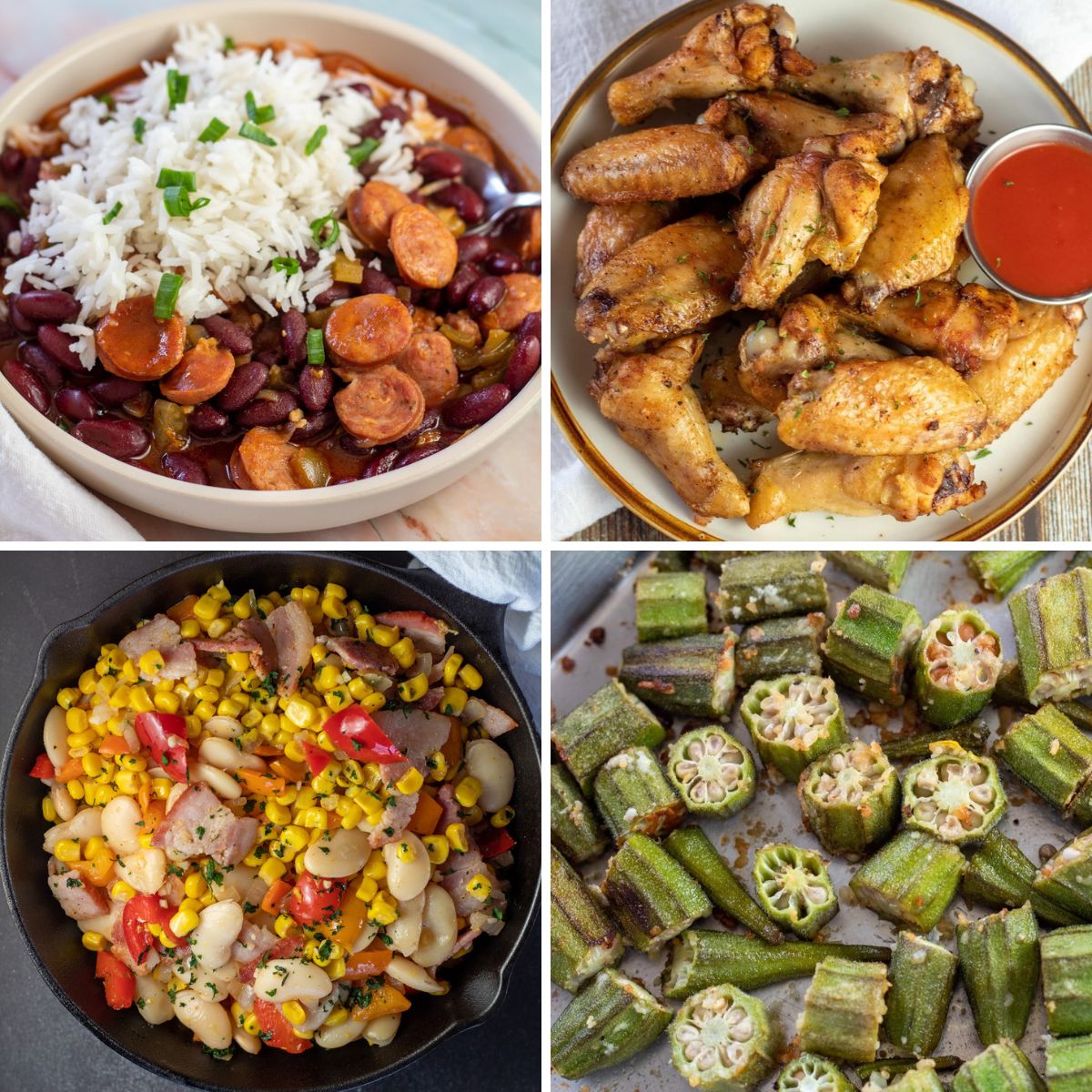 Jump to:
1. Red Beans and Rice
Red beans and rice can be a meal all by itself! It's zesty and loaded with yummy Cajun flavors! This big bowl of rice, beans, and sausage is hearty and incredibly satisfying!
Top it off with some Cajun shrimp for an extra filling and delicious meal that everyone will go crazy for!
2. Polenta
Go ahead and load this creamy polenta up with some Cajun shrimp for a flavorful and easy meal! It's so versatile that you simply cannot go wrong with whatever toppings you want to add on!
Polenta is gluten-free and healthier than your typical starchy sides. Plus, it's completely delicious!
3. Roasted Okra
You've probably tried fried okra before, but have you had it roasted? It's delicious, nutritious, and topped with garlic! You can even add on some Cajun seasoning to make the whole meal full of zesty Cajun flavors!
This dish is a great way to add on a healthy and flavorful veggie side for your Cajun shrimp! Enjoy!
4. Creamed Corn Cornbread
This sweet and fluffy cornbread can be served as an appetizer or a side dish for your Cajun shrimp! It uses honey and butter to make it extra sweet and rich!
The sweetness of this homemade cornbread balances out the zesty Cajun flavors from the shrimp to make an all-around wholesome meal!
5. Parmesan Risotto
This extremely versatile dish is incredibly creamy, tender, and tastes delicious with so many different things! Top this savory and comforting risotto with some Cajun shrimp for an easy and delightful meal!
Of course, you can add whatever additional toppings you like to make this meal perfect for your tastes!
6. Succotash
This succotash is hearty, savory, and full of a variety of different flavors! The sweet corn and salty bacon mix together with the tender butter beans for the ultimate side dish!
In fact, you can just toss your Cajun shrimp into the mix and make one big bowl of Cajun shrimp succotash!
7. Dirty Rice
Dirty rice is bursting with delicious Cajun flavor and will pair perfectly with your Cajun shrimp! When choosing what to serve with Cajun shrimp, nothing gets better than this! This rice dish is loaded with tons of veggies and beef!
You can substitute the beef for some shrimp, or you can just add the shrimp in addition! It is all up to you and what you love!
8. Baked Chicken Wings
Combine these crispy baked chicken wings with some tender Cajun shrimp for a great appetizer spread! Either leave them as-is or toss these yummy wings into your favorite wing sauce or rub!
This surf and turf style platter would be fantastic for a party, get-together, or game day!
9. Garlic Parmesan Angel Hair Pasta
Toss your Cajun shrimp into this garlic parmesan angel hair pasta for a complete and comforting meal! The buttery and creamy pasta with pops of zesty flavor from the shrimp is a bold and rich dish that won't have any leftovers!
This is a great way to add a unique twist to your standard pasta night dinners, and it's sure to be a new family favorite!
10. Oven Garlic Bread
Garlic bread is a classic add-on for practically any meal! It can be served as a side dish on the plate or an appetizer to enjoy before your meal comes out.
Either way, this delicious garlic bread is sure to please! You can choose to make it nice and crispy or tender and soft- whichever way you prefer!
11. Southern Coleslaw
The creamy dressing and fresh, crunchy vegetables make this classic side dish an absolute delight! It's light and refreshing and works perfectly for any occasion you may have coming up!
Southern coleslaw is the kind of side dish that pairs well with everything! Not to mention, it only takes 5 minutes to make!
12. Roasted Peppers and Onions
Roasting peppers and onions makes them incredibly tender and brings out their natural sweetness! This veggie combination can elevate any meal into something extra tasty!
Toss them in with your Cajun shrimp and use the mixture for some fantastic tacos or fajitas!
13. Crispy Roasted Red Potatoes
Crispy potatoes can complement absolutely any meal you have in mind, including Cajun shrimp! These red potatoes are perfectly crispy on the outside with a soft, fluffy center!
This recipe is so easy to prepare, so it's perfect for those busy days when time just seems to get away from you. Just add on a veggie and you'll have a completely well-rounded meal!
If you love shrimp as much as I do, check out this list of my favorite shrimp recipes! Post a comment down below and let me know what your favorite side dish is for shrimp!
🦐 More Delicious Shrimp Recipes!
📋 Recipe