This super-rich and creamy Parmesan Risotto (How To Make Perfect Risotto) is a base for making a variety of wonderful risotto dishes! Perfect the risotto method of cooking this rice and enjoy gourmet appetizers and risotto dinners at home!! Enjoy our other fabulous risottos too! Our popular Lobster Risotto uses fresh lobster for the stock and as an ingredient! Earthy Mushroom Risotto is perfect for lunch!

Parmesan Risotto Recipe
There's something spectacular about a well made risotto. This risotto recipe is the base of so many other variations and a perfect risotto to start out with if you're new to the risotto method!
This recipe post is intended as a complete guide and walkthrough for perfecting your risotto making. If you're already comfortable making risotto, the Parmesan risotto recipe card is below...scroll away, but don't miss any of our fantastic tips!
What Is Risotto?
Risotto is a classic Italian comfort food from Northern Italy. Risotto recipes typically include the core ingredients of rice, onion, white wine, broth, butter, and Parmesan cheese.
Making rice in this form is called the risotto method. Rather than adding rice to boiling water, the rice is cooked slowly by adding small quantities of broth to the cooking rice. Cooking one of the risotto rice varieties ( mentioned below ) in this method allows the grains to bump together while cooking and release the starch content contained in the rice grains.
The results are a super creamy rice dish that is rich and flavorful! Risotto is perfect on its own as a rice side dish, or with additions to make it a fabulous main dish for dinners.
This method of cooking rice is one of the most common ways to cook rice in Italy, yet it is a specialty dish served as an appetizer or entree at gourmet restaurants here in the United States. In recent years, risotto has been skyrocketed to popularity due to reality television and celebrity chefs like Gordon Ramsay!
What Rice Varieties Can I Use For Risotto?
The best rice used for making risotto has a high amylopectin layer on the outside of the kernel, the translucent portion of the grain. The inside of the kernel has a high amylose content. Amylopectin and amylose are the two pectins that combine to make the starch that is needed for a great risotto!
Arborio is the most readily available short-grain Italian rice available to us here in the United States. It is available for purchase at most grocery stores and supermarkets in the rice aisle.
Arborio rice has a large, rounded grain with high starch content. The rice readily absorbs the liquid added for risotto.

Brown Arborio rice can also be used for risotto, but since the bran and fiber are still contained in the grain, the results will not be as creamy as the classic risotto using a short-grain white rice ( like white Arborio ).
Carnaroli is argued by many to be the best rice variety for making superior creamier risotto. It is a medium-grain Italian rice that is more forgiving when cooked.
The rice retains it's al denté texture ( without getting mushy ) easier than our more commonly available Arborio and also Vialone Nano. Carnaroli and Vialone Nano also have a higher starch content than Arborio.

Vialone Nano is a medium-grain Italian rice that is also one of the best rice varieties for risotto. It holds its shape well while absorbing liquid quickly for a shorter cooking time than Carnaroli.

Maratelli is medium-grain Italian rice that holds its shape well without when used for risotto. It is a more forgiving rice when overcooked.
Maratelli, Carnaroli, and Vialone Nano are considered the three best rices for risotto.
Padano is a rounded medium-grain Italian rice that absorbs liquid well and is also popular in Italian soups as well as risottos.
Roma is an Italian rice that absorbs large amounts of liquid well for risottos and timbales.
These are the main types of short to medium grain Italian rices that are high in starch content and widely used in making risotto. Other kinds of rice include Baldo, which is a newer variety of rice. Baldo also has a shorter cooking time, but I have only seen it available for purchase in specialty shops and online.
Cal Riso rice is also a new rice variety, a hybrid of Californian and Italian rices developed in California. I hope to see this one more readily available in stores, but at this point, I have only found it in whole foods stores and from Bayliss Ranch of CA. *I have also seen this rice variety called Calrose, however, 'Calrose' is also an Asian rice name.
Risotto Rice Substitutes
Can you use white rice for risotto? I wouldn't try with a long-grain white rice! The starch content is not the same, and the grains are composed of more amylose than amylopectin. This means that they are more suited to being separate than creamy.
Here are some substitutions that do work:
Bulgar Wheat, also known as cracked wheat in the United States, is a whole wheat grain product from ground wheat berries. It's a super healthy risotto option and adds a delicious nutty flavor.
As well as Brown Rice, Sushi Rice, Quinoa, Valencia Rice, Israeli Couscous, Farro, and Pearled Barley.
Should I Rinse Arborio Rice?
No, there is no need to rinse your Arborio rice before making a risotto. None of the risotto rices ( Arborio, Carnaroli, Vialone, Nano, or Baldo ) should be rinsed before cooking risotto.
Rinsing will remove the starch that is needed to make a creamy risotto ( or rice pudding ) and should be reserved for dishes where distinct and separate grains are desired.
It is a theory that rinsing your risotto rice with the broth you intend to use for cooking will retain the starch in the broth. This allows for better toasting of the rice kernels while not rinsing away the starch needed to make the dish come together correctly. *I have not personally tried this method, so cannot speak to any direct recipe testing results.
How Much Broth Do I Use For Arborio Rice?
For 1 cup of Arborio rice, you will need to have 4 cups of broth available. You may not use all of it, or you may need just a bit more.
When making risotto, I usually heat all 4 cups of broth that I know my recipe will use plus I keep some extra broth on hand. That way, if I need a bot more broth I can easily microwave the last bit and add it to the risotto.
Do I Need To Warm Broth For Risotto?
Yes, and this is very important to successfully cook brilliantly perfect risotto in just 20 minutes! The heated broth works best for allowing the risotto rice to absorb the liquid and continue cooking at the same consistent temperature.
Adding broth that is room temperature or straight-out-of-the-refrigerator cold broth to cooking risotto drops the temperature of the risotto down and reduces your heat. Even if the cooler broth only affects the risotto kernels that it initially comes in contact with, you will have an uneven cook on your rice and a soupy risotto with some rice cooked more than others.
Warming your broth to a low simmer ensures that you consistently get quality results every time you make your risotto!
If time is an issue, try microwaving the broth. Heat for 2 minutes initially and warm as needed before adding to your skillet.
What Size Pan Should I Use To Cook Risotto?
You should use a skillet or frying pan large enough to cook your risotto in an even single layer. The rice needs to be in contact with heat to cook best.
Too much rice or too little rice and the rice won't be able to simmer correctly. Part of the risotto method is the slow simmer, which allows the grains to 'bump' against each other and release the starches that make the risotto so creamy and delicious.
What Temperature Should I Cook Risotto?
Your risotto should be at a medium simmer when cooking. Start with a medium temperature and adjust slightly up or down to maintain your desired simmer.
It is desirable to slowly cook your risotto, this is a key part of the risotto method. However, if your risotto is cooked at too low of a temperature the grains can't bump together and release the starches.
If the temperature is too high while cooking, you lose the slow cooking that benefits the risotto method the most. A gentle, consistent bubble is what you are looking for when cooking risotto.
How Often Should I Stir Risotto?
Stirring the risotto is not the chore that some people have made it out to be. I've heard risotto making called a two-hand method ( one to stir, one to ladle in the broth ). This is not the case.
While you do want to stir occasionally ( every 30 seconds - ish ) that timing does not need to perfect. You will get a feel for making risotto, and realize that the rice grains are moving while simmering.
Stirring too frequently is a sure way to ruin the texture of your risotto!
When is Risotto Done?
Start checking after about 15 minutes of cooking your risotto. Depending on the variety of rice used, the risotto should be done between 17 - 20 minutes of cooking.
Risotto is done when the rice is cooked but retains a bit of firmness ( al denté texture ) to the inner core. Your risotto rice kernels should never be mushy!
Also, your liquids should be absorbed into the rice enough that the risotto has a creamy texture. Risotto should not have either a glue-like or runny consistency on your plate when served.
Serving suggestions and tips:
Serve your cooked risotto in a warmed dish or bowl! The creaminess of risotto is the result of the amylopectin and amylose ( starch ). This starch-based sauce will cool and thicken quickly, changing the risotto consistency for the worse.
Stir in roasted, steamed, or sauteed vegetables at the last minute of cooking to vary your risotto side dishes.
Use a matching broth or stock depending on what your risotto will be served with. For example, use vegetable stock for a mushroom or butternut squash risotto OR use seafood stock if serving with scallops or shrimp.
FAQ's
Q: What's so special about risotto?
A: Risotto is unique in that the rice cooks down to form its own creamy sauce. The specific grain varieties and the risotto method of cooking combine to make this dish a true treat to enjoy!
Q: How long does risotto take to cook?
A: Risotto cook times will vary slightly depending on the temperature it was cooked at, and the rice variety. Overall though, risotto should be done cooking between 17 - 20 minutes.
Q: Can I make risotto without wine?
A: Yes! Risotto can be made without the wine, just start adding your broth ( or even water ) and cook as directed.
Print Recipe
Leave A Comment
Love This Recipe?
Click On A Star To Rate It!
Parmesan Risotto
This super rich and creamy Parmesan Risotto (How To Make Perfect Risotto) is a base for making a variety of wonderful risotto dishes! Perfect the risotto method of cooking this rice and enjoy gourmet appetizers and risotto dinners at home!!
Pin Recipe
Share on Facebook
Ingredients
4

cups

chicken broth

(heated to a low simmer in a saucepan)

1

tablespoon

olive oil

(extra virgin)

1

cup

Arborio rice

¼

cup

shallots

(or white onion - finely minced)

2

cloves

garlic

(finely minced)

¼

cup

dry white wine

(up to ⅓ cup - I used Pinot Grigio)

2

tablespoon

butter

(salted, in 1 tablespoon pats)

2

tablespoon

Parmigiano Reggiano cheese

(plus more for garnish when served, if desired)

salt & pepper

(to taste)
Instructions
Bring a large skillet or frying pan to medium heat. Add olive oil, then add garlic and shallots. Cook until softened, about 1-2 minutes.

Add your Arborio rice and cook the kernels, stirring occasionally, for about 1-2 minutes.

Add the dry white wine and cook for one minute, stirring frequently.

Add one cup of the broth and stir occasionally while the rice cooks and absorbs the liquid. Ladle in additional amounts initially in approximately ½ cup portions. Allow the rice to absorb the liquid as added.

When your rice has cooked for about 15 minutes, the rice will slow down on absorbing the liquid when added. Use smaller ¼ cup portions as you near the end of the cooking process.

You are looking for an al dente texture to your rice, and I start checking for this at the 15 - 16 minute mark. Test an individual rice grain for the soft texture that still retains a semi-firm core to the grain.

Once your rice has reached an al dente texture, remove the risotto from the heat and add the butter and Parmigiano Reggiano. Stir to combine and serve on warmed plates with additional freshly grated Parmigiano Reggiano cheese, if desired.
Nutrition
Calories:
308
kcal
(15%)
|
Carbohydrates:
44
g
(15%)
|
Protein:
6
g
(12%)
|
Fat:
11
g
(17%)
|
Saturated Fat:
5
g
(31%)
|
Cholesterol:
17
mg
(6%)
|
Sodium:
954
mg
(41%)
|
Potassium:
286
mg
(8%)
|
Fiber:
2
g
(8%)
|
Sugar:
1
g
(1%)
|
Vitamin A:
197
IU
(4%)
|
Vitamin C:
18
mg
(22%)
|
Calcium:
52
mg
(5%)
|
Iron:
3
mg
(17%)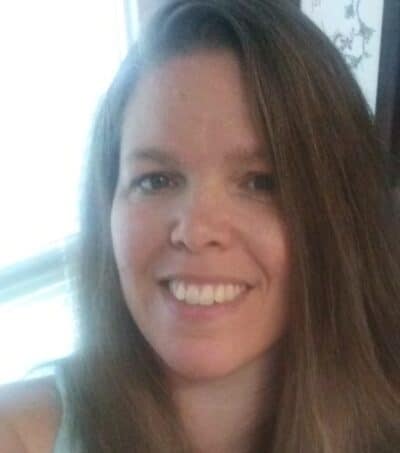 Angela is an at home chef that developed a passion for all things cooking and baking at a young age in her Grandma's kitchen. After many years in the food service industry, she now enjoys sharing all of her family favorite recipes and creating tasty dinner and amazing dessert recipes here at Bake It With Love!