When you're wondering what to serve with risotto, all you have to do is browse my amazing collection of fabulous sides and more! These are all of the best side dishes for serving with risotto! Plus perfectly hearty proteins to serve up with, over, or in any delicious risotto meal!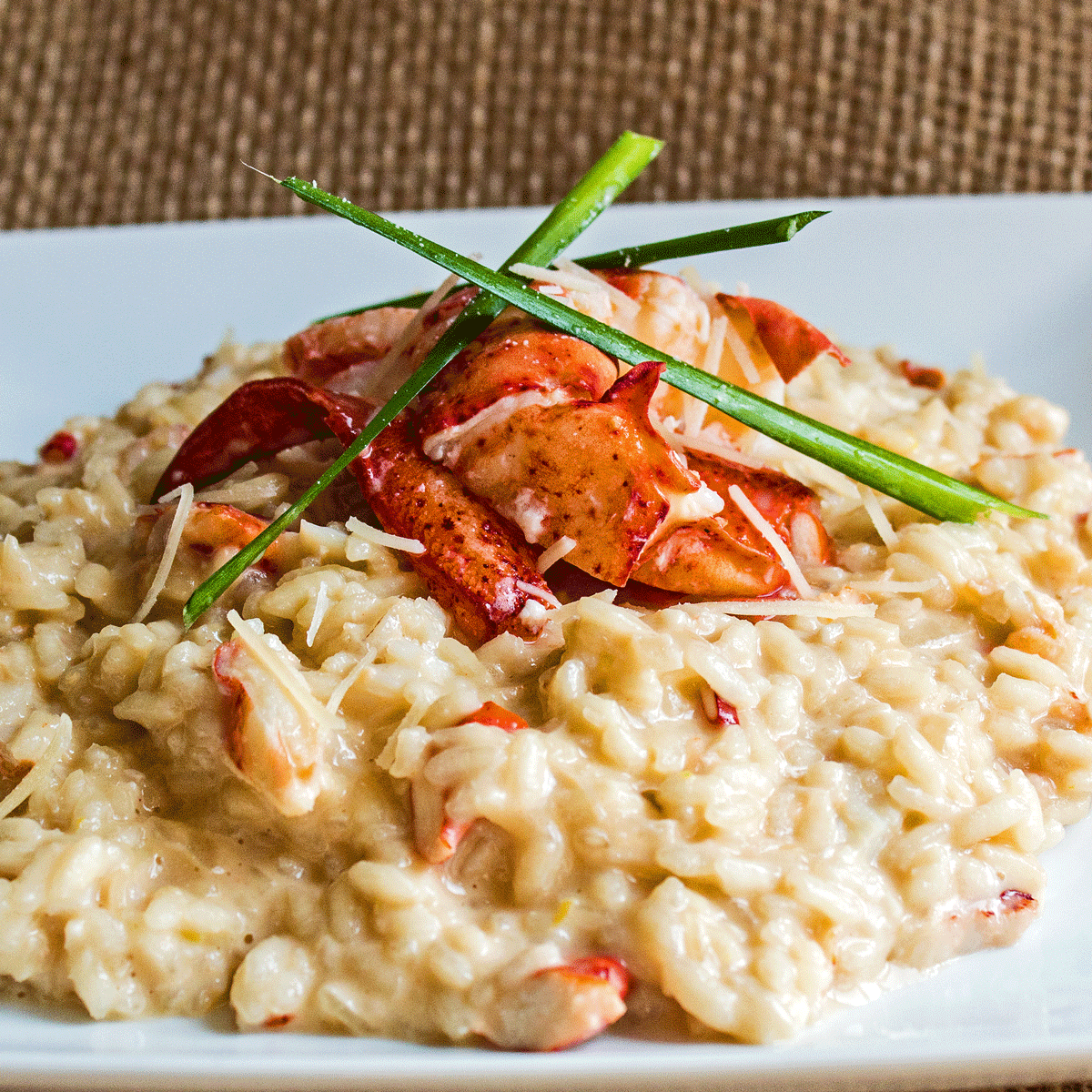 Everything you need to combine the best mains, sides, and more for your risotto meal!
I don't know who came up with it, but cooking rice in wine and stock was a brilliant creation that has made the world a better place. At least for our taste buds. But what do you serve with the oh-so-creamy dream dish?
If you're looking for ideas, you've come to the right place. There are many ways to make risotto. The key to finding a good, complimentary dish is balance.
Jump to:
What would elevate the meal for you? A juicy piece of meat? A vegetable? Perhaps you're more of a seafood enthusiast?
Regardless of your preferences, I have all of the very best side dishes for risotto gathered here for you!
1. Scallops
Scallops are an excellent side dish to a rich, flavorful plate of risotto. It's a common pairing, and for good reason too!
Picture a golden, buttery crust and a soft inside. I'm salivating just thinking about it. Simple and delicious!
2. Asparagus
Green vegetables also work really well to balance out the risotto carbs. This recipe uses an air fryer, so not only are they bursting with Parmesan flavor, but they're incredibly fast to throw together.
You can also try them with a drizzle of balsamic, a sometimes overlooked and underrated pairing for asparagus. You won't regret it!
3. Sauteed Mushrooms
Speaking of balsamic - these sauteed balsamic mushrooms are to die for! A side of these tasty mushrooms is just what risotto needs!
These rich, cheesy, sauteed mushrooms are the tangy counterpart to your risotto!
Who knew putting a bit of brown sugar on mushrooms could be so good?
4. Green Beans
This classic gets a new spin swapping the typical "boil in broth" for pan-frying. It will leave you with the same great flavor of bacon and garlic with a bit of crunch. And only 25 minutes from start to finish!
Bring some vitamins to the table with a tried and true veggie side dish. It doesn't even have to be a holiday!
5. Shrimp
If you've never made shrimp in an air fryer, this is a great place to start! Spice it up any way you want, and finish it off in under 10 minutes from a completely frozen state.
Since there are so many different ways to flavor this main course or side dish, you can always find a way to pair tender shrimp with your risotto.
6. Oven Baked Chicken
Not interested in a rich main dish with your deliciously rich and creamy risotto? Baked chicken is a fantastic choice!
This recipe creates tender, moist pieces of chicken breast with nicely seasoned, crispy skin. This easy chicken is a very family-friendly option that won't sacrifice flavor!
7. Roasted Carrots
My Honey and Herbs Oven Roasted Carrots are another easy side dish for risotto that the whole family will love! I make this slightly sweet but extremely flavorful side in the oven year-round!
The sweetness of the honey combined with rosemary and thyme are amazing but don't take my word for it. Try it out! It's as colorful as it is delicious!
8. Reverse Seared Steak
When you really want an amazing steak, check out this reverse sear tomahawk steak recipe. Don't let the "reverse-seared" name sound intimidating, all it means is that you start out low and slow, finishing off the process with a high-heat sear. All in the oven!
It doesn't get better than this: perfect crust on the outside with plenty of juice on the inside. The richness is of my tomahawk steak is the perfect main dish to serve with my Parmesan risotto!
9. Roasted Broccoli
Here's another amazing veggie side for you. Roasting broccoli gives it an incredible flavor that you just can't get on the stove.
Sprinkle it with a little garlic and Parmesan, and you've got an unstoppable side dish that goes with pretty much everything. And it's particularly tasty when paired with risotto!
If you're already making Italian, what's a little extra garlic and cheese? This recipe even works well when using frozen broccoli!
10. Grilled Lamb Breast
Season this overnight, and you'll have an impressive main dish that will have people going back for more. Salt, parsley, rosemary, oregano, sage, orange peel, onion powder, and smoked paprika make this lamb outstanding!
I find lamb to be an amazing treat or special occasion food, and this recipe really makes it celebratory. So, if you just got a raise, bought a house, or met up with an old friend, make it a night to remember by serving this with your risotto!
11. Smoked Prime Rib
Prime rib is another red meat option for those of you looking to pair your risotto with the perfect protein. If done right, it will be the co-star of your risotto meal.
Garlic, onion, paprika, rosemary, and even a bit of chili or cayenne pepper give this some spice! It makes an excellent holiday dish, especially with family in town!
All of the prep work can be done in 15 minutes, so you can visit with your relatives for a few hours after transferring the roast into the smoker.
With the long smoking time, flavors blend in a way that just can't be done in a pan!
12. Baked Salmon
Notes of lemon, garlic, and butter make baked salmon a great choice for those looking for lighter fare. Summer or not, sometimes, you just feel like something a little more refreshing.
This easy, baked salmon recipe does the trick! Cooking your salmon in foil keeps the moisture and the flavor where it should be - in the fish. 🙂
Once your salmon is ready to serve, pair it with a hearty helping of risotto for a family meal that everyone will love!
13. Broiled Lobster Tails
Tender, perfectly broiled lobster tails were made for serving with risotto! The classic pairing is one of my favorites to serve with my simple Parmesan risotto. Yum!
The timing of preparing this duo works beautifully as well. Start your risotto while your oven warms to a nice, hot broil.
Broil the lobster in the last few minutes of finishing your risotto and they'll be ready to serve nice and hot!
14. Antipasto
Nothing says traditional Italian like an antipasto platter. Pick and choose your favorites of the classics or have a bit of everything!
You can put together as much or as little as you'd like!
While everyone does things slightly differently, the usual fare on an antipasto platter includes thinly sliced, cured meats, olives, pepperoncini, artichokes, mushrooms, anchovies, a variety of cheeses, and vegetables in vinegar or oil.
Sometimes, a sliced baguette or crackers can be a nice addition. Nuts are atypical but go well on an antipasto platter also.
The best part about this is how beautiful it can look when you put it all together, so be creative and have fun with it!
15. Caprese Salad
Caprese is as good as your ingredients are fresh. Get the best mozzarella ball you can find, and buy fresh basil and tomatoes. Bonus points if you grow your own!
Even taking the time to find a special olive oil can take this dish from good to great! There's a reason those specialty stores stay in business. Go check them out and explore what they have to offer!
I find that a classic Caprese salad is a great way to enjoy an Italian-themed night! It's a fantastic addition to your risotto dinner!
16. Marinated Olives
For all of you olive fans out there, this is a great time to bring out the marinated options. While gourmet or specialty stores tend to have the most choices, you should be able to find at least one or two brands at your local grocery store.
The salty taste pairs really well with the creamy risotto. I also like to serve these as part of a charcuterie board or an antipasto platter (see above) before dinner is ready if I'm having a party or hosting company.
😋 Best Risotto Recipes
Lobster Risotto - This is my number one pick, hands down! The creamy consistency is made unbelievable with a touch of mascarpone and topped off to amazing heights with tender pieces of fresh lobster!
Crab Risotto - Sticking with my 'seafood needs risotto' theme, is my family favorite crab risotto! Either one of these amazing risotto recipes will feature your fresh seafood and combine into a hearty meal that everyone will love!
Mushroom Risotto - A hearty, filling risotto that the whole family loves to enjoy! This is one of my favorite all-around risottos to serve with anything!
We hope that you enjoy a fabulous, rich, and tasty risotto dinner with these ideas for the best sides to serve with your meal! Be sure to share your favorite sides in the comments below and check back in to let us know what you liked best! Enjoy!
📋 Recipe