Try a few of these incredible shrimp recipes and you will see just how versatile and easy to cook shrimp really is! Shrimp is perfect for making fast dinners because it cooks in a flash and it's relatively healthy, depending on how you prepare it. So, check out this list of shrimp recipes any time you need some weeknight dinner inspiration!
The Best Shrimp Recipes
Shrimp is one of the most versatile sources of protein in the sea. It's great paired with pasta, vegetables, sandwiches, soups, and more!
If you love juicy and tender shrimp, then you are sure to enjoy some of the recipes that we have listed below. We've featured everything from spicy Asian-inspired shrimp recipes to Southern comfort shrimp dishes, some Italian classics, and everything in between!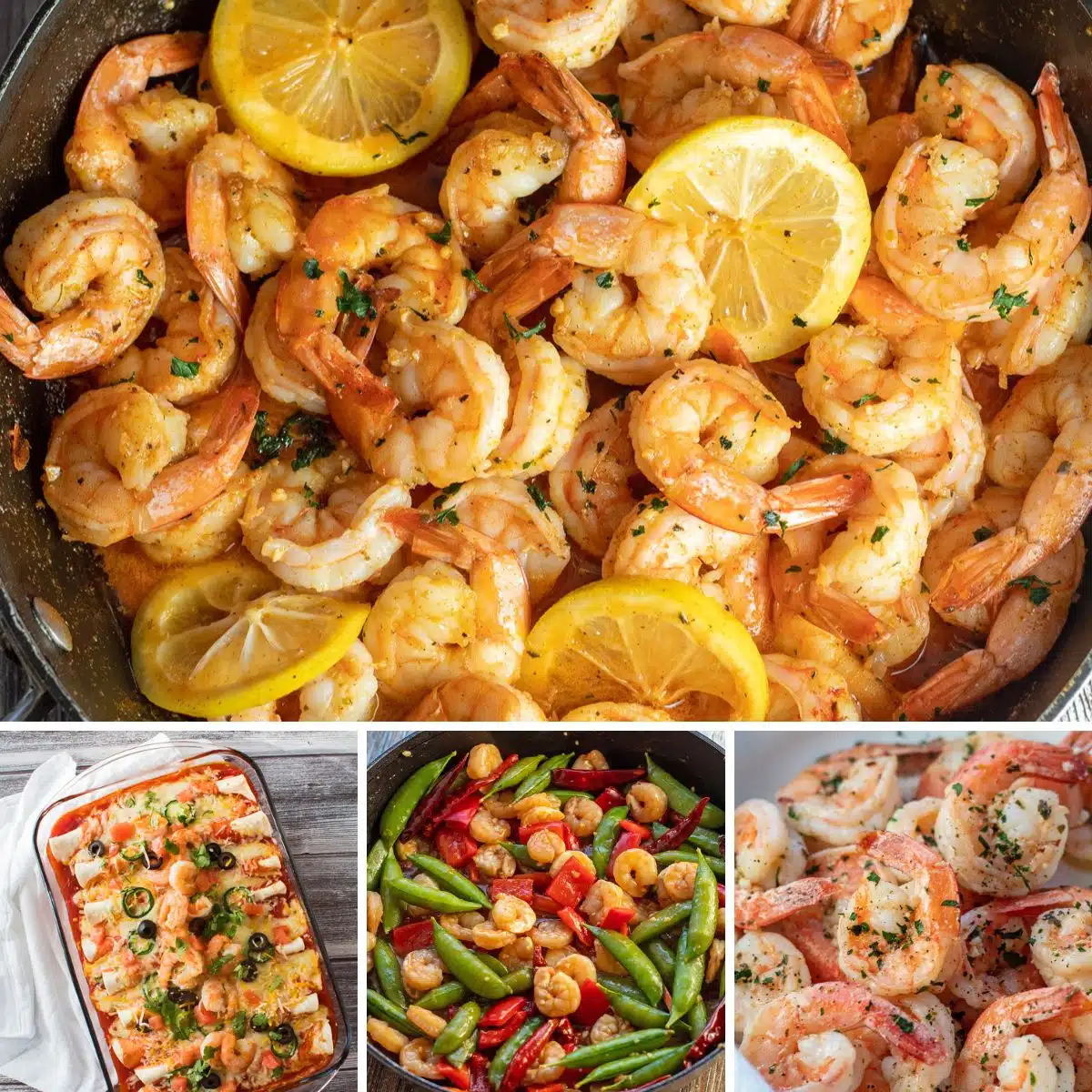 Jump to:
1. Shrimp Scampi
Shrimp scampi is light and tasty with ample amounts of delicious flavors! This shrimp scampi recipe is great with fettuccine or angel hair pasta!
2. Southern Shrimp & Grits
This southern shrimp & grits is the definition of comfort food! It's bold and flavorful, but not too heavy.
Best of all, it can be eaten for breakfast, lunch, or dinner!
3. Garlic Butter Shrimp
Garlic butter shrimp is a great recipe to make in large batches for gatherings with friends and family. Let this dish be the star of tonight's dinner or use it as a delicious appetizer.
4. Cajun Shrimp
You are going to fall in love with this Cajun shrimp recipe! It is delightfully zesty and extremely easy to make!
5. Lemon Garlic Shrimp Pasta
Lemon garlic shrimp pasta is citrusy with just the right amount of heat! This lemon garlic pasta is made with crushed red pepper flakes that make it just a little spicy, but only add them if you want to!
6. Garlic Shrimp Pasta
Garlic shrimp pasta tastes so good, that your dinner guests will think that you picked it up from a local restaurant! This garlic shrimp pasta has multiple layers of flavors that are an incredible explosion for your tastebuds!
7. Sheet Pan Shrimp Fajitas
Sheet pan shrimp fajitas are one of my favorite dishes to make for date nights. They are easy to make and have all my favorite ingredients! These sheet pan shrimp fajitas are great with flour or corn tortillas!
8. Air Fryer Frozen Shrimp
Air fryer frozen shrimp is a great late-night recipe if you want something simple and easy to make. This air fryer frozen shrimp is great with cocktail sauce or a spritz of lemon juice!
9. Air Fryer Coconut Shrimp
This coconut shrimp is crunchy on the outside and perfectly tender on the inside. Pair this coconut shrimp with homemade cocktail sauce or your favorite dip!
10. General Tso's Shrimp
If you love ordering general Tso's shrimp from your local Chinese take-out restaurant, then you will love this recipe! This general Tso's shrimp is crispy, sweet, and salty, all at the same time!
11. Shrimp with Garlic Sauce
This shrimp with garlic sauce is a great meal for any time of the day. It is light and healthy with extra vegetables and lots of flavor. This shrimp with garlic sauce will impress your family and maybe even yourself!
12. Shrimp Rangoons
Shrimp rangoons are one of my favorite dishes from my local Chinese take-out restaurant and this recipe is just as delicious! These rangoons are crunchy on the outside and creamy on the inside.
13. Shrimp Enchiladas
These shrimp enchiladas are a great dish to make for holidays or gatherings with your friends and family. These enchiladas are filling and have tons of flavor that everyone will love.
14. Hibachi Steak and Shrimp
Hibachi steak and shrimp is my go-to meal at my favorite Japanese steakhouse. If you want Japanese hibachi steak and shrimp but don't want to leave your house, this recipe is all you need!
15. Garlic Shrimp Alfredo Bake
If you are looking for something comforting and delicious, you will love this garlic shrimp Alfredo bake! This dish is great for Sunday dinners with everyone gathered around the table, indulging in this wonderful meal!
16. Coctel de Camarones (Mexican Shrimp Cocktail)
Coctel de camarones has so many layers of fresh and fantastic flavors that you will want to make it for every occasion! This recipe is great as an appetizer, snack, or even the main course!
Pair it with flour tortillas, tortilla chips, or cilantro lime rice.
17. Dynamite Shrimp
Dynamite shrimp will have your dinner guests talking about how flavorful this dish is! This dynamite shrimp is tangy and creamy with just the right amount of spice.
18. Creamy Coconut Shrimp
Creamy coconut shrimp is just the dish for your next dinner party! This creamy coconut shrimp is simple to make and pairs well with any type of rice or pasta.
Double the batch because you will definitely want more than one serving!
19. Hunan Shrimp
Hunan shrimp is nutty and perfectly seasoned. This Hunan shrimp recipe is simple to make and will make dinner a breeze.
Serve Hunan shrimp with your favorite sautéed vegetables and a heaping helping of white rice.
20. Panda Express Honey Walnut Shrimp
This honey walnut shrimp tastes so much like the Panda Express version that you will forget that you made it yourself! What's not to love about tender tempura shrimp coated in a sweet and tangy sauce?
21. Bang Bang Shrimp Pasta
Bang Bang shrimp pasta has a creamy sauce that is a little spicy and very flavorful. This bang bang shrimp pasta is a great meal for any night of the week!
We love shrimp! All of our shrimp recipes have been taste tested and approved by us, we hope that you love them too! Let us know in the comments below which shrimp recipe you loved the most!
📖 Recipe Card