I've put together a list of the best apples for apple crisp so that you can make a perfect classic, sweet-yet-tart fall dessert! Whether you're only using one variety or mixing it up with a combination of 2 or more, you can't go wrong with these apples! While the flavors all vary, all of these apples are perfect for the oven and won't turn mushy.
Best Apples For Baking Apple Crisps
Choosing the wrong apples to be baked into an apple crisp is a recipe for disaster. All apples have a purpose, and some are far better for baking than others. If you choose a variety that is too soft, it will get mushy and disintegrate in the oven.
The best varieties for baking need to be firm enough to hold up to the heat of the oven while still being able to add a great flavor to your dessert! The secret to having the best apple crisp is to either use a variety that has a naturally sweet-tart flavor or use a combination of both sweet and tart apples.
Jump to:
Make sure to check out some of my other apple recipes for more great ideas on how to use these apples!
1. Granny Smith
Granny smith apples are easily one of the most popular apple varieties for any kind of baking! Whether it be a pie or an apple crisp, granny smiths are a great option! These are a staple, go-to baking apple.
Granny smiths are firm and crisp so they stand up well to the heat of the oven. Additionally, the tart flavor adds great complexity and depth to your dessert!
I wouldn't recommend using them as the only variety in your apple crisp (unless you add an extra sweet topping), but they are perfect for mixing with a sweeter variety, such as Honeycrisp, to achieve a perfectly sweet and tart combination!
2. Honeycrisp
Honeycrisp apples are the perfect choice for pies, but they are wonderful in apple crisps as well! They are known to be great all-around apples that are wonderful for any of your apple needs.
Honeycrisps have the perfect texture for being baked in the oven while still holding their shape. Plus, they are sweet, juicy, and extra crisp! They have a sweet flavor that compliments any other apple variety you might want to pair them with!
3. Golden Delicious
This classic baking apple has a mellow and sweet flavor that pairs fantastically with many other varieties. Just like the other options on this list, golden delicious apples maintain their shape during the baking process so you won't have a mushy dessert.
Many bakers actually add less sugar when using golden delicious apples because of their naturally sweet flavor! I love to pair them with a tart option like Granny Smith to have a beautifully balanced apple crisp.
4. Jonagold
Jonagold apples are a mix between Jonathan and Golden Delicious apples, leaning more to the sweeter end of the spectrum. While this apple is mildly flavored, it still has a delightfully sweet and tart flavor that it could easily be a great solo apple choice!
This is a great option for people who like to enjoy extra sweet apple desserts. However, Jonagold apples don't store well, so use them quickly if you have them!
5. Braeburn
Braeburn apples are considerably popular for baked desserts because they are extra juicy, but don't get mushy once baked!
These apples have an intensely sweet and tart flavor that pairs well with fall flavors such as nutmeg and cinnamon. So grab some Braeburn apples if you're going for wanting a heavily fall-inspired apple crisp!
6. Crispin
Imagine an apple that looks like a Granny Smith, but has the flavor of a Golden Delicious. That's exactly what a Crispin apple is!
They are firm and crisp enough to not get mushy when spending some time in the oven, but they are still juicy and sweet with a hint of tartness. Since they have a fantastic texture and perfect flavor, they can be used by themselves for your apple crisp!
7. Fuji
Fuji apples are great for snacking as well as baking into a crisp! When baked, the sweet flavor of the Fuji becomes extra deep and rich! Combine them with a tart variety to make a perfect apple crisp!
8. Gravenstein
Gravenstein apples are tart with a sweeter honeyed finish. They naturally have the sweet and tart combination that is ideal for apple crisps.
Gravensteins are so perfectly flavored that they could easily be a solo variety in a crisp! If you're not wanting to combine varieties in your crisp, this is your go-to standalone apple.
9. Winesap
Winesap apples are a wonderful balance between sweet and tart! Additionally, they have an intense and unique spicy flavor reminiscent of wine or apple cider.
Winesaps are traditionally used in making cider, but they are also fantastic in apple crisps! The specific flavor makes them great for adding complexity to your apple crisp!
10. Pink Lady
I love the crisp texture of this Pink Lady apple (also known as Cripp's Pink) that are a late fall apple. This late season means that the apples soak up every bit of sunshine to add to their sweet flavor.
Tips For The Best Apple Crisp
If you have some overripe apples on hand, they work perfectly well in an apple crisp!
You'll want to ensure that your apple pieces are consistent in size so that they all bake evenly. Cut each apple into quarters and then cut each quarter into four pieces to make sure that you have the most uniform apple chunks!
While you can choose just one apple variety for your crisp, my personal favorite is to use a combination of tart Granny Smiths and Honeycrisps!
Test the tenderness of your apples with a knife when you think they're done cooking. If the apples aren't tender enough, but your topping is getting too brown, cover it with foil and let it continue to bake.
To make the best possible apple crisp, it's important to start with the right ingredients. Check out my apple crisp recipe to get started!
🍎 My Favorite Apple Recipes!
Do you love a recipe you tried? Please leave a 5-star 🌟rating in the recipe card below and/or a review in the comments section further down the page.
Stay in touch with me through social media @ Pinterest, Facebook, Instagram, or Twitter! Subscribe to the newsletter today (no spam, I promise)! Don't forget to tag me when you try one of my recipes!
📖 Recipe Card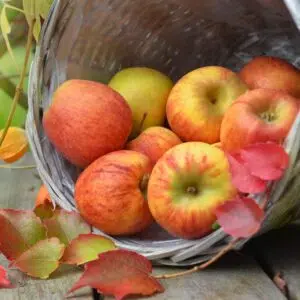 Print Recipe
Leave A Comment
Love This Recipe?
Click On A Star To Rate It!
Best Apples For Apple Crisp: Apple Crisp Recipe
I've put together a list of the best apples for apple crisp so that you can make a perfect classic, sweet-yet-tart fall dessert! Whether you're only using one variety or mixing it up with a combination of 2 or more, you can't go wrong with these apples! While the flavors all vary, all of these apples are perfect for the oven and won't turn mushy.
Pin Recipe
Share on Facebook
Help Us Out!
If you love a recipe, be sure to come back and share your ratings. This helps future users, and allows me to continue sharing free recipes! Angela
Instructions
Preheat your oven to 350°F (175°C) and place your sliced apples in a 2-2.5 quart baking dish or 9x13 baking dish.

In a mixing bowl combine the white sugar, 1 tablespoon of flour, ground cinnamon, and ground nutmeg. Whisk lightly to thoroughly combine, then sprinkle the mixture over the apples. Pour water over the whole thing.

½ cup white sugar,

1 tablespoon all-purpose flour,

1 teaspoon ground cinnamon,

½ teaspoon ground nutmeg,

¼ cup water

Now, combine the quick oats, 1 cup of all-purpose flour, brown sugar, baking powder, baking soda, and melted butter. Mix to combine. Sprinkle the crumbly oatmeal mixture over the apples.

1 cup quick-cooking oats,

1 cup all-purpose flour,

½ cup brown sugar,

¼ teaspoon baking powder,

¼ teaspoon baking soda,

½ cup butter

Bake for 45 minutes, then remove from the oven and let cool slightly before serving.
Equipment You May Need
Notes
Firm semi-tart to tart apples are best, such as Granny Smith, Jonathon apples, Braeburn apples, Pink lady apples, etc.
Everyone's oven is different. If your streusel topping starts getting too dark but your apples aren't fully cooked, simply cover your baking dish with a sheet of aluminum foil until done.
Nutrition
Calories:
255
kcal
(13%)
|
Carbohydrates:
45
g
(15%)
|
Protein:
2
g
(4%)
|
Fat:
8
g
(12%)
|
Saturated Fat:
5
g
(31%)
|
Polyunsaturated Fat:
1
g
|
Monounsaturated Fat:
2
g
|
Trans Fat:
1
g
|
Cholesterol:
20
mg
(7%)
|
Sodium:
88
mg
(4%)
|
Potassium:
171
mg
(5%)
|
Fiber:
4
g
(17%)
|
Sugar:
28
g
(31%)
|
Vitamin A:
293
IU
(6%)
|
Vitamin C:
5
mg
(6%)
|
Calcium:
27
mg
(3%)
|
Iron:
1
mg
(6%)
Apple Crisp, best apples for apple crisp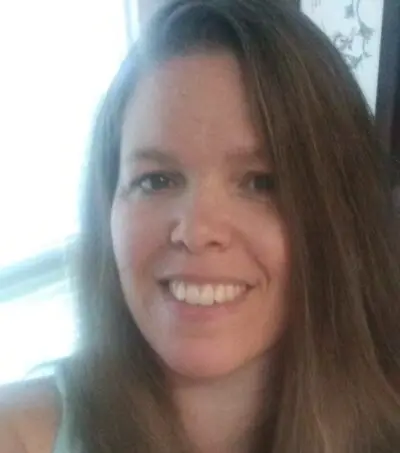 Angela is an at home chef that developed a passion for all things cooking and baking at a young age in her Grandma's kitchen. After many years in the food service industry, she now enjoys sharing all of her family favorite recipes and creating tasty dinner and amazing dessert recipes here at Bake It With Love!