Cake filling flavors: a complete guide to the best cake fillings from classic buttercreams to fruity compotes and so much more! It's the easiest way to elevate your baked goods! Nothing is better than biting into a delicious, moist cake and finding a hidden filling inside!
Best Cake Filling Flavors
There are endless combinations of flavors and textures that you might find inside of a cake. From creamy custard to bright lemon curd, rich chocolate ganache, or fluffy whipped cream, these cake filling flavors will take all your baked goods up a notch!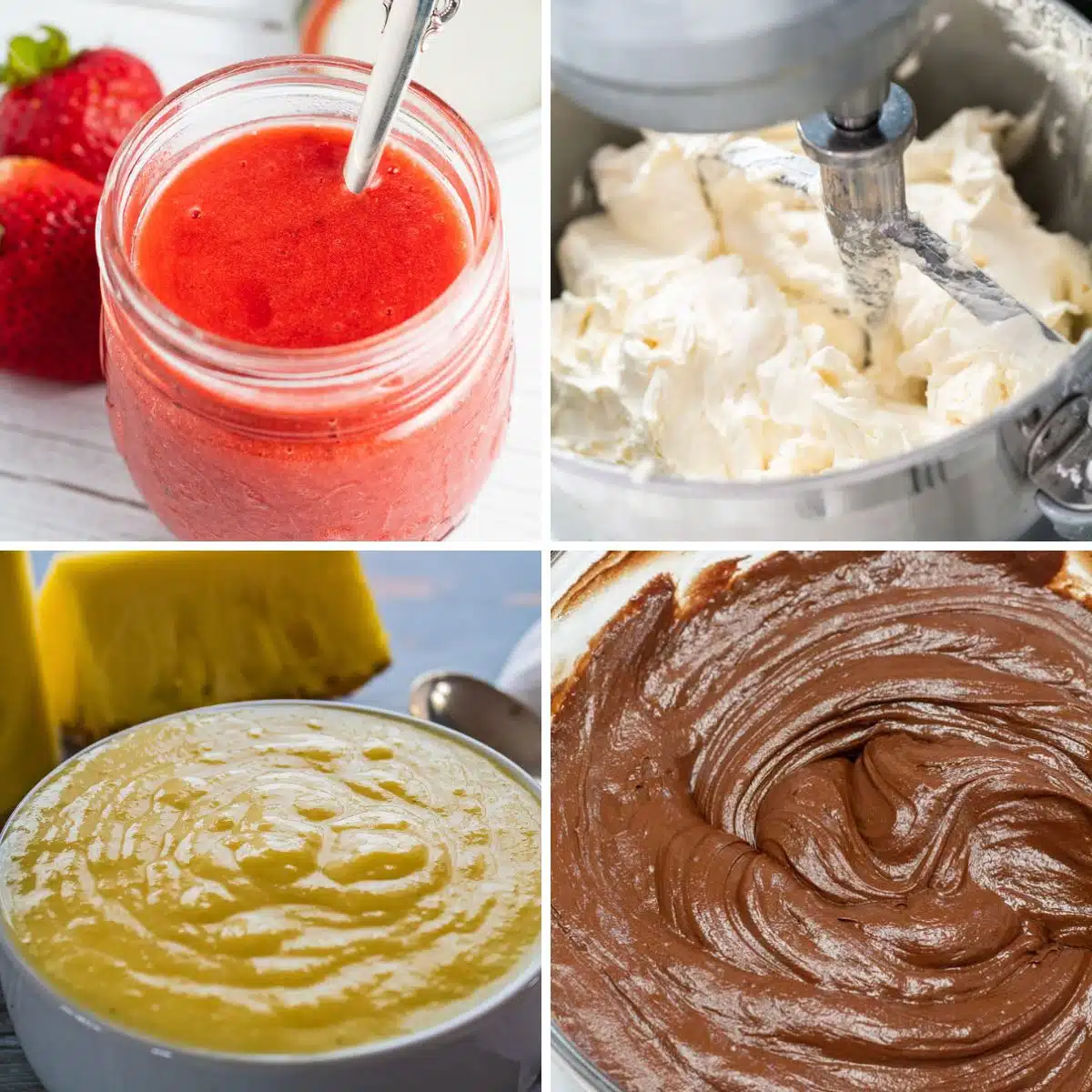 Jump to:
You can mix and match types of cake with different filling flavors, though everything on this list would taste wonderful in a fluffy homemade white cake. See my guide on making moist cakes for useful baking tips and my cake serving guide if you're feeding a crowd!
Fruity Fillings
Fruity fillings can add a burst of flavor and oftentimes, color to your cakes! Just about any fruit can be made into a filling of some sort. Here are a few of the most popular fruit-flavored cake fillings:
*Keep in mind that many of these fillings could technically fit in multiple categories.
Strawberry (strawberry coulis, jam, puree, or fresh slices)
Raspberry (raspberry pie filling, jam, or puree)
Blueberry (blueberry pie filling, blueberry syrup, jam, or puree)
Lemon (lemon curd or zest-infused cream)
Lime (curd or zest-infused cream)
Orange (curd or zest-infused cream)
Pineapple (pineapple curd, pineapple pie filling, jam, puree, or chunks)
Mango (syrup, puree, or chunks)
Passionfruit (curd or seeds)
Cherry (cherry pie filling, jam, or fresh cherries)
Peach (jam or fresh slices)
Apricot (jam or puree)
Apple (apple curd, jam, butter, or thinly sliced or diced fresh apples)
Blackberry (blackberry pie filling, jam, or puree)
Rhubarb (stewed rhubarb sauce)
Mixed Berry Compote (or roasted berries)
Creamy Fillings
A rich and creamy filling makes any cake taste even more decadent. Not only that, but it adds moisture so that every bite of the soft cake melts in your mouth.
Here are a few popular and delicious cream-based fillings:
Whipped Cream (You can also use flavored whipped cream or whipped frosting. For example, pumpkin spice, chocolate, cinnamon, etc.)
Ice Cream (vanilla ice cream cake, anyone?)
Dulce de Leche
Vanilla Cream
Mocha Cream (chocolate and coffee)
Mint Cream
Caramel
Bavarian Cream
Cookies and Cream (Oreo cream)
Tiramisu (mascarpone with coffee)
Coconut Cream (like is used in coconut cream pies)
Almond Cream (also known as frangipane)
Frosting Fillings
Most varieties of frosting or icing will taste excellent on both the outside and inside of cakes! Fill your cake with a different yet complimentary flavor of frosting than used on the outside to really get that 'wow' factor.
When it comes to frosting cakes, there are obviously a ton of options to choose from and much too many to list! Here are just a few of my favorite frostings for layering or filling cakes:
Cream Cheese Frosting
Raspberry Cream Cheese Frosting
Lemon or Lime Cream Cheese Frosting
Icing
Lemon Zest Icing (as seen here on my delectable strawberry lemon bread)
Peanut Butter Icing (see the recipe attached to these delicious peanut butter donuts)
>>>>See all of my recipes HERE<<<<
Pudding and Custard Fillings
A smooth and creamy pudding or custard is always a welcome surprise when biting into a cake. They're typically pretty quick to whip up, too, so the delicious results are always worth the small amount of work! (Learn how to make your own custard powder from scratch here!)
Classic Vanilla Custard
Chocolate Custard
Banana Pudding
Vanilla Pudding
Chocolate Pudding
Pistachio Pudding
Butterscotch Pudding
Nut-Based Fillings
While you can use nut-flavored frostings, sometimes going straight to the jar of peanut butter really pays off. Typically, these nut spreads and fillings will add flavor and texture without being overly sweet.
Peanut Butter
Praline (caramelized nuts, usually hazelnuts or pecans)
Nutella (chocolate hazelnut)
Almond Paste
Marzipan
Pistachio Paste
Cashew Cream
Chocolate Fillings
Chocolate lovers are always more than happy to appreciate a chocolate cake filled with even more chocolate. However, chocolate fillings still taste wonderful in many fruit-flavored cakes, vanilla or white cakes, peanut butter cakes, and more.
Chocolate Ganache (ranges from dark to white chocolate)
Chocolate Mousse
White Chocolate Sauce
Mini Chocolate Chips
Chocolate Sprinkles
Gourmet Fillings
If you like to dabble in unique flavors, these gourmet cake fillings are always a treat to make and enjoy. For an elegant cake that is worthy of any restaurant table, these fillings are the way to go.
Honey Comb
Lavender (often with berries or honey)
Rose Petal Jam (or rose-infused cream)
Matcha Ganache
Green Tea Whipped Cream
Orange Blossom Buttercream
Flavored Honey (you can find vanilla honey, lavender honey, and so much more!)
Cultural Specialty Fillings
Many cultures have traditional desserts featuring unique fillings that are specific to them. I love to branch out and try new things, and using baking techniques and flavors from other cultures is always exciting!
Tres Leches (3-milk filling for tres leches cakes)
Cannoli Filling (ricotta cheese with chocolate chips or candied citrus like these candied orange peels or candied lemon peels)
Guava Paste (common in Latin desserts)
Ube (purple yam popular in Filipino desserts)
Poppy Seed Filling (common in Eastern European cakes)
Saffron and Cardamom Cream (inspired by Indian flavors)
Mung Bean Paste (common in Asian desserts)
💭 Tips For Choosing The Best Cake Filling Flavor
Choosing the perfect cake filling will greatly enhance the flavor and overall experience of your cake. Here are some tips to help you choose from this long list of incredible options!
Consider the Cake Flavor: Match the flavor of your filling to the flavor of your cake, or choose a different flavor that will enhance the cake's flavor rather than clash with it.
Balance Sweetness: Make sure that the sweetness of the filling balances the sweetness of the cake. A too-sweet filling with a sweet cake can be overwhelming. A sweet cake is better with a fruity, tart, or creamy filling, while less sweet cakes can use some rich and sugary elements.
Texture: Decide on the texture you want in your cake. Would you prefer a smooth and creamy frosting, a chunky fruit compote, or a crunchy element like nuts or chocolate chips?
Experiment with Flavors: Experiment with different flavor combinations. Think about using flavors that complement each other. For instance, you could pair a lemon cake with a blueberry filling or a chocolate cake with salted caramel.
Once you've decided on your cake and your filling, it's time to get baking! Let me know what delicious flavor combinations you come up with in the comment section below!
Do you love a recipe you tried? Please leave a 5-star 🌟rating in the recipe card below and/or a review in the comments section further down the page.
Stay in touch with me through social media @ Pinterest, Facebook, Instagram, or Twitter! Subscribe to the newsletter today (no spam, I promise)! Don't forget to tag me when you try one of my recipes!
📋 Recipe
Print Recipe
Leave A Comment
Love This Recipe?
Click On A Star To Rate It!
Best Cake Filling Flavors: Funfetti Buttercream Frosting (+More Tasty Ideas To Try!)
Cake filling flavors: a complete guide to the best cake fillings from classic buttercreams to fruity compotes and so much more! It's the easiest way to elevate your baked goods! Nothing is better than biting into a delicious, moist cake and finding a hidden filling inside!
Pin Recipe
Share on Facebook
Ingredients
1

cup

butter

(softened at room temperature)

1

teaspoon

almond extract

1

pinch

salt

(optional)

4

cups

confectioners sugar

2

tablespoon

heavy whipping cream

(or more, as needed)

¼

cup

rainbow funfetti sprinkles
Help Us Out!
If you love a recipe, be sure to come back and share your ratings. This helps future users, and allows me to continue sharing free recipes! Angela
Instructions
Using a hand mixer or your stand mixer, beat

1 cup butter

for 5-6 minutes until light in color and creamy.

Add

1 teaspoon almond extract

, the optional

1 pinch salt

, and only 1 cup of the

4 cups confectioners sugar

. Mix at medium speed, gradually adding more confectioners sugar while alternating with small drizzles of

2 tablespoon heavy whipping cream

.

4 cups confectioners sugar,

1 teaspoon almond extract,

1 pinch salt,

2 tablespoon heavy whipping cream

You may need up to an additional 2 tablespoons of heavy whipping cream to reach your desired consistency. Once all of the powdered sugar has been added and the frosting is firm but spreadable, stop adding heavy cream.

After all of the sugar and desired amount of cream has been mixed together, continue to beat the frosting on medium speed for an additional 2-3 minutes, or until it is light and fluffy.

Gently fold in

¼ cup rainbow funfetti sprinkles

and then use immediately or store the frosting for later.

¼ cup rainbow funfetti sprinkles
Notes
Begin with only 2 tablespoons of heavy whipping cream. You can add more, if needed, to reach your desired consistency.
While you should mix on medium speed, make sure that you always start on low so that the powdered sugar doesn't poof out of the bowl and make a large mess. 
You can use any type of sprinkles that you like! However, rainbow jimmies sprinkles are the classic choice for Funfetti desserts.
Check out my guide on how to frost a cake for some great tips and tricks!
To store: Keep your frosting stored in a sealed container in the fridge for up to 4 weeks. Once you have frosted your cake, it does not have to be refrigerated (unless the cake itself has a perishable filling) and can be kept at room temperature for 2-3 days.
Using leftover buttercream: Allow your refrigerated buttercream to return to room temperature before using it. 
Nutrition
Calories:
315
kcal
(16%)
|
Carbohydrates:
43
g
(14%)
|
Protein:
0.2
g
|
Fat:
16
g
(25%)
|
Saturated Fat:
10
g
(63%)
|
Polyunsaturated Fat:
1
g
|
Monounsaturated Fat:
4
g
|
Trans Fat:
1
g
|
Cholesterol:
43
mg
(14%)
|
Sodium:
126
mg
(5%)
|
Potassium:
8
mg
|
Sugar:
42
g
(47%)
|
Vitamin A:
509
IU
(10%)
|
Vitamin C:
0.01
mg
|
Calcium:
7
mg
(1%)
|
Iron:
0.03
mg
buttercream, cake filling, cake filling flavors, cake fillings, cake frosting, cupcake frosting, funfetti buttercream, funfetti buttercream frosting, funfetti buttercream frosting ingredients, how to make funfetti buttercream frosting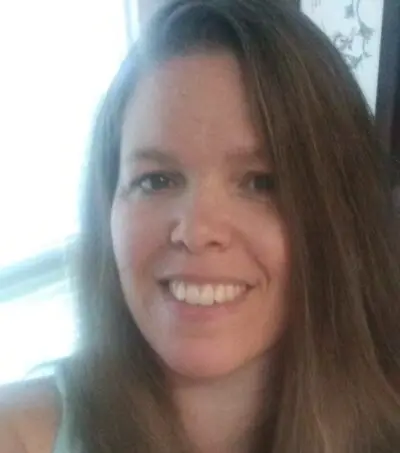 Angela is an at home chef that developed a passion for all things cooking and baking at a young age in her Grandma's kitchen. After many years in the food service industry, she now enjoys sharing all of her family favorite recipes and creating tasty dinner and amazing dessert recipes here at Bake It With Love!