My buttercream frosting recipes are delightfully easy and include a wide range of flavors for making your desserts even more decadent! Spread or pipe these tasty frostings onto your favorite cakes, cookies, or cupcakes for fun new flavor combinations! There are classic options like chocolate and vanilla as well as unique flavors like cookie dough or Maraschino cherry to try!
Best Buttercream Frosting Flavors To Make
You can bake the most beautiful cake in the world, but the frosting is what makes or breaks it. Good thing you can make fabulous flavors of creamy buttercream frosting at home!
Whether you are a seasoned baker or just trying to whip up a simple dessert, these buttercream frosting recipes are easy to execute. Play around with different flavor combinations to take your desserts to the next level!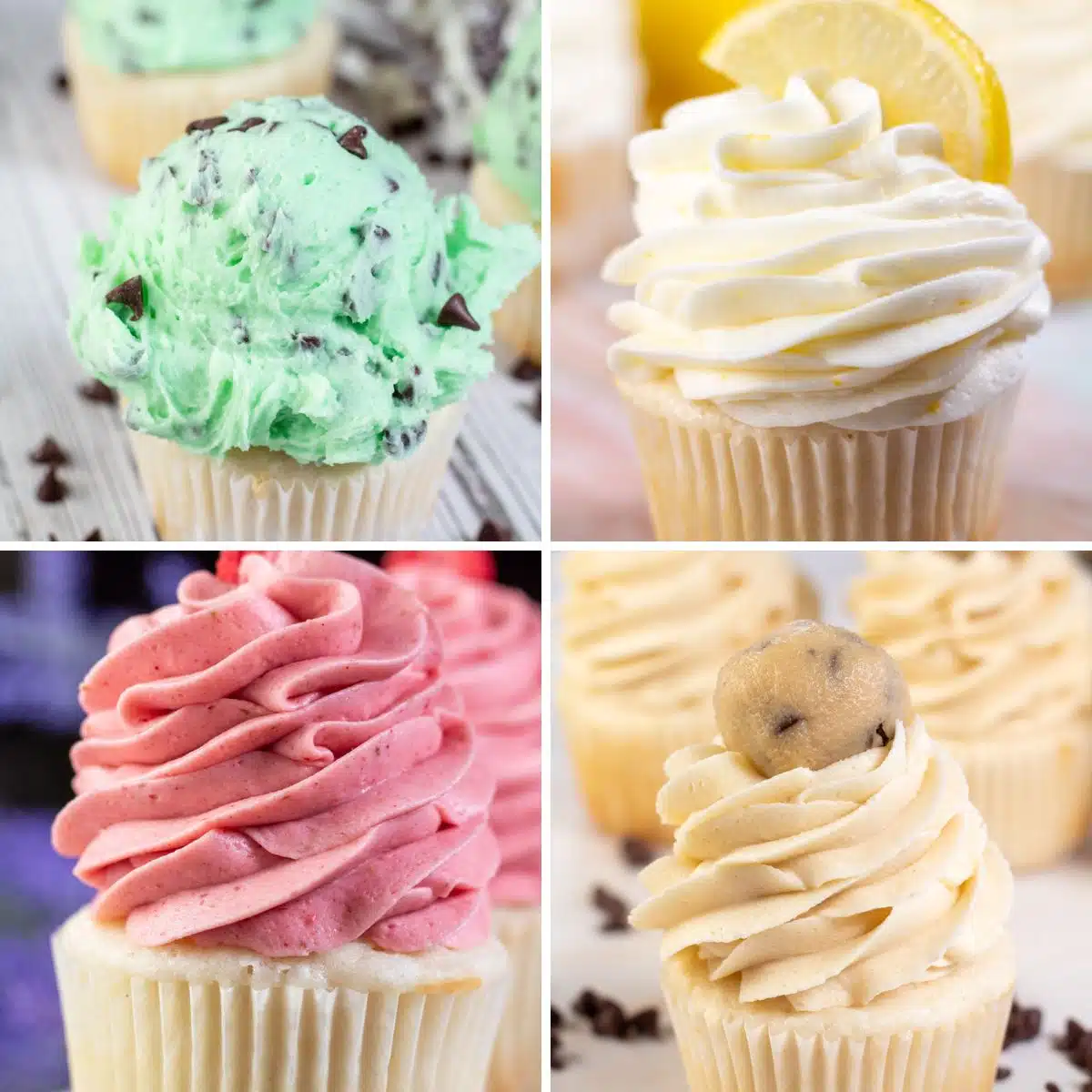 Toss out the store-bought tubs of frosting! For the most decadent desserts, give any of these incredibly easy homemade buttercream frosting recipes a try!
Oreo Buttercream Frosting
Peanut Butter Buttercream Frosting
Vanilla Bean Buttercream Frosting
Chocolate Buttercream Frosting
Vanilla Buttercream Frosting
Maraschino Cherry Buttercream
Cookie Dough Buttercream Frosting
Lemon Cream Cheese Frosting
Strawberry Cream Cheese Frosting
Mint Chocolate Chip Buttercream Frosting
See even more delectable buttercream frosting flavors in the list below!
Jump to:
Want More Recipes? Enter your email below and we'll send them straight to your inbox!
1. Oreo Buttercream Frosting
Who knew adding crushed-up Oreos to buttercream frosting would be so good!? The classic cookies & cream flavor lends itself well to chocolate or vanilla desserts, so it tastes incredible on just about anything!
I personally love to pipe this frosting onto vanilla cupcakes and place an Oreo cookie on top!
2. Peanut Butter Buttercream Frosting
This creamy peanut butter buttercream frosting will make a lovely addition to your most decadent desserts. The flavor pairs well with anything chocolate, vanilla, or banana-flavored so there are tons of tasty recipes you could try!
I tried this peanut butter frosting on my chocolate peanut butter drip cake and the combination of flavors was heavenly. It was also delicious inside these chocolate peanut butter-filled cupcakes!
3. Vanilla Bean Buttercream Frosting
Using real vanilla bean paste gives this buttercream a deep and rich vanilla flavor that you simply can't get with vanilla extract. It was a fabulous addition to my vanilla bean cupcakes!
Try it on a cake made with homemade white cake mix or Funfetti cupcakes for a tasty vanilla treat!
4. Chocolate Buttercream Frosting
Chocolate lovers will be hooked after one bite of this rich chocolate buttercream frosting. This recipe is my favorite for double chocolate desserts like this decadent chocolate birthday cake!
5. Vanilla Buttercream Frosting
This classic vanilla buttercream frosting is so much better than any tub of frosting you can get at the store! It is a great recipe to keep in your back pocket, particularly if you are a frequent baker.
You can add food coloring to make it more festive, or enjoy this creamy frosting plain and simple.
6. Maraschino Cherry Buttercream
This smooth buttercream frosting is loaded with sweet cherry flavor! Just like cherries in general, the flavor combinations for this frosting are endless.
Chocolate, citrus, vanilla, you name it, and this cherry frosting will make those decadent treats even better!
7. Cookie Dough Buttercream Frosting
Not only is there cookie dough in the frosting, but the extra cookie dough can be a fun and tasty addition to your desserts too! The frosting would be fantastic on top of an easy chocolate cake, or you could use it for the layers of a more intricate tiered cake!
I piped my cookie dough buttercream on top of some fluffy vanilla cupcakes and topped each one off with a ball of cookie dough!
8. Lemon Cream Cheese Frosting
The bright citrus flavor of lemon paired with the tangy flavor of cream cheese and some sugar makes for the perfect balance of sweet and tart. It's perfect for giving your lemon desserts an extra pop of flavor!
9. Strawberry Cream Cheese Frosting
Strawberries and cream cheese are a match made in heaven! The naturally sweet and fruity flavor of the strawberries and the tang from the cream cheese balance each other nicely.
Try this frosting on any strawberry dessert and it's sure to impress. It's also tasty on shortbread cookies!
10. Mint Chocolate Chip Buttercream Frosting
A frosting reminiscent of your favorite mint chocolate chip ice cream. The chunks of mini chocolate chips give the smooth buttercream a delightful texture!
I've tried this frosting on both chocolate and vanilla desserts with incredibly delicious results!
12. Peanut Butter Cream Cheese Frosting
Cream cheese adds a slight tang that is wonderful when combined with creamy peanut butter. It's a delightful addition to chocolate cookies or cupcakes, but you can put it on whatever you think would benefit from some peanut butter flavor!
13. Orange Crush Soda Buttercream Frosting
I made this buttercream frosting specifically for some Orange Crush cupcakes and loved it so much that I knew the recipe was a keeper. It almost tastes like a Dreamsicle!
This buttercream would be fantastic on any citrus confections, though pairing it with vanilla would be a great choice too!
14. Cream Soda Buttercream Frosting
This cream soda buttercream was made for my root beer cupcakes, but it would be incredible on so much more! It would be an amazing addition to toffee, raspberry, or chocolate desserts.
No matter which of these buttercream frosting recipes you choose, your desserts are sure to be delicious! Don't forget to come back and let me know how they turned out in the comment section below!
>>>>See all of my recipes HERE<<<<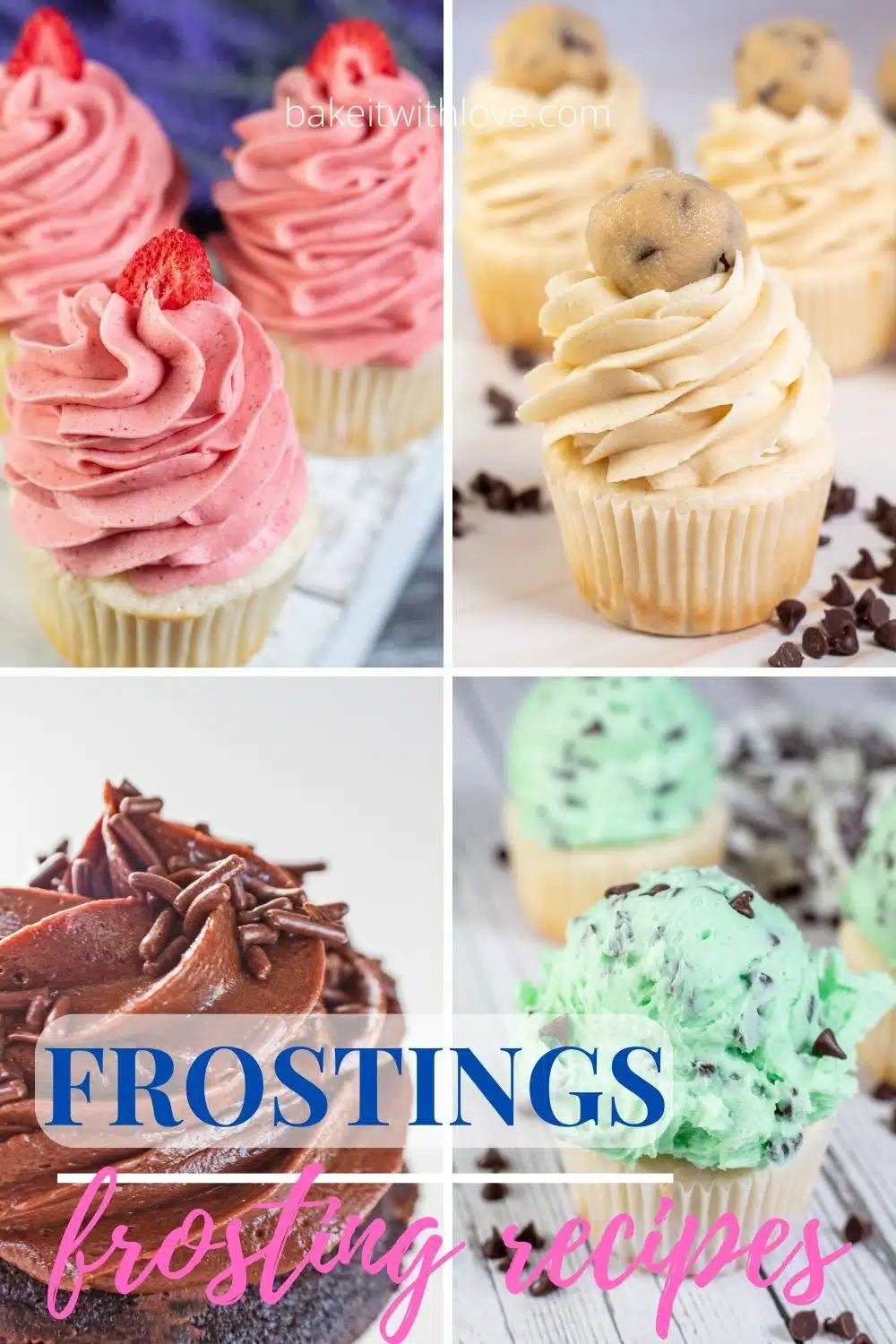 🍰 Desserts To Try With Buttercream
Chocolate Birthday Cake

-

Go for a decadent chocolate cake with chocolate buttercream or try another fun flavor!
Homemade White Cake - A light and airy white cake with a great crumb that is perfect for any of these buttercream frosting flavors!
Rolled Sugar Cookies - These soft no-chill sugar cookies are delicious unfrosted but creamy buttercream frosting makes them irresistible!
Chocolate Banana Cake - A light and fluffy cake filled with rich chocolate and banana flavor. It would pair wonderfully with peanut butter or chocolate frosting!
Vanilla Tray Bake - This super simple 9x13 vanilla cake will work well with any frosting you choose!
Mary Bary Chocolate Cupcakes - Chocolate, peanut butter, Oreo, or cookie dough buttercream would make the rich chocolate flavor of these cupcakes pop!
📋 Recipe