These delightfully tender Mary Berry chocolate cupcakes are a real treat to bake up for any occasion, or just because you're craving some chocolate! Your chocoholics in the family will love the tasty cupcakes, especially when topped with rich chocolate buttercream frosting!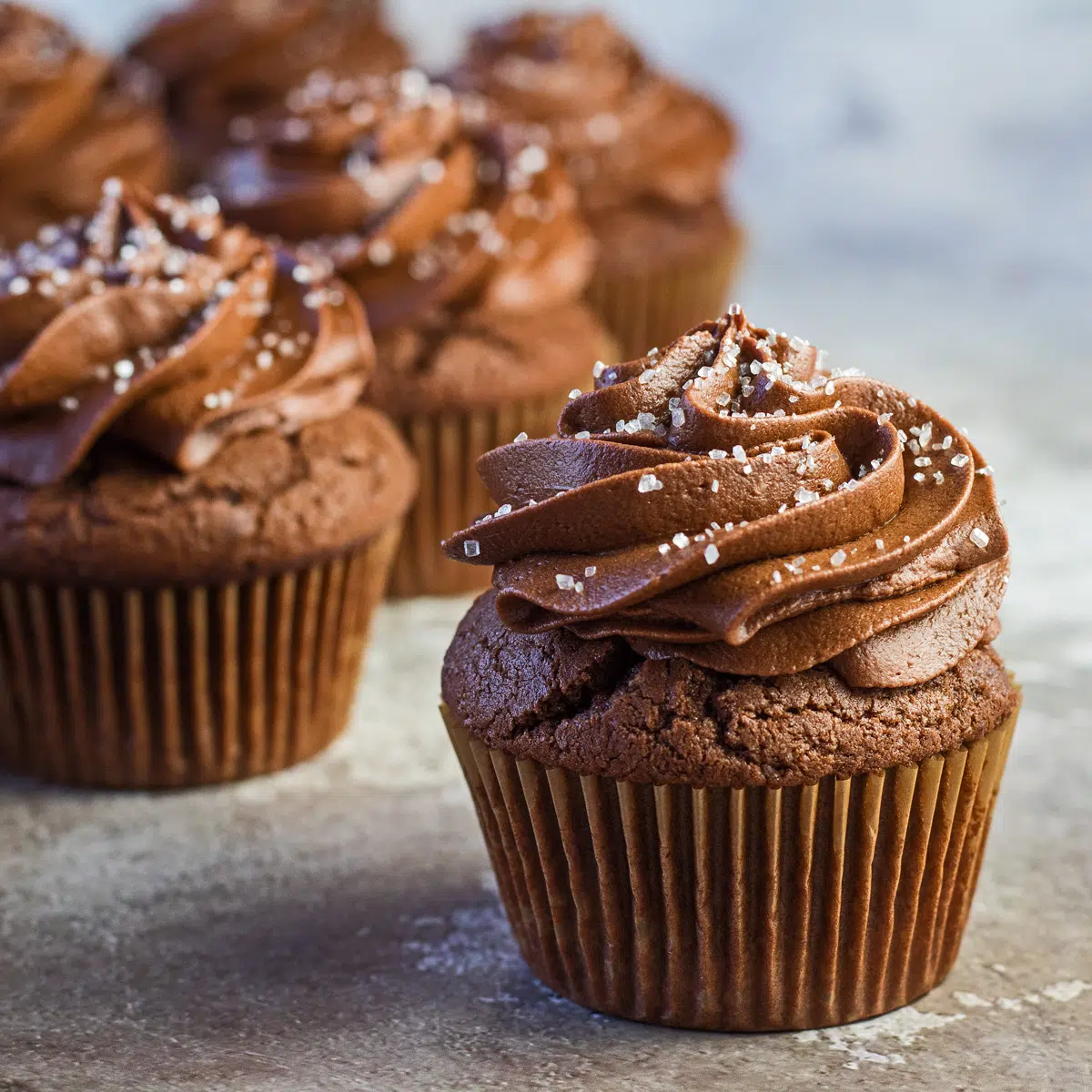 Mary Berry's chocolate cupcake recipe is a real winner for a tasty cupcake with amazing texture!
I can never get enough of watching Great British Bake Off (GBBO) and so loved learning from Mary Berry when she was a part of the show. With her absence, I've tested and perfected a few of her recipes like these ultra-tender cupcakes and some addictive fork biscuits too!
I'll always look forward to a baking day with my Mary Berry Baking Bible cracked open and several other pages earmarked!
Jump to:
I do hope that you enjoy these cupcakes just as much as my family and I do! They're a wonderful cupcake to pair with super sweet frostings!!
❤️ Why You'll Love This Recipe!
It's a Mary Berry Classic! I simply adore this baking queen and I have ALOT of fun making her recipes, as I'm sure you will too!
Fun to make with kids! I love letting the youngest bakers do all of the decorating, but your kiddos that can reach the counter can make these cupcakes too!
It's versatile! You can easily change the buttercream flavors and decorations to match a birthday party theme, add holiday colors or flavors, or mix in some more espresso powder just because that's the way Daddy loves them!
🥘 Ingredients
These easy-to-make cupcakes are more than just a tasty treat! They don't require many ingredients, and what you will need to make them are likely all in your pantry!
Water - The liquid needed for your cupcake batter. Be sure to have the water at a boiling temperature (212°F/100°C) when adding to your mixture.
Cocoa Powder - Use regular unsweetened cocoa powder for these cupcakes, dark cocoa powder is amazingly tasty but could need a touch more sugar for sweetness.
Eggs - Bring 3 large eggs to room temperature before mixing your batter. Taking the chill off means that your cupcakes will bake up more evenly.
Unsalted Butter - Since the actual Mary Berry recipe calls for unsalted butter (and there's no additional salt included) I would stick with unsalted butter for this recipe. However, if you only have salted butter on hand, it will work too!
Sugar - Just enough granulated sugar makes these cupcakes delicious without being overly sweet.
Self-Rising Flour - This staple ingredient can easily be made at home using all-purpose flour, see the notes below.
Baking Powder - Part of what makes these cupcakes so beautifully shaped with a great crumb texture. I can just hear Mary Berry commenting on the crumb of a cake when I mention this! 🙂
🔪 Step-By-Step Instructions
Mary Berry's chocolate cupcakes are a snap to make! Follow along to bake up these tasty, tender cupcakes at home!
Make the Cupcake Batter
Preheat. Warm your oven to 400°F (204°C) and prepare your muffin pan by lining it with cupcake liners or lightly coating with baking spray.
Sift, boil, and mix. Start out with sifting the ½ cup of cocoa powder into a large mixing bowl while you heat ¼ cup of water to boiling. Carefully pour the boiling water into the bowl of cocoa powder and mix with a whisk or spatula to make a thick paste.
Make the batter. Mix 12 tablespoons of softened butter into the paste, then add 3 large eggs and mix until well combined. Next, add the dry ingredients including ¾ cup granulated sugar, 1 cup self-rising flour, and 1 teaspoon baking powder. Mix until fully combined.
Bake the Cupcakes
Divide. Portion the cupcake batter to make 12 cupcakes, filling each liner to between ⅔ and ¾ full.
Bake. Place in the center of your oven on the middle rack and bake at 400°F (204°C) for 14-18 minutes, or until the cupcakes spring back to the touch and an inserted toothpick comes out clean.
Cool. Remove the baked cupcakes when done and allow them to cool slightly in the muffin tin, about 5 minutes. Transfer the cupcakes to a wire cooling rack to cool completely before frosting.
Decorate and Serve
Frost. Choose your favorite frosting or flavor combination, or use my chocolate buttercream to frost the cupcakes.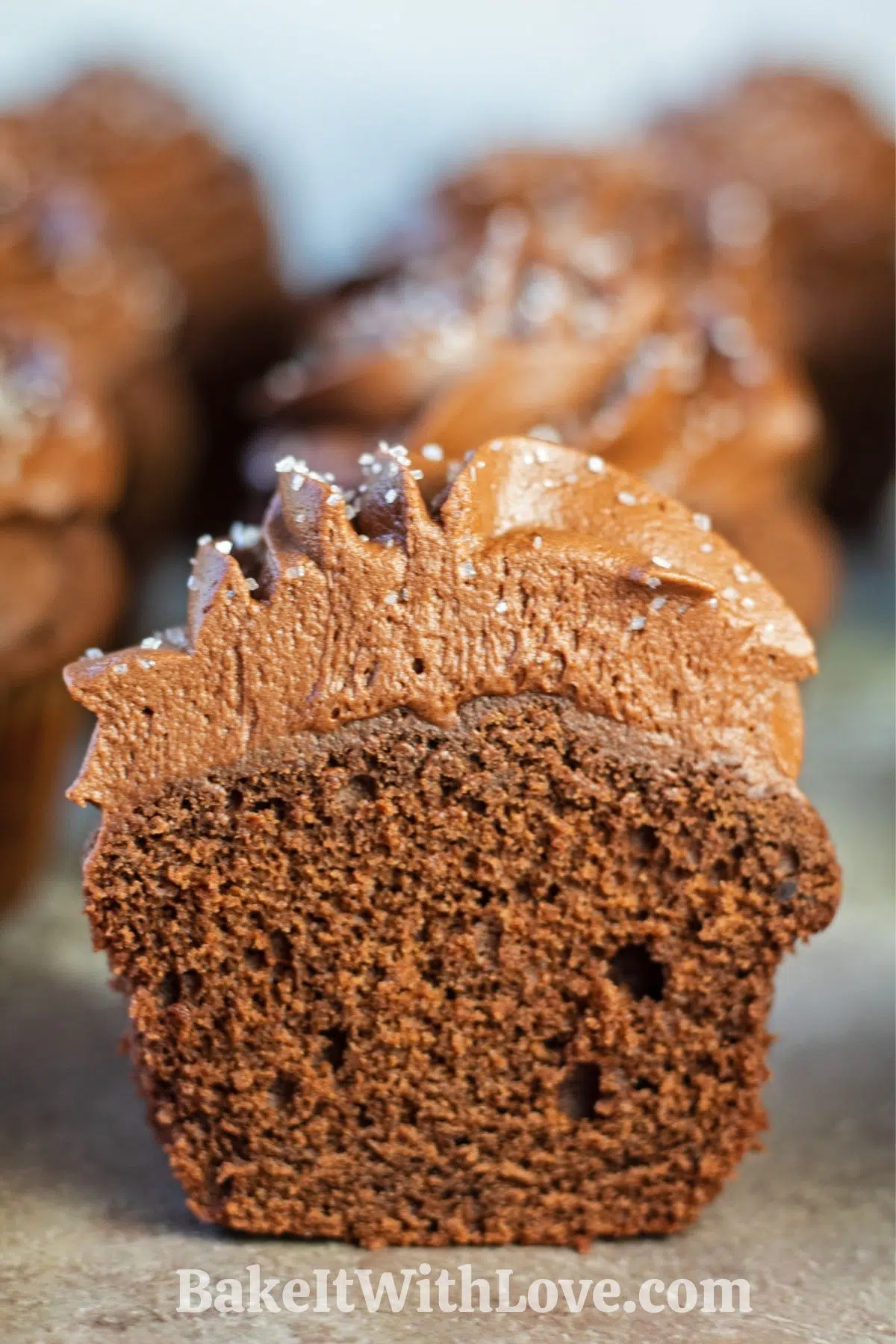 💭 Angela's Tips & Recipe Notes
Getting a nice dome top on your cupcakes.
To avoid getting a flat top and get the beautiful dome the trick is really just to bake at 400°F (205°C). This temperature will allow the sides of the cupcake to harden first allowing the cupcake to rise.
Don't over-mix your cupcake batter.
This is the key to getting fluffy cupcakes. When you whisk the batter you are creating air bubbles, if you over-mix you will collapse those air bubbles.
Don't have self-rising flour?
It's super easy to make your own homemade version! The basic rule is for each cup of flour add 2 teaspoons of baking powder.
Be sure to mix very well, sifting the combined flour, so the baking powder is evenly distributed.
🥡 Storing
Room Temperature
Store your baked cupcakes at room temperature for up to 2 days. Keep the cupcakes loosely covered when storing them at room temp.
If you are waiting to frost the cupcakes until just before serving, they should also be frosted within this 2-day window.
Anything longer than two days and your cupcakes should be kept refrigerated. Be aware that the room temperature cupcakes should also be stored away from direct sunlight.
Refrigerating
Cupcakes that are stored in the refrigerator should be tightly wrapped in plastic cling film and are best used within 4 to 5 days. Most cupcakes will be fine for up to 7 days when stored in the refrigerator but remember that if you waited 2 days while they were at room temp, you're down those 2 days for the total days of storing time!
Freezing & Thawing
Your cupcakes are best stored with 'flash freezing' them first. Leave the cupcake liners on and set the unfrosted or frosted cupcakes on a baking tray. Place the cupcakes into the freezer. Be patient.
After about 3-4 hours, and this is really important that the frosting is frozen solid, remove fully frozen cupcakes, wrap them in plastic cling film wrap, and seal them in an airtight storage container.
Leave the frozen cupcakes out at room temp, minus any cling film, to thaw.
❓ FAQ
This recipe makes 12 cupcakes, should I bake 2 trays of 6 at the same time?
Yes, you can. As long as there is enough room in your oven to be able to center both pans on the middle rack - with at least 1-inch of space between the trays. The better the trays are aligned and centered in your oven, the better the cupcakes will be able to rise evenly.
Why do my cupcakes collapse in the middle?
Most commonly, this is caused by over-beating your batter. Over-beating, or over-mixing, can cause too much air to get into the batter. Then the air then collapses, along with your cupcakes.
Another common reason for cupcakes sinking is opening the door to your oven to early. Keep your oven closed until you are at the end of the cooking time to check.
📋 Recipe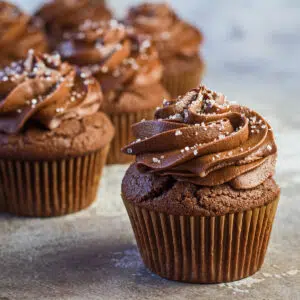 Print Recipe
Leave A Comment
Love This Recipe?
Click On A Star To Rate It!
Mary Berry's Chocolate Cupcakes
These delightfully tender Mary Berry chocolate cupcakes are a real treat to bake up for any occasion, or just because you're craving some chocolate! Your chocoholics in the family will love the tasty cupcakes, especially when topped with rich chocolate buttercream frosting!
Pin Recipe
Share on Facebook
Ingredients
For The Cupcakes
¼

cup

water

(boiling)

½

cup

cocoa powder

3

large

eggs

12

tablespoon

unsalted butter

(1 ½ sticks, softened to room temperature)

¾

cup

sugar

1

cup

self-rising flour

1

teaspoon

baking powder
For The Chocolate Buttercream
Instructions
Prep
Preheat oven to 400°F (204°C) and line your muffin tins with cupcake liners, enough for 12 cupcakes.
For The Cupcakes
Sift your cocoa powder into a large mixing bowl.

Using your microwave or sauce pan heat water to boiling.

Pour the boiling water carefully into the mixing bowl with the cocoa powder.

Using a spatula or whisk combine the water and cocoa powder into a chunky, slightly dry paste. Add the softened butter, use a hand mixer or beat by hand until mixed well. Next, add the eggs and mix again.

3 large eggs,

12 tablespoon unsalted butter

Add the sugar, flour, and baking powder and thoroughly combine to make the batter.

¾ cup sugar,

1 cup self-rising flour,

1 teaspoon baking powder

Divide your batter evenly into 12 cupcake liners to ⅔ to ¾ full. Bake at 400°F (204°C) for 12 to 15 minutes or until an inserted toothpick comes out clean.

Remove from oven and allow to cool in the muffin tin for a few minutes before transferring to a wire cooling rack to cool completely.

1 batch chocolate buttercream

When cupcakes are fully cooled make your buttercream and pipe on to apply, then garnish with chocolate sprinkles, funfetti, or coarse sugar. Serve and enjoy!
Notes
***Nutritional information is only for the cupcakes.
To make your own self-rising (self-raising) flour, measure out 1 ½ teaspoons of baking powder then finish filling 1 cup with all-purpose flour. Whisk and/or sift the flour and baking powder together thoroughly before using the homemade self-rising flour in a recipe.
Nutrition
Calories:
213
kcal
(11%)
|
Carbohydrates:
22
g
(7%)
|
Protein:
4
g
(8%)
|
Fat:
13
g
(20%)
|
Saturated Fat:
8
g
(50%)
|
Polyunsaturated Fat:
1
g
|
Monounsaturated Fat:
4
g
|
Trans Fat:
1
g
|
Cholesterol:
77
mg
(26%)
|
Sodium:
21
mg
(1%)
|
Potassium:
120
mg
(3%)
|
Fiber:
1
g
(4%)
|
Sugar:
13
g
(14%)
|
Vitamin A:
418
IU
(8%)
|
Calcium:
31
mg
(3%)
|
Iron:
1
mg
(6%)
chocolate cupcakes, Mary Berry, Mary Berry's Chocolate Cupcakes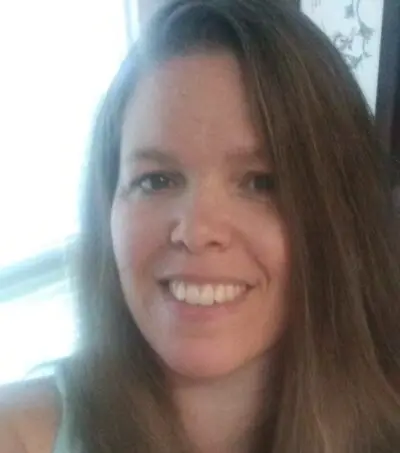 Angela is an at home chef that developed a passion for all things cooking and baking at a young age in her Grandma's kitchen. After many years in the food service industry, she now enjoys sharing all of her family favorite recipes and creating tasty dinner and amazing dessert recipes here at Bake It With Love!