This easy homemade Chocolate Buttercream Frosting is a classic frosting for cakes of all flavors! Rich, creamy, and smooth with just the right amount of chocolate flavor, American buttercream frosting sets up beautifully for all of your cake and cupcake decorating needs!

Rich & Divinely Creamy Chocolate American Buttercream Frosting
Did you know that there are actually seven (maybe more) different kinds of buttercream frosting? The variations are mostly named for the country or region from where they originated, for example, German Buttercream, French Buttercream, Russian Buttercream, Korean Glossy Buttercream (aka GG Glossy Buttercream), etc.
But the three most popular are Swiss Meringue Buttercream, Italian Meringue Buttercream, and American Buttercream, which is the one we are making here.
Jump to:
American Buttercream is incredibly simple and can be whipped up in just 10 minutes! Cake decorators tend to love this version because it is very versatile and can be flavored SO many different ways, with jelly, spices, extract, or my favorite, CHOCOLATE!
The frosting comes out really smooth and silky, with a melt-in-your-mouth quality that is heavenly. Plus, the frosting hardens making it stable for decorating with flowers and suitable for transporting your baked goodies!
You can also use your chocolate frosting as an ice cream topping or spread on graham crackers - alone or with cream cheese! Make a simple, delicious glaze to drizzle over other baked goods by thinning your buttercream frosting with a bit of milk.
What You'll Need
All of the basics of a great American buttercream frosting plus the perfect amount of cocoa to add a heavenly chocolate flavor!
Confectioner's Sugar – Or powdered sugar, or icing sugar (whatever you call it in your home). It is regular sugar that has been pulverized into a fine powder with some added cornstarch to keep it from caking. It's perfect for frosting because it dissolves quickly without heat.
Unsweetened Cocoa – Don't buy or use the sweetened version, as this frosting already has a LOT of sugar.
Butter – Be sure to set it out in advance so it is fully softened and at room temperature when you're ready to begin.
Vanilla Extract – This is a basic flavoring for most frostings, but easy substitutes include almond extract, maple syrup, espresso powder, or even Bourbon or Brandy. Believe it or not, the vanilla really does highlight your chocolate flavor! The best addition to really make the chocolate a stand-out flavor is to use concentrated coffee or espresso.
Heavy Cream – Milk or Half & Half can also be used, but the frosting won't be quite as thick because it doesn't have the additional richness from the milk fat of heavy whipping cream.
Salt – If the frosting is too sweet, add a pinch of additional salt and taste again.
Looking for this beginner-level frosting in vanilla flavor? Try my vanilla buttercream frosting too!
How to Make This Frosting
My perfect chocolate buttercream frosting is a snap to make and whips up quickly! It's one of my most requested frosting recipes from friends and family too!
You will need a large bowl and a hand mixer, or a stand mixer to mix your frosting in. To begin, quickly whisk the unsweetened cocoa and confectioner's sugar together in a separate bowl and set aside. This is also helpful for removing any lumps in your cocoa!
Beat the softened butter until it's creamy and then add the vanilla. Beat again until fully combined and smooth.
Add the dry sugar and cocoa mixture to the butter in 1 cup amounts, and continue mixing at medium speed. If the frosting becomes dry, drizzle the heavy cream in as needed. Continue this process until you have incorporated all of the sugar and cocoa. Scrape down the sides of your bowl periodically with a spatula as needed. Taste and adjust the sweetness with a pinch of salt as necessary. *If your frosting consistency is too wet, add 1 tablespoon of confectioners' sugar at a time until it reaches a good piping consistency.
Lastly, turn your mixer on high speed and beat the frosting until very creamy and smooth, about 1 - 2 minutes.
This recipe will frost 12+ cupcakes (depending on how high you pile the frosting!), two 8-9 inch rounds for a layer cake, or a single-layer 9x13 sheet cake. You may want to double the recipe and freeze half for the next time you make a cake!
Storing Leftover Frosting
Your leftover chocolate buttercream frosting can be kept in the fridge for up to a week.
Freezing Buttercream Frosting
Place your frosting into an air-tight container and freeze for up to three months. When you're ready to use the frosting, let it thaw fully in the refrigerator.
Once thawed, you can let the frosting sit out at room temperature for a few minutes. Then re-whip quickly for about a minute or until it reaches your desired consistency.
📋 Recipe
Print Recipe
Leave A Comment
Love This Recipe?
Click On A Star To Rate It!
Chocolate Buttercream Frosting
This easy homemade Chocolate Buttercream Frosting is a classic frosting for cakes of all flavors! Rich, creamy, and smooth with just the right amount of chocolate flavor, American buttercream frosting sets up beautifully for all of your cake and cupcake decorating needs!
Pin Recipe
Share on Facebook
Instructions
In a large mixing bowl or the bowl of your stand mixer, whisk the confectioners' sugar and unsweetened cocoa together. Set aside.

In a large mixing bowl, beat the butter for 1 minute or until creamy. Add the vanilla extract and mix until smooth and creamy again.

Add the dry sugar mixture in 1 cup portions and mix it into the butter at medium speed. Drizzle heavy cream in as needed when the frosting becomes dry. Continue until all of the confectioners' sugar and cocoa have been incorporated, scraping the sides of the bowl as you go. Taste and adjust sweetness with a pinch of salt at a time.

Increase your hand mixer or stand mixer speed to high and finish beating the frosting until smooth and creamy, which should take about 1-2 minutes.
Video
Notes
This is enough frosting for an 8 or 9-inch layer cake, a 9 x 13 sheet cake, or a batch of cupcakes.
Nutrition
Calories:
213
kcal
(11%)
|
Carbohydrates:
25
g
(8%)
|
Protein:
1
g
(2%)
|
Fat:
13
g
(20%)
|
Saturated Fat:
8
g
(50%)
|
Trans Fat:
1
g
|
Cholesterol:
36
mg
(12%)
|
Sodium:
104
mg
(5%)
|
Potassium:
69
mg
(2%)
|
Fiber:
1
g
(4%)
|
Sugar:
22
g
(24%)
|
Vitamin A:
410
IU
(8%)
|
Vitamin C:
1
mg
(1%)
|
Calcium:
11
mg
(1%)
|
Iron:
1
mg
(6%)
american buttercream, Chocolate Buttercream Frosting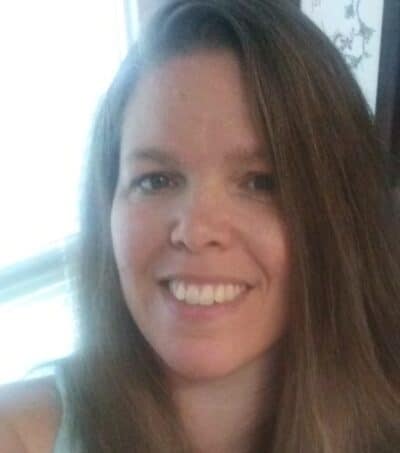 Angela is an at home chef that developed a passion for all things cooking and baking at a young age in her Grandma's kitchen. After many years in the food service industry, she now enjoys sharing all of her family favorite recipes and creating tasty dinner and amazing dessert recipes here at Bake It With Love!