How To Make Shortbread Cookies: an ultimate guide with tips, tricks, recipes, and more for making the very best shortbread cookies! With this guide, your shortbread cookies will have a rich buttery flavor and a perfectly crumbly texture. Whether you frost them or not is up to you!
How To Make The Best Shortbread Cookies
The key to classic chocolate chip cookies and vintage sugar cookies is a soft and chewy texture. However, not every cookie is meant to be soft and chewy. Perfectly baked shortbread cookies are distinguished by their crumbly texture and rich buttery flavor.
While these classic cookies from Scotland may seem like complex cookies to perfect, they are actually quite easy. With a handful of ingredients, a secret step, and the other tips in this guide to shortbread cookies, you have everything you need to make the best shortbread cookies ever.
Jump to:
What are Shortbread Cookies?
While we have come to refer to shortbread as a cookie here in the United States it is considered a biscuit in its homeland of Scotland. This is due to its crumbly texture and buttery flavor that melts in your mouth.
This lovely flavor and texture are a result of the high-fat content of the butter used in these cookies which is balanced by the sweetness of sugar and the texture of flour. Beyond these three ingredients, you have the option of adding vanilla extract for extra flavor.
All You Need Are a Few Simple Ingredients
The short list of ingredients is one of the reasons to love shortbread cookies. You only need three to four ingredients, and these are ingredients that most home chefs already have on hand.
However, while these simple ingredients are typically already in the kitchen pantry, if they are not you will need to run to the store. Especially if the ingredient you are missing is butter.
Avoid Substitute Ingredients
While you can substitute ingredients in many cookie recipes, shortbread cookies are not easy to substitute for. Not only is butter essential to the flavor of these cookies, but the balance of fat and moisture in butter helps create the desired texture. Therefore, you cannot substitute it with another fat.
In addition, white sugar and all-purpose flour are necessary to add the desired texture for binding the butter and adding the classic sweet flavor. Therefore, rather than trying to swap out any ingredients, it is best to make a run to the grocery store before baking.
If you need a substitute to make the cookies gluten-free or vegan I would encourage you to search for a shortbread recipe that has been formulated specifically as a gluten-free or vegan recipe. This will ensure that you get the closest taste and texture possible to the real deal.
Tips for Butter
Since butter is such a key ingredient, I would encourage you to get the good stuff. The richest, creamiest, butter you can find. The extra cost will be worth the extra rich flavor. In addition, salted butter works best as it will help enhance the sweetness of the sugar.
Once you have your ingredients, keep reading for more tips to get the best traditional shortbread cookies.
How to Prepare Shortbread
Not only is the ingredient list for these cookies easy, but so is the preparation. In fact, this dough is easy enough to mix by hand with a bowl and wooden spoon. Therefore, you don't even have to take out the electric mixer (unless you want to).
Before baking, let the butter sit out at room temperature to soften. The goal is to have butter that is soft enough to easily mix by hand, but not so soft that it is almost melted.
Melted butter is a no-no and will ruin the texture. Therefore, take the butter out of the refrigerator for about 20 minutes before starting to bake rather than trying to soften it quickly in the microwave.
Once the butter is soft, begin the baking process:
Cream the sugar and butter.
Add the flour.
Add vanilla (if desired).
Stir until all ingredients are mixed well.
Shape Cookies
Unlike sugar cookies where must let the dough chill before shaping, shortbread dough is best to form right after mixing. It is even key to the next secret step listed below.
To form your shortbread cookies, first, shape the dough in a long roll (rather than a round ball). Then, remove the dough from the mixing bowl and place it on a lightly floured surface.
Use a floured rolling pin to roll the dough. Start from the center of the roll and roll towards the outside. Make sure the dough is rolled out evenly so that all of your cookies are the same thickness.
While other types of cut-out cookies are usually about a ¼ inch thick, shortbread cookies should be thicker. Aim to make your dough about ½ inch thick.
Cut Cookies
Traditionally, shortbread cookies are cut into long rectangles. 3 inches long by 1 inch wide is a standard shape. The easiest way to get an evenly cut and shaped cookie is to use a pizza slicer. However, a sharp knife will also work.
Although shortbread cookies are traditionally formed in a long rectangle, that is not a requirement. You can also use cookie cutters to make shortbread cookies of any shape.
Whether you go the classic route or get creative, it helps to place the pizza slicer or cookie cutters in flour before cutting. As you cut your cookies, place them on an ungreased cookie sheet about an inch apart.
The Secret to Scottish Shortbread
The secret to making your shortbread like the Scots is to let it dry out before baking it. This is unlike most other cookie recipes where you try to keep the dough moist until baking.
However, as mentioned earlier, for most cookies you are aiming for a chewy soft center. To get the perfect crumble of shortbread though you need to let it dry a bit before baking.
The trick here is that you want to let it dry out while also firming up the butter. Therefore, the best choice is to place the baking sheet in the refrigerator - uncovered!
Let the cookies chill in the fridge uncovered for at least 30 minutes. However, you can leave them for longer if desired.
Bake Your Shortbread
A standard shortbread recipe bakes a bit lower than most cookies at 350ºF (175ºC). They also only cook for about 10-12 minutes. 
However, depending on your oven and the thickness of your shortbread cookies, you may need to bake them for as long as 18-20 minutes. Therefore, begin by setting a timer for 10 minutes and then add more time if needed.
While this is the recommendation for a basic recipe, it may vary from recipe to recipe. If you are following a specific recipe that recommends a different temperature and time for baking, follow those recommendations.
Regardless of how long it takes to bake in your oven the key is to take them out when the edges are golden brown. When the edges reach a light golden brown, remove the shortbread from the oven.
Place the baking sheet on top of the stove for about 5 minutes while the cookies begin to cool.
Let the Cookies Cool
Allowing the cookies to cool for a few minutes on top of the stove allows them to continue cooking from the inside out. This helps create the best texture.
After about 5 minutes, use a metal spatula to remove them from the baking sheet and place them on a wire cooling rack. Allow cookies to continue cooling. Shortbread cookies are best enjoyed once they have completely cooled so that you get the desired texture.
Classic Shortbread Recipe
Here is a simple and classic shortbread recipe to try out using the tips from above.
Shortbread Cookie Variations
The lovely thing about shortbread cookies is that because of their rich flavor they are easily enjoyed without any frosting. However, this doesn't mean you can't add some extras if you want to.
If you would like to enhance your shortbread cookies, you can add frosting after they bake or even add chopped nuts to the dough prior to baking. In addition, dipping them in melted chocolate is a wonderful addition.
Different Types of Shortbread Cookies
Beyond the traditional Scottish Shortbread cookies, several different types of cookies follow a similar structure. Below are some of my favorite different types of shortbread cookies.
Each of these cookies is a variation of a classic shortbread cookie. To get the best results, incorporate the tips above alongside the direction for each individual cookie.
🥡 How To Store Shortbread Cookies
Shortbread cookies will last up to 1 week when kept in an airtight container at room temperature. *This does not apply to all types of frosting.
Freezing Shortbread Cookies
Place shortbread cookies in a heavy-duty freezer bag with parchment paper between the layers of cookies and freeze them for up to 3 months. Thaw them out at room temperature before eating.
Did you find How To Make Shortbread Cookies: An Ultimate Guide useful? If you'd like to see more posts like this, let me know in the comments below!
📚 More Baking Guides
📋 Recipe
Print Recipe
Leave A Comment
Love This Recipe?
Click On A Star To Rate It!
How To Make Shortbread Cookies: An Ultimate Guide To Baking Perfectly Tender Shortbread
How To Make Shortbread Cookies: an ultimate guide with tips, tricks, recipes, and more for making the very best shortbread cookies! With this guide, your shortbread cookies will have a rich buttery flavor and a perfectly crumbly texture. Whether you frost them or not is up to you!
Total Time
1
hour
15
minutes
Pin Recipe
Share on Facebook
Instructions
Using your stand mixer (or a mixing bowl with a hand mixer), beat together the room-temperature butter and vanilla extract.

10 tablespoon butter,

½ teaspoon vanilla extract

Mix in the confectioners' sugar and salt until well combined.

½ cup confectioners sugar,

½ teaspoon salt

Slowly and gradually mix in the all-purpose flour, making sure to scrape down the sides and bottom of the bowl, stopping once the flour has been completely incorporated.

1½ cups all-purpose flour

Press the shortbread dough into the shape of a rectangular prism and tightly wrap it with plastic wrap. Place the wrapped dough into the refrigerator and allow it to chill for at least an hour.

Preheat your oven to 350°F (175°C) and line a baking sheet with some parchment paper.

Remove the chilled dough from the fridge and remove the plastic wrap. Using a sharp knife, slice the dough into slices that are about ½-inch thick.

Place the dough slices onto the prepared baking sheet, leaving them space apart by about an inch.

Use a fork or skewer to poke indentions onto the top of the cookies.

Bake in the oven at 350°F (175°C) for 10 minutes, rotating the baking sheet halfway through the cooking time.

Remove the shortbread from the oven and allow them to cool slightly before transferring them to a wire rack to finish cooling.
Equipment You May Need
Notes
Feel free to make your cookie dough ahead of time! It can be prepared and stored in the refrigerator for up to 1 week (or frozen for up to 1 month). Make sure to tightly wrap the dough in plastic wrap and allow it to thaw just enough to slice it.
The indentions on the shortbread can be in any shape or pattern you like! This is a perfect step for the kids to help out with!
Spoon and level your flour when measuring to avoid adding too much to your dough!
To store: Keep these tasty cookies in an airtight container at room temperature for up to one week.
To freeze: Place your cookies into a zip-top freezer bag and store them in the freezer for up to 3 months. Allow them to come back up to room temperature before serving.
Nutrition
Calories:
120
kcal
(6%)
|
Carbohydrates:
13
g
(4%)
|
Protein:
1
g
(2%)
|
Fat:
7
g
(11%)
|
Saturated Fat:
5
g
(31%)
|
Polyunsaturated Fat:
0.3
g
|
Monounsaturated Fat:
2
g
|
Trans Fat:
0.3
g
|
Cholesterol:
19
mg
(6%)
|
Sodium:
129
mg
(6%)
|
Potassium:
15
mg
|
Fiber:
0.3
g
(1%)
|
Sugar:
4
g
(4%)
|
Vitamin A:
219
IU
(4%)
|
Calcium:
4
mg
|
Iron:
1
mg
(6%)
Christmas Cookies, cookie, Guide to shortbread cookies, how to make perfect shortbread cookies, How To Make Shortbread Cookies, shortbread, shortbread cookie recipe, shortbread cookies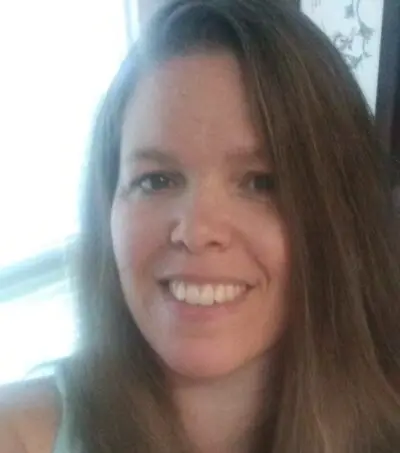 Angela is an at home chef that developed a passion for all things cooking and baking at a young age in her Grandma's kitchen. After many years in the food service industry, she now enjoys sharing all of her family favorite recipes and creating tasty dinner and amazing dessert recipes here at Bake It With Love!