Tasty vanilla crinkle cookies are a holiday staple that make a wonderful addition to Christmas cookie swaps, Easter desserts, or just because! They're easy enough to make that you don't need an excuse like a holiday to whip up these tender cookies any day of the year!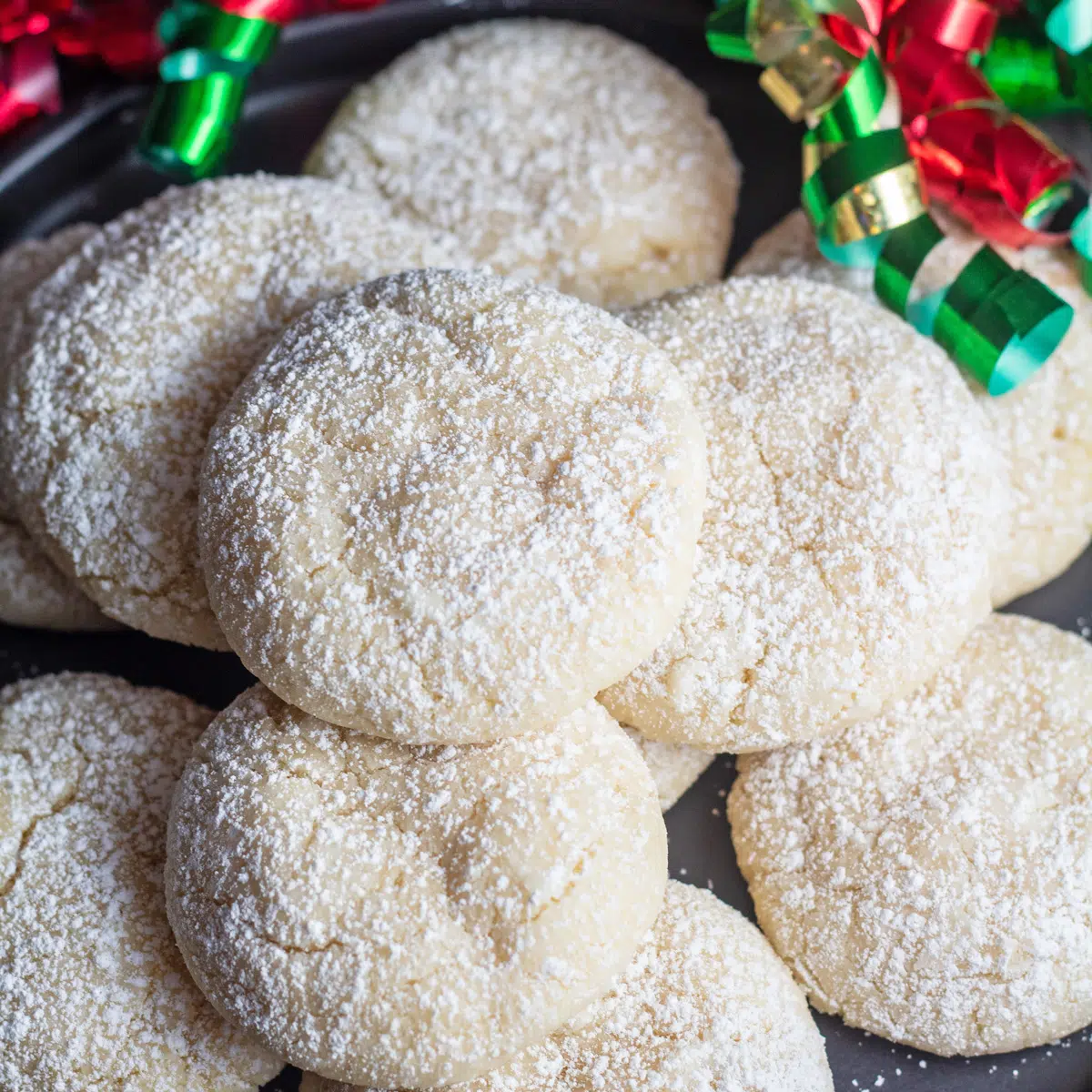 Classic Vanilla Crinkle Cookies The Whole Family With Love!
Nothing says Christmas or Holidays like vanilla crinkle cookies. The rich, vanilla flavor will have everyone with their hands in the cookie jar this winter. Trust me, they taste as good as they look!
There's something about the beautiful dusting of confectioners' sugar marked by natural crinkles that makes them just about impossible to say no to. It's a great recipe to pull out for winter bake sales and cookie swaps, too!
Jump to:
Kids love rolling the dough in the powdery white sugar. You can even shape them into little snowmen!
For a delicious dessert that the whole family can agree on, try this recipe! Keep dough balls frozen for future quick-bake batches year-round.
❤️ Why You'll Love This Recipe!
Kids love them! As long as you don't mind a bit of powdered sugar all over, your little ones will be thrilled to help you make and eat these cookies.
Compliments Everything! These shortbread-like cookies go as well with coffee or hot chocolate as they do with ice cream!
It's customizable! You can easily make these any color you want!
🥘 Ingredients
If you keep basic baking ingredients around, you should be all set for this recipe. Nothing unusual in these delicious cookies!
*Be sure to see the free printable recipe card below for ingredients, exact amounts & instructions with tips!*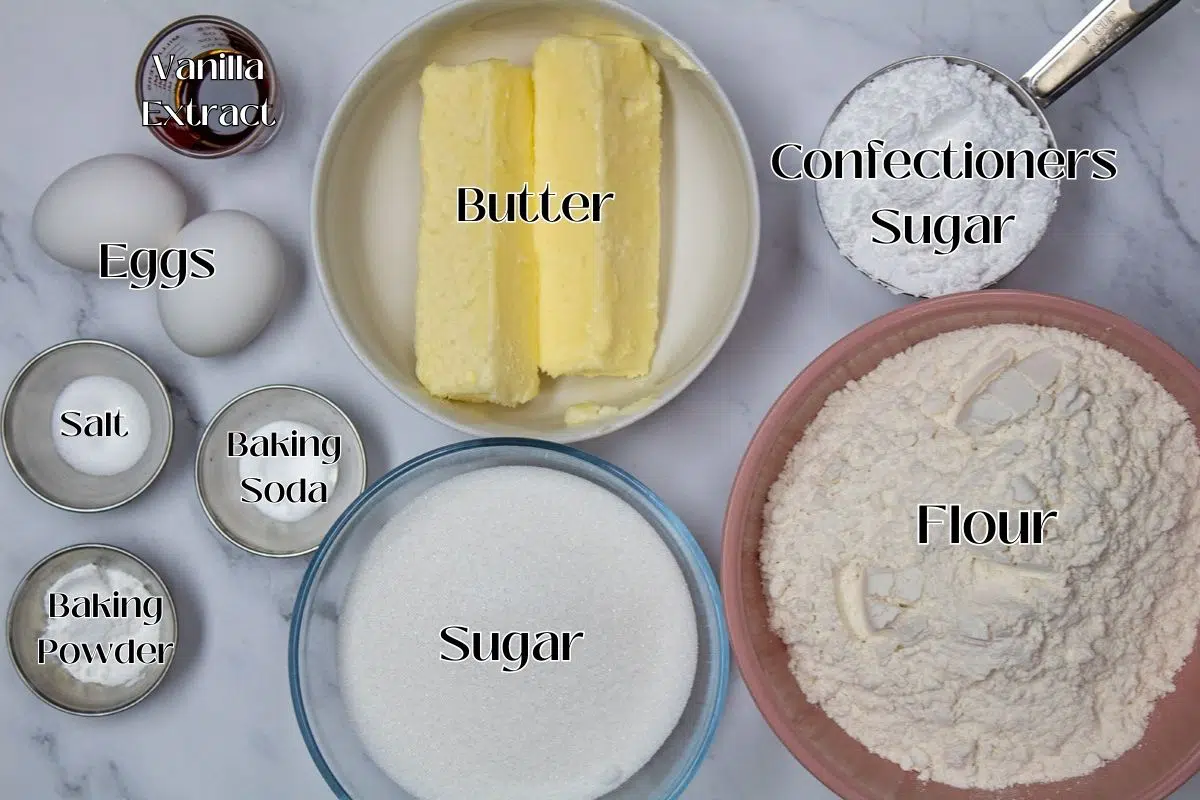 1 cup Butter - Bring 2 sticks of salted butter to room temperature.
1 ½ cups Sugar - You'll definitely want to have plenty of sugar around during the holidays! Not only does sugar add the sweetness to your cookies, but it's also an important part of the resulting shape and texture.
2 large Eggs - Eggs are also part of your cookie structure and bind all of the ingredients together. Be sure to either let your eggs set out for about 30 minutes, or warm them rapidly in a bowl of warm water.
2 teaspoons Vanilla Extract - I always suggest pure vanilla extract for cookie baking, but vanilla extract, imitation vanilla, and vanilla bean caviar or vanilla bean paste will all work in these cookies!
2 teaspoons Baking Powder - Baking powder, along with baking soda, are both commonly used leavening agents that make your cookies fabulous!
½ teaspoon Baking Soda - While it's similar to baking powder, these two aren't interchangeable! The combination of the two is also an important part of making the 'crinkles' on your cookies!
½ teaspoon Salt - Nothing fancy here. Just table salt. Use a bit more if you only have unsalted butter on hand - the general rule of thumb is ¼ teaspoon per ½ cup of unslated butter.
3 cups All-Purpose Flour - This bakers' staple is one of the most versatile ingredients you can buy!
1 cup Confectioners' Sugar - This is also called powdered sugar or, in some places, icing sugar.
🔪 Step-By-Step Instructions
For this recipe, you'll need a large and small bowl, a couple of baking sheets, and some parchment paper. A stand mixer or hand mixer are both optional.
Mix the Cookie Dough
First, cream the butter and sugar. Drop 1 cup (2 sticks) softened, unsalted butter and 1 ½ cups white sugar into a large mixing bowl or the bowl of your stand mixer. Beat for about 1 minute or until the mixture is light and fluffy. Beat in 2 eggs, one at a time until thoroughly combined.
Add vanilla and other dry ingredients. Pour 2 teaspoons vanilla extract, 2 teaspoons baking powder, ½ teaspoon baking soda, and ½ teaspoon salt into the batter. Mix well.
Next, incorporate the flour. Add 3 cups of all-purpose flour and blend well. Cover the bowl with plastic wrap and set it aside for 15 minutes.
Shape & Bake the Vanilla Crinkle Cookies
Preheat the oven. Set your oven to 325℉ (163℃). Use parchment paper or silicone mats to line a baking sheet or two. This recipe makes 60 cookies, so I like to use two pans.
Shape balls and roll in sugar. Sprinkle 1 cup confectioners' sugar in a small bowl or shallow dish. Take the dough that you set aside and form 1-inch balls. Do this by hand or by using a cookie scoop or melon baller of that size. Roll each ball in the powdered sugar until it's covered, and put them all on the prepared baking sheets. Remember to leave 2-inches in between each in order to prevent merging. Shake off extra sugar, if needed.
Bake. Place your baking sheet in the middle of your oven's center rack and bake for 12 to 14 minutes. When done, the bottoms of the cookies should be turning a light golden color.
Cool. Cool your vanilla crinkle cookies on the pan for a few minutes before transferring to a wire rack. Allow the cookies to cool completely before dusting with optional additional confectioners' sugar.
Vanilla crinkle cookies are fantastic with an after-dinner coffee or hot chocolate. They're also great with any flavor of ice cream or just as-is. These simple cookies are a real treat! Enjoy!
💭 Angela's Tips & Recipe Notes
Add color to the batter. To make these treats more festive, add a couple of drops of food coloring to the batter! They're great for any holiday! Or maybe you just want cookies in your favorite color.
The dough will be sticky. Sticky dough is normal, but it can make rolling them in powdered sugar a messy job. Cover your hands thoroughly with powdered sugar as you would with flour if kneading bread. It will help prevent the batter from sticking to your hands.
For really defined crinkles, use lots of powdered sugar. When rolling your dough balls, make sure there is a thick coat of powder. Thicker coverage will make the crinkles more pronounced.
Don't add extra confectioners' sugar while cookies are hot! If you'd like to add more powder after the cookies are baked, wait for them to cool a bit before doing so. Adding sugar when they are fresh from the oven will cause the sugar to melt.
Bake one sheet of cookies at a time. The hottest part of the oven is the top rack. If you already have a tray of cookies there, they will block the heat from the bottom. If you're trying to be efficient, bake both trays at once, but be aware that the one on the bottom will likely need more time.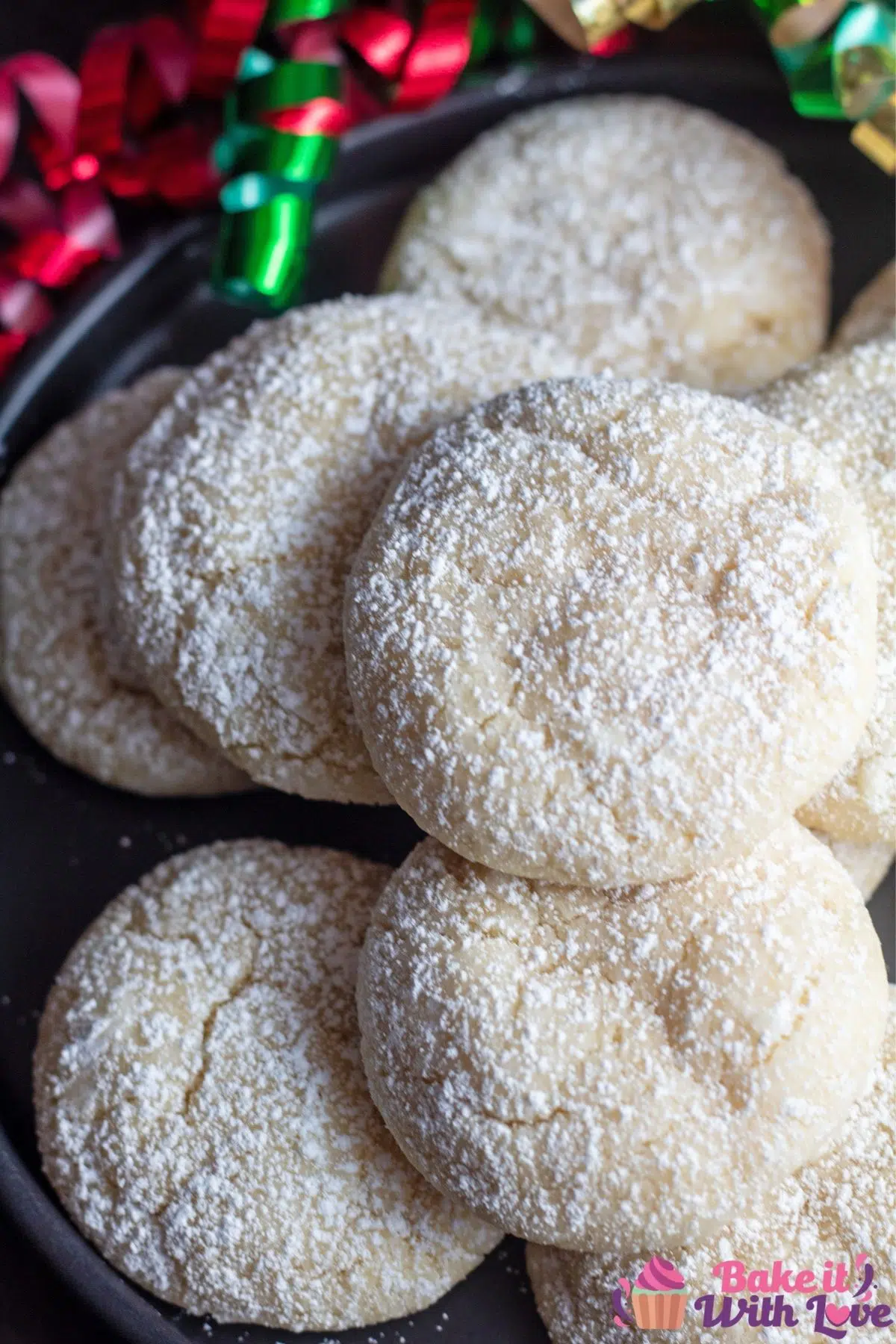 🥡 Storing & Reheating
These cookies should be stored at room temperature in an airtight container. If you're stacking them in the container, be sure to put a sheet of parchment paper between each layer. They'll stay fresh for 3 to 5 days.
Freezing Crinkle Cookies
To freeze, store in layers in an airtight container with parchment paper in between. Eat within 3 months.

You can also freeze the unbaked dough after you've formed balls but before they're rolled in confectioners' sugar. Freeze them in a single layer on a baking sheet until hard–about 2 hours-then transfer the frozen dough into a freezer storage bag. Be sure to squeeze out as much excess air as possible while sealing securely.
Bake within 2 to 3 months for the best flavor. Thaw them at room temperature for 30 minutes before rolling in sugar and baking.
To thaw frozen, baked cookies, let them sit out on a wire rack for 30 minutes. This prevents the bottoms from getting soggy.
❓ FAQ
What causes the tops of these cookies to crinkle?
The reason behind the crinkle is simple. It's the combination of baking powder and baking soda. The pH level of the dough is increased when you add baking soda. Baking soda also weakens the gluten structure. When this happens, the cookies will expand when baked, creating crinkles where the powdered sugar doesn't cover the cracks.
How do I make these crinkle cookies denser?
To get delightfully dense cookies, refrigerate your dough for around 30 minutes after they're rolled in sugar and on the trays. Let them sit at room temperature for another 10 to 15 minutes before baking. They won't flatten out as much, because the fats will have solidified in the cold and will melt slower, giving the cookies less time to spread and flatten in the given bake time.
Do you love a recipe you tried? Please leave a 5-star 🌟rating in the recipe card below and/or a review in the comments section further down the page.
Stay in touch with me through social media @ Pinterest, Facebook, Instagram, or Twitter! Subscribe to the newsletter today (no spam, I promise)! Don't forget to tag me when you try one of my recipes!
📋 Recipe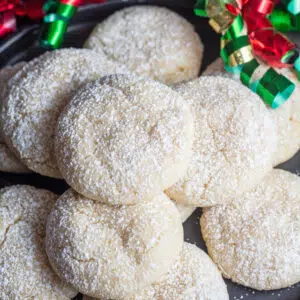 Print Recipe
Leave A Comment
Love This Recipe?
Click On A Star To Rate It!
Vanilla Crinkle Cookies
Tasty vanilla crinkle cookies are a holiday staple that make a wonderful addition to Christmas cookie swaps, Easter desserts, or just because! They're easy enough to make that you don't need an excuse like a holiday to whip up these tender cookies any day of the year!
Pin Recipe
Share on Facebook
Help Us Out!
If you love a recipe, be sure to come back and share your ratings. This helps future users, and allows me to continue sharing free recipes! Angela
Instructions
In a large mixing bowl or the bowl of your stand mixer cream together the softened butter and granulated sugar until light and fluffy, about 1 minute. Beat the eggs in one at a time, just enough to fully incorporate the eggs. Add the vanilla extract, baking powder, baking soda, and salt then mix to combine.

1 cup butter,

1 ½ cups sugar,

2 large eggs,

2 teaspoon vanilla extract,

2 teaspoon baking powder,

½ teaspoon baking soda,

½ teaspoon salt

Add the flour and mix until fully combined, then cover your bowl with plastic cling film and set aside for 15 minutes while the oven preheats.

Preheat your oven to 325°F (163°C) and line a baking sheet(s) with parchment paper or a silicone baking mat.

Put the confectioners' sugar in a small bowl or shallow dish, then shape the dough into 1-inch balls. Roll each ball of dough in the confectioners' sugar before placing them onto your prepared baking sheets, leaving 2-inches of spacing between the cookies. *Shake or tap off any excess confectioners' sugar if needed.

1 cup confectioners' sugar

Bake at 325°F (163°C) for 12-14 minutes or until the cookie bottoms are just beginning to turn a light golden color. Allow the cookies to cool on the baking sheet for a few minutes then transfer to a wire cooling rack to cool completely.
Notes
Store vanilla crinkle cookies in an airtight container at room temperature. Place parchment paper sheets between layers if stacking.
If you want to sprinkle additional confectioners' sugar over the cookies, wait at least 15-20 minutes so that they are cool enough that the sugar won't melt.
Nutrition
Calories:
80
kcal
(4%)
|
Carbohydrates:
12
g
(4%)
|
Protein:
1
g
(2%)
|
Fat:
3
g
(5%)
|
Saturated Fat:
2
g
(13%)
|
Polyunsaturated Fat:
1
g
|
Monounsaturated Fat:
1
g
|
Trans Fat:
1
g
|
Cholesterol:
14
mg
(5%)
|
Sodium:
58
mg
(3%)
|
Potassium:
24
mg
(1%)
|
Fiber:
1
g
(4%)
|
Sugar:
7
g
(8%)
|
Vitamin A:
104
IU
(2%)
|
Calcium:
9
mg
(1%)
|
Iron:
1
mg
(6%)
Christmas Cookies, lemon crinkle cookies, vanilla bean, Vanilla Crinkle Cookies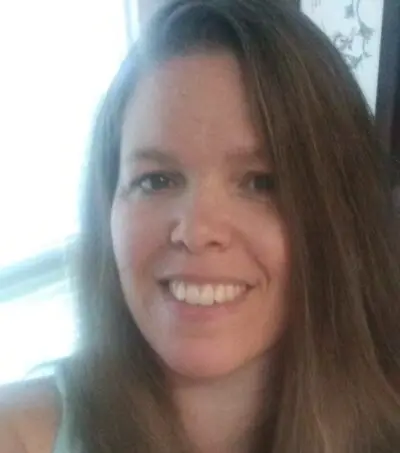 Angela is an at home chef that developed a passion for all things cooking and baking at a young age in her Grandma's kitchen. After many years in the food service industry, she now enjoys sharing all of her family favorite recipes and creating tasty dinner and amazing dessert recipes here at Bake It With Love!