This guide to all-purpose flour is here to answer any questions you may have about one of the most common ingredients in cooking or baking! With a little helpful information, you can start making informed decisions about your choice of flour from here on out!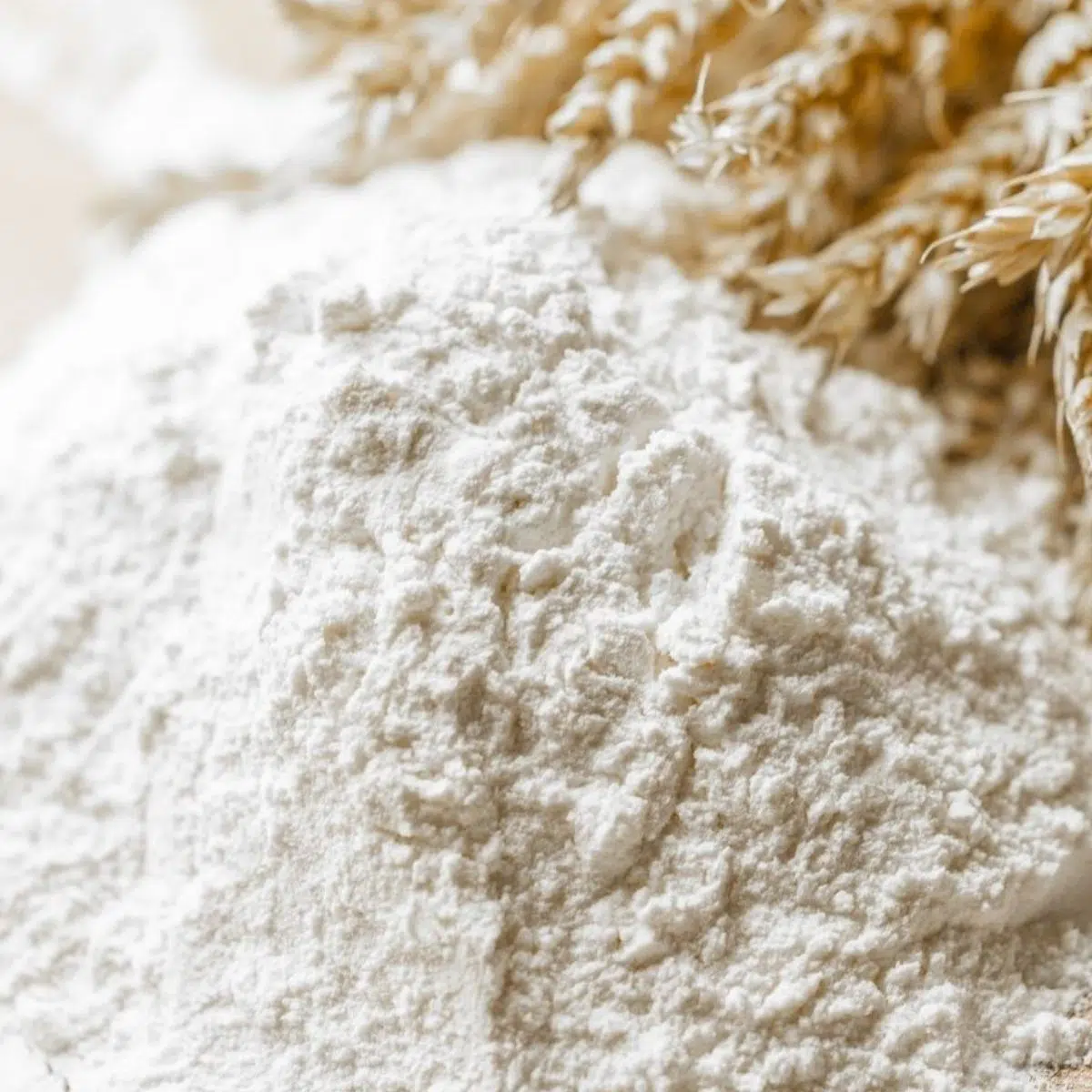 The ultimate guide to choosing the right all-purpose flour to suit your needs!
All-purpose flour is one of the most common ingredients used in cooking. It is an ingredient that all of us are familiar with and have most likely used numerous times. What is it though? What makes it all-purpose? How many ways can you use it?
There is most likely more to this familiar food than you ever thought. So, if you are ready to learn more, keep reading as we break down this seemingly simple staple in this complete guide to all-purpose flour.
Jump to:
What is All-Purpose Flour?
The word flour is commonly associated with carbohydrates. What you may not realize is that in addition to the starch in flour that creates carbs, the second component of all-purpose flour is protein.
The amount of protein is actually the most important thing about all-purpose flour. It is protein that helps the gluten to develop, and without gluten we would not be able to create all the delicious breads, desserts, and other delicious treats that rely on this component.
In general, all-purpose flour is considered moderate or medium protein flour. (More on different protein contents in flour later).
Another important aspect of all-purpose flour is the type of wheat that is used.
Typically, all-purpose flour comes from hard red winter wheat. However, some brands add in soft wheat during manufacturing. This addition of soft is one of the main differences between different brands of all-purpose flour.
The Difference Between Different Brands of All-Purpose Flour
When you are at the store it may you may think that each bag of flour is just the same as the next. While this is true in the sense that you could use any brand of all-purpose flour in the same way for any recipe, there are some slight differences.
Different brands of all-purpose flour use different manufacturing methods. Some brands adhere to strictly using hard red winter wheat, other brands add in other soft wheat – as mentioned above.
The addition of soft wheat changes the protein content. The protein content changes the way the flour reacts in baking. The result is some all-purpose flours have higher or lower levels of protein compared to the ideal moderate levels associated with all-purpose flour.
For most of us, the difference in protein is so slight it isn't something to worry much about. In fact, you have probably never even noticed it.
If you have noticed that the consistency of your favorite chocolate chip cookies is always slightly different and you can't figure out why, it may be a result of changing flour brands.
Unfortunately, flour brands rarely list the protein content in their flour. So, you may not be able to determine which flour is "the best." Here are five brands that are known for having the best moderate protein all-purpose flour:
Gold Medal (Unbleached & Bleached AP Flour) - 10.5% protein
Pillsbury - (Unbleached & Bleached AP Flour) - 10-11% protein
Hodgson Mill (Unbleached AP Flour) - 9.5-10.5% protein
King Arthur Flour - 11.7% protein
Dakota Maid - 11.9% protein
The difference between bleached and unbleached flour
The difference between bleached and unbleached flour is easier to determine than protein content. Even though brands label their bags as "unbleached" or "bleached" it doesn't explain what that means.
Unbleached Flour
When wheat is originally milled to form flour, the result is flour that has a yellow hue. While this yellow tinge does not impact the taste of the flour or the way it reacts during baking, most people do not want to use the naturally yellow-colored flour.
The yellow tinge in the flour naturally disappears after a few months of being milled. Time is money though and most companies don't want to wait for the color to fade naturally. Enter, bleached flour.
Bleached Flour
Bleached all-purpose flour is the result of adding benzoyl peroxide to the milled flour to quickly whiten it. Internationally, benzoyl peroxide has been determined as a safe ingredient to add to flour and has been used for decades.
Unbleached all-purpose flour will most likely be close in color to the bleached flour by the time it makes it to the store shelves because companies wait for the yellow coloring to fade. Since this process takes more time though, unbleached flour is often more expensive than bleached flour.
Whether the all-purpose flour is bleached or unbleached does not impact the protein content. Therefore, you can use either one in your recipes based on preference and what is available to you.
In the case that you are curious about the slight differences between these two types, the consensus among cooks and bakers is that in small quantities you cannot tell a difference between unbleached and bleached flour. However, when large quantities of flour are used, unbleached flour will provide the best texture and taste.
Ways to use All-Purpose Flour
All-purpose flour is truly a staple of the kitchen. From a tablespoon of flour to thicken a tasty alfredo sauce to the main ingredient in your favorite cookies it is more versatile than any other ingredient.
In small quantities, all-purpose flour can be used as a thickening agent for sauces, creamy soups, and stews. Here are some of my favorite recipes to make using all-purpose flour:
In large quantities, all-purpose flour is the staple in baked goods. All-purpose flour is especially great for non-yeast recipes, such as cookies, biscuits, and quick bread. Here are some of my favorite baked goods that use all-purpose flour:
The Difference Between All-Purpose Flour and Other Types of Flour
Even though all-purpose flour is the most common flour on the shelves there are several other types of flour on the market. Some of these flours, such as whole-wheat and gluten-free, have grown in popularity due to the growing debate of the nutritional value of all-purpose flour.
Other types of flour, like bread and cake flours, are less popular. However, these two specialty flours are worth exploring if you are an avid baker or looking to take your homemade bread to the next level.
Whole Wheat Flour
All-purpose flour and whole wheat flour both come from wheat. They are milled from different parts of the wheat, though.
Whole wheat flour is made from grinding the entire grain, all-purpose flour is made from grinding only a portion of the grain – called the endosperm. This is essentially the wheat grain without the bran.
The result of grinding the entire grain results in whole wheat flour being a courser consistency. Whole wheat flour also has a lower protein content than all-purpose flour. Therefore, you cannot replace all-purpose flour with wheat flour.
If you want to use whole wheat flour, the best option is to search for a recipe that specifically calls for it For those who want to experiment with swapping whole wheat flour for all-purpose flour in regular recipes, you can replace half the all-purpose flour with whole wheat flour.
Bread Flour
Unless you are an avid bread baker you may not know that bread flour is different than all-purpose flour. While it is still milled and manufactured in a similar way to all-purpose flour, bread flour has a higher protein content.
The higher protein content creates more gluten that reacts better with yeast and creates the ideal rise in the bread.
Don't forget though, all-purpose flour was created to be "all-purpose." While it may have slightly less protein content than bread flour, it will still produce a delicious loaf of bread.
Cake Flour
On the other end of the spectrum, cake flour is a specialty flour that has a lower protein content than all-purpose flour. Less protein means that less gluten is formed. This results in a lighter and fluffier final cake.
Like bread baking, cake baking does not require a specialty flour. All-purpose flour will produce a delicious and delightful cake!
Gluten-free Flours
Gluten-free flours have become popular in recent years with the growth of low-carb and gluten-free diets. While these substitutes are referred to as flour there are significant differences between them and all-purpose flour.
The most important thing to know is that flours such as almond, coconut, and rice flour do not contain the starch and protein that forms gluten.
Gluten is what binds together and forms the structure of bread and baked goods. Therefore, you cannot substitute these flours in recipes that call for all-purpose flour.
Instead, look for recipes that specifically call for almond, coconut, or another similar flour.
Can you substitute all-purpose flour with another type of flour?
In many recipes, it is easy to quickly swap out an ingredient for something else. This makes it easy when you run out of a particular ingredient in the middle of a recipe. Unfortunately, it is not quite as easy when it comes to all-purpose flour.
While all-purpose flour was designed to be used in any recipe calling for flour and can be substituted for other flours like cake and bread flour, other flours cannot be as easily substituted for all-purpose flour.
As shown above, whole wheat flour cannot replace all-purpose flour in a simple 1:1 exchange. You need to use half the amount of whole wheat flour and half all-purpose flour.
For gluten-free alternatives, the ratios differ from flour to flour and even from recipe to recipe. Some flours will need more moisture (such as coconut flour), while others will need additional binding ingredients (such as almond flour).
If you are looking for a substitute due to a dietary goal, the best option is to find recipes that have already been created with the appropriate ratios of alternative flour. If you simply run out of all-purpose flour, your best option is to make a quick run to the store.
With that being said, there are two options for all-purpose flour substitutions in a pinch:
For baking, you can substitute bread or cake flour for all-purpose flour in baked goods. It will change the consistency a bit, but for something like cookies or a quick sweet bread, it will not be too dramatic.
For cooking, you can replace all-purpose flour with cornstarch as a thickening agent. Rather than adding the cornstarch directly to the recipe, first, make a sludge: mix the cornstarch in a cup or bowl with water. Add the sludge slowly to the sauce or stew. You may not need to use all the recipe calls for.
Tips for Storing All-purpose Flour
Since all-purpose flour can be used in a variety of recipes but is not easily replaced in recipes, it is best to always keep some on hand. Follow these three easy steps to store your flour.
Keep it cool – if you have extra room in your freezer or fridge or a storage fridge/freezer, you can store your flour in there for optimal freshness. The next best thing is to find a cool cupboard or corner of the pantry.
Keep it dark – storing flour in a dark place keeps it fresh as it is away from heat. It also keeps it from oxidizing due to light. Follow the direction in step 1 and you will automatically adhere to step 2.
Keep it airtight – it may be tempting to leave the flour in the bag from the store but removing it from the paper bag and placing it in an airtight container will make your flour last much longer. You only need to buy an airtight container once, and then you always know you have fresh flour on hand.
The next time you are at the store pick up a bag of all-purpose flour and store it appropriately, so you always have fresh flour on hand for all your favorite recipes.
We hope you have found this information useful and it will help you when choosing the right flour in the future!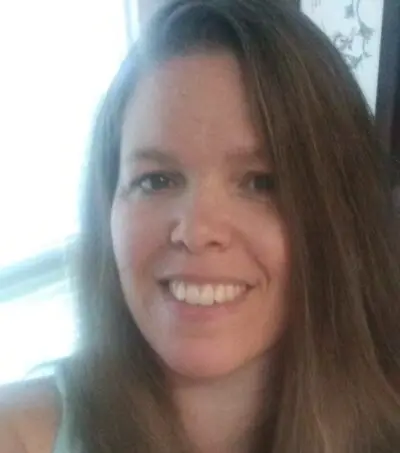 Angela is an at home chef that developed a passion for all things cooking and baking at a young age in her Grandma's kitchen. After many years in the food service industry, she now enjoys sharing all of her family favorite recipes and creating tasty dinner and amazing dessert recipes here at Bake It With Love!