How to reheat prime rib: everything you need to know about keeping your leftover prime rib juicy and tender without overcooking it. There are 3 different methods to choose from for reheating your beef, as well as proper storage techniques and a few of my favorite leftover prime rib recipes! With these tips and tricks, this tasty cut of meat will be even better the second time around!
Reheating Leftover Prime Rib
Nothing beats a fatty, nicely marbled cut of beef like a prime rib roast. It's flavorful and elegant enough to serve on special occasions like Christmas dinner but also versatile enough to enjoy any time of year.
If you're like me, you want to utilize every last bit of that beautiful roast! To do so, you'll need to know how to store and reheat it properly.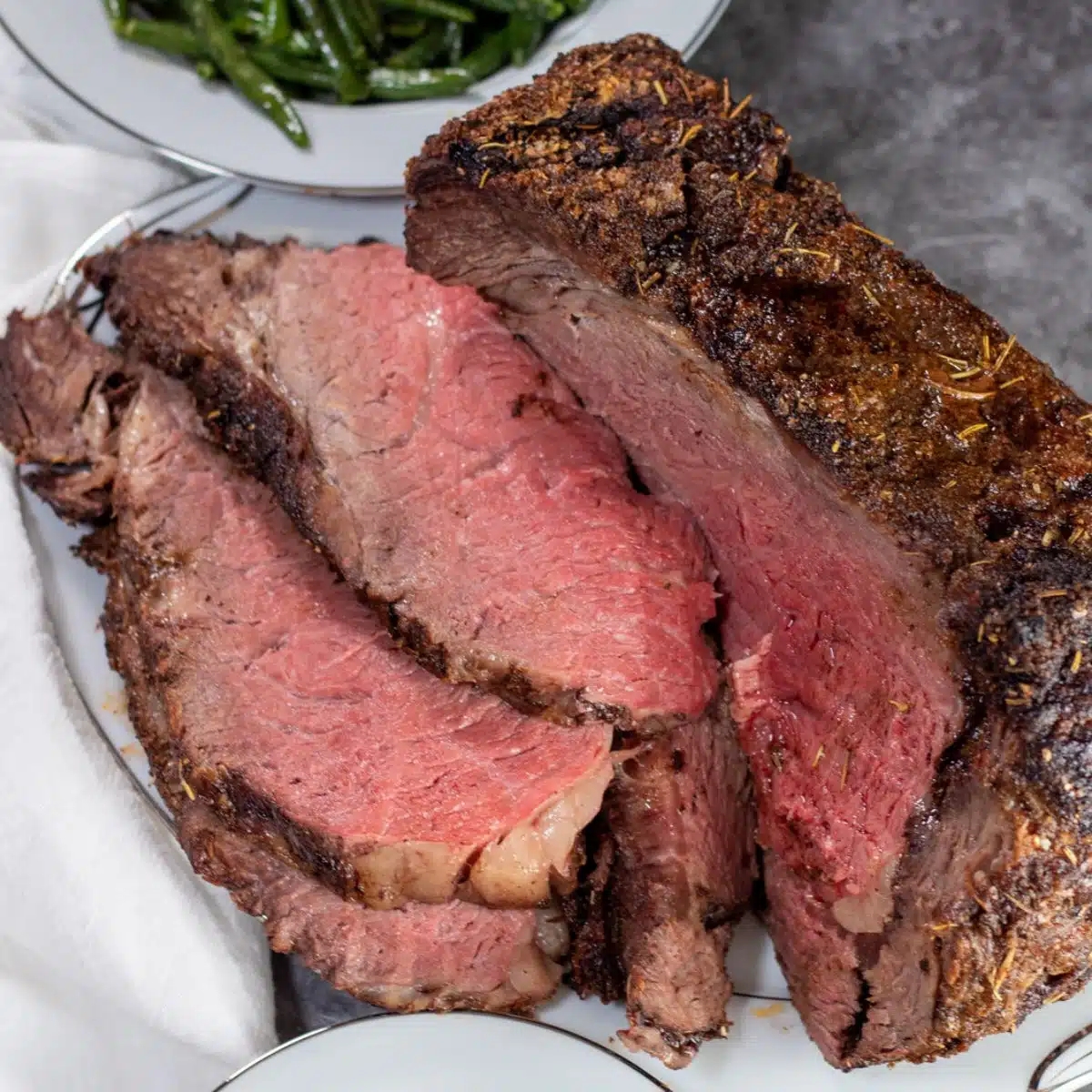 Jump to:
If you don't want to enjoy your prime rib the same way the second time around, take a look at my collection of the best leftover prime rib recipes!
How To Reheat Prime Rib In The Oven
My preferred method of reheating prime rib without drying it out is in the oven. It works well for slices or for a whole roast!
The key to keeping your prime rib juicy and as close to your desired level of doneness as possible is to reheat it low and slow.
Preheat. Begin by preheating your oven to 300°F (150°C). Place the leftover prime rib in a small baking pan or dish.
Add liquid. Add 3-4 tablespoons of beef broth or au jus to the pan. You can use water in a pinch, but it may dilute the flavor of your roast a bit.
Cover. Aluminum foil is essential when reheating prime rib. Cover the baking pan tightly to seal the moisture inside and prevent the top of your roast from drying out.
Bake. The amount of time is going to depend on the size of your roast. Slices will warm the quickest, usually in about 10 minutes. A larger roast will take from 20-30 minutes. For the most accurate time, use a meat thermometer to check the internal temperature of the meat every 10 minutes until it reaches 160°F (71°C).
Transfer to a serving dish. Your prime rib will continue to cook another 5°F or so (also known as carryover cooking) even after being removed from the oven. Remove it from the hot pan right away and transfer it to a serving dish or cutting board to keep it from cooking too much.
No need to rest. Unlike freshly cooked prime rib, reheated prime rib does not need to rest before you slice and serve it!
How To Reheat Prime Rib In A Steamer
Using a steamer is another great option for keeping the meat juicy and tender. This method works well for slices, but would not be a good choice for a large roast.
Set up your steamer. Place a steamer basket into a pot with about 1 inch of water in the bottom and bring the water to a simmer over medium heat.
Wrap the meat. Wrap your slices of prime rib in aluminum foil with a splash of broth or au jus to keep it moist.
Steam. Add the wrapped meat to the steamer basket and replace the lid on the pot. Let it steam for 4-6 minutes, depending on how much meat you are reheating and its thickness.
Check. When you think your prime rib is warmed through, open the foil and check it with a meat thermometer for an internal temperature of 165°F (74°C). If it has not reached it yet, seal it back up in the foil and add it back to the steamer basket for a few minutes more.
How To Reheat Prime Rib In The Microwave
If preserving the pinkness and tenderness of your meat is not a major concern, the microwave is always an option in a pinch. This method is best for slices as the microwave tends to overcook the outside of a large roast while the inside is still cold.
Just be sure that you are microwaving slices that are similar in thickness or some may be overcooked while others are not warmed through.
Use a bowl. Place sliced prime rib into a microwave-safe bowl.
Add liquid. Pour in a couple of tablespoons of au jus or beef broth to keep the meat juicy.
Cover. Cover the bowl with a lid or plastic wrap.
Microwave. Microwave for 1 minute on medium power. Check the meat to see if it is warmed through. If not, continue microwaving and checking in 30-second increments.
Enjoy It Cold
Many would argue that sliced prime rib is just as good, or better, served cold! Thinly sliced prime rib can be made into incredible prime rib sandwiches or used as protein on a salad!
If a salad or sandwich doesn't pique your interest, you can always chop up your leftover prime rib and use it in a quick stir-fry, breakfast hash, or prime rib fried rice.
What To Do With Tough Leftover Prime Rib
So, you've overcooked your prime rib, now what? There is no magic wand to return it to its original state but that doesn't mean it can't be turned into something incredibly tasty! Here are a few options to try:
Puree it. Add the overcooked prime rib to your food processor with a little olive oil and puree it. This will can make a tasty filling for empanadas, ravioli, or dumplings!
Make a rillette. A rillette is a fatty meat spread that can be spread on bread or crackers. You can make it by finely shredding the tough prime rib in a food processor with some stock and rendered pork fat until it developed a paste-like consistency.
Make prime rib beef stroganoff. The creamy mushroom gravy and soft pasta will make you forget all about overcooking your roast.
How To Store Leftover Prime Rib
Proper storage is key to getting the most out of your leftover prime rib (or any meat)! *Remember to never let your prime rib sit at room temperature for more than 2 hours, or it is at risk of harboring harmful bacteria that can cause foodborne illness.
Once your leftovers have cooled down, place them in an airtight container. It is best to use a rack or foil to elevate the meat to keep it from sitting in its own juices.
According to the USDA, a prime rib roast will keep for 3-5 days in the fridge as long as the temperature under 40°F/4°C is maintained.
If you'd like to freeze your prime rib, tightly wrap it in freezer wrap followed by aluminum foil. It will keep frozen for up to 12 months (depending on how well it was wrapped and if it was kept at a consistent temperature)!
More Tips and Tricks on Storing Prime Rib
I hope I've answered any questions you had on how to reheat prime rib! If not, let me know in the comments below and I will get back to you as soon as I can!
😋 Leftover Prime Rib Recipes To Try
Do you love a recipe you tried? Please leave a 5-star 🌟rating in the recipe card below and/or a review in the comments section further down the page.
Stay in touch with me through social media @ Pinterest, Facebook, Instagram, or Twitter! Subscribe to the newsletter today (no spam, I promise)! Don't forget to tag me when you try one of my recipes!
📖 Recipe Card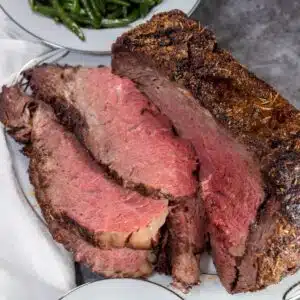 Print Recipe
Leave A Comment
Love This Recipe?
Click On A Star To Rate It!
How To Reheat Prime Rib: Boneless Prime Rib (+More Tips, Tricks, & Best Leftover Recipes!)
How to reheat prime rib: everything you need to know about keeping your leftover prime rib juicy and tender without overcooking it. There are 3 different methods to choose from for reheating your beef, as well as proper storage techniques and a few of my favorite leftover prime rib recipes! With these tips and tricks, this tasty cut of meat will be even better the second time around!
Cooking
3

hours
45

minutes
Total Time
4

hours
30

minutes
Pin Recipe
Share on Facebook
Ingredients
Boneless Prime Rib Roast
5

lb

prime rib

(boneless roast)
Help Us Out!
If you love a recipe, be sure to come back and share your ratings. This helps future users, and allows me to continue sharing free recipes! Angela
Instructions
Preparation
Rinse your prime rib roast in cool running water, and pat dry with paper towels. Remove any excess fat or silver skin, if desired.

(optional) Tie the rib roast with butcher twine. For boneless roasts, tie every 1.5 inches down the length of the roast.
Prime Rib Rub
Combine dry rub ingredients in a small bowl (salt, pepper, smoked paprika, garlic powder, onion powder, ground sage, dried rosemary and dried thyme) and set aside.

1 ½ tablespoon kosher salt,

1 tablespoon coarse ground pepper,

½ tablespoon garlic powder,

1 teaspoon smoked paprika,

1 teaspoon dried rosemary,

1 teaspoon ground sage,

½ teaspoon dried oregano,

½ teaspoon onion powder,

1 teaspoon dried thyme

Place the prime rib on a baking sheet or in a baking dish and sprinkle the dry rub over, using one half for each side. Massage the dry rub into place and roll the edges in the excess that is on the baking sheet to coat the entire surface of your roast. *Don't be shy with the seasoning!

Once your prime rib is seasoned, leave uncovered and transfer to your refrigerator to dry brine overnight (or 8 hours). For the best results, be sure to also allow at least 1 hour (preferably 2 hours) of bringing the roast to room temperature before roasting.
Roasting The Prime Rib
Preheat your oven to 200°F (93°C).

Transfer the seasoned prime rib roast in a roasting pan to your preheated oven (fat side facing up for a boneless prime rib or bone side down for a standing rib roast). Roast for approximately 3 hours 45 minutes (or about 45 minutes per pound for a 5-pound prime rib), until the internal temperature of the roast reaches your desired doneness in the next step below.

When the roast has an internal temperature of 120-125°F (49-52°C) for RARE, 125-129°F (52-54°C) for MEDIUM RARE, 130-139°F (54-59°C) for MEDIUM, and 140-145°F (60-63°C) for MEDIUM DONE remove the roast from your oven and allow it to rest tented loosely with aluminum foil for 20-30 minutes before slicing and serving.
(Optional) Reverse Sear
To reverse sear your prime rib before serving, remove the roast about 10°F (5.5°C) below the temperature of your desired doneness listed above. Transfer the roast to a cutting board or platter and cover with aluminum foil while you bring your oven temperature up to 500°F (260°C).

Once your oven is fully heated, return the roast and sear until the internal temperature is 130°F (54°C) for RARE, 135°F (57°C) for MEDIUM RARE, and 140°F (60°C) for MEDIUM. *Keep a close eye on your prime rib as this searing step moves along quickly.

Remove your prime rib from the oven, replace the aluminum foil over the roast, and allow to rest for at least 15 minutes before carving and serving.
Equipment You May Need
Notes
Time allowing, wrap the seasoned roast in plastic cling film and allow it to 'cure' in the refrigerator for at least four hours, and up to overnight. Or, apply the dry rub and leave the roast unwrapped to 'dry brine' in the refrigerator overnight.
Check the internal temperature of your roast at the thickest portion of the roast, as well as a few other areas toward the center of your roast to determine doneness.
All temperatures given for *removing the roast* from your oven are not the final temperature that your roast will reach. The 'carryover cooking' that happens while resting should increase your roast's internal temperature by 5-7°F (3-4°C) for its final cooked temp and doneness.
Nutrition
Calories:
681
kcal
(34%)
|
Carbohydrates:
1
g
|
Protein:
31
g
(62%)
|
Fat:
60
g
(92%)
|
Saturated Fat:
25
g
(156%)
|
Polyunsaturated Fat:
2
g
|
Monounsaturated Fat:
26
g
|
Cholesterol:
137
mg
(46%)
|
Sodium:
1148
mg
(50%)
|
Potassium:
522
mg
(15%)
|
Fiber:
1
g
(4%)
|
Sugar:
1
g
(1%)
|
Vitamin A:
108
IU
(2%)
|
Vitamin C:
1
mg
(1%)
|
Calcium:
25
mg
(3%)
|
Iron:
4
mg
(22%)
Best ways to reheat prime rib, how to keep prime rib tender and juicy when reheated, How To Reheat Prime Rib, how to reheat prime rib in a steamer, how to reheat prime rib in the microwave, how to reheat prime rib in the oven, how to reheat prime rib on the stovetop, prime rib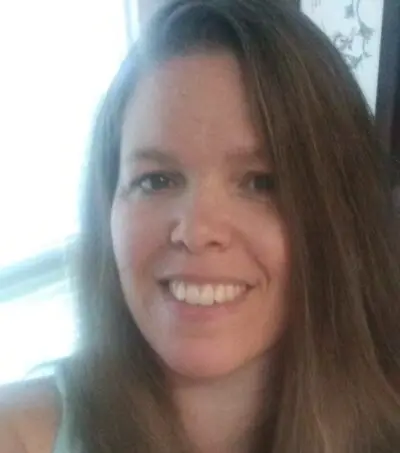 Angela is an at home chef that developed a passion for all things cooking and baking at a young age in her Grandma's kitchen. After many years in the food service industry, she now enjoys sharing all of her family favorite recipes and creating tasty dinner and amazing dessert recipes here at Bake It With Love!