Empire Biscuits are a delicious and popular biscuit or cookie made of two shortbread cookies sandwiched around a generous portion of jam filling, then topped with icing and a cherry. These cookies are internationally loved and known by various names, but no matter what you call them they are amazingly tender and tasty!!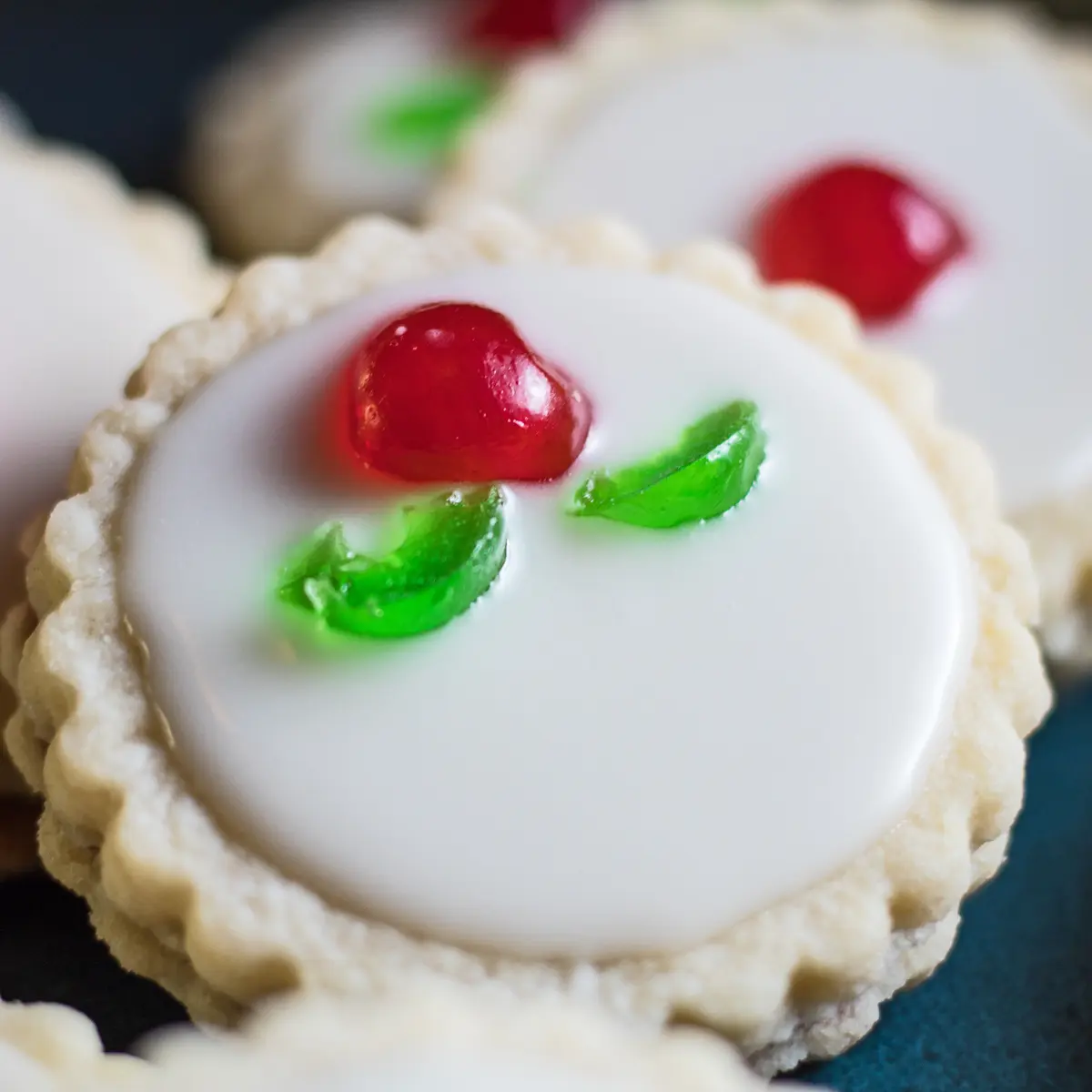 These internationally loved Empire Cookies are known by many names! Since I am US-based, I will use the words cookie and biscuit interchangeably throughout the blog when referencing this shortbread sandwich cookie.
Here are some of the other well-known names of this cousin to Linzer cookies or Jammie Dodgers!
An Empire biscuit (Imperial biscuit, Imperial cookie, double biscuit, German biscuit, Belgian biscuit, double shortbread, Empire cookie or biscuit bun) is a sweet biscuit eaten in Scotland, and other Commonwealth countries. It is popular in Northern Ireland, and it is an iconic dish in Winnipeg, Canada. ~ source: Wikipedia
Jump to:
But wait, there's more! To go with the 'German Biscuit' there is also 'Deutsch Biscuit,' and Empire Biscuits are also called Linzer biscuits. It just depends on where you are from.
Now to take away any confusion. Whatever name you may have known it as, or if Empire Biscuits are completely new to you, these are still just super simple but ridiculously delicious shortbread sandwich cookies!
What makes these cookies so special? Shortbread is a popular gift or souvenir (in a tartan decorated tin) from Scotland and is attributed to Mary, Queen of Scots, who is said to have enjoyed Petticoat Tails (a thin buttery shortbread flavored with caraway seeds).
Historically, shortbread was considered a luxury and was reserved for holidays (Christmas, New Year's, and weddings). That makes perfect sense and explains why these jammy cookies are so perfectly suited for holiday baking!
If you have kids, you may have also seen these sandwich biscuits featured in Disney Pixar's 2012 animated movie, Brave! The Empire Biscuits make an appearance with Merida, her brothers, and their parents, all set around a full feast on the table!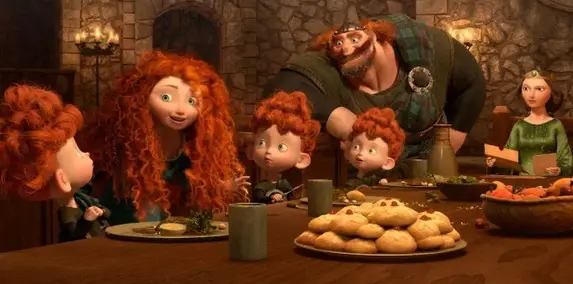 🔪 Step-By-Step Instructions
The process is simple, starting with baking up the shortbread biscuits. If you end up with a spare cookie, no worries! They're fabulously tasty!! Eat the extra 🙂
Make the Shortbread
Preheat. Start your Empire Biscuits out by setting your oven temperature to 375ºF (190ºC) and lining a baking sheet(s) with parchment paper.
Cream the butter and sugar. Combine the room temperature butter with the sugar in a large mixing bowl, or the bowl of your stand mixer. Mix the butter and sugar together with a spatula, hand mixer, or your stand mixer until smooth and light in color.
Add flour. Sift the flour using a sifter or fine-mesh sieve over a medium-size mixing bowl. Add the sifted flour gradually to the shortbread dough. I add my flour in roughly four equal one-cup portions.
Mix until the shortbread dough comes together. The last portion is combined just enough so that the flour is incorporated. The dough will be slightly sticky.
Roll out the shortbread dough. Turn the shortbread dough out onto a lightly floured working surface. Pull the dough together and flatten slightly, then roll the dough out. Your rolled dough should be roughly ¼ inch in thickness or just over half a centimeter.
Cut out the cookies. Use a round cookie or biscuit cutter ( smooth or scalloped ) that is 2 - 2 ½ inches in diameter to cut your shortbread cookies. Pull away the excess dough and transfer the cut cookies to your parchment paper-lined baking sheet. Leave about ½ inch spacing between the cookies on the baking sheet.
Bake the Shortbread Cookies
Bake the cookies. Place the baking sheet in the middle of your oven's center rack and bake at 375ºF (190ºC) for 8-10 minutes. The cookies may appear slightly puffy when coming out of the oven, but do not let the bottoms brown much more than a light golden color.
Cool. Remove the baked cookies from the oven and set the baking sheet on a wire cooling rack to cool slightly. Allow the cookies to remain on the baking sheet

for at least 5 minutes

before using a spatula to carefully transfer them to a wire cooling rack.
***Handle gently, these tender cookies are prone to breaking while warm! The shortbread should be cooled completely before handling.
Make the Biscuit Icing
Combine and mix. In a medium mixing bowl combine the confectioner's sugar and milk (plus optional lemon or almond extract) until smooth. The consistency should cling to your spoon and drizzle off slowly, and should not be runny.
Adjust the consistency as needed. Use more confectioner's sugar to thicken the icing, or more milk to thin it. *Water can also be used for thinning the icing.
Assemble the Sandwich Cookies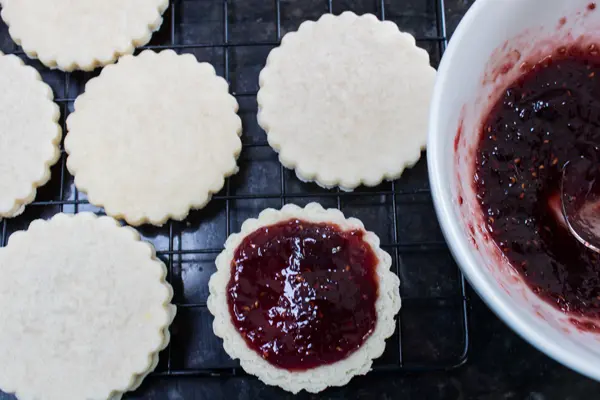 Soften your jam or preserves. Gather your raspberry preserves (or jam, strawberry preserves, or jam are also commonly used). You can add a drizzle of warm water, or briefly microwave the preserves, to make the raspberry jam more spreadable. *I prefer warm water as it makes my raspberry perfectly workable, as shown above. See notes for more info on thickening your filling.
Spread the filling. Turn half of your shortbread cookies so that the bottom is facing upward and spread the jam on these upturned cookies. Place the top cookie onto each cookie with jam to make your sandwich cookies.
Spread the icing. Add a dollop of the icing on top of each sandwich cookie, and spread in a circular motion moving outward toward the edges. Push the icing outward until you have a nice round circle of icing on each of your empire biscuits.
Put a cherry on top. On top of each iced cookie, place a maraschino cherry or glace cherry half in the center of the cookie. This is the usual presentation on this classic Scottish cookie.
To make your empire cookies look more festive for Christmas cookies, you can also cut each of your maraschino or red glace cherries into quarters. Cut the green glace cherries into halves, then cut slivers for the holly leaf look.
Whichever way you decorate the cookies, place the cherries onto the icing while it is still wet and not yet set. Enjoy!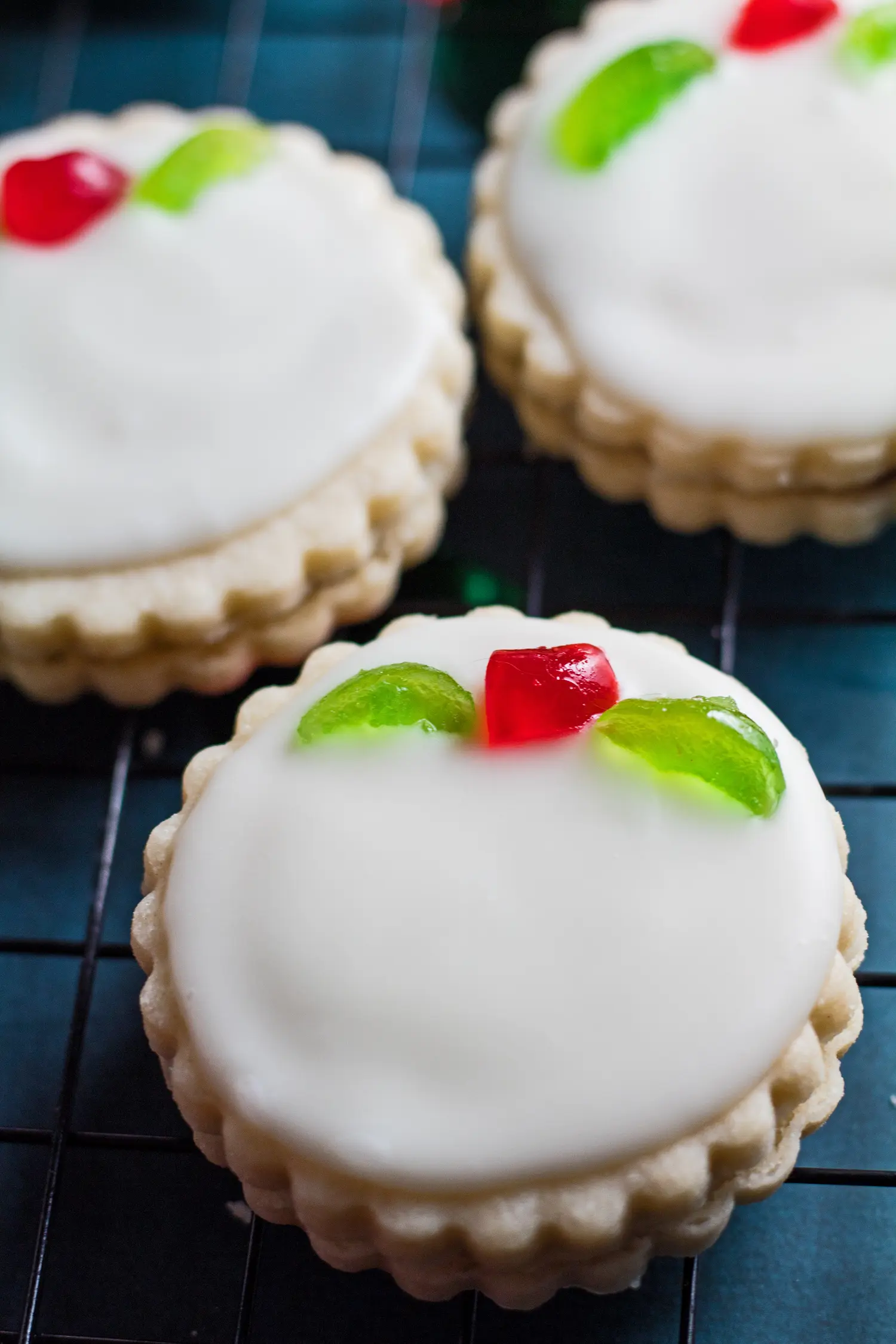 💭 Angela's Tips & Recipe Notes
Some bakers like to thicken the jam or preserves by simmering them over low heat. A cornstarch slurry is frequently added to thicken the jam during simmering so that it stays in place on your empire biscuits.
Be generous with your jam filling. It also seeps into the shortbread biscuits making these jammy delights even better the next day!
Other flavors can also be used as a filling, other than the traditional raspberry or strawberry. Blackberry, apricot, and currants are all suitable flavors in your empire biscuits. I suggest a berry or fruit that has some tartness to its flavor, as it will complement the sweetness of the icing best.
🥡 Storing
Store your baked and decorated Empire Biscuits in an airtight container with parchment paper sheets between the layers. Keep the Empire Cookies at room temperature, preferably in a dry, cool cupboard (especially if your weather is still warm).
Your cookies will store well at room temp for up to about 4 days before the jam makes the shortbread cookies too soggy.
Freezing Empire Biscuits
If you want to freeze your cookies for sharing later, it is best to freeze the shortbread cookies once baked. Thaw the cookies in a single layer at room temperature and decorate before assembling your Christmas cookie platters.
To freeze assembled sandwich cookies, flash freeze the decorated cookies in a single layer on a baking sheet until fully frozen (about 2-3 hours).
Transfer the frozen cookies into an airtight freezer container with sheets of parchment paper between the layers of cookies. Or wrap the sandwich cookies in plastic cling film and store them in a freezer storage bag.
To thaw, place the cookies out at room temperature. Unwrap the plastic cling film before thawing, if needed.
Freeze the shortbread cookies or assembled Empire biscuits for up to 3 months.
❓ FAQ
What are Empire Biscuits made of?
Empire Biscuits (or cookies) are made of shortbread cookies that are sandwiched together. They are typically filled with raspberry or strawberry jam or preserves then topped with icing and a glace cherry, or sometimes a candy like gumdrops or dew drops.
How many calories are in homemade Empire Biscuits?
There are roughly 225 calories per homemade Empire Biscuit sandwich cookie. This, of course, will vary depending on your filling, the amount of filling, the amount of icing, etc.
📋 Recipe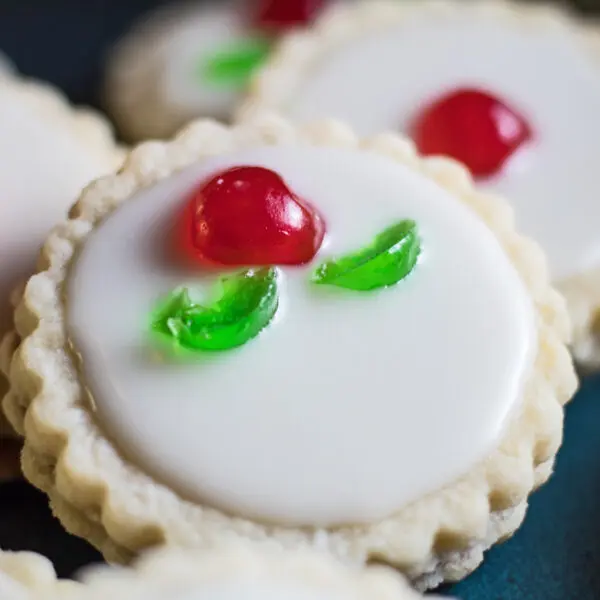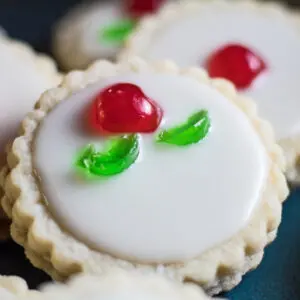 Print Recipe
Leave A Comment
Love This Recipe?
Click On A Star To Rate It!
Empire Biscuits
Empire Biscuits are a delicious and popular biscuit or cookie made of two shortbread cookies sandwiched around a generous portion of jam filling, then topped with icing and a cherry. These cookies are internationally loved and known by various names, but no matter what you call them they are amazingly tender and tasty!!
Servings:
48
servings (using a 2 inch cookie cutter)
Pin Recipe
Share on Facebook
Ingredients
Biscuit Ingredients
2

cups

butter

(unsalted, softened at room temperature)

1

cup

sugar

4

cups

all-purpose flour

(sifted)

¼

teaspoon

salt

(omit if using salted butter)
Icing, Filling and Topping
1

cup

raspberry preserves

(raspberry or strawberry jam also work)

8

cups

confectioners sugar

1

cup

milk

½

teaspoon

lemon extract

(or almond extract, optional)

24

maraschino cherries

(cut into halves)

12

glace cherries

(green color, optional - cut into slivers)
Instructions
Bake the Shortbread Cookies
Preheat your oven to 375°F (190°C) and line a baking sheet with parchment paper.

Start off by creaming together the butter and sugar in a mixing bowl until it is a smooth consistency and a light color (creamed sugar should look almost white).

2 cups butter,

1 cup sugar

Add in the sifted flour and salt and stir until combined. The shortbread will form a loose sticky dough.

4 cups all-purpose flour,

¼ teaspoon salt

Roll the dough out on a lightly floured surface to about ¼ inch in thickness (or a little more than half a centimeter).

Using a round (smooth or scalloped) cookie cutter, cut out the dough into the cookie shapes and place on a baking sheet lined with parchment paper.

Bake at 375°F (190°C) for 8-10 minutes. Place baking sheet on the center rack of the oven for even cooking and to ensure that your bottoms don't brown.

Remove from your oven and allow the cookies to cool for about 5 minutes. Transfer the tender cookies (carefully) to a wire rack using a spatula to continue cooling completely before filling and decorating.
Make The Icing
In a mixing bowl combine the confectioners sugar with the milk until smooth and creamy (your icing should drizzle off your spoon slowly). If desired, add in the optional lemon extract and blend.

8 cups confectioners sugar,

1 cup milk,

½ teaspoon lemon extract
Assembling The Empire Biscuits
Flip half of the shortbread cookies so that the bottom is facing upward. Using a small spoon of jam, spread a generous layer of jam on the upturned cookies. Top each layer of jam with a second cookie to sandwich the jam.

1 cup raspberry preserves

Carefully spoon the icing over the top of each cookie. Add to each iced cookie your maraschino and glace cherries while the icing is still wet. Allow cookies to set completely before serving.

24 maraschino cherries,

12 glace cherries
Nutrition
Calories:
227
kcal
(11%)
|
Carbohydrates:
39
g
(13%)
|
Protein:
1
g
(2%)
|
Fat:
8
g
(12%)
|
Saturated Fat:
5
g
(31%)
|
Cholesterol:
20
mg
(7%)
|
Sodium:
16
mg
(1%)
|
Potassium:
19
mg
(1%)
|
Fiber:
1
g
(4%)
|
Sugar:
29
g
(32%)
|
Vitamin A:
237
IU
(5%)
|
Vitamin C:
1
mg
(1%)
|
Calcium:
7
mg
(1%)
|
Iron:
1
mg
(6%)
Belgian Biscuit, biscuit, Christmas Cookies, cookie, Deutsch Biscuit, Empire Biscuit, Empire Biscuits, Empire Cookies, German biscuit, Imperial cookie, Linzer Biscuit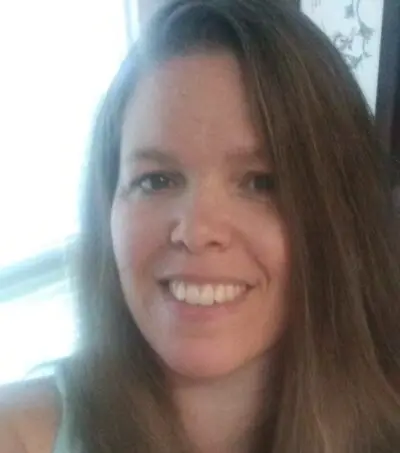 Angela is an at home chef that developed a passion for all things cooking and baking at a young age in her Grandma's kitchen. After many years in the food service industry, she now enjoys sharing all of her family favorite recipes and creating tasty dinner and amazing dessert recipes here at Bake It With Love!