I put together this page to help you find the best chocolate for melting so you can have the most decadent treats and desserts! You need all the information to find the best chocolate for coating, dipping, or drizzling, and you came to the right place!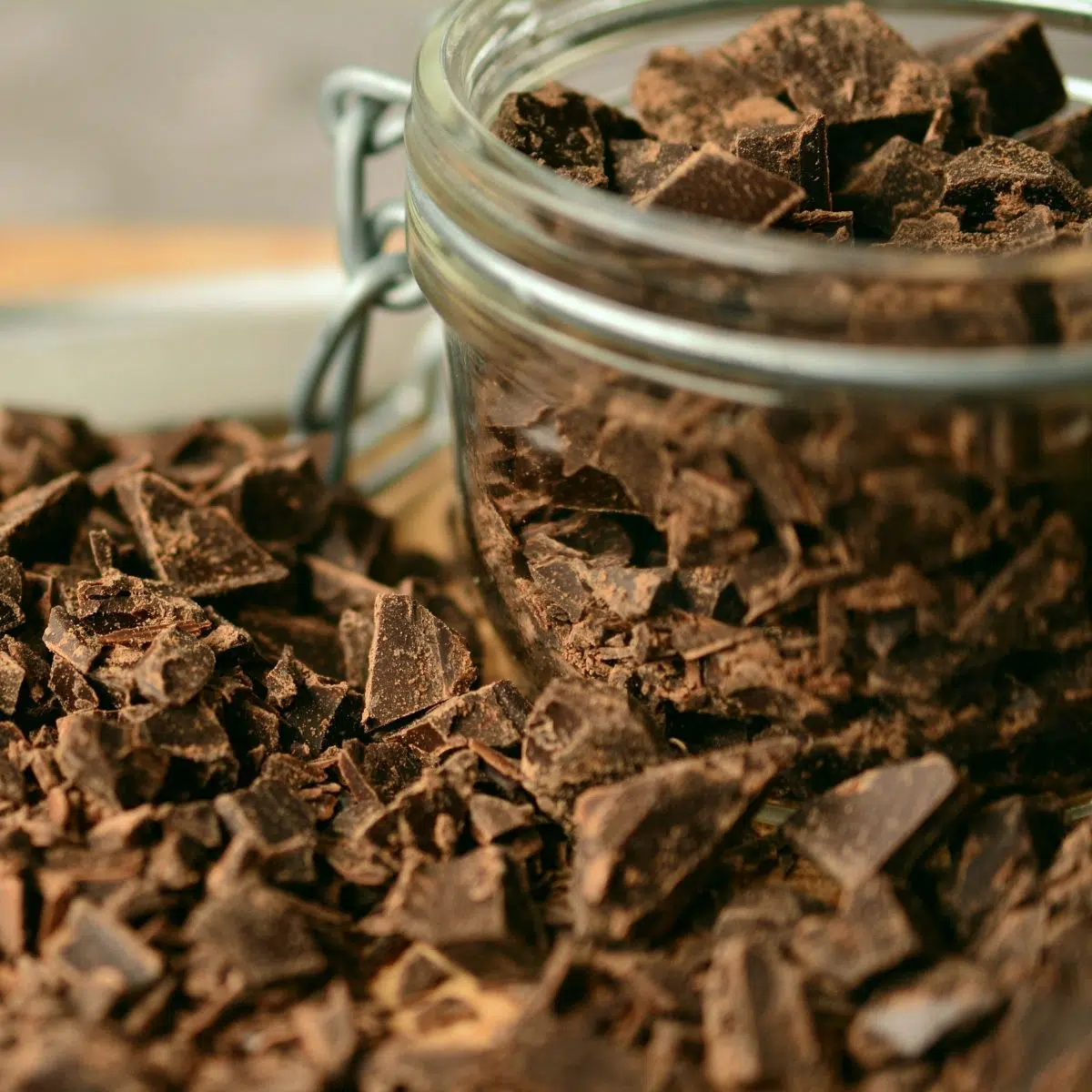 There are so many delectable types of chocolate in the world, but which one melts the best?
Chocolate-dipped Rice Krispies, sundaes, chocolate-covered pretzels- some of the best desserts require heating up chocolate. However, when it comes to melting this liquid gold, it can get messy quickly.
If you've ever overheated the stuff, you are well aware of the temperamental nature of this delicious treat. Here, I've compiled some of my best tips for getting it right.
Jump to:
What Chocolate Melts the Best?
Let's start with what properties make chocolate more or less suitable for the task of melting. Chocolate will melt between 86℉ and 90℉ (30℃ and 32℃), give or take.
Consider this when you try to keep a Hershey bar in your pocket - humans run at about 98.6℉ (37℃) - or in your car on a hot summer afternoon!
The first thing to consider is surface area. The more surface area there is relative to the volume, the better. In other words, thin and flaky chocolate is going to melt a lot faster than a 1-pound block.
When working with a recipe that requires the chocolate to be thin, like when dipping pretzels, you'll want to look for something with a bit of oil or fat to it. Not only will it make it thinner, but it will also keep the chocolate soft and pliable for longer.
Never add liquid, like milk, to thin out the chocolate. It will quickly become lumpy and unusable.
In this situation, adding cocoa butter is ideal. As a bonus, chocolate with a high percentage of cocoa butter will keep more of its flavor. In that case, everyone wins!
When you work with chocolate a lot, you'll start to notice a trend. The fancier, upscale chocolate has lots of cocoa butter added while the less expensive brands use things like soy or vegetable oil.
There's no shame in using chocolate anywhere on the spectrum. Just be aware and pay attention to the taste and what you like best. Depending on what you're making, it might not even be worth paying for premium chocolate.
Another thing to note about the best melting chocolate is that it will be smooth when it hardens and have that satisfying snap when you break off a piece.
15 Best Melting Chocolates
My favorite melting chocolates are based on how smooth the chocolate is once melted, how easy it is to work with, and which brands offer the best flavor. In addition, some brands are much more readily available than others.
1. Godiva Milk Chocolate Real Melting Chocolates
Godiva's melting chocolates have a silky, smooth finish that will work no matter your needs. This chocolate is great for coating, dipping, drizzling, or making candy. Its dark chocolate counterpart is also wonderful.
2. Ghirardelli Dark Melting Wafers
Ghirardelli's melting chocolates have a nice sheen and smooth finish, perfect for times when presentation really matters. This chocolate is also extremely versatile, I particularly love it for dipping strawberries.
3. Callebaut Finest Belgian Dark Chocolate
This chocolate is high-quality and preferred by many bakers and chocolatiers across the world. It would likely require ordering it to be delivered in advance, as it is a bit more difficult to find in stores (and it's a little pricier). This is a true, velvety dark chocolate that is less bitter than many others.
4. Merckens Melting Wafers Milk Chocolate
Merckens produced their melting wafers specifically for chocolate molds, so the wafers are thin and melt quickly. They are great for so much more than their intended use, however.
This chocolate has a low melting point and can easily be manipulated, so it works for almost anything- like chocolate fondue, or coating cakes.
5. Wilton Chocolate Pro Melting Wafers
Wilton's melting wafers are specifically created for chocolate fountains or fondue. It melts effortlessly and is almost immediately ready for dipping.
Wilton White Chocolate Candy Melts
I'd be doing you a disservice by not giving these candy melts a special mention. Wilton has white chocolate in every color of the rainbow (and more) that is just perfect for colorful candy making or cake pops.
6. Lily's No-Sugar Added Baking Chips
If you're health conscious, Lily's is the way to go. Their chocolate has no added sugar, is low-carb, gluten-free, and keto friendly.
Some people do not prefer this chocolate because it tastes slightly different without the sugar, but if you're looking for a low-calorie binge, or you're diabetic, this is the best option. Plus, it comes in milk, dark, or white chocolate.
7. Sarah's Candy Factory Coating Wafers
When you need a large amount of melted chocolate, Sarah's Candy Factory sells 3 pound tubs for a low price. It's a good all-around baking chocolate and can be used in many ways. They offer dark, milk, and white chocolate as well.
8. Dolci Frutta Melting Wafers
For convenience, I give Dolci Frutta a 10/10. You can just pop the container right in the microwave. You do need to be sure not to overheat it, but it melts easily.
This chocolate is intended primarily for dipping fruit, but it also works great as a drizzle. It is quick-drying, so it would not be ideal for instances you want the chocolate to remain melted, like fondue or a fountain.
9. Enjoy Life Baking Chocolate
If you're searching for vegan chocolate, this is the one for you. They are also nut-free and soy-free, so they work perfect when allergens are a concern. They are still full of flavor, and melt nice and smooth.
10. Dove Chocolate
One of my favorite any-time snacking chocolates and it melts like a dream too! This is true of both the milk chocolate and dark chocolate bars. Dove is a great high quality chocolate that can be found almost everywhere at moderate prices for chocolate.
11. Milka
A Swiss "Alpine milk" chocolate brand that is quite possibly the very best milk chocolate you could get your hands on! Check your local international markets to find some Milka chocolate to try in your baking.
12. Lindt
Lindt is easily my favorite above and beyond many others for offering exceptionally good chocolate of all flavors. You simply can't go wrong with using Lindt chocolate!
13. Hershey's/Nestle Chocolate
These two chocolate brands are hugely popular and the most readily available chocolate to buy for melting the morsels to make fabulous desserts. They're not the highest quality chocolates, but still easy to find with good quality at a great price.
14. Beyond Good
I love the dark chocolate melts from Beyond Good. They melt easily and have a great dark chocolate flavor that bitter-sweet flavor that dark chocolate fans love.
15. Guittard Chocolate Melting Wafers
These tasty semisweet melting wafers are organic 66% cacao and are a superb chocolate for melting and making molded candies.
My Preferred Chocolate For Melting
I especially love working with Lindt, Godiva, and Ghirardelli when I can find it. The flavor of Lindt chocolate is easily one of the best on the market, followed closely by Godiva.
Ghirardelli melting wafers melt easily and stay melted for a long time! Also, if you're in the market for melted white chocolate, Ghirardelli's is impeccable.
What Is The Right Way To Melt Chocolate?
The most important rule when melting chocolate is to heat at low temperatures. This keeps it smooth and helps it melt evenly.
The second most important thing to remember is not to burn it. It's always tempting to keep the fire burning with the idea that you won't have to painstakingly re-melt your chocolate when it inevitably starts to harden while you're still working.
Don't do it!
Trust me, it's much easier to reheat than it is to get chunky, burned chocolate off a pan in the midst of dipping all your strawberries or carefully adding ganache to a cake.
One way to think about this is to heat chocolate until it is almost–but not completely–melted. Then, remove it from the heat and stir until the rest is melted.
*See specifics for how to melt chocolate below.
Letting the Chocolate Harden
If you're waiting for the chocolate to harden, your timing is going to depend on the composition of the chocolate and the temperature of the drying environment.
The more oil or fat in it, the longer it will take. Cold areas like the fridge, freezer, or garage in the winter can speed up drying times immensely.
🥡 Storing & Reheating
Whether you are melting your chocolate ahead of time, or you simply made too much, you can store it in the refrigerator in an airtight container for up to 3 months.
Freezing
Chocolate freezes easily! Just place it in an airtight container with a lid and enough room to expand slightly, then freeze for up to 2 years!
Thaw chocolate in the fridge, and reheat when ready to use.
Reheating Melted Chocolate
Another thing I get asked often is about reheating. Can I reheat my chocolate more than once? Absolutely!
In fact, you should count on reheating it at least once if making a lot of something. It's much better to reheat chocolate than to try to keep it hot and risk burning it.
Once hardened, the best way to reheat chocolate is with a double-boiler or a make-shift double-boiler (a heat-safe bowl set atop a saucepan of water), over low heat. Stir frequently to prevent burning.
Alternatively, you can melt the chocolate in the microwave (carefully)! Heat the chocolate 10-15 seconds at a time until melted, stirring between each interval to prevent burning.
🍫 My Favorite Ways To Use Melted Chocolate!
Good luck with your chocolate, we hope it melts perfectly! Let us know how you plan on using melted chocolate by dropping a comment below!
📋 Recipe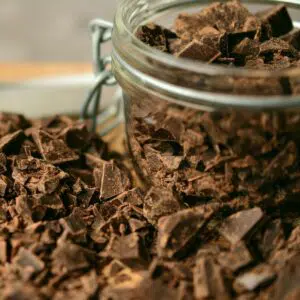 Print Recipe
Leave A Comment
Love This Recipe?
Click On A Star To Rate It!
Best Chocolate for Melting: How to Melt Chocolate
I put together this page to help you find the best chocolate for melting so you can have the most decadent treats and desserts! You need all the information to find the best chocolate for coating, dipping, or drizzling, and you came to the right place!
Pin Recipe
Share on Facebook
Ingredients
1

cup

chocolate chips

(milk chocolate, semi-sweet, dark chocolate, or white chocolate morsels)

sprinkles

(optional, decor)
Instructions
Break chocolate bars into small chunks using a chef's knife to measure, otherwise measure out your chocolate morsels.

Double Boiler: Use either a double boiler or a homemade version (make sure your glass bowl is heat-safe) and place it over a small amount of water in a saucepan.

Simmer the water in your double boiler or saucepan and heat the chocolate slowly in the top of your double boiler, or in the glass bowl set atop the saucepan.

Microwave: Use a microwave-safe bowl heat the chocolate in 30-second intervals to start, stir, and continue heating in short intervals of 15-30 seconds.

(With either double boiler or microwave method) Stir until the chocolate is almost completely melted then remove from heat and stir vigorously until smooth.

Dip, drizzle, and decorate as desired.
Equipment You May Need
Nutrition
Calories:
113
kcal
(6%)
|
Carbohydrates:
15
g
(5%)
|
Protein:
1
g
(2%)
|
Fat:
5
g
(8%)
|
Saturated Fat:
3
g
(19%)
|
Trans Fat:
1
g
|
Cholesterol:
3
mg
(1%)
|
Sodium:
15
mg
(1%)
|
Fiber:
1
g
(4%)
|
Sugar:
14
g
(16%)
|
Vitamin A:
50
IU
(1%)
|
Vitamin C:
1
mg
(1%)
|
Calcium:
26
mg
(3%)
|
Iron:
1
mg
(6%)
Best Chocolate for Melting, how to melt chocolate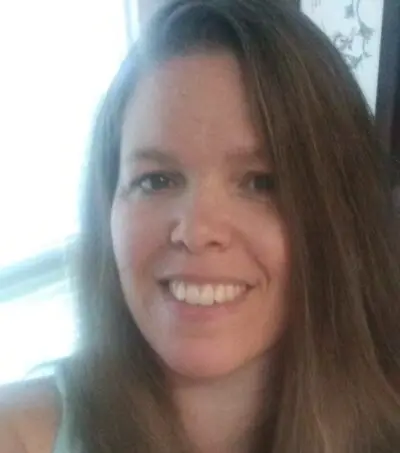 Angela is an at home chef that developed a passion for all things cooking and baking at a young age in her Grandma's kitchen. After many years in the food service industry, she now enjoys sharing all of her family favorite recipes and creating tasty dinner and amazing dessert recipes here at Bake It With Love!