Learn how to make dump cakes so that you can enjoy these quick, tasty, and effortless cakes whenever you like! The hardest part is just picking what flavors you want to use! From cake mixes to fruit varieties, I am going to walk you through everything that goes into these fun cakes.
Ultimate Guide To Dump Cakes
When you think of a cake, you are probably envisioning a classic cake with frosting. A cake that is saved for a special occasion and takes a lot of time to prepare.
While a traditional cake is certainly a favorite for special occasions, it is not the only type of cake. Moreover, other types of cake do not take as long to prepare. Therefore, you can enjoy them more easily and frequently.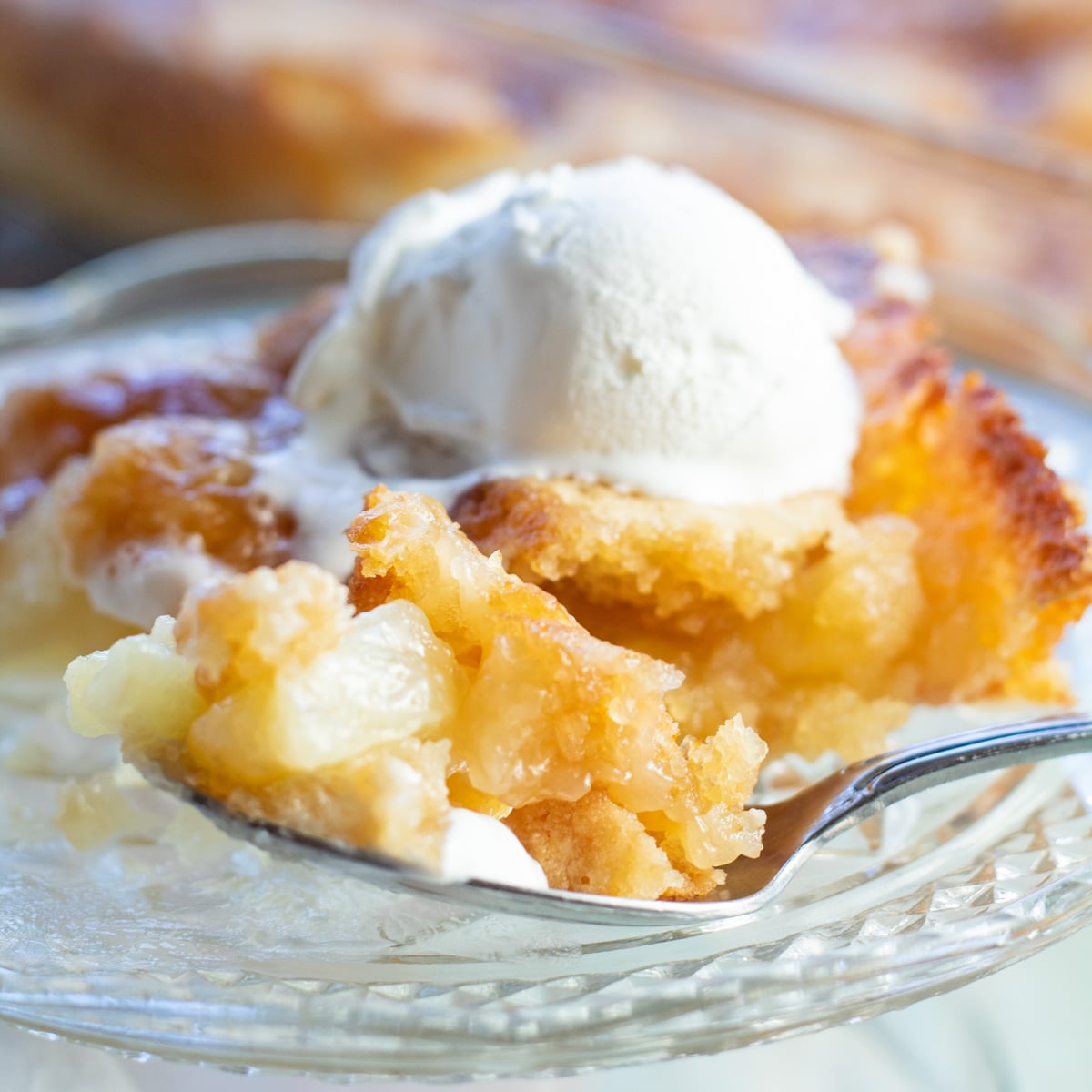 Jump to:
A dump cake is an excellent way to enjoy cake in a new way. Whether you have made a dump cake before or this is your first time, this ultimate guide to dump cakes has everything you need to make the perfect and easy cake any day of the week.
What is a Dump Cake
Although it is a cake, a dump cake resembles a cobbler more than a traditional frosted cake. This is because one of the key ingredients in a dump cake is fruit.
However, the second key ingredient is cake mix. So, it is basically a cross between a cake and a cobbler.
The best part about these two key ingredients is that they are what make this dessert so easy. In a typical dump cake, you use canned fruit and a boxed cake mix. No need to peel, cut, or measure. Just open and dump!
The Most Important Rule of a Dump Cake
When I say just open and dump, I mean it – literally. There is no mixing when it comes to this dessert. In fact, the most important rule of a dump cake is - No mixing!
The hardest thing about this dessert is resisting the urge to mix because who does not mix a cake? You do not – if you are making a dump cake. Simply trust the process. If you mix the ingredients, you defeat the joy, taste, and texture of a dump cake.
What Kind of Fruit Do You Use
I will get into more of how you make a cake without mixing later but let us first look closer at these two key ingredients. Starting with the fruit.
The two most common types of fruit used for dump cakes are canned cherries and canned pineapple. However, you can truly use any type of fruit you like. Canned peaches are another excellent choice if you want a variation on a peach cobbler.
Canned Fruit
Canned fruit is the traditional choice for a dump cake for a few reasons. One is that it adds to the name of the dessert. Open the can of fruit and dump it into the pan. Two, it has the best flavor.
Since canned fruit is usually already sweetened, you do not need to do anything to it before dumping it in the pan. Even if it is not canned in syrup the fruit is typically sweeter than fresh fruit due to the ripeness of the fruit at the time of canning.
Pie Filling
Pie filling is another easy choice of fruit for your cake. The filling is a mixture of fruit with a syrup base.
The syrup base of pie filling is typically made with a thickening agent, like corn starch or flour. In addition, there is usually extra sugar added. Therefore, you will have a sweeter fruit base.
The syrupy base of the pie filling will provide a slightly different texture to the final cake as well.
Fresh Fruit
Yes, you can use fresh fruit when making a dump cake. However, fresh fruit is often less sweet than canned fruit. Therefore, you may want to mix it with a bit of sugar before adding it to your pan.
In addition, you will add extra time to the baking process by needing to wash, peel, and cut your fruit. This defeats the ease of a dump cake. I recommend this option if you have extra seasonal fruit that you need to use up quickly. Otherwise, canned fruit is the way to go.
Frozen Fruit
Frozen fruit is not typically used for making dump cakes. This does not mean it won't work though. Just like canned fruit, you can simply dump frozen fruit into the pan as is. There is no need to thaw it out ahead of time because as the oven heats up the fruit will naturally warm up and thaw. In addition, this will release moisture from the fruit that will function as the liquid in the recipe.
If you choose to use frozen fruit, there are two things to keep in mind. One, frozen fruit is often not as sweet as canned fruit. Therefore, you may want to add sugar like you would with fresh fruit. Two, while the fruit will thaw it may not provide as much moisture as canned fruit. Therefore, your final cake may be drier.
Puree
Although it is not a fruit, pureed vegetables such as pumpkin or sweet potatoes are great choices for holiday dump cakes. Just like canned fruit, you can simply open a can of pumpkin puree and dump it in the bottom of the pan.
This is a wonderful choice if you want to explore a unique take on pumpkin pie and dump cakes. Keep in mind that pumpkin puree is not naturally sweet though. To create a truly sweet dessert you will want to boost the pumpkin flavor with a bit of sugar and cinnamon.
A quicker option is to buy pumpkin pie mix, rather than pure pumpkin. The pie mix will be pre-sweetened and can just be dumped in with no extra mixing required.
What Kind of Cake Mix Do You Use
The best kinds of cake mix to use for a dump cake is either a yellow cake or a white cake. Both cakes have a flavor that will pair well with any type of fruit. Moreover, allowing the fruit flavors to have a distinct presence.
Since both cakes will provide a great flavor, you will want to choose which one you prefer based on texture. A yellow cake will lend a denser texture and a white cake will be lighter and fluffier. Both will be wonderfully moist.
Can You Use Chocolate Cake Mix?
While chocolate cake is not the typical choice for dump cakes, you can use it. The most important thing when using a chocolate cake though is to consider how it will pair with the fruit you select.
Chocolate cake has a more distinctive flavor than white or yellow cake. Therefore, it will not pair as well with all fruits. However, many people prefer a rich chocolate flavor when indulging in a sweet treat.
If you prefer to make a dump cake with a chocolate cake mix, then I recommend trying it with cherries. Chocolate cake and canned cherries are a perfect pairing for a rich and decadent chocolate cherry dessert.
Choose Your Favorite Cake Mix
Whether you choose the traditional route of a white or yellow cake mix or decide to venture into the world of chocolate (fudge, devil's food, or classic chocolate cake mix), any of your favorite cake mixes will do the job.
Some dump cake recipes taste wonderful with specialty fruit flavors (cherry chip, strawberry, lemon, orange, or pineapple) or other flavored mixes like spice cake mix. Mix and match!
You can grab the one you have used before or even one that is on sale. Any brand will get the job done.
Additional Ingredients
While the boxed cake mix and canned fruit are the stars of the show, there is one other important ingredient: butter.
Butter is where you get the moisture for the top of the cake. It melts and mixes with dry cake mix from the top, while the fruit provides moisture on the bottom.
Most cakes need about 1 cup (2 sticks, or 16 tablespoons) of butter. However, you can use less or more depending on your preference.
Some dump cake recipes, also called soda dump cakes, work with a butter alternative to the topping. 7Up, Sprite, Sierra Mist or any lemon-lime soft drink will work! Use a 12 fluid ounce can for your dump cake topping.
Extra Toppings
While butter is the only required ingredient needed to top a dump cake you can add extra toppings if you wish to add additional flavor and texture.
Nuts, sweetened condensed milk, shredded coconut, oats, and chocolate chips are all fun options. These are never necessary for a tasty cake, just simply options if you want to branch out from a traditional dump cake.
How to Bake a Dump Cake
Like most cakes and cobblers, the oven is the standard way for baking a dump cake. Simply follow the temperature suggested on the cake mix box.
Since there are not any raw eggs that you need to cook, there is no minimum time required to bake the cake. Therefore, it will depend on your preference. I find that about an hour is perfect.
At about an hour (50-60 minutes) all of the fruit will be nice, and bubbly and you will have a lovely golden topping on the cake. If you like it less golden, cook it for less time. Like a crunchier topping? Leave it in a bit longer.
Slow Cooker or Crockpot Dump Cake
While the oven is already quite easy, you can add an extra layer of ease by making your dump cake in a slow cooker. Follow the same directions listed below to put together the ingredients.
However, instead of dumping everything into a cake pan drop it all into a slow cooker.
When using the slow cooker, it will typically take about 2 hours to reach the best result. The result will be about the same as if you cooked it in the oven.
The only difference? You can leave it cooking on its own while you run errands or pick up kids before dinner.
How to Make a Dump Cake
Now that you know all the ins and outs of a dump cake it is time for the most important part – how to make a dump cake! Follow the simple steps below to assemble and bake a delicious dump cake.
Ingredients for Dump Cake
2 cans of fruit or pie filling (20 – 21 ounces each)
1 box cake mix
1 cup (2 sticks) butter OR 12 fluid ounces lemon-lime soda
Using the general ingredients list, choose what types of fruit you would like to use, and the cake mix of choice. If you want to get creative, you can use two different types of fruit or even one can of fruit plus one can of pie filling.
Steps for Making a Dump Cake
Spread. Spread the fruit on the bottom of a 9x13-inch pan.
Add cake mix. Sprinkle (or lightly spread) the DRY cake mix over the top of the fruit.
Cut. Cut the butter into small pats of butter.
Place. Layer the top of the dry cake mix with the pats of butter.
Heat. Place the cake in the oven at 350°F (or the suggested temperature on the cake box).
Bake. Bake for 50-60 minutes until golden brown.
Serve. Serve warm on its own or topped with ice cream or whipped cream.
Additional Options
If you prefer to use fresh fruit or frozen fruit, layer the bottom of the pan with about 4 cups of fruit (you can use more or less, depending on your preference).
Rather than cutting the butter, melt it in a microwave-safe dish and drizzle over the top of the dry cake mix.
Whether you choose to follow a traditional mixture of cherries and pineapple with yellow cake or venture out to try something new, just remember to follow the golden rule – do not mix it! If you do that, you will always have a delicious dump cake.
Do I Need To Grease My Pan?
When you're making a dump cake, the answer to this question is no. That may not be true of your other favorite dessert recipes, but it is for this fruit based dessert.
Since the bottom layer of any dump cake is fruit and typically dump cakes are scooped out to serve (rather than the typical cake slice), a bit of grease won't really matter.
Now you know everything there is to learn about dump cakes! Which flavor combination are you going to try first? Leave a comment down below to let me know!
🍰 Easy Dump Cake Recipes
📋 Recipe
Print Recipe
Leave A Comment
Love This Recipe?
Click On A Star To Rate It!
How To Make Dump Cakes: Pineapple Dump Cake (The Ultimate Guide + More Flavor Options)
Learn how to make dump cakes so that you can enjoy these quick, tasty, and effortless cakes whenever you like! The hardest part is just picking what flavors you want to use! From cake mixes to fruit varieties, I am going to walk you through everything that goes into these fun cakes.
Total Time
1
hour
5
minutes
Pin Recipe
Share on Facebook
Ingredients
40

ounces

pineapple tidbits

(2 20-ounce cans or use a combo tidbits and crushed pineapple - reserve the juice from one can to use on the topping)

15.25

oz

cake mix

(white or yellow cake mix)

½

cup

butter

(1 stick or 8 tablespoons - melted)

⅓

cup

light brown sugar

(packed)
Instructions
Preheat your oven to 350°F (175°C) and generously butter or spray a 9x13 baking pan with non-stick cooking spray.

In the bottom of your prepared pan, add the 2 cans of drained pineapple tidbits (or a combination of 1 can of pineapple tidbits and 1 can of crushed pineapple). Spread the pineapple out evenly in the pan. *Be sure to reserve the juice from one of the cans to add to the topping!

40 ounces pineapple tidbits

Add the cake mix by sprinkling it evenly over the top of the pineapple. Drizzle the reserved pineapple juice over the top of the cake mix layer, then add the melted butter. Try to moisten as much of the surface of the cake mix as possible.

15.25 oz cake mix,

½ cup butter

Crumble the light brown sugar over the top of the cake mix then cover the baking dish with a sheet of aluminum foil.

Bake in the middle of the center rack of your oven at 350°F (175°C) for 45 minutes, then remove the aluminum foil and finish baking the pineapple dump cake for an additional 15 minutes. The top of your cake should be golden browned and slightly crunchy when done.

Remove from the oven when done and allow to cool slightly (about 10 minutes) before serving warm.
Equipment You May Need
Nutrition
Calories:
282
kcal
(14%)
|
Carbohydrates:
50
g
(17%)
|
Protein:
2
g
(4%)
|
Fat:
9
g
(14%)
|
Saturated Fat:
6
g
(38%)
|
Polyunsaturated Fat:
1
g
|
Monounsaturated Fat:
2
g
|
Trans Fat:
1
g
|
Cholesterol:
20
mg
(7%)
|
Sodium:
320
mg
(14%)
|
Potassium:
150
mg
(4%)
|
Fiber:
2
g
(8%)
|
Sugar:
35
g
(39%)
|
Vitamin A:
284
IU
(6%)
|
Vitamin C:
9
mg
(11%)
|
Calcium:
101
mg
(10%)
|
Iron:
1
mg
(6%)
best fruit for dump cakes, how to make dump cakes, oreo dump cake ingredients, Pineapple Dump Cake, ultimate guide to dump cakes, what cake mix can I use in dump cakes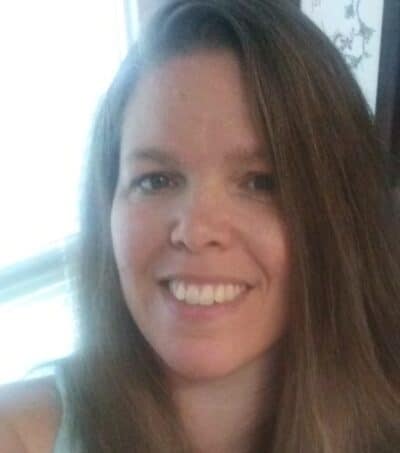 Angela is an at home chef that developed a passion for all things cooking and baking at a young age in her Grandma's kitchen. After many years in the food service industry, she now enjoys sharing all of her family favorite recipes and creating tasty dinner and amazing dessert recipes here at Bake It With Love!