There are so many cake types (all varieties) that have many differences as well as plenty of similarities! How do you know which cake to choose for your next special occasion? Look no further, because I have gathered all of the information you need on choosing the perfect cake!
Best Cake Types (All Varieties)
A cake is one of the best ways to celebrate life! From birthdays to weddings and every event in between, a cake is often the dessert of choice. What type of cake do you choose though?
While most of us are familiar with the classics like yellow, white, and chocolate cakes, that is just the beginning. There are dozens of different types of cakes around the world. Deciding on which one to bake will depend on the type of celebration, taste preference, and even the ingredients you have on hand.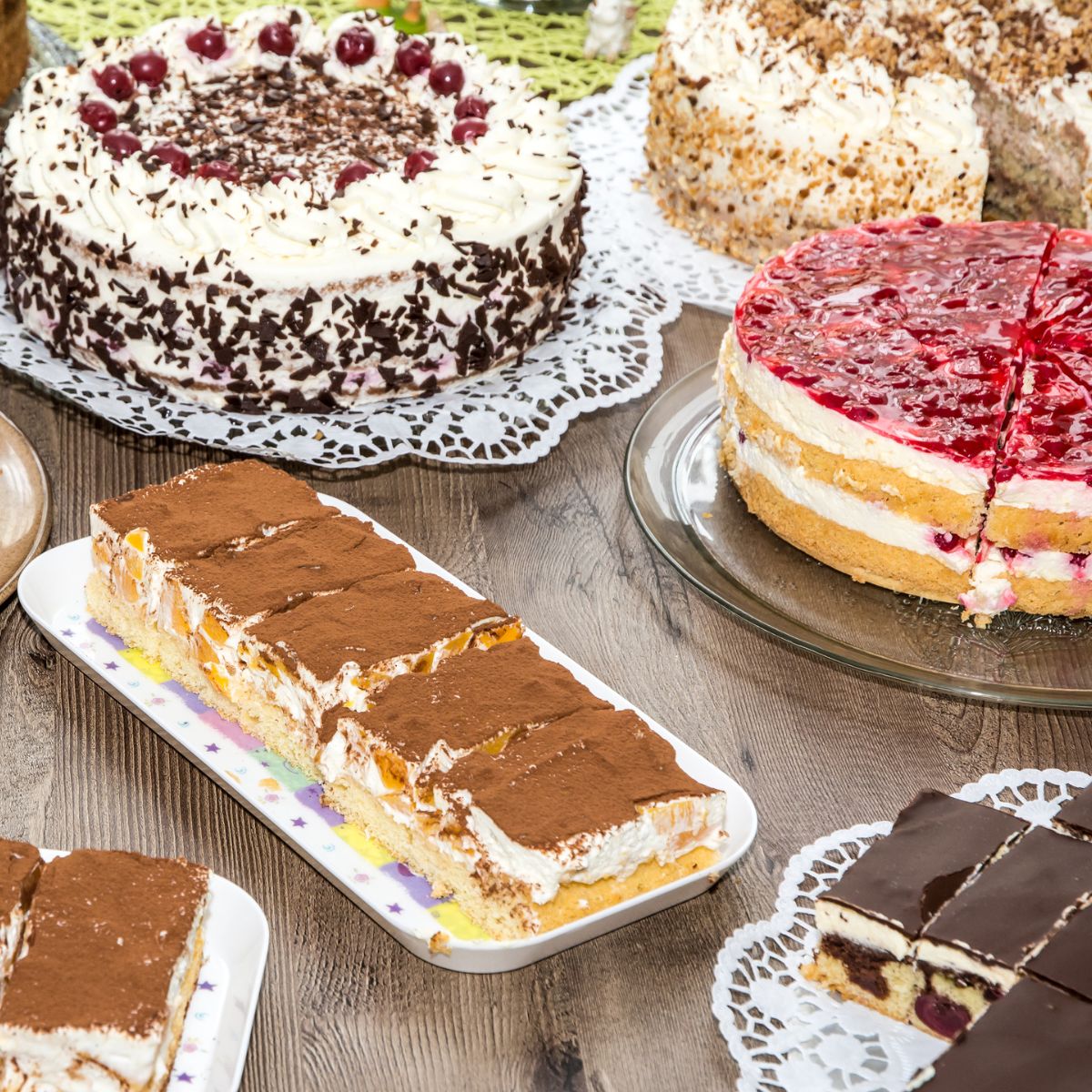 Jump to:
Butter Cakes vs Foam Cakes
Before diving into the different delicious cake flavors let's look at two different varieties of cakes: butter (aka shortened) cakes and foam (aka sponge) cakes.
Butter cakes are made with more ingredients than foam cakes. One of these extra ingredients is either butter, oil, or shortening. Hence the name. These cakes make up the wide range of tasty cakes that most of us are familiar with. Yellow cake, white cake, chocolate cake, carrot cake, etc.
While all these cakes have different flavors, they all have a similar texture. The dense and moist texture of these cakes is a result of the butter or oil that is used. In addition, these cakes use a leavening agent like baking powder, baking soda, or both. This further contributes to the density of the cake.
In addition to the more popular cakes mentioned above, butter cakes also include pound cake and coffee cake. Even though these cakes are typically made for occasions outside of birthdays and weddings, they have the same dense texture as more traditional cakes.
In contrast to butter cakes, foam cakes are made without butter or oil. They also do not typically include a leavening agent. Instead, the eggs are whipped to create a naturally airy texture that helps the cake rise.
Without the fat, these cakes are lighter and fluffier. They often resemble the texture of a sponge. Most of us associate these types of cakes with the term sponge cake. Foam cake is simply the general term that includes all types of cakes with this texture, like sponge cake and angel food cake.
The Importance of Knowing The Difference Between Butter and Foam Cakes
While most of us don't worry about whether we are baking a butter cake or a foam cake, knowing there are two different bases for cakes can help you in certain situations.
For example, if you need to bake a cake for a special occasion and realize you are out of butter or oil you can look for a foam cake instead. In addition, if you have never been a fan of the airy qualities of angel food cake, but you love strawberry shortcake, you could substitute a white butter cake for a denser cake base. Knowing these differences helps you become a better baker overall.
1. Yellow Butter Cake
Yellow cake is considered a classic by many. Especially when paired with a rich chocolate frosting. A traditional butter cake, this cake gets its yellow coloring and moist texture from a high ratio of butter. In addition, yellow cakes call for a combination of both whole eggs and egg yolks. This again adds to both the color and texture of the cake.
Due to the dense consistency of this cake, it is perfect for layering. The layers are firm enough to hold the weight of the previous layers. Moreover, they can take on the added weight of frosting – from fondant to buttercream. This makes it a favorite for everything from birthday parties to weddings.
2. White Cake
White cake is another classic. However, rather than being made with butter, a white cake uses shortening as its fat. The use of shortening provides a denser texture compared to a foam cake but is lighter than a cake baked with butter. In addition, white cake recipes typically call for only egg whites.
The egg whites are another element that helps create a fluffier texture compared to other butter or shortened cakes. These changes in ingredients also help maintain the desired pure white coloring of the cake. This is why white cakes are a classic favorite for weddings.
3. Vanilla Cake
In between a yellow cake and a white cake is a vanilla cake. Vanilla cakes are made with shortening (like a white cake) and whole eggs (like a yellow cake). Therefore, while it is not as yellow as a yellow cake it is also not as white as a white cake. Vanilla cakes are typically an off-white color and have a moist dense texture.
One common thing between all three of these cakes is that they all include vanilla extract, even though a vanilla cake is the only one that names it as a flavor. Vanilla cakes are also great for layering and go well with a variety of frostings.
4. Chocolate Cake
Next in line for the classics is a basic chocolate cake. Made with butter and eggs, this cake has the same base as a yellow cake. However, chocolate cake is typically made with milk, cream, or buttermilk. This creates an even denser texture and richer flavor.
The chocolate cake gets its rich flavor and color from the addition of cocoa powder. Unsweetened cocoa powder is mixed with the dry ingredients to create a lovely brown color and deep chocolate flavor.
5. Devil's Food Cake
Devil's food cake is considered by many the decadent and sinful chocolate cousin to angel food cake (hence the name). While still rich in chocolate flavor from the cocoa powder, this cake has a lighter and fluffier texture than a traditional chocolate cake.
While it is compared to angel food cake it is not a foam cake. Devil's food cake is made with a fat base. However, oil is used instead of butter which lightens its texture compared to a classic chocolate cake. It is also made with water (rather than milk) and has extra baking soda.
Both classic chocolate cake and devil's food cake can be enjoyed with any type of frosting you prefer.
6. German Chocolate Cake
The base of a German chocolate cake is not much different from a classic chocolate cake. In fact, when you compare a German chocolate cake recipe to a chocolate cake recipe, you'll notice all the same ingredients.
One small difference may be that less cocoa powder is used to provide a less rich cake flavor. In addition, most recipes call specifically for buttermilk to create an extra moist cake. The real difference between this cake and a basic chocolate cake is the frosting.
German chocolate cake is known for its ooey-gooey coconut pecan frosting. This frosting is used to cover the entire cake and to fill in the layers. Without the traditional coconut pecan frosting, it is just another chocolate cake.
7. Red Velvet Cake
Red velvet cake has a similar base to a classic chocolate cake. It even includes cocoa powder. However, only about 2 to 3 tablespoons of cocoa powder are used in an entire cake. Therefore, you only get a hint of chocolate flavor.
The coloring of a red velvet cake comes from the addition of food coloring. Although you will find some chefs that use cooked beats for a natural red color instead of artificial coloring.
In addition to the red coloring of the cake, red velvet cake is distinguishable by its white frosting and layers. Typically, this is a rich cream cheese frosting, but any white frosting can be used.
8. Carrot Cake
While red velvet cake is intentionally colored, carrot cake is naturally colored. The warm brown color with hints of orange is a result of the fresh carrots used to make this cake. In addition, the color and flavor of carrot cake is enhanced with the addition of cinnamon.
The carrots used in this cake add density to the overall cake. Therefore, carrot cake is made with oil (rather than butter). This provides a lighter base to balance out the carrots (and nuts if you choose to add them). Carrot cake is traditionally served with a thick creamy cream cheese frosting. The perfect addition of sweetness to the warmth of the cake.
9. Spice Cake
Spice cake is a great choice for those who enjoy the warm spice flavors of a carrot cake, but don't love the added texture of carrots. This cake uses a rich blend of cinnamon, nutmeg, and ginger. While carrot cake sometimes includes all three spices, it often relies on only cinnamon to blend with the carrots.
A similar base of oil and eggs provides the same moist texture as carrot cake. Cream cheese frosting is also the traditional choice of frosting for a spice cake. Although many people also prefer a simple glaze or no frosting at all.
My Old Fashioned Raisin Cake or my Irish Oatmeal Cake are great examples of this type of spiced cake.
10. Hummingbird Cake
While spice cake is carrot cake without texture, Hummingbird Cake is the cousin that comes full of texture and taste. This cake has a similar moist and dense texture to carrot cake. However, rather than combining the cake base with shredded carrots, this cake is made with shredded coconut, pineapple, bananas, and nuts.
All of these delicious flavors come together to create a beautifully textured cake with a balanced sweetness. Like carrot cake, it is traditionally served as a layered cake with cream cheese frosting.
11. Upside Down Cakes
Upside-down cakes are marked by the layer of fruit that lines the bottom of a pan. Traditionally, this is pineapple. However, any type of fruit will do. Peaches, pears, apples, and even plums can all be used to make an upside-down cake.
Regardless of what fruit is used, a yellow cake is the most traditional cake base used for these types of cakes. The rich butter base provides the perfect consistency to balance the sweet syrup and fruit. The density of a yellow cake also helps maintain the structure.
While a traditional pineapple upside-down cake is baked in a Bundt pan, any pan can be used for these types of cakes. A benefit of these cakes is that there is no additional frosting needed before serving since the fruit acts as a decorative topping.
12. Bundt Cake
A Bundt Cake is deceiving because it is used to specify a type of cake, but it does not refer to one specific cake variety or flavor. Bundt Cakes are simply cakes that are cooked in a Bundt Pan. A Bundt Pan has a distinctive look: a round pan with a whole cut out in the middle and ridges on the bottom.
Technically any type of cake (butter or foam) and any flavor of cake can be cooked in a Bundt Pan, thus becoming a Bundt Cake. However, there are some typical choices. Angel food cake, spice cake, and pineapple upside-down cake are all popular choices for a Bundt Cake.
I also have tips on how to get cake out of a Bundt Pan if you need a little help!
13. Pound Cake
While pound cake is called a cake, it is not traditionally baked for celebrations the way other types of cakes are. Instead, pound cake is considered a dessert cake and is baked more frequently to be enjoyed with everyday meals.
As the name implies, this cake is heavier than other cakes as a result of the larger quantities of its four main ingredients: butter, flour, sugar, and eggs. Traditionally, one pound of each of these four ingredients was used.
In addition to increasing the density of the cake the higher ratio of butter also comes through in the flavor.
A classic pound cake gets its flavor from butter eggs and sugar. However, many cooks will add a flavored extract such as almond or lemon to change it up.
14. Coffee Cake
Coffee cake is a single-layer cake that has a crumbly texture. The base is a combination of rich butter flavor and cinnamon. Rather than a frosting, this cake has a crumbly cinnamon topping and sometimes the addition of streusel.
Like pound cake, this cake is not typically made for a celebration but rather enjoyed as part of an everyday meal. Historically, coffee cake was created in the 1700s in Europe as a sweet bread to eat alongside the (then new) bitter drink – coffee.
Therefore, while it is technically a dessert many people today enjoy this cake as a special morning treat with their favorite cup of joe.
15. Fruit Cake
Fruit cake has unfortunately been given a bad rap over years. Often being mocked as the Christmas gift nobody wants.
While store bought fruit cakes are not always the best, a homemade fruit cake can be a wonderfully rich and decadent dessert (and gift!). Fruit cake is a dense cake that has dried fruits and nuts mixed into it before baking. After it is baked it is soaked in rum or brandy.
The alcohol adds to the decadent flavor of this cake and elevates the moisture. Unfortunately, many store-bought cakes don't have the alcohol added. Therefore, they result in a dry cake that is lacking the full flavor.
My favorite fruit cakes are my Christmas Cake & Jamaican Black Cake!
16. Ice-cream cake
Ice cream cakes are a popular choice for birthday parties – especially for kids! Ice cream is literally what is called. It is a combination of ice cream and cake.
This type of cake can be made with a single layer of cake and a single layer of ice cream or made with multiple layers of each. To build the cake, a regular butter cake is baked (such as a yellow or chocolate cake).
Once it has cooled, softened ice cream is spread on top and then the entire cake is frozen. The fun thing about this cake is all the delicious flavor combos you can make.
17. Sponge Cake
A basic sponge cake is made with flour, eggs, and sugar. As mentioned earlier, sponge cakes are a type of foam cake that does not include any butter, oil, or shortening. This results in a texture that resembles the name of the cake: light and spongy.
The texture not only feels like a sponge but also acts like one. The light flavor of sponge cake is often enhanced by soaking it in fruit juice or liquor. It can also be paired with fresh fruit, layers of jam, or different frostings.
While sponge cakes are a great choice for many desserts they are not as easy to make as a butter cake. The key to a great sponge cake is the eggs.
Since sponge cakes do not use a leavening agent (or only a very small amount) the eggs are what help the cake rise. To get the right height, the eggs must be beaten and added to other ingredients in a very specific way.
18. Genoise Cake
Genoise cake is like a sponge cake in that it is a light and airy cake made with eggs as the leavening agent. However, one small difference is that some genoise cake recipes include a small amount of melted butter.
This adds to the richness of the flavor but does not create the same density as a regular butter cake.
A genoise cake is traditionally made in Italy and France. It can be paired with fresh fruit or jams or layered with whipped cream or buttercream frosting. It is also perfect to soak up coffee, fruit juice, or liqueurs for a rich flavor.
19. Angel Food Cake
Another type of sponge (or foam) cake, angel food cake is made with butter, sugar, and egg whites. The use of only egg whites is what creates the difference in texture, taste, and color from other sponge cakes. It is white in color with a softer flavor.
The light and fluffy texture and mildly sweet flavor of angel food cake is perfect for pairing with sweet toppings like whipped cream and berries.
20. Buche de Noel
Buche de Noel is a cake that is traditionally only served at Christmas time. It is sometimes also called a Yule Log. Made from a traditional vanilla flavored genoise cake (or a chocolate genoise cake), this type of cake is different because of its shape (much like a Bundt cake).
While a regular genoise cake is baked to rise, Buche de Noel is made from a genoise cake that has been cooked in a shallow cake pan (usually only about 1-2" deep).
Once the cake is cooked it is layered with whipped cream or buttercream frosting. Then it is rolled into a cylinder and covered with chocolate butter cream frosting.
The result resembles a Yule Log or holiday log to celebrate the season.
21. Chiffon Cake
While most cakes are either butter cake or foam cake, there is one cake that is considered a crossover – chiffon cake. A chiffon cake has the best of both worlds: the rich flavor of a butter cake and the light airy texture of a foam cake.
Chiffon cake is made with oil (rather than butter). In addition, it has about double the eggs used in a regular butter cake.
The combination of the oil and the extra eggs allows for the cake to be easily whipped to create a light and airy batter that resembles a sponge cake.
While the extra eggs help create that fluffier texture, they also add to the rich flavor. Chiffon cakes can be frosted with an assortment of frosting flavors.
22. Flourless Cakes
In addition to butter and foam cakes, there is another category – flourless cakes. Flourless cakes are unique in that they don't contain what is typically an essential ingredient in a cake – flour.
Moreover, they have a higher fat content that provides an extra rich flavor. The result is cakes that are quite dense and rich in flavor. These types of cakes are also somewhat flat since they do not have flour to help them rise.
Four examples of flourless cakes are cheesecake, no-bake cheesecake, gooey butter cake, and my chocolate raspberry cake. In addition, a rich chocolate mousse can be considered a flourless cake depending on how it is assembled and served.
23. Poke Cakes
If you haven't tried your hand at making a poke cake yet, you're missing out! These easy-to-make cakes are cooked up from scratch or boxed cake mix in a 9x13 baking pan.
Once cooled, you poke the cake to fill with something delicious! Pudding, jell-o, fruit sauces, chocolate, and much more combine to make this a crowd-pleasing dessert.
My Banana Pudding Poke Cake is an amazing & tasty poke cake recipe to try!
24. Dump Cakes
This type of cake is different than all the others in that it is actually a bit more like a cobbler. The name comes from the fact that dump cake recipes are a simple combination of canned fruit or pie filling (typically) and boxed cake mix.
Additionally, dump cakes are another great 9x13 cake or dessert to serve to a crowd in a hurry. Pour the pie filling or canned fruit into your baking dish, top with the dry cake mixture, and melt butter (or top with the canned fruit juices or soda). Pop it all into the oven and serve warm!
Some examples of dump cakes I have made are my Apple Dump Cake, Peach Dump Cake, and Pineapple Dump Cake.
Whether you choose a flourless cake, a sponge cake, or a traditional butter cake, there is truly a perfect cake type for any occasion! Let us know which cake variety is your favorite in the comment section below!
📋 Recipe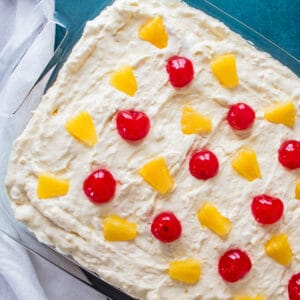 Print Recipe
Leave A Comment
Love This Recipe?
Click On A Star To Rate It!
Different Cake Types: Pineapple Sunshine Cake (+ More Cake Varieties!)
There are so many cake types (all varieties) that have many differences as well as plenty of similarities! How do you know which cake to choose for your next special occasion? Look no further, because I have gathered all of the information you need on choosing the perfect cake!
Total Time
1
hour
5
minutes
Pin Recipe
Share on Facebook
Ingredients
Pineapple Sunshine Cake
1

box

yellow cake mix

4

large

eggs

½

cup

oil

(I used coconut oil)

20

oz

crushed pineapple

(with juice, not drained)

1

teaspoon

vanilla extract
Pineapple Frosting
8

oz

whipped topping

(thawed, Cool Whip - a 16 oz container can also be used)

5

oz

instant vanilla pudding

(1 small box)

8

oz

crushed pineapple

(with juice, not drained - I have also used larger cans, up to a 20 oz can before)
Instructions
Pineapple Sunshine Cake
Preheat your oven to 350°F (175°C) and coat your 9 x 13 baking pan with non-stick cooking spray.

In a large mixing bowl, combine the cake ingredients (cake mix, crushed pineapple with juice, eggs, oil and vanilla extract ). Mix until thoroughly combined.

Transfer the cake batter to your prepared 9 x 13 baking pan, then bake at 350°F (175°C) for 25-30 minutes, or until the edges are golden an inserted toothpick comes out clean from the center of the cake.

Remove the cake from oven when done and place on a wire cooling rack to cool completely.
Pineapple Frosting
While the cake is cooling, combine the frosting ingredients (whipped topping, pudding mix, and crushed pineapple with juice) in a medium size mixing bowl. Return the frosting to the refrigerator to let it set up, and until ready to use.

Spread the frosting over the pineapple sunshine cake once completely cooled.
Notes
*For ease of slicing and serving, I initially freeze my pineapple sunshine cake then keep any unused portion refrigerated between servings.
**For a lower calorie cake - substitute apple sauce for the oil in the cake, and use lite Cool Whip for the frosting.
Nutrition
Calories:
295
kcal
(15%)
|
Carbohydrates:
46
g
(15%)
|
Protein:
3
g
(6%)
|
Fat:
11
g
(17%)
|
Saturated Fat:
3
g
(19%)
|
Cholesterol:
47
mg
(16%)
|
Sodium:
320
mg
(14%)
|
Potassium:
108
mg
(3%)
|
Fiber:
1
g
(4%)
|
Sugar:
32
g
(36%)
|
Vitamin A:
103
IU
(2%)
|
Vitamin C:
5
mg
(6%)
|
Calcium:
93
mg
(9%)
|
Iron:
1
mg
(6%)
Cake mix cake, Cake Types, Pineapple Sunshine Cake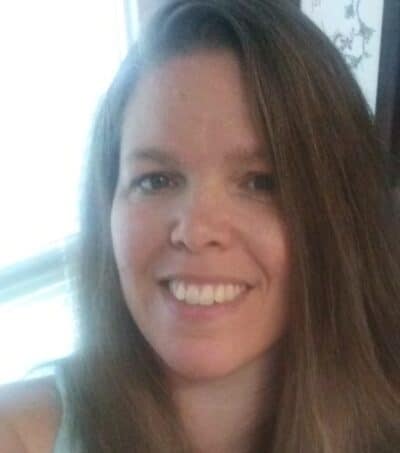 Angela is an at home chef that developed a passion for all things cooking and baking at a young age in her Grandma's kitchen. After many years in the food service industry, she now enjoys sharing all of her family favorite recipes and creating tasty dinner and amazing dessert recipes here at Bake It With Love!