These fantastic vegetable side dishes will make a perfect accompaniment to any meal, no matter what's on the menu! Whether you prefer your veggies fresh, roasted, sauteed, or fried there are plenty of delicious side dishes to choose from so you can find what suits your mood!
Easy Vegetable Side Dishes
There is such a variety of vegetable side dishes to choose from, and most of them are really easy to make. In this post, we'll share some of our favorite recipes for simple vegetable sides that everyone will love.
Whether you're looking for something a little healthier or just something new and different, we've got you covered. So check out these recipes and get cooking!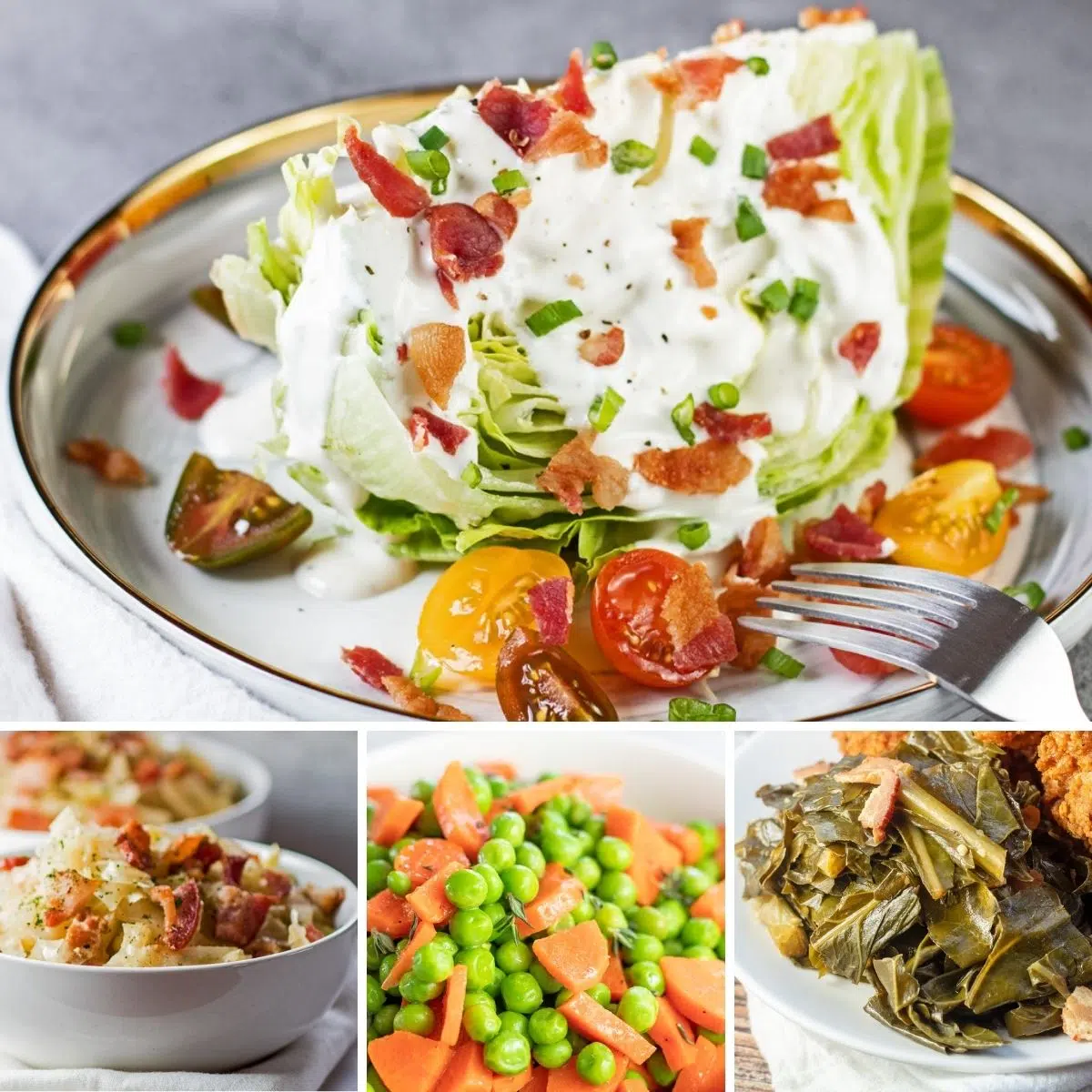 Jump to:
1. Caprese Salad
There's nothing quite like a refreshing Caprese Salad on a hot summer day. This classic Italian salad is simple to make and always a hit with guests.
The key to a great Caprese Salad is using the freshest ingredients possible, so be sure to use ripe tomatoes, fresh mozzarella cheese, and fragrant basil leaves. Give this recipe a try for your next outdoor gathering!
2. Asian Cucumber Salad
This Asian cucumber salad is a light and refreshing side dish that's perfect for summer. It's easy to make and can be tailored to your taste preferences. It is also a great way to use up any extra cucumbers you might have!
3. Roasted Okra
There are so many different side dish recipes for roasted okra, but this one is my favorite. It's simple and flavorful and goes great with any main course.
You can easily customize it to your own taste, too. So give this Southern-style roasted okra a try next time you're looking for an amazingly flavorful side dish!
4. Peppers & Onions
Whether you're cooking up a quick weeknight meal or preparing for a special occasion, peppers and onions are always a great vegetable side choice. They're versatile, flavorful, and healthy.
Find out how to cook them perfectly every time.
5. Braised Red Cabbage
Looking for a simple and quick side dish to serve at your next family gathering? Try this instant pot braised red cabbage!
This recipe is so simple to make using the instant pot, anyone can do it.
6. Peas & Carrots
Warm weather is finally on its way, and that means it's time to start thinking about fresh, seasonal produce. One of our family favorites is southern peas and carrots.
The sweetness of the peas pairs perfectly with the slight bitterness of the carrots, and the colors are so vibrant they'll brighten up any meal. This dish is packed with nutrients, making it a great choice for a healthy side dish for dinner.
7. Parmesan Yellow Squash Rounds
There's nothing like the taste of fresh, garden-grown vegetables. This roasted yellow squash recipe is a great way to enjoy summer squash while it's in season.
The squash is roasted with garlic and olive oil, then topped with Parmesan cheese for a scrumptious and healthy side dish.
8. Sauteed Green Beans
Try this yummy pan-sauteed green beans recipe for a quick and easy side dish. This dish is simple to make and only requires a few ingredients.
The green beans are cooked until tender and crispy, making them the perfect addition to any meal. So give this recipe a try today and enjoy some tasty green beans!
9. Sauteed Onions
Onions are a great addition to any dish. They add flavor and can be used in so many different ways.
Sauteing them is one of the easiest methods, and it's a great way to get started with cooking onions. It only takes a few minutes, and you'll have succulent, caramelized onions to add to your recipes.
10. Succotash
Succotash. It's a funny word, and for a long time, I had no idea what it was. Turns out, succotash is just corn and lima beans mixed together.
I'm not sure why it has such a funny name, but the dish is actually really good. If you're looking for an easy side dish to add to your next meal, succotash is definitely worth checking out.
11. Collard Greens
Are you looking for a way to get more greens into your family's diet? Collard greens are a great way to do that!
This leafy green is high in fiber, vitamins A and C, and minerals like calcium and potassium.
Collard greens are also very affordable, making them a great choice for families on a budget. Check out this recipe for my collard greens with bacon, and give them a try!
12. Southern Fried Corn
Who doesn't love Southern fried corn? This recipe is perfect for a summer cookout, or any time you need a quick and easy side dish.
It's simple to make, and the flavor is delicious. So fire up the grill, and get ready to enjoy some southern fried corn!
13. Steakhouse Creamed Spinach
Anyone who's ever been to a steakhouse knows that creamed spinach is always a must-have side dish. It's creamy, cheesy, and flavorful - everything you want in a side dish.
But have you ever tried making it at home? It's surprisingly easy to make and just as tasty as the version from your favorite steakhouse.
14. Fried Cabbage
Is there anything better than fried cabbage? This classic dish is one of my favorite vegetable side dishes, it's easy to make, and always a crowd-pleaser.
An easy side dish to serve up at your next family gathering. This dish is simple to make and can be tailored to fit any palate.
15. Cauliflower
If you're looking for an easy, healthy side dish to serve your family, look no further than microwaving cauliflower. It's a simple process that doesn't require any special ingredients or cooking skills.
Just wash and chop the cauliflower into florets, toss them in a bowl add seasoning, and microwave them on high for 8 to 10 minutes. You'll have a great side dish that everyone will love!
16. Steamed Broccoli
If you're looking for an easy and healthy side dish, steamed broccoli is a great option. This simple microwave version is easy to make and goes well with just about any meal.
Bonus, it's packed with nutrients, including vitamins C and K, folate, and potassium. So why not give it a try?
17. Creamed Kale
Creamed kale is a flavorful side dish that is perfect for any occasion. This recipe is simple to follow and only requires a few ingredients.
Kale is also a superfood that is loaded with vitamins, minerals, and antioxidants. When cooked in a creamy sauce, it becomes irresistible!
18. Zucchini Squash Casserole
Looking for an easy and tasty way to use up your zucchini and squash? This casserole is the perfect solution!
It's simple to make, and everyone will love it. Give it a try tonight!
19. Cauliflower Mac & Cheese
Move over, plain mac and cheese. There's a new dish in town, and its name is cauliflower mac & cheese.
This cruciferous vegetable is the star of this easy-to-make dish that's perfect for busy families. Not only is it Keto diet-friendly, but it also tastes amazing!
20. Balsamic Brussel Sprouts
Looking for a fast and savory side dish to serve up at your next dinner party? Well, look no further than these Balsamic Brussel Sprouts!
They're very easy to make and full of flavor. So why not give them a try tonight?
21. Acorn Squash
If you're looking for an easy, healthy side dish to serve up with dinner. This microwave acorn squash is the way to go!
You'll have a tasty, nutritious side dish that everyone will love. So why not try it out this year?
Microwave acorn squash is definitely a recipe you'll want to add to your menu rotation.
Any of these incredible vegetable side dishes will make the perfect addition to your menu! Each and every one is easy to make, so you can add them to your weekly rotation!
📖 Recipe Card