Baked Chicken Quarters are an easy and tasty way to serve up a filling chicken dinner with very little prep time or effort on your part! Season and bake the chicken until done, then serve up with some great sides for a wonderful family meal!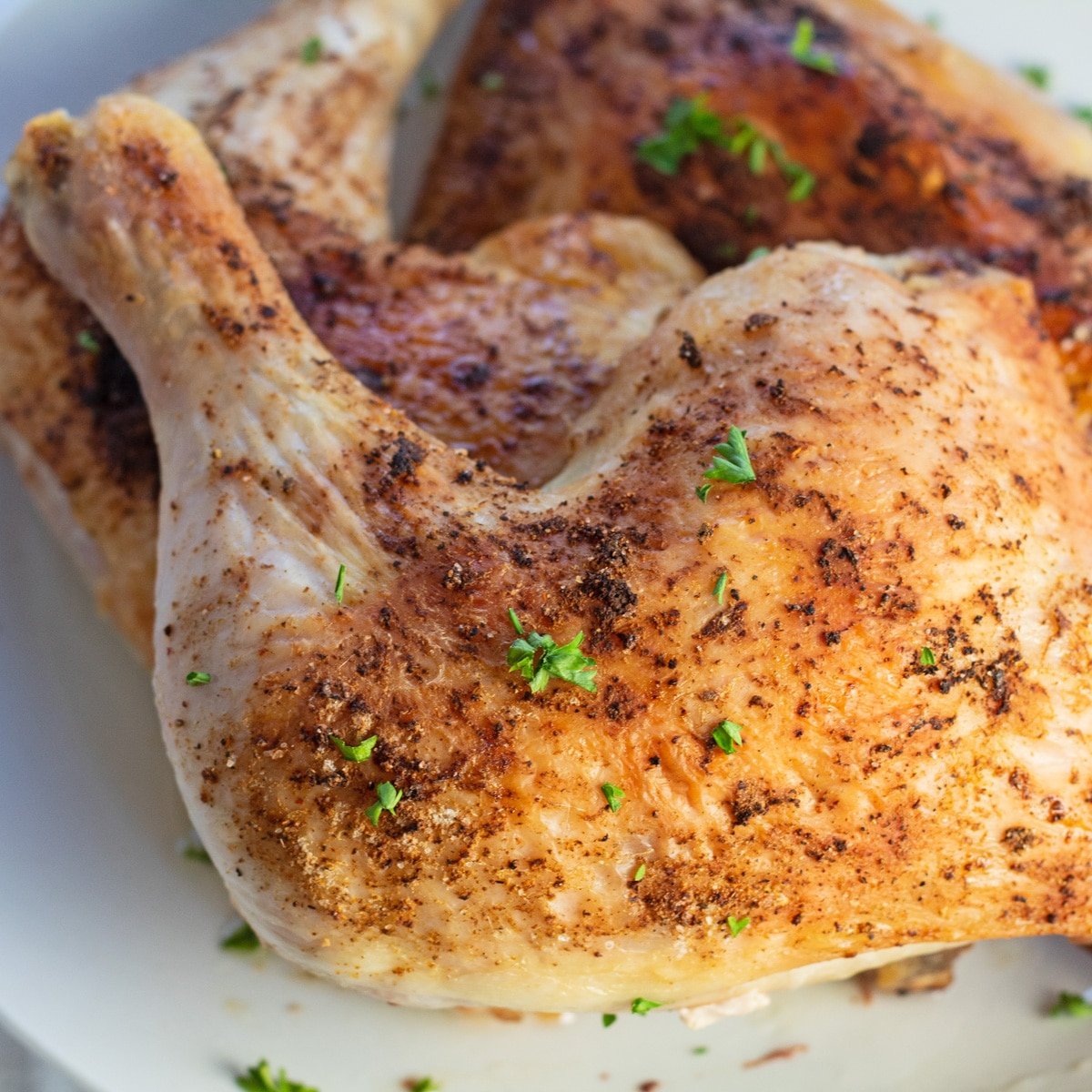 Hearty, Fall-Apart Baked Chicken Quarters So Good You'll Be Doling Out Seconds.
Chicken can get boring if it's your go-to meal. Shake things up a little with this easy, mouth-wateringly delicious chicken!
When chicken is perfectly cooked, it practically falls apart. With my recipe, you'll get juicy, tender meat every time, and you'll love the combination of savory onion powder, sage, paprika, and pepper. 
Jump to:
It's a great dish for a casual meal or a dinner with friends that lends itself to almost any side dish you can think of. With only a few minutes of preparation time, you can spend your extra time with family or guests while the house starts smelling like your favorite restaurant!
❤️ Why You'll Love This Recipe!
There's little prep work!  Just season your chicken and pop it in the oven for a quick weeknight meal that tastes like you spent all day on it!
It's family-friendly! The chicken is covered in basic but delicious seasonings that everyone will love.
It's versatile! Chicken tastes good with practically any veggie, rice, pasta, or potato side dish so it's a great meal to pair with whatever's already in the pantry!
🥘 Ingredients
The seasoning mix is what makes this dish amazing! You'll probably have most of these already in your spice rack.
Chicken Quarters - One of the best pieces of chicken there is, the combined thigh and leg piece has all the tender, tasty dark meat!
Salt & Pepper - The base of all seasoning, they add flavor and make everything else taste amazing!
Paprika - If you like more of a smoky taste, try smoked paprika instead! Yum!
Onion Powder - Onions make savory dishes even better!
Ground Sage - This subtle herb adds a unique flavor that's perfect with poultry!
🔪 Step-By-Step Instructions
It won't make your kitchen a mess, but be prepared to get your hands dirty. You don't need sauces for this to be good, but it's worth pulling out the barbecue sauce if you opt for the smoked paprika.
Preheat the oven. Set the oven to 400℉ (205℃). Cover the bottom of a rimmed baking sheet with parchment paper or use a roasting pan with a rack.
Prepare the chicken. Remove any unwanted fat or skin from 3 chicken quarters (or whatever cut you've chosen to use), and trim the tail piece if desired. Rise and pat the chicken quarters dry with paper towels.
Mix the seasoning. In a small bowl, combine 1 teaspoon salt, ½ teaspoon pepper, ½ teaspoon paprika (or smoked paprika), ¼ teaspoon onion powder, ¼ teaspoon garlic powder, and ¼ teaspoon ground sage.
Season the chicken. Taking a hefty portion of your seasoning at a time, massage it into every part of your chicken pieces. It should evenly cover all of the surfaces. Transfer the chicken to a baking sheet or roasting pan for baking.
Bake. Put the chicken on the center rack of your oven and bake for 45-55 minutes. The internal temperature of each piece should reach at least 165℉ (74℃), but I suggest 175℉ (79℃). Test this by using a digital meat thermometer in the thickest part of each chicken piece.
Serve. Take your baked chicken quarters out of the oven and serve mmediately.
Garnish your baked chicken quarters with a couple of pieces of fresh sage or chopped parsley. Serve with a favorite vegetable side like my garlic green beans. For a tasty side of bread try my garlic bread or cheesy rolls! Enjoy!
💭 Angela's Tips & Recipe Notes
Leftover baked chicken quarters can be used in many different dishes if you want to change things up.
Go for really crispy skin!
Dry the chicken skin thoroughly. Any remaining liquid creates steam, which will prevent a SUPER CRISPY end result.
If you like crispy skin on your baked chicken, try broiling it for 4-6 minutes at the end of the cooking period. It will add some extra brown color and give you that crunch when you bite into this tasty bird.
Love this recipe but want to change it up now and then?
Change up the spices! Try a different spice blend to create an entirely new flavor profile. Try Middle Eastern flavors of cumin, cayenne, garlic, and black pepper. Incorporate the taste of France with Herbes de Provence.
Or add some Cajun seasoning for robust flavor. Maybe bring in a bit of India with my garam masala! You have lots of options to make this dish your own.
🥡 Storing & Reheating
If you have leftovers, store them in a plastic storage bag with the air removed or an airtight container. Your chicken will be good for 3-4 days when stored in the refrigerator.
Not ready to eat this dish again for a while? No problem! Wrap it up tightly in foil, put it in a freezer bag or airtight container, and drop it in the freezer for another 4 months! *Note that if you intend to freeze your leftover chicken, it should be frozen once fully cooled. Do not freeze after the chicken has been refrigerated for 1+ days.
Reheating
The goal when reheating baked chicken is to heat it up without drying it out.  There are a few ways you can do this. The first is in the oven. Leave your leftovers out at room temperature while preheating the oven to 350℉ (175℃).
Put several tablespoons of chicken stock or water in a shallow pan under the chicken and cover it tightly with tin foil. Cook until the baked chicken quarters reach your desired temperature. If you left the skin on and want to crisp it up a bit, put it under the broiler for 3-5 minutes.
If you pulled your chicken off the bone, you can reheat it on the stove. Cover the bottom of a skillet with water or broth and heat it over medium heat until it simmers. Lower the heat and add the chicken. Stir until heated to your desired temperature.
As always, if reheating your leftovers from a frozen state, let them thaw in the fridge overnight before picking one of the reheating methods above.
❓ FAQ
Should I leave the skin on?
That is entirely up to you! Some people prefer leaving the skin on either because it preserves some of the juices in the meat during cooking or simply because they like to eat the crispy skin. Others want to remove the extra fat. Whatever your preference is, this recipe will make a memorable meal.
What temperature do chicken quarters need to be baked to?
The USDA recommends cooking all chicken products to a minimum internal temperature of 165°F (74°C). That said, I prefer to cook my chicken leg quarters to an internal temperature of 175°F (79°C) for the very best flavor.
📋 Recipe
Print Recipe
Leave A Comment
Love This Recipe?
Click On A Star To Rate It!
Baked Chicken Quarters
Baked Chicken Quarters are an easy and tasty way to serve up a filling chicken dinner with very little prep time or effort on your part! Season and bake the chicken until done, then serve up with some great sides for a wonderful family meal!
Pin Recipe
Share on Facebook
Ingredients
3

chicken quarters

(chicken thigh and leg quarters)

1

teaspoon

salt

½

teaspoon

pepper

½

teaspoon

paprika

(or smoked paprika)

¼

teaspoon

onion powder

¼

teaspoon

garlic powder

¼

teaspoon

ground sage
Instructions
Preheat your oven to 400°F (205°C) and line a rimmed baking sheet with parchment paper (or use a roasting pan with a rack).

Trim the tail piece and any unwanted fat or excess skin from your chicken quarters (if desired). Rinse the chicken pieces in cool water, then pat dry using paper towels.

Combine the seasoning in a small bowl: add salt, pepper, paprika, onion powder, garlic powder, and ground sage.

1 teaspoon salt,

½ teaspoon pepper,

½ teaspoon paprika,

¼ teaspoon onion powder,

¼ teaspoon garlic powder,

¼ teaspoon ground sage

Season the chicken pieces and massage the seasoning into all surfaces of the chicken. Place the seasoned chicken quarters onto the baking sheet or into your roasting pan.

Bake the chicken in the middle of your oven's center rack for 45-55 minutes or until the internal temperature reaches at least 165°F (74°C) or my suggested 175°F (79°C).

Remove from the oven and serve immediately.
Notes
I like the flavor best when bone-in chicken (especially dark meat) is cooked to 175F-180F. All chicken needs to be cooked to a minimum of 165F for food safety.
Large chicken quarters will need more time to cook. Use a digital meat thermometer to know when the chicken is completely done. Probe the thickest portion of meat when checking for doneness.
Chicken juices should run clear, not pink, when ready to serve.
Nutrition
Calories:
320
kcal
(16%)
|
Carbohydrates:
1
g
|
Protein:
24
g
(48%)
|
Fat:
24
g
(37%)
|
Saturated Fat:
6
g
(38%)
|
Polyunsaturated Fat:
5
g
|
Monounsaturated Fat:
10
g
|
Trans Fat:
1
g
|
Cholesterol:
142
mg
(47%)
|
Sodium:
887
mg
(39%)
|
Potassium:
313
mg
(9%)
|
Fiber:
1
g
(4%)
|
Sugar:
1
g
(1%)
|
Vitamin A:
279
IU
(6%)
|
Vitamin C:
1
mg
(1%)
|
Calcium:
15
mg
(2%)
|
Iron:
1
mg
(6%)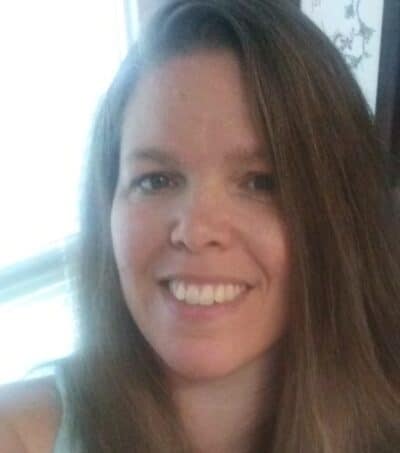 Angela is an at home chef that developed a passion for all things cooking and baking at a young age in her Grandma's kitchen. After many years in the food service industry, she now enjoys sharing all of her family favorite recipes and creating tasty dinner and amazing dessert recipes here at Bake It With Love!