This Oreo mug cake is an incredibly easy-to-make dessert recipe. It has an equally incredible taste and texture for such a perfectly portioned quick dessert! With just 2 ingredients and about as much time, you can whip up this rich, chocolatey cake and satisfy both your sweet tooth and chocoholic cravings!
Best TikTok Oreo Mug Cake Recipe
What's your favorite way to eat Oreos? Whether you twist them apart and dunk them in milk, smother them with peanut butter, or just pop them into your mouth, this American classic is always a winner.
Now you can try them in the delicious form of an Oreo mug cake! With just milk, ground cookies, and optional vanilla extract and baking powder, you can have a fluffy personal-sized indulgence in just a couple of minutes!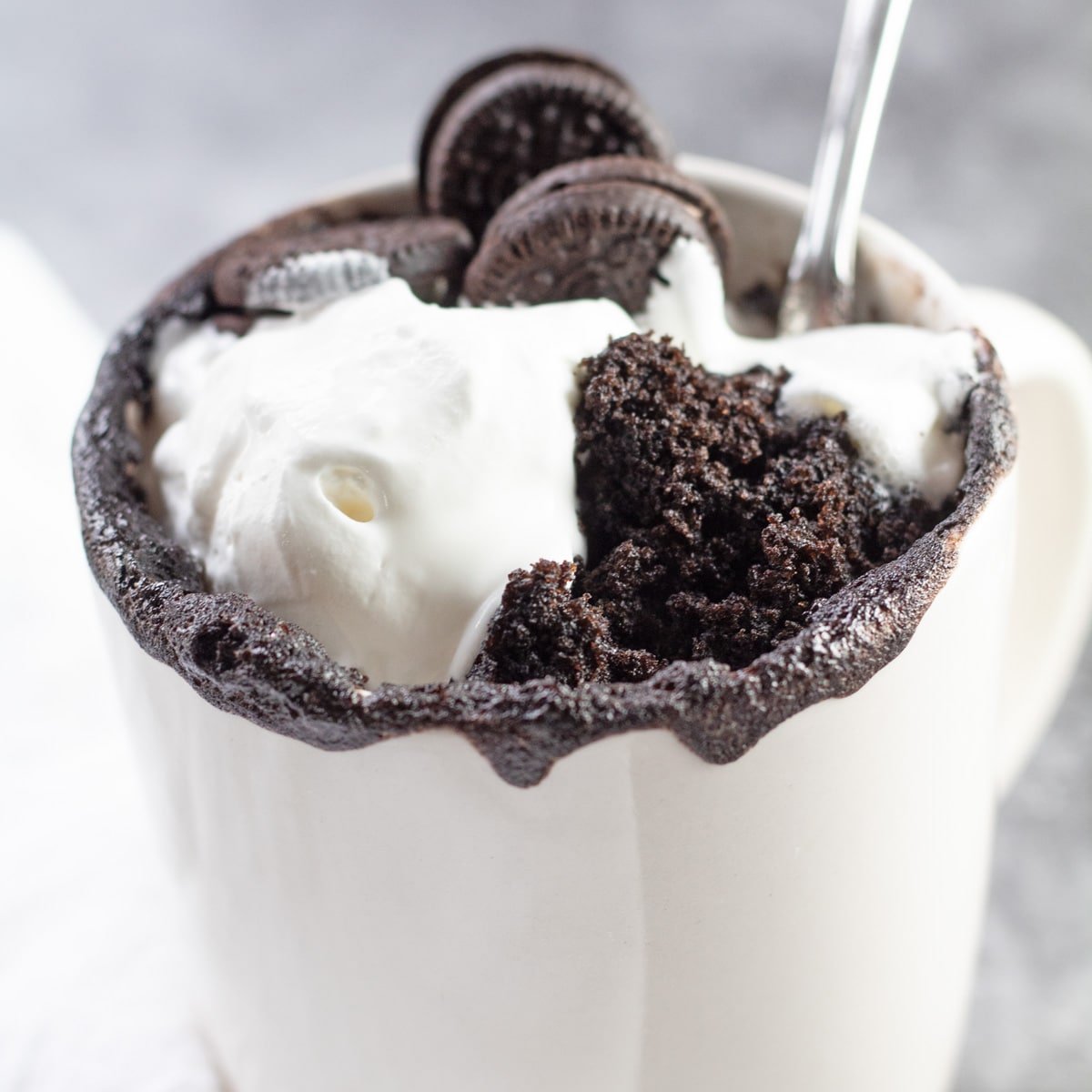 A light and flavorful Oreo mug cake to satisfy all of your dessert cravings!
Jump to:
The kids will love this as much as the adults! There's a reason this cake went viral on Tiktok; it tastes as good as it looks. And who doesn't swoon at the sight of Oreos?
Mug cakes are a trend that is here to stay. And with good reason! Even if you are making one for a friend, it's the perfect opportunity to personalize your dessert.
Looking for more mug cakes? Take a look at my chocolate chip or peanut butter varieties!
❤️ Why You'll Love This Recipe!
It's simple! There are only two required ingredients! Even with the addition of two more optional add-ins, it's still an amazingly short ingredient list!
It's unique! When was the last time you crushed and threw Oreos into a microwave?
It's easy! Just grind up the cookies and mix everything together before popping it into the microwave!
🥘 Oreo Mug Cake Ingredients
There are only 2 required ingredients in this mug cake. Adding the last two will make it extra fluffy and give it a boost of rich flavor.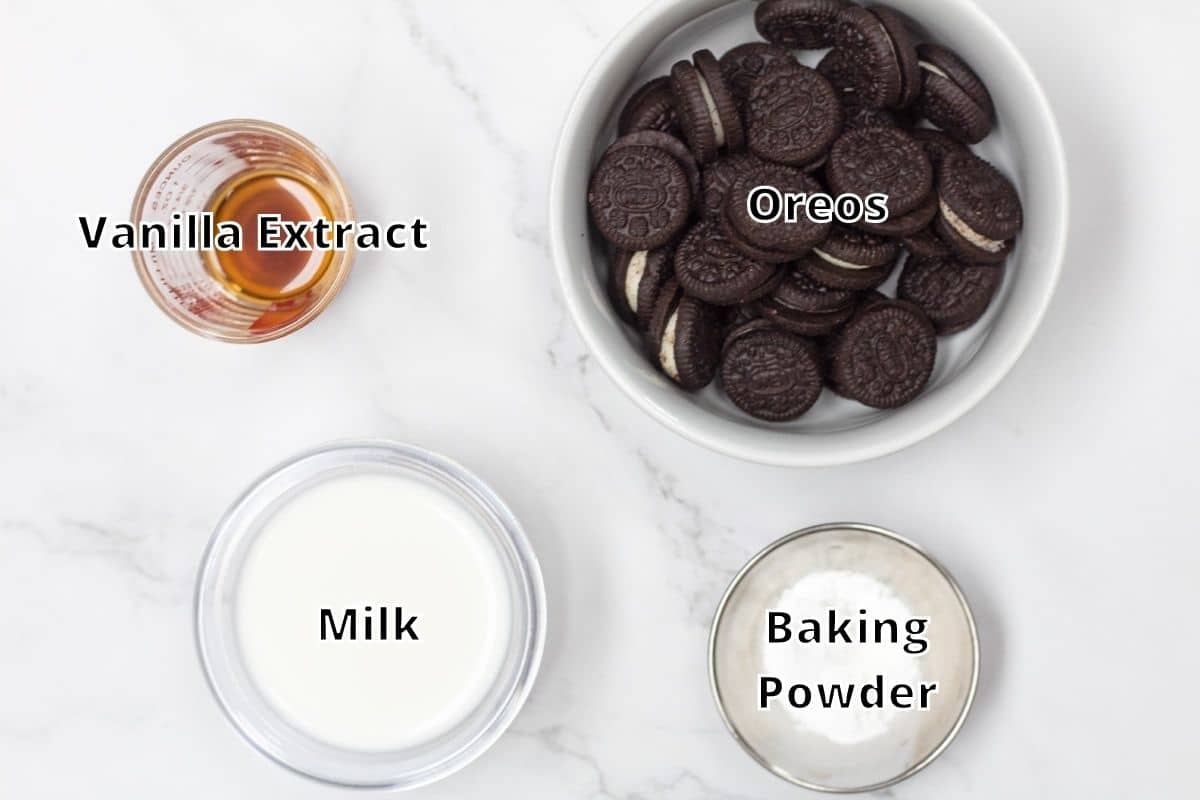 Oreo Cookies - This classic cookie always reminds me of childhood! You can use regular Oreos, Oreo Thins, Double Stuffed, or a single packet of the mini Oreos like I am here.
Milk - Dairy, soy, oat, nut milk - any kind will work.
Baking Powder (optional) - Add this to make your Oreo mug cake light and fluffy.
Vanilla Extract (optional) - I say optional but I really mean that unless there's no vanilla extract in your house, it's pretty much a must-have. Vanilla highlights other flavors, so your mug cake will be that much better!
🔪 How To Make TikTok Oreo Mug Cake
This is a great cake for a random craving or a last-minute guest. It only takes a few minutes from start to finish for a really beautiful and delicious dessert.
All you need to get started is a 12-14 ounce coffee mug, a measuring cup, and spoon!
Crush The Oreos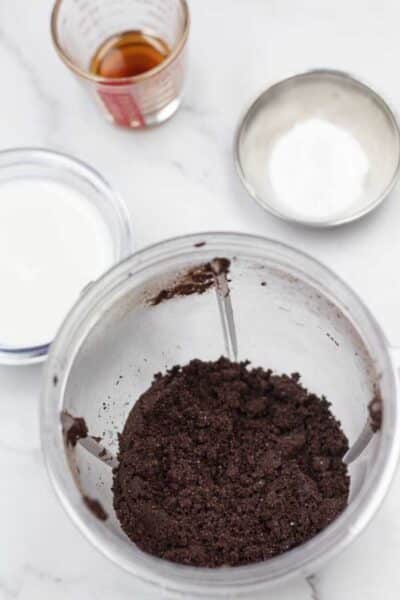 Crush the Oreos. Start out with crushing 4 Oreo cookies either by hand or in a food processor or blender. The latter will result in finer crumbs and a lighter mug cake. For the lightest cake possible, blend them to fine dust.
Mix the ingredients. Next, transfer the Oreo crumbs into a small bowl or microwave-safe mug. If using baking powder, combine it with the crushed Oreos now.
Combine & Microwave
Add wet ingredients. Pour in 3 tablespoons of milk and the optional ½ teaspoon of vanilla extract. Stir until there are no clumps. In order to ensure all of the Oreos have been moistened by the liquids, be sure to scrape the bottom of the mug with a spatula. If you're using a bowl, transfer the batter into a microwave-safe mug.
Cook the cake. Set your microwave to high power and cook for 90 seconds to 2 minutes. It will vary by microwave. When it's finished, the cake should be set and will spring back when you touch it.
Cool slightly. Allow the cake to set up and cool in the microwave for 1 minute before serving.
Serve with whipped cream and some extra Oreos or your other favorite toppings! My vanilla or chocolate nice creams would also be a nice touch. Enjoy!
💭 Angela's Tips & Recipe Notes
Here are a few of my tips. If you have any questions be sure to leave comment or question at the bottom of the recipe.
Some Notes On Ingredients
Baking soda and vanilla extract - notes on the optional ingredients. Adding baking powder will give your cake a lighter, fluffier texture as opposed to a denser, pound cake-like feeling. If you don't have powder on hand, don't worry! Your cake will be delightful without it.
While vanilla extract isn't vital, it complements the Oreos and makes their flavor stand out. Be sure to use a good quality vanilla extract for the best results.
How To Make Your Mug Cake Impressive
Easy to upgrade for an impressive look. This cake can also be made in microwave-safe ramekins for those searching for a more formal look. They're perfect for making a special dessert for an impromptu visit with a friend or neighbor who stopped by unexpectedly. Top with whipped cream and a cherry for that made-just-for-you look!
How To Add A Gooey Center
To take this cake to the next level of deliciousness, try adding a gooey center. If you're a fan of molten chocolate lava cakes, it's worth dropping a filling into the center of your mixed batter. It can be anything you would usually eat on Oreos. I like peanut butter, Nutella, or even chocolate chips. You don't even have to push it down into the cake, as it will sink down during the cooking process. Be prepared; the center will be very hot when you take it out of the microwave. Don't burn your tongue!
Make Different Mug Cake Flavors
Any of your favorite cake flavors can be made into all types of mug cakes! Check out my recipes for both Nutella and vanilla mug cakes! They really are amazing for those late-night dessert cravings or those evenings when you don't want to make an entire cake. 
🥡 Storing & Reheating
Cake typically lasts 3-4 days at room temperature but will start drying out after that. If stored in the fridge, it may keep its moisture for another day or two. Either way, be sure to wrap it tightly with foil or plastic cling wrap, eliminating as much air as possible.
To freeze your mug cake, cover it tightly in aluminum foil or plastic cling wrap first. It will be good for 3-4 months in the freezer before losing flavor.
Reheating Mug Cakes
There's no need to reheat these. If you're pulling your mug cake out of the freezer, leave it in the fridge overnight to thaw. It can take several hours.
In a rush? Leaving your mug cake out on the countertop is fine if you're going to eat it in a couple of hours.
🎂 More Mug Cake Recipes
❓ Oreo Mug Cake FAQ
Why is my mug cake dry and rubbery?
Microwave cooking can be tricky. They are all slightly different, and your power setting also makes a difference in how fast things cook. Try taking 30 seconds to 1 minute off your baking time. Cook for 15 to 20 seconds at a time, checking for doneness between each interval.
Another trick is to add up to a tablespoon of water on top of the mixed batter before putting it in the microwave. While it will evaporate, it will keep the top of the cake from drying out in the meantime.
Are mug cakes supposed to be eaten hot or cold?
Mug cakes are fantastic when served hot right out of the microwave, but they are also good when completely cool. After all, you wouldn't reheat leftover birthday cake, would you? I don't recommend reheating them, as it will likely dry them out.
If, however, you have followed the tip above and added a molten center, try reheating in the microwave for 10-20 seconds. It's important to only heat the mug cakes until they're warm. Overheating can ruin your cake after it's already been cooked completely.
Can I ice this cake?
Absolutely! While it's great without icing, it would also be delicious with it. Either vanilla buttercream or chocolate buttercream frosting would be my top picks. It's difficult to cut down an icing recipe for a single mug cake, but if you have some leftovers from a full cake you made, this is an ideal place to use it.
📋 Recipe
Print Recipe
Leave A Comment
Love This Recipe?
Click On A Star To Rate It!
Oreo Mug Cake
This Oreo mug cake is an incredibly easy-to-make dessert recipe. It has an equally incredible taste and texture for such a perfectly portioned quick dessert! With just 2 ingredients and about as much time, you can whip up this rich, chocolatey cake and satisfy both your sweet tooth and chocoholic cravings!
Pin Recipe
Share on Facebook
Instructions
Crush the Oreo cookies by hand, or for a finer crumble (and lighter mug cake) use a food processor or blender to process the cookies to a fine dust.

In a small bowl or microwave-safe mug, combine the crushed Oreos with optional baking powder. Add the milk plus optional vanilla extract and stir to combine until smooth. Make sure to scrape the bottom of your mug so that all of the Oreo is moistened. Transfer the mixture into a mug once combined (if using a bowl).

3 tablespoon milk,

1 teaspoon baking powder,

½ teaspoon vanilla extract

Microwave on high for 90 seconds to 2 minutes, depending on your microwave. The top of the mug cake should feel set and spring back to the touch.

Leave the mug cake to set for 1 minute in the microwave when done cooking. Remove and serve with your favorite toppings.
Notes
The finer your cookie crumble is, the lighter the mug cake will be.
The optional baking soda also makes the mug cake lighter.
Use vanilla extract to make the Oreo flavor 'pop' more.
Nutrition
Calories:
240
kcal
(12%)
|
Carbohydrates:
36
g
(12%)
|
Protein:
4
g
(8%)
|
Fat:
10
g
(15%)
|
Saturated Fat:
3
g
(19%)
|
Polyunsaturated Fat:
2
g
|
Monounsaturated Fat:
4
g
|
Trans Fat:
1
g
|
Cholesterol:
1
mg
|
Sodium:
240
mg
(10%)
|
Potassium:
173
mg
(5%)
|
Fiber:
1
g
(4%)
|
Sugar:
22
g
(24%)
|
Vitamin A:
93
IU
(2%)
|
Calcium:
65
mg
(7%)
|
Iron:
4
mg
(22%)
2 ingredient mug cake, microwave mug cake recipes, Oreo Mug Cake, Tik Tok trend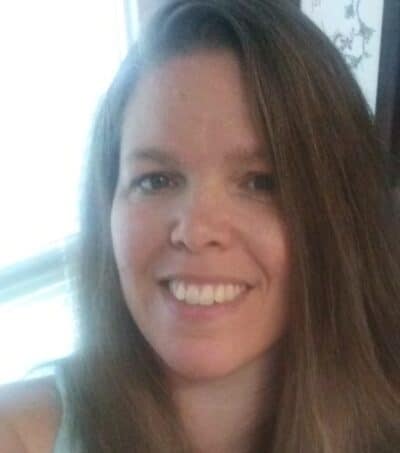 Angela is an at home chef that developed a passion for all things cooking and baking at a young age in her Grandma's kitchen. After many years in the food service industry, she now enjoys sharing all of her family favorite recipes and creating tasty dinner and amazing dessert recipes here at Bake It With Love!