This tasty peanut butter mug cake whips up in just a couple of minutes then bakes to tender, fluffy perfection in your microwave! In 5 minutes total time you can have a single-serving dessert cake that satisfies any homemade sweets craving!
Top your mug cake off with ice cream, whipped cream, chocolate sauce, or stir in some chocolate chips, roasted peanuts, or caramel bits for an even more amazing dessert!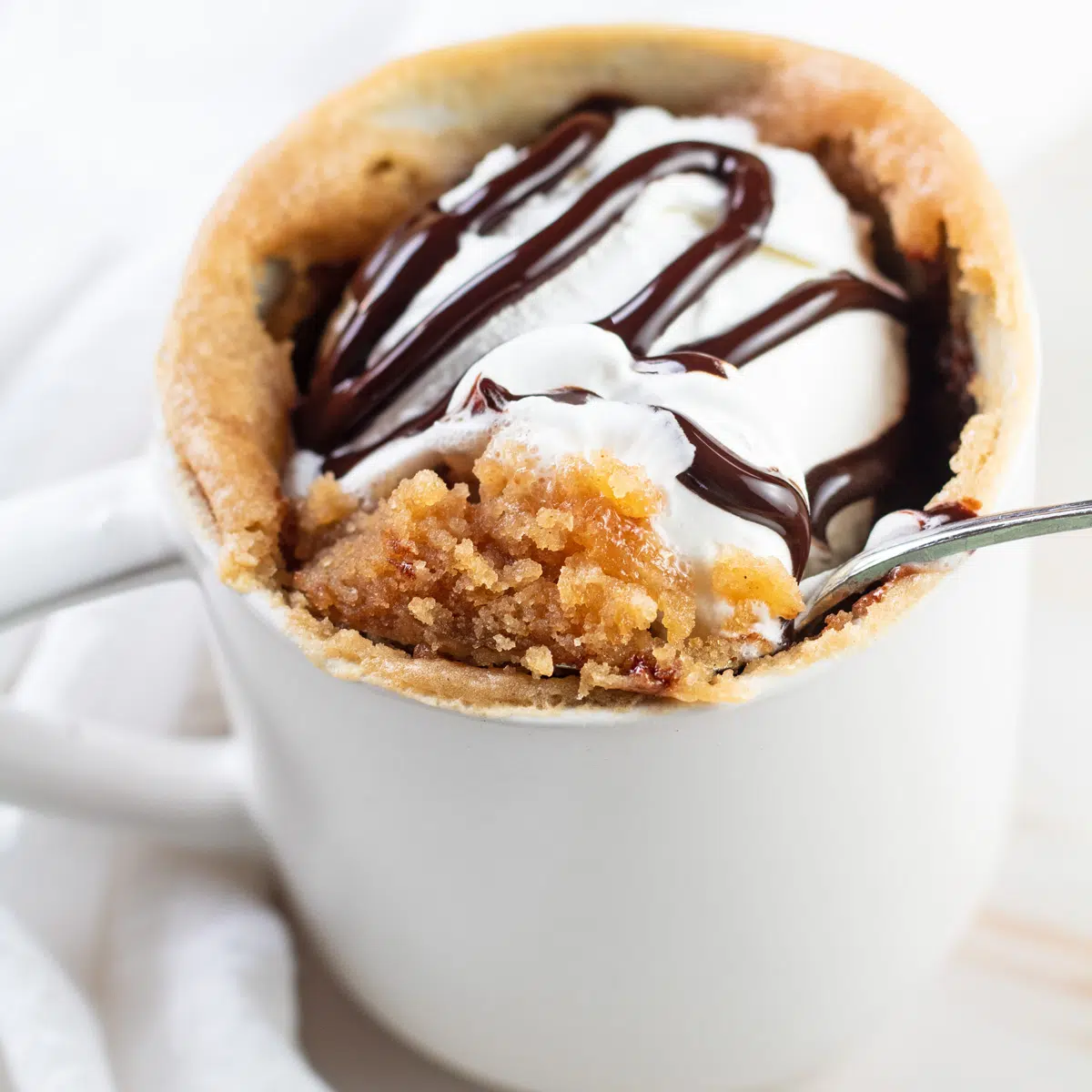 Incredibly easy, rich, and fluffy peanut butter mug cake for one!
Sometimes all you need is a single serving of something sweet! This mug cake has all the peanut buttery goodness of a professional bakery creation in a manageable size for just you!
No leftovers. No overeating. Just a rich, satisfying dessert in under 5 minutes. Mix, heat, and eat this perfectly portioned microwave cake.
Jump to:
If you're not into chocolate, no problem. Just skip the chocolate chips. Try stirring in some roasted peanuts instead!
This recipe is just for you, so make it exactly the way you want!
❤️ Why You'll Love This Recipe!
It's Fast! It only takes 5 minutes to mix your ingredients, cook, and let it cool!
It's Perfect For One. Sometimes, a whole cake is more than you need (or want to have sitting on the counter)! This way you CAN have your cake and eat it too! 🙂
It's Adjustable! Add chocolate chips, peanuts, vanilla extract, heck you can even set a dollop of your favorite jam or jelly in the batter. Whatever you love mixing with peanut butter! 
🥘 Ingredients
No surprises here! This easy microwave peanut butter mug cake just requires your staple baking supplies you may already have in your pantry.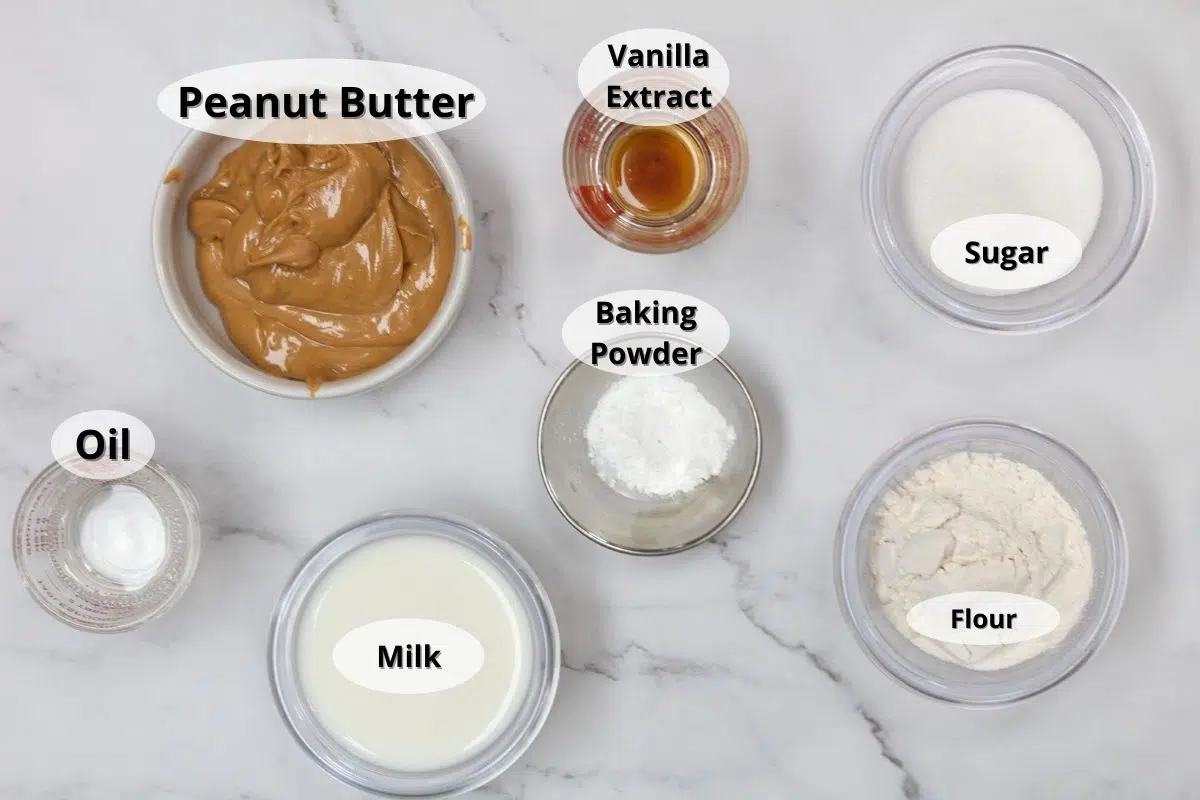 Oil – I like to use virgin coconut oil for an exotic addition. Refined coconut oil is near flavorless, so the unrefined coconut oil is my cooking oil of choice here.
Peanut Butter – Chunky or smooth, natural or not. It doesn't matter. You can also use other nut butters in this recipe!
Sugar – Adds just the right amount of sweetness. You could also substitute honey or maple syrup.
All-Purpose Flour – Your baking staple for bulking up your baked goods!
Baking Powder – This adds the lift for an amazingly fluffy cake.
Milk – Any dairy or non-dairy milk will do just fine.
Vanilla Extract (optional) – I love the flavor this adds! It makes the peanut butter flavor 'pop' too!
Chocolate Chips (optional) – For anyone as obsessed with chocolate as my husband and daughter are, this is a must-have.
🔪 Step-By-Step Instructions
Just mix it together and toss your mug cake in the microwave for a perfectly cooked treat every time. You can't go wrong with this recipe!
Combine everything (but the milk). Add 1 ½ tablespoons oil or melted butter and 2 tablespoons peanut butter in a microwave-safe mug or small bowl. It should be smooth. Next, add 2 tablespoons sugar, 2 tablespoons all-purpose flour, and ½ teaspoon baking powder. Mix until thoroughly combined.
Add milk and optional ingredients. Pour 3 tablespoons milk and 1 teaspoon vanilla extract (optional) into the batter and mix until smooth. If you'd like, add 1 tablespoon of your favorite chocolate chips - I like the mini morsels for this small cake.
Microwave. Put your mug into the microwave and cook on high for 1 minute and 30 seconds. The cake should be set. It may be shiny on top, but when touched, it should spring back. If needed, add cook time in 10-15 second increments until it's finished.
Let it cool. Don't burn yourself! Let the cake set and cool down for 1 minute in the microwave before eating. I know it's tempting to skip this, but don't. *Your mug cake also finishes cooking during this time.
Your peanut butter mug cake is ready to eat as-is, but to make this a showstopper, top with whipped cream and a cherry or sprinkle with peanuts. To infuse with extra richness, heat a bit more peanut butter or caramel and pour it over the top. Enjoy!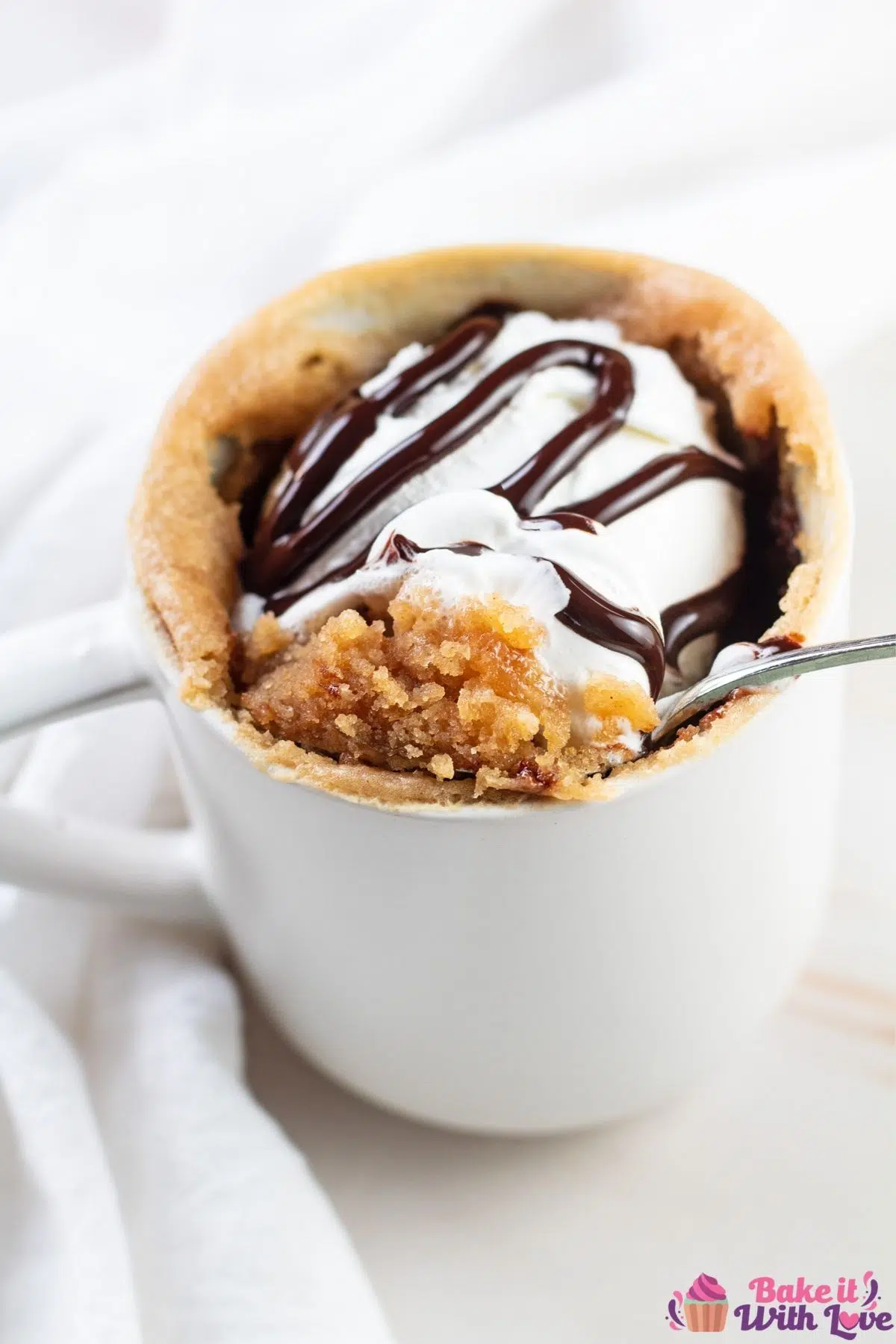 💭 Angela's Tips & Recipe Notes
Add some extra mix-ins for added flavor and/or texture.
Sprinkle in some peanuts for that extra crunch.
A couple of chunks of cream cheese will turn this into more of a tangy cheesecake.
Or maybe you have some caramel bits lying around? That would be good too!

Don't overcook your mug cake.
Because it's not going in the oven, you won't see the top turn slightly brown when it's cooked. The important thing is that it's not soupy. If it looks set up, don't add cook time.
Mug cakes will continue to cook a bit once removed from the microwave. In other words, if it's close, call it done.

Don't substitute baking soda for baking powder.
They aren't the same thing, and this will mess up the recipe unless you have enough of an acidic ingredient to cause the appropriate reaction (ex. Buttermilk, yogurt, lemon juice, vinegar, etc.). In this case, there isn't.
🥡 Storing & Reheating
If you can't finish your cake, wrap it up with plastic cling film or aluminum foil. It can be left in the fridge for about three days before getting stale or mushy. Usually it's the texture that goes bad first in a cake.
This is so quick to make, it's best to just make it when you want it. There's nothing better than pulling a piping hot mug peanut butter cake fresh out of the microwave!
If you do store a leftover portion of your mug cake in the refrigerator, simply heat in short 10-15 second increments in the microwave until warmed to your satisfaction.
❓ FAQ
Can any cake be a mug cake?
Absolutely!  You can find just about any flavor online. This is one of my favorites. You can also try my Vanilla Mug Cake. Just remember, look for a mug cake recipe. Cakes designed for the oven will turn out differently in the microwave.
Can I reduce the amount of sugar?
The best way to reduce sugar is to replace it with an equal amount of applesauce, honey, or maple syrup. Applesauce adds a slight apple flavor, but it would go well with the peanut butter.
Personally, I would only reduce it to a measurement that is 'just shy' of what's called for in the recipe. Taste, and go from there in your next peanut butter mug cake!
Would almond extract be a good substitute for vanilla?
While I love almond extract, and it's great with chocolate, it doesn't really blend with peanut butter. If you don't have vanilla, don't worry about it! The cake will still be amazing without it. Save the almond extract for a chocolate, apple, or marzipan mug cake.
Can I use butter instead of oil?
Yes! Fats are often interchangeable in baking. In the case of butter and oil, just substitute one-to-one. You'll use 1 ½ tablespoons of either butter or oil. The taste of butter is relatively neutral but can add a fantastic richness. Make sure to use unsalted, sweet cream butter for best results.
Note that oil typically keeps the cake moist longer, but in the case of this single-serving cake that you're going to enjoy right now, it doesn't really matter.
Do you love a recipe you tried? Please leave a 5-star 🌟rating in the recipe card below and/or a review in the comments section further down the page.
Stay in touch with me through social media @ Pinterest, Facebook, Instagram, or Twitter! Subscribe to the newsletter today (no spam, I promise)! Don't forget to tag me when you try one of my recipes!
📋 Recipe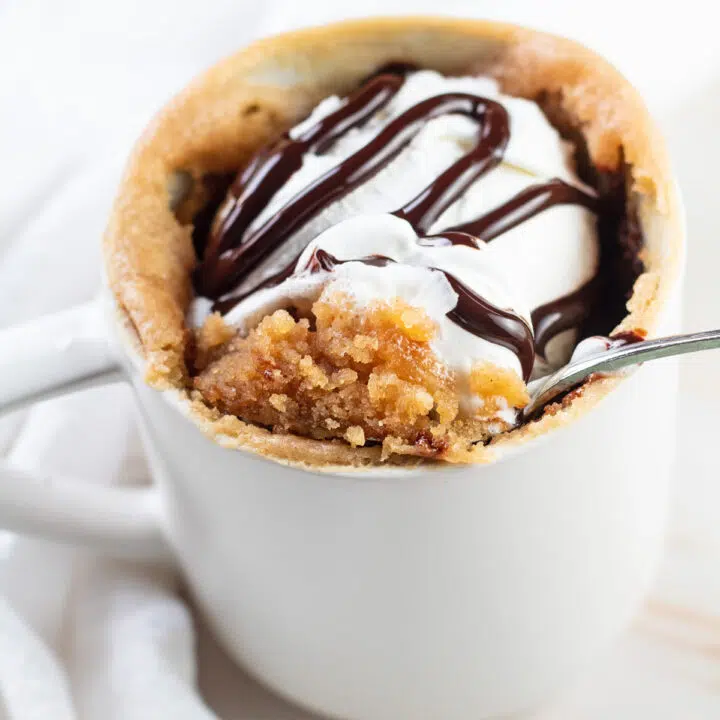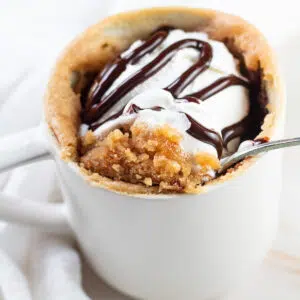 Print Recipe
Leave A Comment
Love This Recipe?
Click On A Star To Rate It!
Peanut Butter Mug Cake
This tasty peanut butter mug cake whips up in just a couple of minutes then bakes to tender, fluffy perfection in your microwave! In 5 minutes total time you can have a single-serving dessert cake that satisfies any homemade sweets craving!
Pin Recipe
Share on Facebook
Help Us Out!
If you love a recipe, be sure to come back and share your ratings. This helps future users, and allows me to continue sharing free recipes! Angela
Instructions
In a microwave-safe mug or small bowl, stir together the peanut butter and oil until smooth. Add the granulated sugar, all-purpose flour, and baking powder then stir until well combined.

1 ½ tablespoon oil,

2 tablespoon peanut butter,

2 tablespoon sugar,

2 tablespoon all-purpose flour,

½ teaspoon baking powder

Stir in the milk and optional vanilla extract until the batter is smooth. Add optional chocolate chips if desired.

3 tablespoon milk,

1 teaspoon vanilla extract,

1 tablespoon chocolate chips

Microwave on high for 1 minute 30 seconds or until the mug cake is set. The top may still be shiny, but should be springy to the touch. Heat in additional 10-15 second increments if needed.

Leave in the microwave for 1-2 minutes to let the cake set and cool slightly before serving.
Nutrition
Calories:
550
kcal
(28%)
|
Carbohydrates:
45
g
(15%)
|
Protein:
11
g
(22%)
|
Fat:
37
g
(57%)
|
Saturated Fat:
5
g
(31%)
|
Polyunsaturated Fat:
11
g
|
Monounsaturated Fat:
21
g
|
Trans Fat:
1
g
|
Cholesterol:
1
mg
|
Sodium:
168
mg
(7%)
|
Potassium:
502
mg
(14%)
|
Fiber:
2
g
(8%)
|
Sugar:
30
g
(33%)
|
Vitamin A:
92
IU
(2%)
|
Calcium:
158
mg
(16%)
|
Iron:
1
mg
(6%)
microwave mug cake recipes, peanut butter desserts, Peanut Butter Mug Cake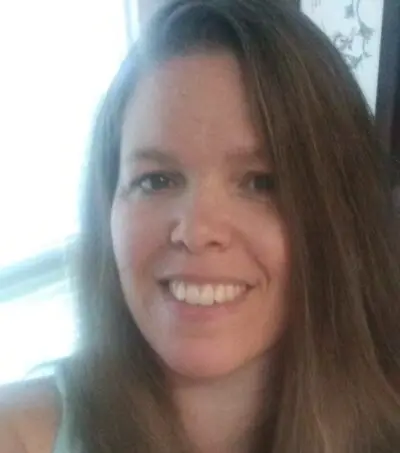 Angela is an at home chef that developed a passion for all things cooking and baking at a young age in her Grandma's kitchen. After many years in the food service industry, she now enjoys sharing all of her family favorite recipes and creating tasty dinner and amazing dessert recipes here at Bake It With Love!