This ridiculously tasty chicken parmesan sandwich is the best combination of crispy breaded chicken strips, marinara sauce, and melty mozzarella EVER! All of that - and on a garlic toasted roll? It's a meal made in heaven!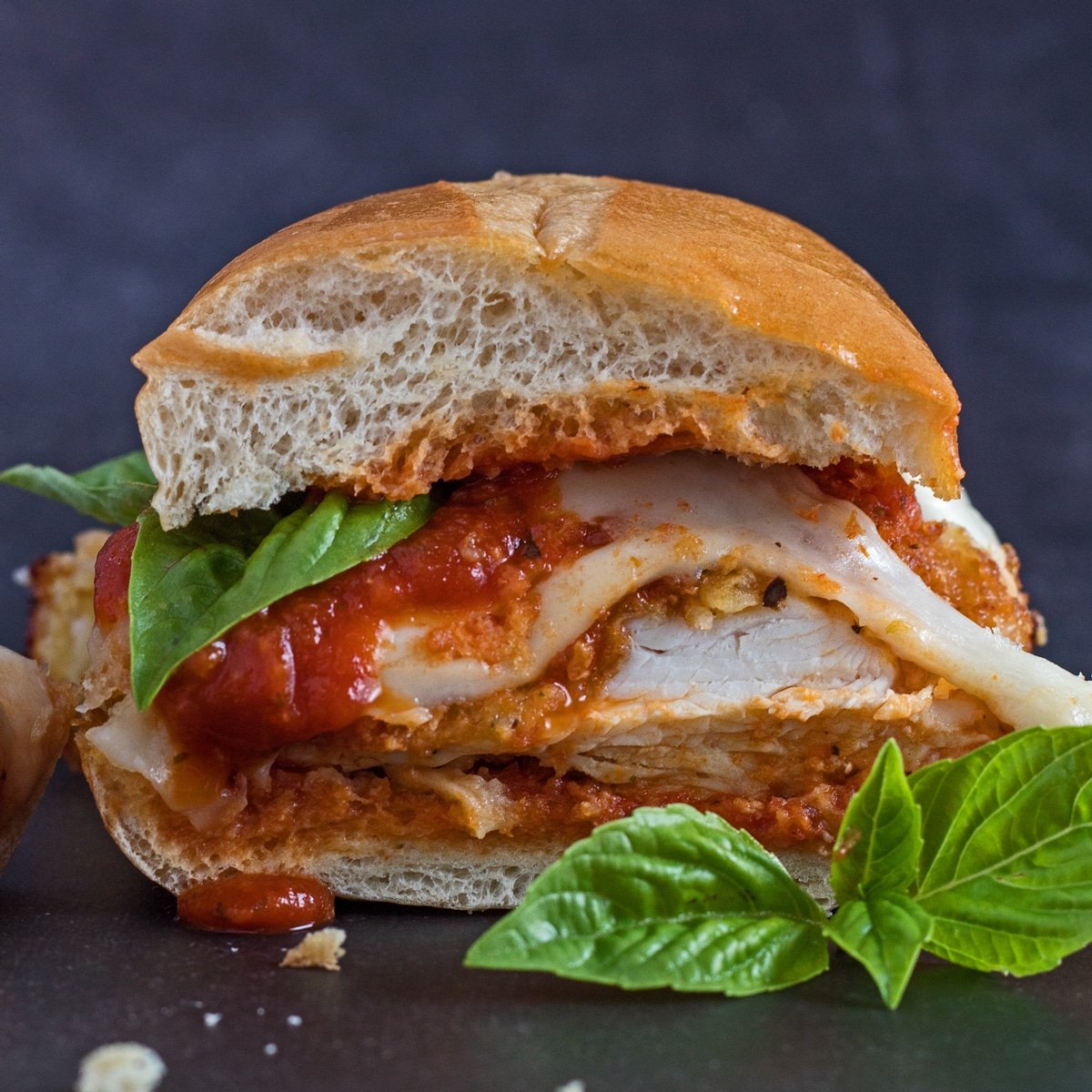 Simply the BEST EVER crunchy, cheesy chicken parmesan sandwich!
How can you get all the cheesy, tomato-y goodness of chicken parm on a sandwich? This recipe! And it's SO GOOD!
Just fry up some chicken strips covered in Italian breadcrumbs and seasoning and add fresh mozzarella and basil. Top it all off with a hearty marinara sauce, and you've got a sandwich that packs a punch.
Jump to:
They're great for the whole family, but I can't say the same of their outfits. These are a messy handful, even for the neatest eaters! And they're still totally worth it!
Even if you don't have access to a way to reheat, these hearty chicken parm sandwiches are delicious left over for school or work lunches.
❤️ Why You'll Love This Recipe!
It's picnic-ready Italian! For when you can't take your gnocchi to the park.
It's fresh. I love using just-picked basil and freshly-baked bread.
It's adjustable! It's just as easy to make this for two people as it is for 10.
🥘 Ingredients
These are your basic chicken Parmesan ingredients with the addition of a bun for the sandwich. Remember, with the exception of Parmesan, the fresher your ingredients, the better it will be.
Chicken - Boneless, skinless chicken thighs or breasts cut into strips are best. The strips also cook the fastest to speed along your sandwich making (if you don't have leftovers of my chicken parmesan)!
Flour – Flour helps the breading stick to the chicken pieces best.
Salt & Pepper – Classic spices that can add depth to anything! Both salt and pepper highlight the amazing flavors of all the other ingredients.
Eggs – A couple of beaten eggs as part of the dredging station to bread your chicken.
Italian Breadcrumbs – Add even more flavor with seasoned breadcrumbs. Plain breadcrumbs work in a pinch (just add some extra Italian seasoning).
Parmesan Cheese – Parmesan is the finishing touch for any good Italian food.
Italian Seasoning – It's an amazing combo of the base herbs rosemary, oregano, basil, marjoram, and thyme, plus more depending on the brand of seasoning.
Oil – Look for an oil like canola or vegetable with a high smoke point for frying.
Marinara Sauce – Buy this from the store, use your favorite recipe, or make my Marinara Sauce!
Mozzarella Cheese – Any kind will work, but I especially love a fresh ball of traditional cheese in saline.
French Rolls – Yeast rolls are so flavorful! Use hoagies, a baguette, ciabatta roll, or whatever you have on hand.
Fresh Basil Leaves – This is a perfect herb to start growing at your house! It comes in SO HANDY if you love Italian food!
🔪 Step-By-Step Instructions
There are really only two parts to this: bread and fry the chicken, and assemble the sandwiches. It's well worth the 25 minutes you'll invest.
Bread and fry the chicken
Prepare the breading station. In a shallow bowl, add ½ cup flour, ½ teaspoon salt and ½ teaspoon pepper and mix thoroughly. Beat 2 large eggs in another shallow bowl or plate. In a third bowl or plate, combine 1 cup Italian breadcrumbs, ¼ cup Parmesan cheese, and 2 teaspoons Italian seasoning.
Heat the oil. Pour a generous amount of oil in a large skillet and turn heat to medium-high. Heat the oil while you prepare the chicken.
Dredge the chicken. Cut 2 boneless, skinless chicken thighs or breasts into strips. Next, dip each piece in flour, followed by egg, then the breadcrumb mixture. The chicken should be fully coated. Set aside to fry.
Fry it. When the oil is ready, fry a few pieces of chicken at a time. When finished, each piece should be golden brown and have reached an internal temperature of 165℉ (74℃). Put cooked pieces aside on a wire cooling rack over a baking sheet.
Assemble the sandwiches
Finish off the chicken. Top each piece of chicken with a substantial amount of marinara sauce and a piece of mozzarella. You should use around 1 cup of sauce and ½ cup of cheese to cover all of the chicken. Then, broil it in the oven on low until the cheese is melted and bubbly. Take it out and allow it to cool slightly.
Toast the bread. Add a drizzle of olive oil on each of 2 french rolls. Place them on another baking sheet, cut side up, and broil until toasted. It should take around 3-5 minutes. *Watch closely so the bread doesn't burn!
Put it together. Divide the cheesy chicken between the two rolls and add 2-3 fresh basil leaves to each sandwich.
Serve. Once assembled, serve your sandwiches immediately as they are best when enjoyed right away - and make sure you have a napkin handy!
These chicken parmesan sandwiches are great for lunch or dinner with a salad or green beans. You can even serve them with a bit of extra marinara on the side for dipping. Enjoy!
💭 Angela's Tips & Recipe Notes
Try different breads to shake things up.
An Asiago bagel or homemade wheat. Sourdough or French bread. Or ciabatta rolls! You can make these sandwiches with any of your favorite breads (as long as they'll hold up to the moisture)!
To keep the breading from sliding off your chicken, pat it dry before dredging it in flour.
It sounds counterintuitive, but creating a dry surface helps the flour stick. Then, after you do the egg and breadcrumb coat, chill the chicken.
Cool it down for 30 minutes. This helps the breading solidify and will keep it in place when you get ready to fry.
The oil has to be hot in order to fry the chicken.
With your burner on medium, it should take 5-10 minutes. You can use a thermometer to be precise. The oil should be 350℉ (175℃).
To do this without a thermometer, use the end of a wooden spoon or chopstick. Dip it in the oil. If a steady stream of tiny bubbles come to the surface, you're ready to fry.
Don't drain your chicken on paper towels!
Doing so effectively 'steams' the fried chicken pieces. This will result in soggy breaded chicken before you even get to assembling your sandwiches.
To maximize flavor, turn your french rolls into garlic bread!
Before drizzling the bread with oil, heat the oil with a small clove of minced garlic for 1-2 minutes. Then spread it on the bread to toast. Yum!
🥡 Storing & Reheating
If you know you won't be eating both sandwiches, store the prepared chicken in plastic cling wrap, tin foil or an airtight container in the fridge before putting it on the bread.  It will last for 3-4 days. The marinara sauce can make the bread soggy if it's not eaten right away.
For those already-assembled sandwiches, wrap them in plastic or foil and put them in the fridge until the next day. The chicken will still be good after that, but the bread will be mushy.
Sandwiches are best when freshly made, but if you'd like to save a little time, freeze the breaded and fried chicken wrapped tightly in aluminum foil or put in an airtight container. It will be good for up to 3 months. 
When you're ready to make your sandwich, let it thaw in the fridge overnight before continuing with the "Assemble the sandwiches" part of the recipe. If you're only making one sandwich, you could even put the extra chicken on a bed of spaghetti and toss with extra marinara.
Reheating
Place your chicken parm sandwich on a baking sheet open-faced and covered loosely with tin foil. Cook it at 350℉ (177℃) for 10 minutes, removing the foil for the last two minutes.
To reheat your assembled sandwich in the microwave, heat on high power for 30 seconds, open-faced. Heat in additional 10-15 second increments at a time until the sandwich reaches your desired temperature.  
If your sandwich isn't already assembled, reheat the chicken by itself as mentioned in of the methods above before putting it on your toasted bun.
❓ FAQ
Is the chicken always breaded in chicken Parmesan?
In short, yes. The breading is traditionally part of the dish. If you are gluten-free or simply prefer it without, try grilling or pan frying the chicken plain. It will be delicious either way.
When breading chicken, which do you use to coat first, flour or egg?
Flour. The flour gives the egg something to stick to.  Without it, the eggs would slide off. And without the eggs, you can't form a crust with the breadcrumbs. This is the tried and true method of breading. It'll get you the best results.
📋 Recipe
Print Recipe
Leave A Comment
Love This Recipe?
Click On A Star To Rate It!
Chicken Parmesan Sandwich
This ridiculously tasty chicken parmesan sandwich is the best combination of crispy breaded chicken strips, marinara sauce, and melty mozzarella EVER! All of that - and on a garlic toasted roll? It's a meal made in heaven!
Pin Recipe
Share on Facebook
Ingredients
6-8

oz

boneless skinless chicken thighs

(approximately 2 boneless, skinless chicken thighs - or 1 boneless skinless breast, cut into strips)

½

cup

flour

½

teaspoon

each, salt & pepper

2

large

eggs

(beaten)

1

cup

Italian breadcrumbs

¼

cup

grated Parmesan cheese

2

teaspoon

Italian seasoning

oil for frying

1

cup

marinara sauce

½

cup

mozzarella cheese

(grated or sliced)

2

french rolls

(or deli style Italian bread)

4 - 6

fresh basil leaves
Instructions
Bread and fry the chicken
Set up a dredging station. Put the flour, salt, and pepper in a shallow bowl and mix together. Beaten eggs in another shallow bowl or plate, Mix the Italian breadcrumbs and Parmesan cheese together in a third bowl or plate.

½ cup flour,

½ teaspoon each, salt & pepper,

2 large eggs,

1 cup Italian breadcrumbs,

¼ cup grated Parmesan cheese,

2 teaspoon Italian seasoning

Dip each chicken piece in the flour, then the egg, and finally the breadcrumbs. Ste aside to fry.

6-8 oz boneless skinless chicken thighs

Working in batches, fry each piece of chicken till golden and internal temperature reaches 165°F (74°C). Put aside on a wire cooling rack over a baking sheet.
Assemble the sandwiches
Place a good amount of marinara sauce on each fried chicken piece and top with mozzarella, place in the oven on low broil until cheese is melted and bubbly. Remove from oven.

1 cup marinara sauce,

½ cup mozzarella cheese

Drizzle each sandwich loaf with a little olive oil and toast them with the cut side facing up using the broil setting on your stove. This usually takes 2-3 minutes, but watch them closely!

Add chicken with marinara and melted cheese to sandwich bread then top with a couple of basil leaves.
Equipment You May Need
Nutrition
Calories:
794
kcal
(40%)
|
Carbohydrates:
93
g
(31%)
|
Protein:
51
g
(102%)
|
Fat:
24
g
(37%)
|
Saturated Fat:
9
g
(56%)
|
Polyunsaturated Fat:
4
g
|
Monounsaturated Fat:
7
g
|
Trans Fat:
1
g
|
Cholesterol:
301
mg
(100%)
|
Sodium:
2832
mg
(123%)
|
Potassium:
903
mg
(26%)
|
Fiber:
7
g
(29%)
|
Sugar:
14
g
(16%)
|
Vitamin A:
1374
IU
(27%)
|
Vitamin C:
11
mg
(13%)
|
Calcium:
485
mg
(49%)
|
Iron:
18
mg
(100%)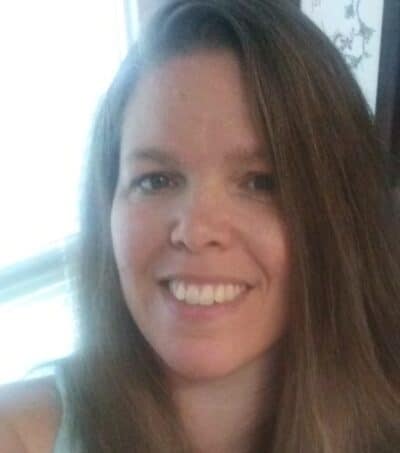 Angela is an at home chef that developed a passion for all things cooking and baking at a young age in her Grandma's kitchen. After many years in the food service industry, she now enjoys sharing all of her family favorite recipes and creating tasty dinner and amazing dessert recipes here at Bake It With Love!