These 5-ingredient casseroles are super simple and easy to whip up for a delicious family meal any day of the week! Each one of these recipes uses just 5 ingredients so you can enjoy a budget-friendly dish or even skip the grocery store altogether! No matter which casseroles you choose to try out, you won't be disappointed!
Easy 5-Ingredient Casserole Recipes
I love a great casserole recipe! They are so convenient for those days when you either don't feel like cooking or you're just strapped for time! It's even better when the casseroles are all-in-one meals that don't need any side dishes!
These casseroles all have one thing in common: they only use 5 ingredients! Go ahead and skip your grocery trip and pick one that includes ingredients you already have at home!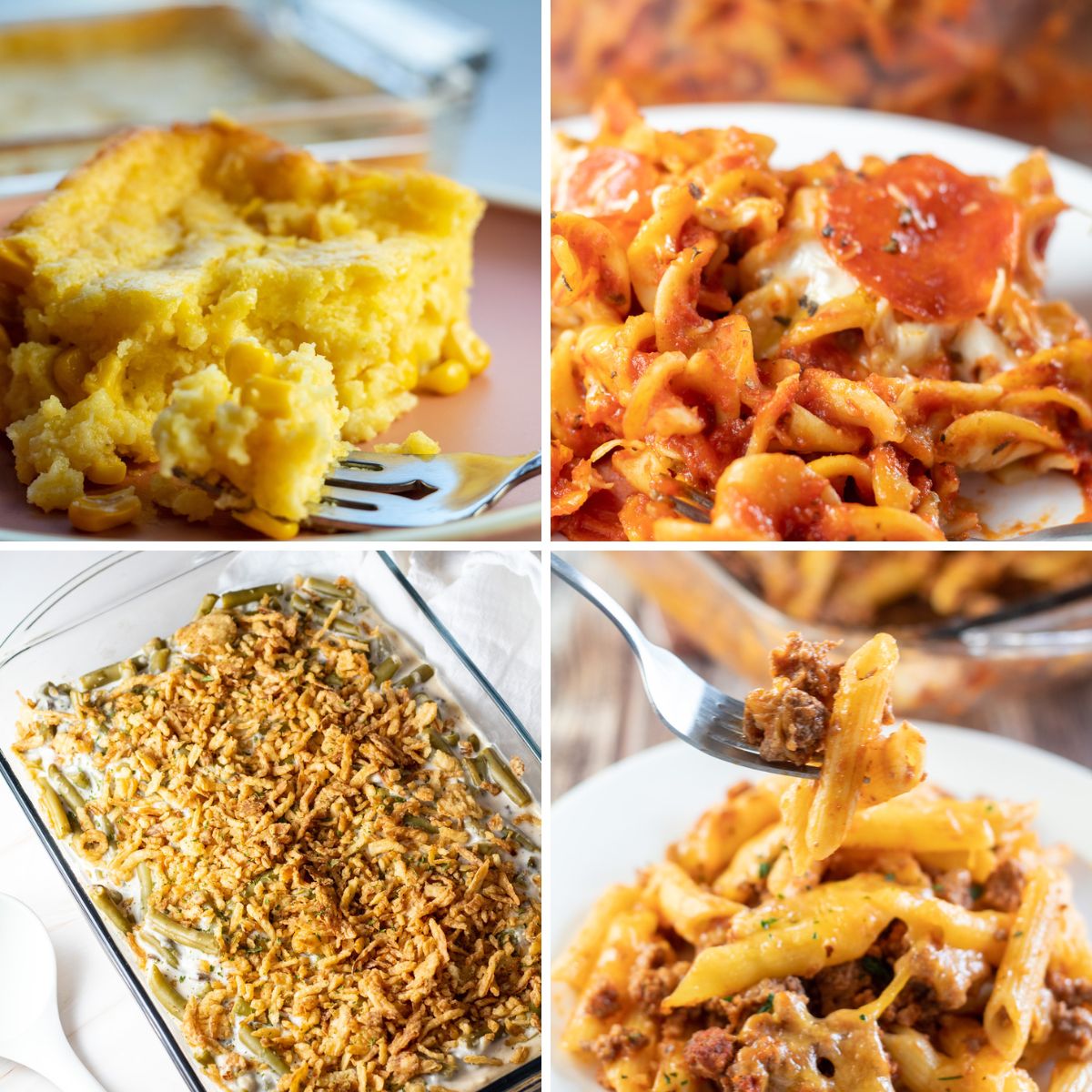 Whether you are actively budgeting or just don't feel like making a run to the grocery store, these simple 5-ingredient casseroles are the perfect dish for any day of the week!
Campbell's Green Bean Casserole
Pepperoni Pizza Casserole
Sausage Egg & Cheese Breakfast Casserole
Jiffy Corn Casserole
Italian Sausage Bake
Baked Spaghetti & Meatballs
Green Pea Casserole
Frito Pie
Sweet Potato & Apple Sausage Casserole
Chicken Parmesan Casserole
Keep on reading to check out even more simple casserole recipes!
Jump to:
Want More Recipes? Enter your email below and we'll send them straight to your inbox!
If you love casseroles as much as I do, make sure you take a look at these chicken casseroles, breakfast casseroles, and ground beef casseroles!
1. Campbell's Green Bean Casserole
Green bean casserole is definitely a holiday favorite, but this recipe is so simple to make that you can really enjoy it any time of the year! Just grab a few cans of green beans, some cream of mushroom soup, soy sauce, milk, and (of course) fried onions!
2. Pepperoni Pizza Casserole
If you're craving some pizza but don't want to order takeout (or make your own), then this pizza casserole is perfect! You'll need your favorite variety of noodles (I enjoy using egg noodles), pepperoni, pizza sauce, Italian seasoning, and cheese!
3. Sausage Egg & Cheese Breakfast Casserole
This hearty breakfast casserole is great for serving a large family! It's packed with all of your favorite breakfast staples so you don't even need to make anything to serve with it!
Although, you can easily pair it with some baked donuts for a sweet and savory complete breakfast!
4. Jiffy Corn Casserole
I love serving this corn casserole for the holidays, special occasions, or for no reason at all! It only needs a few minutes of prep work before being popped in the oven, so you can enjoy it any day of the week!
5. Italian Sausage Bake
This hearty all-in-one meal is packed with pasta, sausage, cheese, and sauce! It's the perfect way to enjoy some Italian food without having to spend forever in the kitchen!
6. Baked Spaghetti & Meatballs
This baked spaghetti recipe is super versatile. You can use frozen or store-bought meatballs to make this a 5-ingredient casserole. To make it even easier, this dish works fantastically with leftover spaghetti!
7. Green Pea Casserole
This pea casserole is so simple, all you do is mix together your 5 ingredients and bake it in the oven! As a result, you get to enjoy a delicious pea side dish!
8. Frito Pie
Frito pie is a staple dish in the South, and it only uses a few ingredients (4 to be exact)! Just grab some corn chips, cheddar cheese, onion, and some chili!
Of course, you can make some homemade chili. Or, you can use canned chili or even some leftovers!
9. Sweet Potato & Apple Sausage Casserole
This hearty dish can be enjoyed as a side or as the main course! It features sweet potatoes, apple chicken sausage, granny smith apples, and honey mustard!
10. Chicken Parmesan Casserole
If you love chicken Parmesan but don't want to put in all the work then this casserole is for you! All you need is some pasta, chicken, marinara sauce, cheese, and bread crumbs!
11. Sheepherder's Breakfast
Another fantastic breakfast option, this casserole features bacon, onion, frozen hash browns, eggs, and cheese! Since all of your favorite breakfast items are already in the casserole, you won't need to serve it with anything else!
12. Chicken Tortellini Au Gratin
This warm and delicious casserole can be made using leftovers! You'll need to have some cooked chicken, tortellini, artichoke hearts, mayonnaise, and cheese!
13. Biscuits & Gravy Casserole
This casserole is perfect for a warm and cozy Sunday brunch! You'll need pork sausage, onion, biscuits, cheese, and milk (plus a few staple items like flour).
14. Ham & Vegetable Cobbler
Move over chicken pot pie, it's time to enjoy this ham and vegetable cobbler! As written, this recipe does have a few more ingredients than just 5. However, you can easily use a bag of frozen mixed veggies to lower the amount!
15. Cheesy Quinoa Casserole
Not only does this casserole only need 5 ingredients, but it is also ready to eat in just 15 minutes! It is packed with quinoa, tomato sauce, almond milk, mozzarella cheese, and tomatoes!
What do you think of these simple casseroles? Which one do you want to make first? Leave a comment down below and let me know!
>>>>See all of my recipes HERE<<<<
😋 More Delicious Casserole Recipes
📋 Recipe