These baked donut recipes allow you to skip the bakery and make easy and delicious homemade donuts from scratch! Baked donuts can be made right in the oven with half the mess of fried donuts. Best of all, there are so many incredible flavors to try!
Best Baked Donut Recipes
There are so many reasons to love homemade baked donuts. Be it how easy they are to make, their soft cake-like texture, or all the delicious flavor combinations!
Seriously, I can't get over how quickly I can whip up a batch of these doughnuts. What I love even more is that I can make them the night before and they stay fresh at room temperature for days. They make a great grab-and-go breakfast for busy mornings!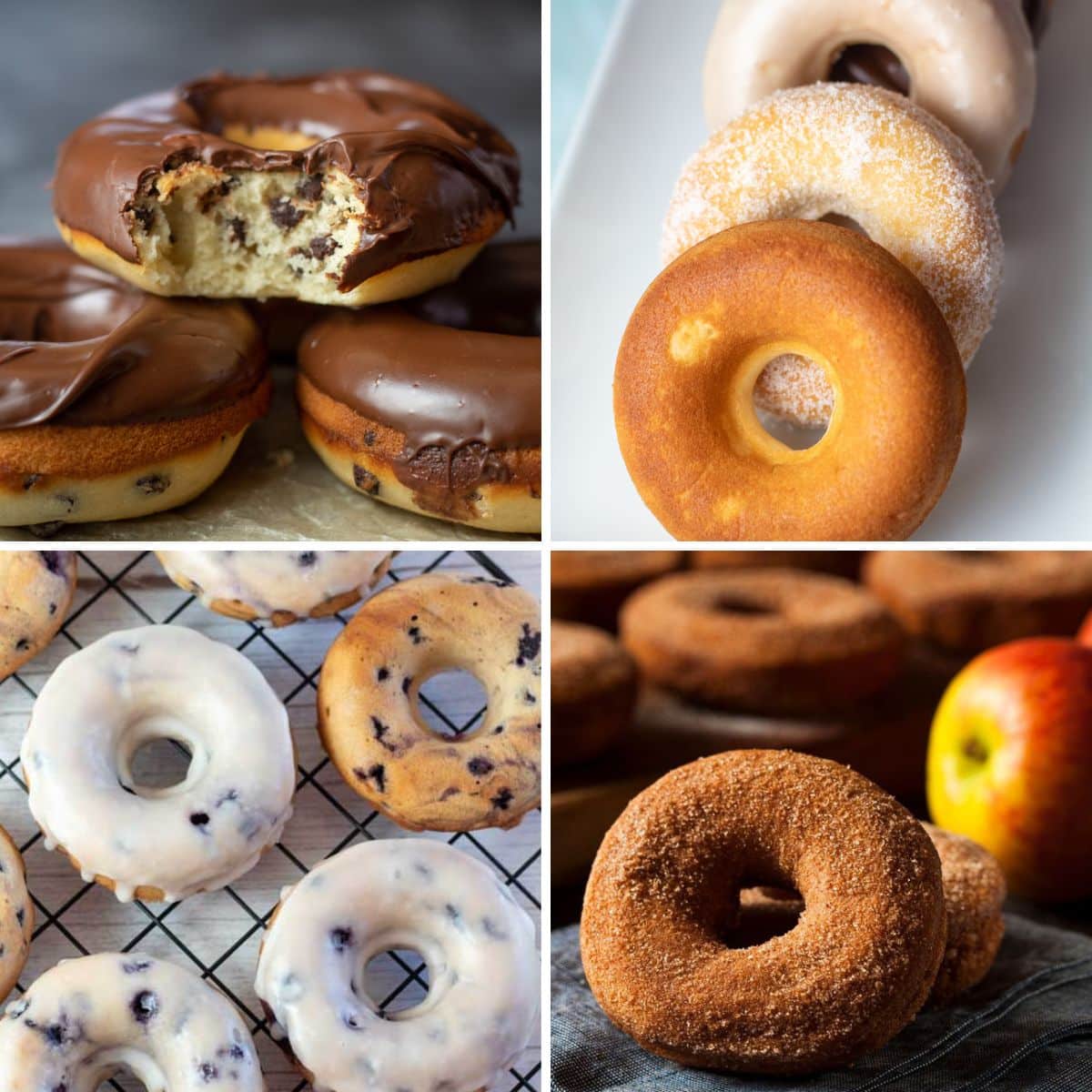 Jump to:
Delicious Baked Donut Flavors
I love to play with flavor combinations when making baked donuts. You can do the same by swapping any of the icings on these donut recipes for chocolate icing, vanilla icing, or your favorite homemade icing.
1. Peanut Butter Chocolate Chip Baked Donuts
If you enjoy the classic flavor combination of chocolate and peanut butter, then these are the donuts for you. They are coated in sweet peanut butter icing that enhances the peanut butter flavor even more!
2. Chocolate Frosted Baked Donuts
This simple donut recipe is one that everyone will enjoy. A classic cake donut with smooth chocolate icing, what's not to love?
3. Lemon Raspberry Baked Donuts
These sweet citrus donuts have chunks of fresh raspberry mixed in for a refreshing, fruity flavor! The tart lemon glaze has just enough sweetness to balance out the sour lemon juice and zest.
4. Chocolate Baked Donuts
These donuts taste almost like eating chocolate cake for breakfast! The soft cake donuts are rich and chocolatey with sweet vanilla icing to top them all off.
5. Peanut Butter Baked Donuts
These donuts are a dream for peanut butter lovers. You get a double dose of peanut butter flavor from the donut itself as well as the rich peanut butter icing that is on top of each one!
6. Chocolate Chip Baked Donuts
Chocolate chip cake donuts with rich chocolate icing on top! These donuts are delicious with a glass of milk or a hot coffee!
7. Lemon Sugar Baked Donuts
These lemon sugar donuts may not have icing but they are coated in sweet sugar crystals! If you are a big fan of lemon flavor, you can even add some extra lemon zest to the sugar.
Next, you'll brush your baked donuts with butter and dunk them right into the lemon/sugar blend!
8. Cinnamon Sugar Baked Donuts
There's no icing on these delicious cake donuts. Instead, there is a coating of butter followed by a layer of cinnamon sugar!
9. Blueberry Baked Donuts
Soft cake doughnuts speckled with bits of juicy blueberries! Everyone loves a blueberry donut and the quick vanilla icing on top is just an added bonus.
10. Apple Cider Donuts
Apple cider donuts are perfect for fall and they also make a great breakfast on Thanksgiving or Christmas morning! Warm apple cider is mixed right into the dough, so there's plenty of spiced apple flavor to enjoy.
11. Cinnamon Bun Baked Donuts
Not only do these doughnuts taste like cinnamon buns, but they have 2 different types of icing and a sweet, crumbly cinnamon topping. Mornings feel extra special with one of these donuts for breakfast!
12. Red Velvet Baked Donuts
These red velvet baked donuts are made with boxed cake mix so it truly feels like you are having dessert for breakfast. Not to mention, it is that much easier to make the dough!
These donuts only take 18 minutes from start to finish (though you should let them cool off before you take a bite).
13. Maple Baked Donuts
These baked donuts are full of maple flavor even before they are dunked in sweet maple icing, twice! You will need to splurge on some pure maple syrup, but trust me, it is worth every penny.
14. Pumpkin Baked Donuts
Pumpkin baked donuts are a great way to use up extra canned pumpkin during the holidays. Though once you try them with the cinnamon sugar coating, you'll start buying canned pumpkin just to make this recipe!
15. Baked Strawberry Donuts
These double-strawberry donuts have juicy bits of real strawberry in both the donut and the glaze! If you wanted to, you could even swap out the strawberries for any of your favorite types of berries!
These baked donut recipes will have every morning feeling like an extra special treat! Which of these recipes are you going to try? Let me know in the comments below!
‌😋 More Sweet Breakfast Recipes
📋 Recipe