There are so many reasons you might need a milk substitute, so take a look at this list of alternatives and choose the one that suits you! Whether you are dairy-free, vegan, lactose intolerant, or you just ran out of milk, there is an easy substitution that will meet your needs!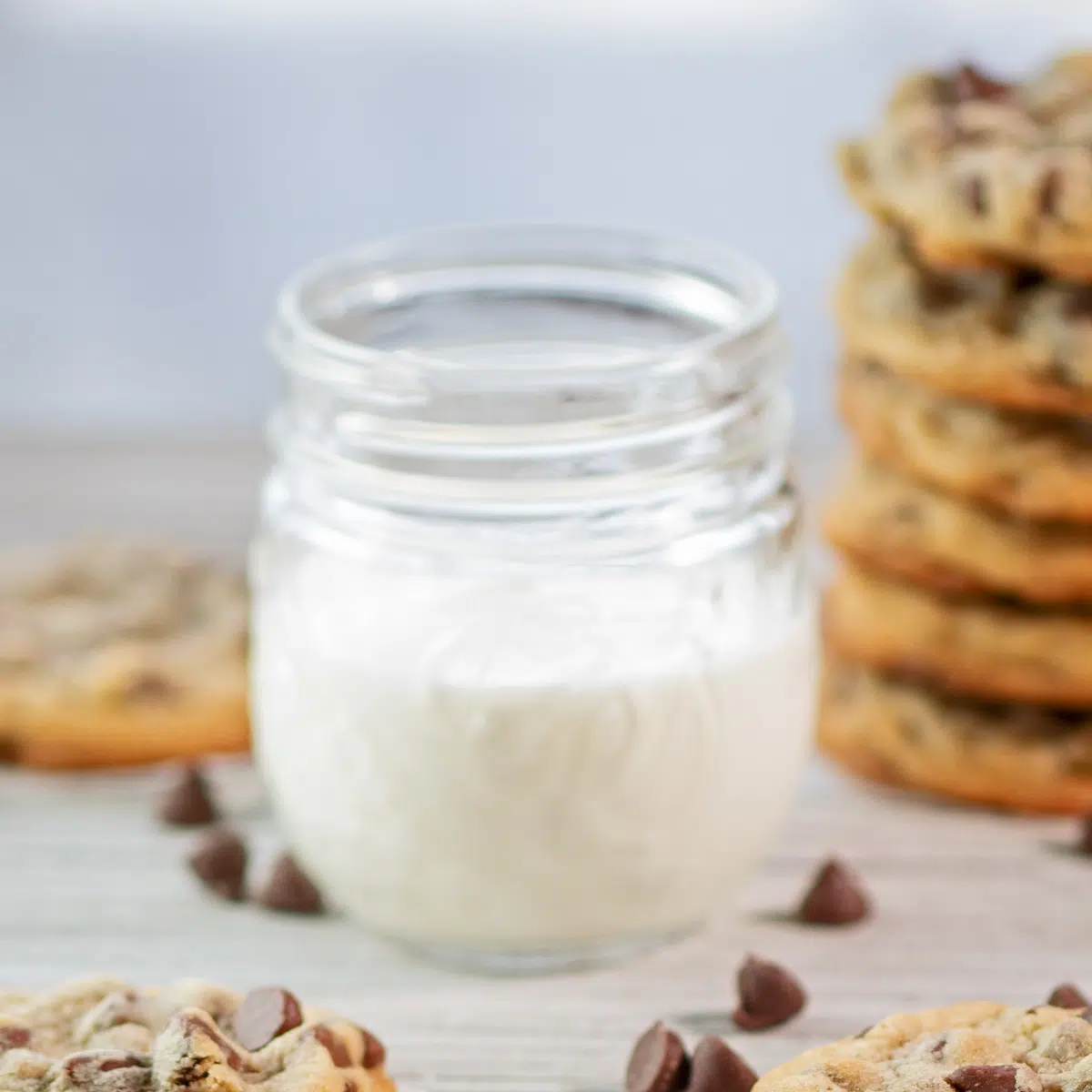 10 different milk substitutes for all your baking or cooking needs!
If you grew-up in the 90s then you remember learning that milk does a body good. While a great slogan, and one we all still remember well, it never told us what the alternatives to milk were.
What happens if we don't have milk? What if you are lactose intolerant and milk doesn't do a body good?!
Jump to:
Today is about answering those questions. Whether you ran out of milk mid baking, are lactose intolerant, or follow a vegan diet – these substitutions will give you all the answers you need to make your favorite dishes.
The Purpose of Milk in Baking
Most recipes that call for milk in baking don't specify the fat percentage of the milk, but you can assume that it is referring to whole milk. This is because whole milk provides the highest fat content in milk.
It is the fat content that gives us the rich moist cakes and breads we all love. So, if you have a recipe that calls for milk and you are buying new ingredients go ahead and reach for that whole milk.
If you already have milk in your refrigerator that has a lower fat content (2%, 1%, skim) go ahead and use that! Any milk will work in a recipe.
All milk will add the liquid content needed to bind ingredients and add moisture to the final product. If you want a richer final baked good though, you will want to lean towards the higher fat options.
The Best Milk Substitutes for Baking
When looking for the best milk substitute in baking, it comes back to the fat percentage. Higher fat alternatives will provide you with the closest texture to the original recipe.
Milk substitutes with less fat will change the overall texture slightly; however, all of these substitutes will still give you a tasty treat!
1. Half-and-Half
If you are a coffee drinker that uses half-and-half then you have the perfect substitute already in your fridge. Half-and-half is a mix of 50% whole milk and 50% heavy cream.
This mixture results in a delightful creamy texture with just a hint of natural sweetness (from the fat). If you want to elevate your baked goods, half-and-half is the trick to getting the richest and moistest treats.
In a simple 1:1 substitution for milk, you may even find yourself swapping in this substitute more frequently. *Note: This substitution only works with regular half-and-half. Avoid using any flavored creamers.
2. Heavy Cream
Around the holidays, you may find that you have some heavy cream leftover from making whipped cream for pies or other desserts. Beyond being the perfect topping for other baked goods, heavy cream can also be used in the baking process.
Heavy cream has the highest fat percentage of dairy products. This gives it a delicious and creamy texture that can take any baked good to the next level.
The extra fat makes it quite a bit thicker than milk though, so you will need to dilute it before using (if you don't' dilute it, it will make your batter too thick).
Mix equal parts heavy cream and water to equal the amount of milk you need for your recipe: ½ cup of heavy cream with a ½ cup of water to equal 1 cup of milk.
Whipping Cream
Whipping cream, heavy cream, and heavy whipping cream are essentially the same thing. You can use any of these as a milk replacement by following the same directions above.
3. Evaporated milk
Evaporated milk is a nice substitute because it is one that you can keep on hand for a long period of time without it going bad. Since a lot of the moisture has been removed from evaporated milk (hence the name) it is thicker than regular milk.
When using evaporated milk as a substitute in baking, dilute it in the same way you would dilute heavy cream. Mix equal parts evaporated milk and water to equal the amount of milk needed.
4. Powdered Milk
Powdered milk may seem like something your grandparents had in their pantry that never got used. This form of milk is quite popular though!
In fact, many commercial bakeries use it because of its long shelf life. If you don't use milk on a regular basis, you may consider buying some powdered milk to keep on hand just for baking.
To use as a substitute for milk in baking, mix ¼ cup of powdered milk with 1 cup of water to equal 1 cup of milk.
5. Plain Yogurt
While a lot of people are not milk drinkers, many people do eat yogurt as part of their daily diet. If you are in the yogurt group, then you may already have this substitute in your fridge.
Plain yogurt is a delicious substitute for milk in baking because of its rich creamy texture. It is also super easy to use! Just replace the milk in your recipe with an equal measurement of yogurt.
Only have vanilla yogurt on hand? No worries! This will work just fine in most baking recipes without affecting your flavor too much.
Greek Yogurt
While Greek yogurt is an amazing substitute for milk in cooking, it is often too thick for baking. Focus on using regular yogurt for baking and save the Greek yogurt for your soups, sauces, and casseroles.
6. Kefir
Kefir is like a drinkable yogurt. It is a fermented milk that is often used in making smoothies or to replace yogurt in breakfast bowls.
Plain kefir has a similar tangy taste and rich texture like plain yogurt. This makes it a suitable substitute for milk as well.
Replace the milk in your baked goods with an equal measurement of kefir. Like yogurt, kefir comes in many flavored versions so make sure you are using plain kefir.
7. Sour Cream
Don't let the traditional uses of sour cream, such as a tasty topping for taco night, keep you from trying it in your baking. This common kitchen staple is a great option for maintaining the moisture and richness of baked goods when you don't have milk.
Use sour cream in an equal 1:1 substitution for all your baked goods. This is an especially tasty option for both citrus and chocolate forward recipes.
8. Goat Milk
Goat milk only account for about 2% of the milk in the United States. However, it works the same way as cow milk in baking!
Goat milk has a slightly tangier taste than cow milk, some also feel it has a slight after taste. So, if you have not used goat milk before you may want to taste test it first.
If you decide to give goat milk a go, make an easy 1:1 substitution for cow milk in all your baking recipes.
The Best Non-Dairy Milk Substitutes for Baking
If your main reason for a milk substitute is to find a non-dairy option, you have plenty to choose from! You can replace the milk in any of your baking recipes with an equal substitution of a plant-based milk of your choice.
There are a few things to be aware of when choosing a plant-based milk for your baking. Most plant-based milks are very low in fat. Therefore, the overall texture of your final baked goods will be slightly different than the original recipe.
9. Plant Based Milks
Your best options for plant-based milks that provide a similar texture to regular milk are full-fat canned coconut milk and soy milk. Plant-based milks all have their own unique taste.
Coconut milk will offer a hint of coconut in your final baked treats, just as almond milk, cashew milk and other plant-based milks will shift the taste slightly.
In addition to the slight change in texture, most plant-based milks will not produce the same caramelized brown topping on certain baked goods. The crispy baked top on certain goods is from the caramelizing of the natural sugars and fats in the milk.
The best choice for a non-dairy substitute is to choose a plant-based milk you already enjoy using and drinking. Then just swap it into your baking as an equal 1:1 substitution for dairy milk.
Canned Coconut Milk
Light Coconut Milk
Soy milk
Almond Milk
Oat milk
Cashew Milk
10. Water in a pinch
In a pinch, you can use water in place of milk when you are baking. It will provide the liquid needed for binding ingredients but will obviously lack the fat content that provides richness.
To help add some of the fat that is missing from the milk, add 1 tablespoon butter to each cup of water that replaces each cup of milk.
The Best Milk Substitutes for Cooking
When it comes to using milk in cooking, many of the same substitutes used in baking will also work. However, there are certain ones that will work better in cooking than they do in baking.
A common purpose of milk in cooking is often to add creaminess or richness to a dish. For example, in mashed potatoes or a casserole. It may also be used to thicken a soup or sauce.
Therefore, focusing on one of the thicker or higher fat content alternatives will give you the best result. Here are your best choices for milk substitutes in cooking. You can use all of these in 1:1 substitution, unless otherwise noted.
Half-and-Half or Heavy Cream
Half & half works well in any recipe, as does heavy cream. They are especially tasty when you want to add elevate a simple dish like mashed potatoes.
Due to their thickness, start by using half the amount called for or dilute it with equal parts water for a 1:1 exchange (like noted in the baking section above).
Greek Yogurt
Plain Greek yogurt is great as an addition at the end of cooking, such as to mashed potatoes or to thicken a stew or sauce once it has been removed from the heat. If adding during cooking, use half-and-half or heavy cream.
Sour Cream
Sour cream can be used in the same way as Greek Yogurt. However, sour cream will hold up in a baked dish – such as a casserole. Therefore, you can use it in place of milk for something that is going to be cooked in the oven.
Canned Coconut Milk
The higher fat content in canned coconut milk is an ideal substitute for a non-dairy cooking option. It will add a lot of creaminess.
It will change the flavor though, so be sure the coconut taste will pair well with the other ingredients.
Soy Milk and Almond Milk
Soy milk and almond milk have the least impactful flavors of all the plant-based milks, which make them good options for cooking. Since they can slightly change the flavor, especially when heated up, start with adding each one slowly to a dish and tasting along the way.
More easy guides to substituting different ingredients!
We hope you're recipe turns out rich, creamy, and full of flavor despite not using milk! Tell us how one of these substitutions worked out for you by leaving us a comment below.
📋 Recipe
Print Recipe
Leave A Comment
Love This Recipe?
Click On A Star To Rate It!
Best Milk Substitute: Half & Half (+More Easy Alternatives!)
There are so many reasons you might need a milk substitute, so take a look at this list of alternatives and choose the one that suits you! Whether you are dairy-free, vegan, lactose intolerant, or you just ran out of milk, there is an easy substitution that will meet your needs!
Pin Recipe
Share on Facebook
Ingredients
Option 1 (Best Overall Substitute) - Half & Half
Option 2 (Best Non-Dairy Substitute) - Almond Milk
Instructions
Option 1 (Best Overall Substitute) - Half & Half
Use half & half in an equal 1:1 ration to replace milk in any cooking or baking recipe.
Option 2 (Best Non-Dairy Substitute) - Almond Milk
Use almond milk in an equal 1:1 ratio to replace milk in baked goods.
Equipment You May Need
Notes
*Nutritional information is calculated for the half & half dairy only.
Nutrition
Calories:
157
kcal
(8%)
|
Carbohydrates:
5
g
(2%)
|
Protein:
4
g
(8%)
|
Fat:
14
g
(22%)
|
Saturated Fat:
9
g
(56%)
|
Polyunsaturated Fat:
1
g
|
Monounsaturated Fat:
4
g
|
Cholesterol:
45
mg
(15%)
|
Sodium:
50
mg
(2%)
|
Potassium:
157
mg
(4%)
|
Sugar:
1
g
(1%)
|
Vitamin A:
428
IU
(9%)
|
Vitamin C:
1
mg
(1%)
|
Calcium:
127
mg
(13%)
|
Iron:
1
mg
(6%)
Milk Substitute, substitutions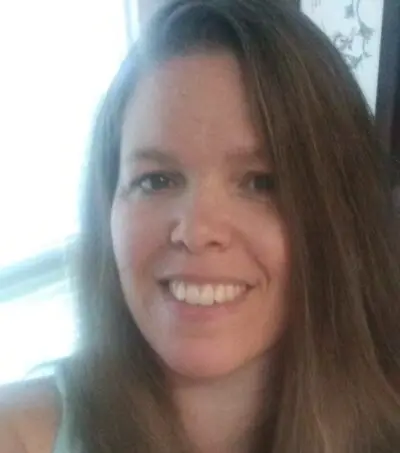 Angela is an at home chef that developed a passion for all things cooking and baking at a young age in her Grandma's kitchen. After many years in the food service industry, she now enjoys sharing all of her family favorite recipes and creating tasty dinner and amazing dessert recipes here at Bake It With Love!