Extra-special everything is a wonderful part of the holidays, and these Christmas breakfasts are truly a magical part of your Christmas traditions! Enjoy them as a late breakfast after opening gifts with your loved ones, or later in the day as a delightful brunch!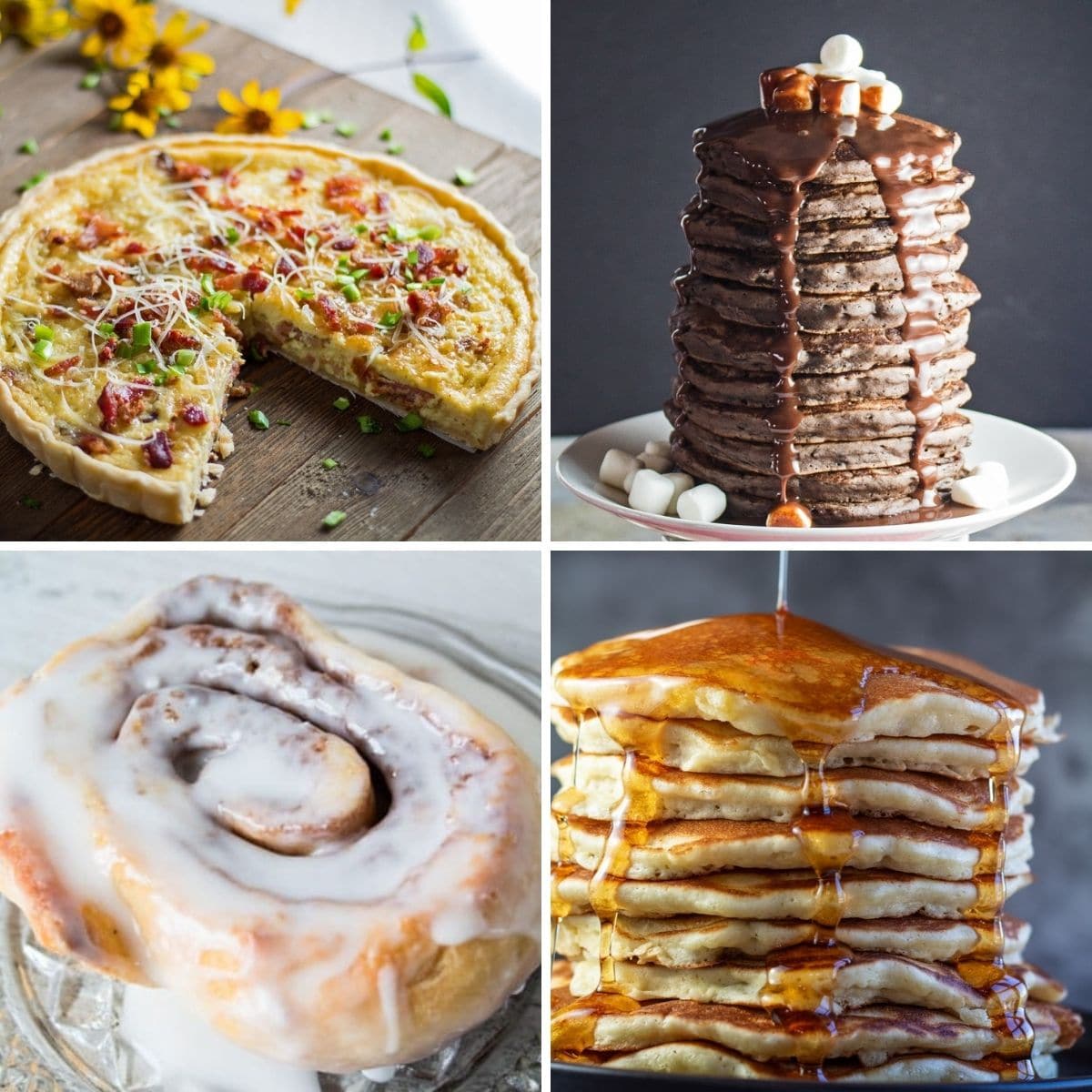 Breakfast is the meal of choice for a lot of people, and it's not hard to see why!
Christmas morning is full of magic. For some of us, there will be a quiet layer of snow on the ground. For others, there will be kids scrambling to open gifts. The food you make for the celebration should be as special as it feels!
Whether you favor sweet or savory, there is something for everyone to enjoy. And when it comes to a festive brunch or holiday breakfast, there are a lot of ways to fill your table.
Jump to:
It's hard not to love all of these recipes, so use this as a chance to try something new! You won't be disappointed with anything on my list. And from my family to yours, happy holidays!
1. Classic Cinnamon Rolls
Waking up to the smell of cinnamon rolls in the oven is hard to beat on a Christmas morning.
The decadent yeasty bread with a rich cream cheese icing is enough to make anyone want to wake up early.
It's a real treat for family members of all ages.
2. Prime Rib Hash
If a savory breakfast is more your style, try prime rib hash. It combines fried potatoes, eggs, and your leftover prime rib.
The combination of sage, nutmeg, tarragon, turmeric, and garlic is out of this world! It's a unique dish with a touch of sweetness that is perfect for a cold winter morning.
3. California Omelet
Tomatoes, avocados, olives, cheddar cheese, and bacon make this as memorable as it is colorful. Omelets are a classic breakfast favorite, and it's understandable why they're on every breakfast menu across the country.
Add or eliminate any filling you want when cooking for each member of your family.
4. Sausage Hash Brown Breakfast Casserole
For those of you who love traditional breakfast meat, sausage hash brown breakfast casserole may be the one for you! It's full of rich and spicy sausage, cheesy hash browns, and hearty eggs.
All of the savory breakfast favorites in one dish! You could also swap out the sausage for bacon or your favorite veggies. It's easy and adaptable.
5. Bisquick Pancakes
Upgrade your Bisquick pancakes with this recipe. With only 3 required ingredients, they're a breeze to make, and they come with lots of ideas for mix-ins and toppings.
In fact, making these can be a fun holiday activity to do as a family! Everyone can personalize their own pancakes. You can even make it into a competition for who makes the best!
6. Strawberry Buttermilk Crepes
Crepes can be sweet or savory, but this strawberry buttermilk recipe is my favorite. If you've ever been lucky enough to buy these off a street in France, you know how special they are.
Lucky for us, they're not too difficult to make at home! They only take about 12 minutes, but you'll need to refrigerate the batter 30 minutes in advance. Thaw some frozen strawberries in the fridge overnight, and you'll save yourself some time when you wake up.
7. Lobster Breakfast Sandwich
Any time you're eating lobster is cause for a celebration. It's a unique shellfish that, for most of us, isn't often included in everyday meals. When you're considering what to eat for breakfast on Christmas this should be in your list of top options.
Served on a brioche bun with creamy scrambled eggs, seared asparagus, and fresh lobster, it's definitely a standout. If you make your own bread, it'll make the house smell heavenly and the sandwiches even more amazing.
8. Air Fryer Country Fried Steak
Sometimes, holidays get busy. If you're someone who is pulled in several directions on Christmas morning, try my air fryer country fried steak recipe!
Just pull out your favorite frozen country fried steak and drop it in the air fryer for 9 minutes. While it's cooking, spend an extra 5 minutes whipping up some country gravy to amp up the flavor. Lay out a side of fruit, and you'll be ready in no time.
9. Breakfast Sandwiches
Here's another good one for families on the go. These intensely satisfying breakfast sandwiches take just 15 minutes to make and can be mixed and matched to the tastes of anyone you are serving.
Pick a breakfast meat and add it to a fried egg and cheese on a fluffy, toasted English muffin. I'll never get tired of this combination of my favorite morning foods.
10. Sourdough French Toast
A good, tangy sourdough will always be at the top of my favorite breads list. Turning it into french toast makes a delicious breakfast food even better.
The maple and vanilla egg coating sprinkled with cinnamon and nutmeg make this fit for a celebratory feast on Christmas morning. It's definitely family-friendly, and it might even become a new tradition!
11. Chocolate Pancakes
These fluffy, indulgent pancakes are perfect for all the chocolate-lovers in your life.
Why not start the holiday off right with a mouthful of pancakes topped with dark chocolate ganache syrup, juicy strawberries, and rich vanilla whipped cream or marshmallows?
Cherries would also be amazing with this dish and would provide more of a black forest cake flavor.
12. Raspberry Cream Crepes
Raspberry cream crepes are another fantastic way to start your holiday morning. I love the sweet and tart combination and the chewy texture of the raspberry seeds in the extra creamy filling.
They're so good, you'll wonder how you're getting away with eating a dessert as a meal!
Almond extract adds even more depth of flavor and richness. The biggest challenge is preventing tears when cooking the crepes. Practice makes perfect, so perhaps you should make these every week!
13. Quiche Lorraine
Quiche Lorraine has a flaky, buttery crust and egg filling flavored with Gruyère, bacon, sauteed onions, Parmesan cheese, nutmeg, and a bit of optional Tabasco sauce.
In just under an hour, you can dole out an impressive French classic for everyone to enjoy. With only 15 minutes of prep time required, it looks much more complicated to make than it is.
14. Fried Bologna and Egg Sandwich
All it takes for these tasty sandwiches is bread or rolls, fried eggs, cheese, and bologna.
Add a little butter and garlic salt for extra flavor.
These toasty, cheesy sandwiches have an amazing, unique taste that reminds me of my childhood. For a super quick option that can be eaten at the table or on the way out the door, this recipe is a winner.
15. Panqueques con Dulce de Leche
Also called dulce de leche crepes, these European-style pancakes are outstanding. Stack them on top of each other with a thick layer of toffee-rich caramel, or dulce de leche, between each.
It only takes 5 minutes of prep time but requires a lighter hand to cook this mouth-watering recipe. Crepes can tear easily, but they'll taste excellent whether they're in one piece or 5.
16. Apple Cider Pancakes
Originally just a fall favorite, these apple cider pancakes are now a year-round staple at my house. The pancakes themselves are filled with all the flavors of a good apple cider.
Top them off with pan-fried cinnamon apples and caramel apple cider syrup for an intensely spiced apple flavored breakfast. You're not likely to have leftovers, but if you do, they'll be even better the next day.
17. Omelet Roll
Hearty and incredibly tasty are truly great descriptions of this impressive breakfast! It's wonderfully fitting to serve as your Christmas breakfast.
📋 Recipe