Who knew this simple Prime Rib Hash would be so incredible with its pan-fried potatoes and tender chunks of leftover prime rib?! I'm not kidding! The first time I used the leftovers from a prime rib roast for a Christmas morning breakfast hash the whole family was just stunned at how great it was!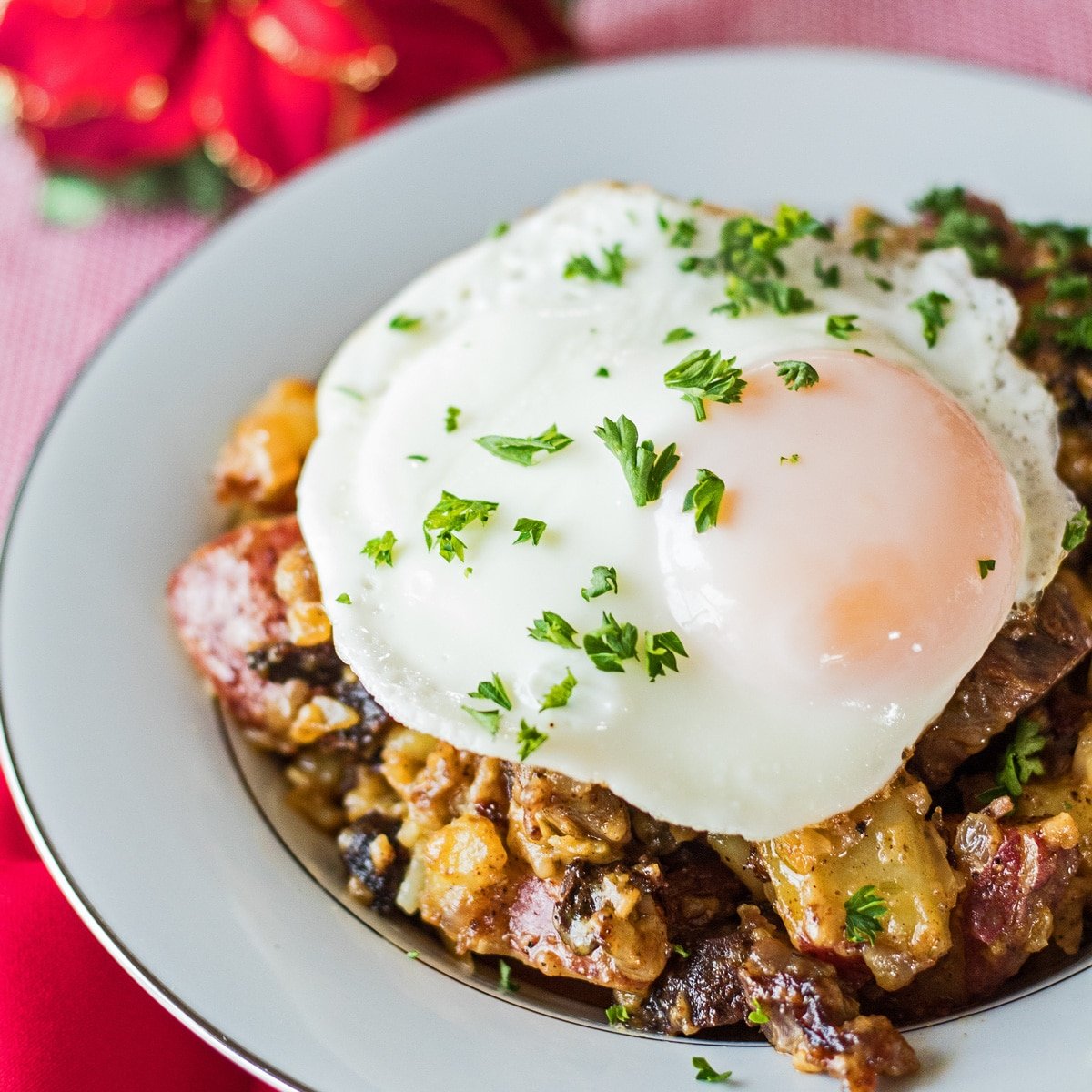 Amazingly Tasty Prime Rib Hash Is The Perfect Use of Holiday Roast Leftovers!
Some things are so incredibly delicious, and it's really hard to share a taste experience here with you via words and photos. So just know that this breakfast is one that I wish I could set you all here at my kitchen island and serve it up to you fresh from the skillet! It would be so rewarding to see you enjoy this leftover prime rib hash!
When you make this at home for yourself, don't skip the egg. Even if you don't like sunny side-up eggs, make sure that you leave your egg yolk fairly runny as the yolk running over your hash and combining with the prime rib and fried potatoes is just fabulous!
🥘 Ingredients
Just a few really amazingly tasty components topped with equally amazing herbs and spices. Add the milk, eggs, and flour to round out your staple hash ingredients.
Prime Rib - The star of your breakfast hash! Cut your leftover prime rib into bite-size chunks or cubes roughly ¼-1/2 inch in size.
Potatoes - A good starchy potato is best for making hash. Your best crispy edges come from russet potatoes, with Yukon gold potatoes being a good second choice.
Onion - About a ½ cup of diced yellow onion. Roughly 1 small onion, or ½ of a large onion. White onion can work too, but I really love yellow or sweet onion in this recipe.
Garlic - Freshly minced, crushed, or finely sliced garlic is best, however, the convenience of the already minced garlic is hard to beat.
Turmeric - My family LOVES pairing turmeric with potato dishes. They always reach for it! If you don't have turmeric on hand try one of my turmeric substitutes here.
Nutmeg - One of my personal faves, I just can't get enough freshly grated nutmeg. It's amazing in savory recipes too!!
Paprika - Another family fave, I use paprika ALOT. Smoked paprika is just as amazing!
Ground Sage - This flavorful herb adds depth of flavor and really works well with beef and pork!
Tarragon - Just a bit of this herb that has a hint of licorice in its flavor, or use a tarragon substitute here.
Salt & Pepper - Use a bit to heighten your tasty hash flavors while cooking, then season to taste before serving.
Milk - Use milk or a combo of milk and any remaining prime rib au jus you may have from your holiday dinner.
All-Purpose Flour - Just a couple of tablespoons to thicken up and finish the hash.
Eggs - As many as you need for serving your family!
Parsley (optional) - This is not only great as a garnish but also when mixed into the hash. Add it with the other spices after cooking the potatoes.
What to do with leftover prime rib roast or roast beef??
Enjoy some of my other fantastic leftover prime rib recipes include the wildly popular recipes for Leftover Prime Rib Beef Stroganoff and the rich and hearty Leftover Prime Rib Beef Barley Soup with Mushrooms. Or try my easy to make Prime Rib Chili!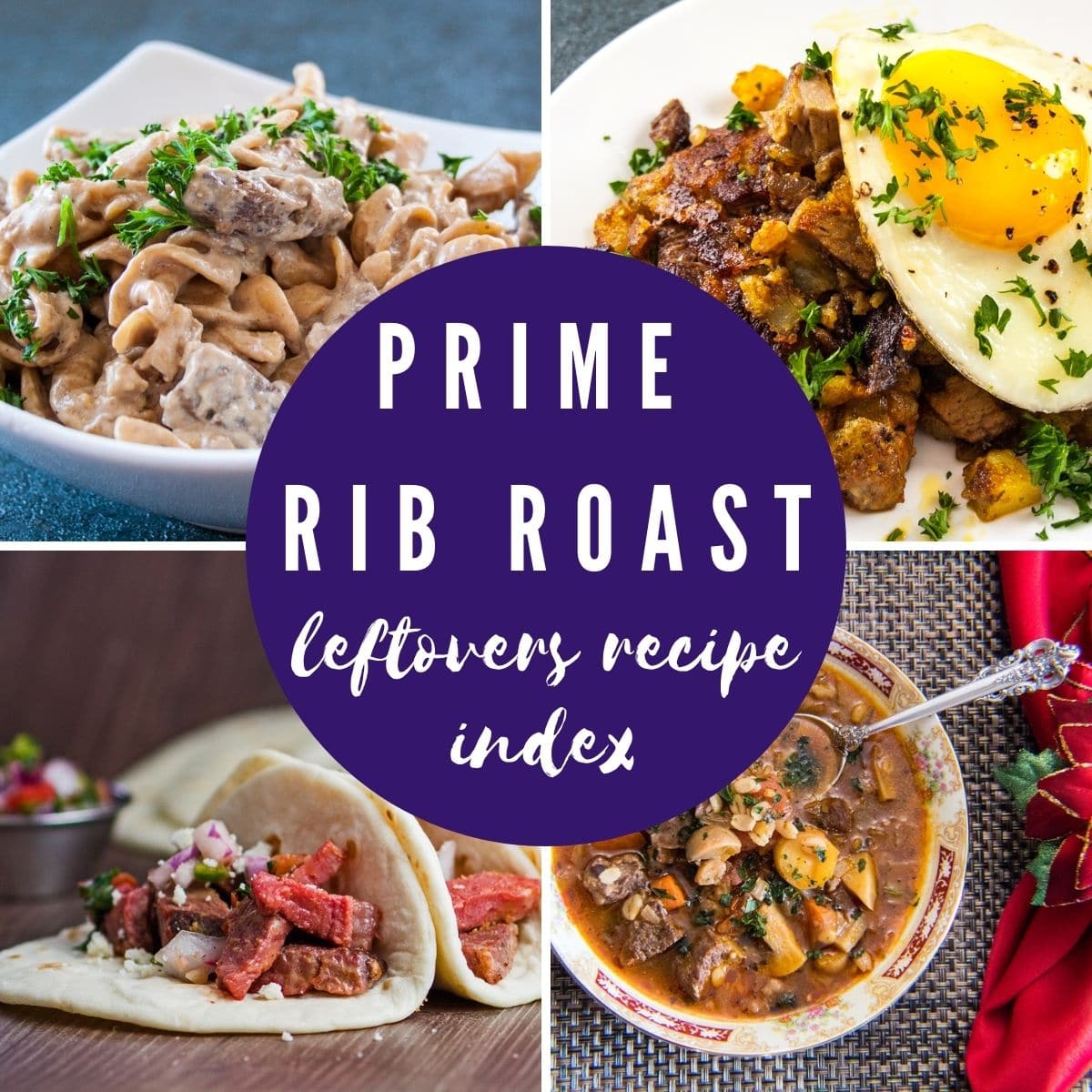 💭 Angela's Tips & Recipe Notes
For the best-ever breakfast hash, take a minute to par-cook your diced potatoes. Even better, use a tablespoon of white vinegar per quart of water when par-boiling the potatoes for 5 minutes. This will help the cubed potatoes hold their shape best for use in your hash.
Alternatively, you can even microwave the potatoes to par-cook them. Microwave the cubed chunks for 1-minute, stir, and heat for an additional 30 seconds then throw them in the pan!
You'll use more fat than you think you need when frying up this hash to perfection. Add oil as needed for delightfully crispy potatoes.
Render as much fat from the leftover prime rib as you possibly can, getting the tender pieces nice and crispy on the outside.
🔪 Step-By-Step Instructions
Now typically I have the rendered fat saved from a holiday roast or spiced Christmas goose (which, by the way, makes the best ever pan fried spiced breakfast potatoes). So to make this recipe, I use the saved rendered fat from the prime rib roast.
Heat the skillet and oil. If you don't have that golden jar of rendered deliciousness, go ahead and start your large skillet or non-stick frying pan up with some olive oil. Bring the skillet with the oil to medium heat.
Saute. Cook the onion and garlic with your potatoes for about 3 minutes, or until the potatoes are beginning to get tender and the onion is becoming opaque. *See notes above for how to par-boil the potatoes so they cook quickly.
Season and cook. Add the seasoning including turmeric, nutmeg, paprika (or smoked paprika), tarragon, ground sage, salt, and pepper. Stir, then continue cooking the potatoes for 8-10 minutes until browned and beginning to crisp. Add the chunked or sliced leftover prime rib meat, stir and cook for 4-5 minutes.
Add liquid. Combine the milk (or milk and au jus combo) in your measuring cup with 2 tablespoons of all-purpose flour. Pour the combined milk and flour over the cooking hash. Stir until well distributed, then flatten out the hash in an even layer in your skillet or frying pan.
Increase heat and cook. Turn the heat up to medium-high and cook the hash for 5 more minutes. Flip the hash as needed to get it nice and crispy on both sides. Cut the hash into halves or quarters to make it easier to flip in the pan. Once browned, break up the hash and cook until it reaches a nice crispy texture.
Pan-fry the eggs. Heat a second non-stick pan or skillet over low heat with a teaspoon of olive oil. Once the oil begins to shimmer, add the eggs and cover. Cook for 2-2 ½ minutes or until the egg whites are set.
Serve and garnish. Portion out your hash and serve with a sunny-side-up egg on each portion. Garnish with fresh, chopped parsley if desired.
This is a pretty complete meal as-is! If you'd like to serve anything with it, I'd bake up some of my fabulous savory jalapeno cheddar scones to clean the plate.
🥡 Storing & Reheating
Refrigerating
Store any leftover hash in an airtight container and keep it refrigerated for 1-2 days, up to 3 days at most. This time will vary depending on how long your prime rib leftovers were stored before using in the hash. For example, fresh, day-old leftovers can be stored for a maximum of 3 days.
Reheating
The best way to reheat your hash is to simply return it to a frying pan or skillet and heat it at medium. Cook until warmed through. You may need to add a drizzle of water or broth to keep the hash nice and moist (rather than dried out).
You can also quickly and easily reheat your prime rib hash in the microwave. Place a portion into a microwave-safe bowl, cover with plastic cling film, and heat on high for 1 ½ minutes. Stir, then continue heating in 30-second increments until warmed to your satisfaction.
Print Recipe
Leave A Comment
Love This Recipe?
Click On A Star To Rate It!
Prime Rib Hash (from leftovers)
Who knew this simple Leftover Prime Rib Hash would be so incredible with its pan fried potatoes and prime rib beef chunks?! I'm not kidding! The first time I used the leftovers from a prime rib roast for a Christmas morning breakfast hash the whole family was just stunned at how great it was!
Share on Facebook
Ingredients
2

cups

prime rib roast

(¼" cubed)

2

cups

potatoes

(¼" cubed, I use russet potatoes or yukon golds)

½

cup

yellow onion

(minced)

½

tablespoon

garlic

(minced)

¼

teaspoon

turmeric

⅛

teaspoon

nutmeg

⅛

teaspoon

paprika

⅛

teaspoon

ground sage

⅛

teaspoon

tarragon

½

teaspoon

each, salt & pepper

(to taste)

2

tablespoon

all-purpose flour

4

large

eggs

(4 eggs = 1 per person per serving, use more if you prefer)

2

tablespoon

fresh parsley

(chopped, optional for garnish)
Instructions
Use either the rendered fat from your prime rib roast, or extra virgin olive oil, and heat your large skillet or frying pan to medium heat. Cook the cubed potatoes, minced onion and garlic on medium heat for about 3 minutes until the potatoes are starting to get tender and the onion is no longer translucent.

2 cups potatoes,

½ cup yellow onion,

½ tablespoon garlic

Add the seasoning: turmeric, nutmeg, paprika, ground sage, tarragon, and salt & pepper (to taste). Cook for 8-10 minutes, browning the potatoes. Add the cubed prime rib and cook for 4-5 minutes.

¼ teaspoon turmeric,

⅛ teaspoon nutmeg,

⅛ teaspoon paprika,

⅛ teaspoon ground sage,

⅛ teaspoon tarragon,

½ teaspoon each, salt & pepper,

2 cups prime rib roast

Combine the milk (or your mixed milk and au jus) with the flour and stir it into the hash mixture. Use your spatula to spread the hash evenly throughout the pan and flatten the hash.

¼ cup milk,

2 tablespoon all-purpose flour

Cook on medium high for an additional 5 minutes, flipping the hash as needed to brown your hash and get your desired level of crispiness.

*Leave the hash in halves or quarters of the flattened hash, turning the whole pieces to brown.

Break up the hash once both sides are browned and continue to brown to your preferred consistency.

In another frying pan or skillet, cook your eggs sunny side up to serve on your hash. Heat the pan with 1 teaspoon of cooking oil at low heat until the oil begins to shimmer, then add the eggs. Cover with a tight fitting lid and cook until the white is completely set, about 2-2 ½ minutes.

Dish up the leftover prime rib hash with the egg(s) served on top, add fresh chopped parsley for garnish (optional).

2 tablespoon fresh parsley
Nutrition
Calories:
586
kcal
(29%)
|
Carbohydrates:
19
g
(6%)
|
Protein:
29
g
(58%)
|
Fat:
42
g
(65%)
|
Saturated Fat:
17
g
(106%)
|
Cholesterol:
272
mg
(91%)
|
Sodium:
152
mg
(7%)
|
Potassium:
873
mg
(25%)
|
Fiber:
3
g
(13%)
|
Sugar:
1
g
(1%)
|
Vitamin A:
490
IU
(10%)
|
Vitamin C:
16.3
mg
(20%)
|
Calcium:
95
mg
(10%)
|
Iron:
6.6
mg
(37%)
leftover prime rib roast, leftover recipes, leftover roast beef, prime rib hash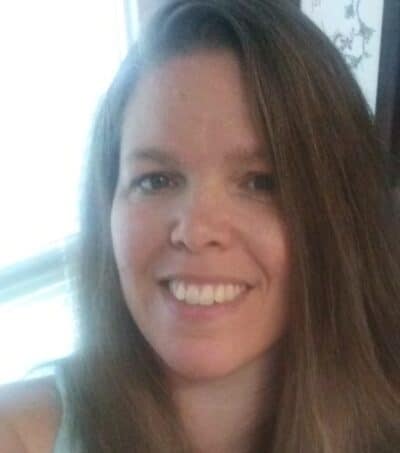 Angela is an at home chef that developed a passion for all things cooking and baking at a young age in her Grandma's kitchen. After many years in the food service industry, she now enjoys sharing all of her family favorite recipes and creating tasty dinner and amazing dessert recipes here at Bake It With Love!