If you're like me, you don't do anything halfway especially when we're talking about portions of unbelievably delicious prime rib (or standing rib roast)! I always have more leftovers than I thought I would, and that's a great thing when you have all of these wonderful leftover recipe ideas!!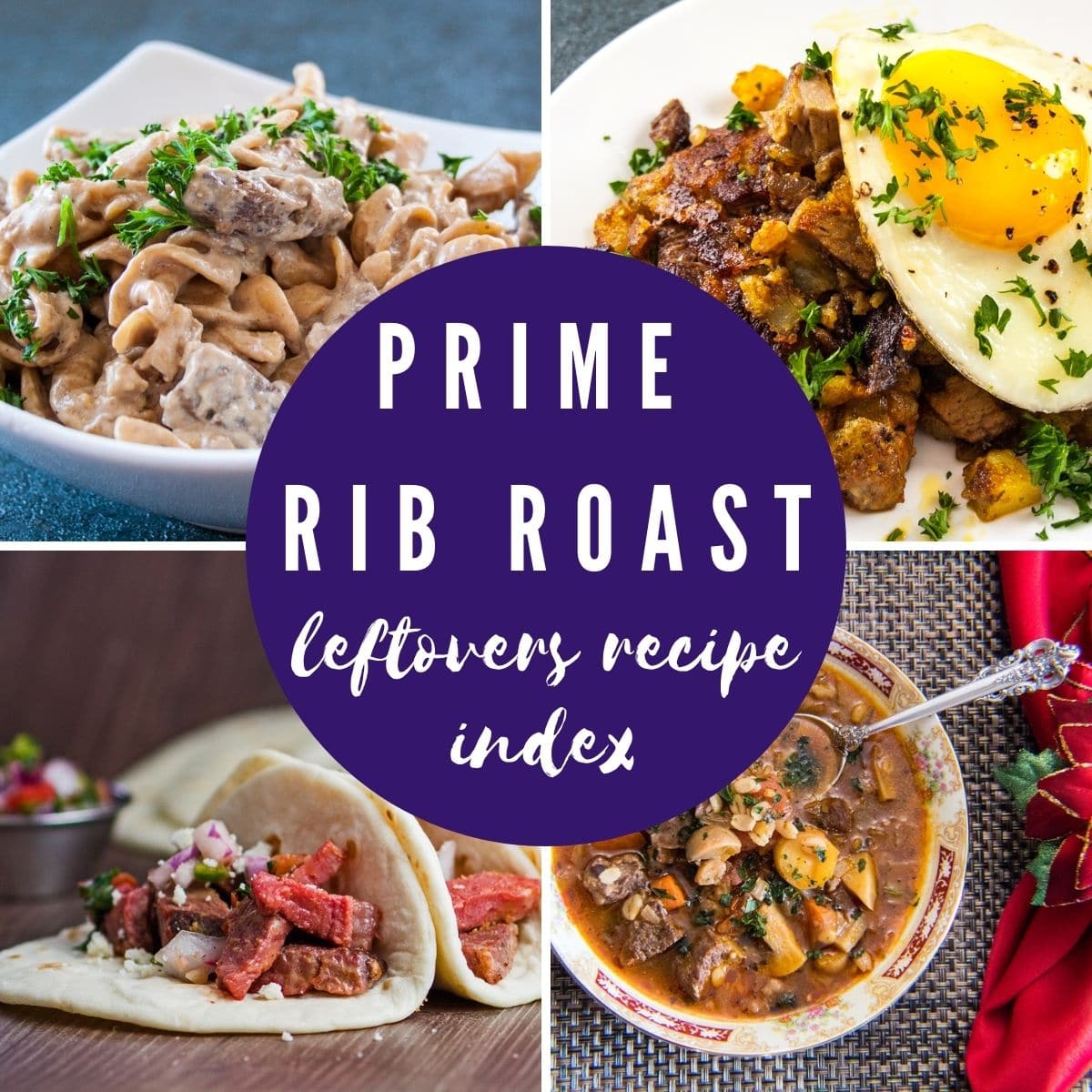 Simple ideas to turn into amazing leftovers!
From tasty recipes for breakfast and lunch on Christmas Day to fabulous Leftover Prime Rib Roast Recipes for more special family meals later in Christmas week or after special occasion prime rib dinners.
Of course, all of these recipes work just as wonderfully for leftover roast beef, leftover pot roast, or leftover steak portions! So if you're wondering what to do with your prime rib leftovers, here's your answer!
Jump to:
1. Stroganoff (Prime Stroganoff)
Deliciously creamy beef stroganoff made with prime rib leftovers for tender chunks of perfectly roasted beef studded throughout this amazing pasta recipe! The original leftover stroganoff recipe is still the best and is totally worth every moment you have to wait during the quick cook time!
Leftover Prime Rib Beef Stroganoff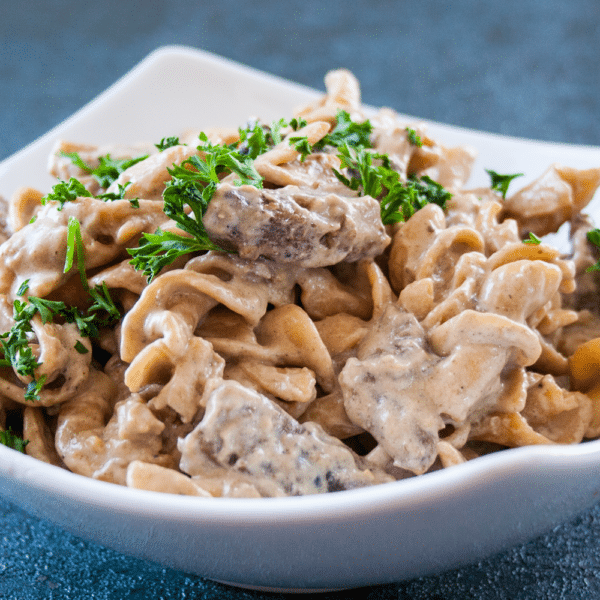 This Leftover Prime Rib Beef Stroganoff is rich, creamy, tasty plus quick and easy to make as well! You've put all that time and effort into roasting the perfect prime rib, now to use the leftovers in something equally tasty! 
Get The Recipe
2. Tacos (Prime Rib Carne Asada)
This super easy street taco style recipe is a wonderful way to use up your leftover prime rib and really let the flavors shine! They're super simple to make and you can add all of your family's favorite taco toppings to these quick prime tacos! With the addition of my pico de gallo, or guacamole makes these tacos out of this world!
Leftover Prime Rib Tacos
One of the easiest ways to enjoy a tasty meal made from your holiday prime rib roast is to serve some delicious Leftover Prime Rib Tacos! These quick and easy carne asada tacos are loaded with tasty chunks of beef and topped with pico de gallo and queso fresco for the perfect street style taco!
Get The Recipe
3. Soup (Prime Rib Beef and Barley Soup)
Rich and hearty are truly an understatement when talking about the amazing flavors in this prime rib soup! It's a great meal to get started on the oven while busy with any remaining holiday visitors. Plus, they'll be super impressed with this beefy soup for either lunch or dinner!
Leftover Prime Rib Beef Barley Soup with Mushrooms
This hearty Leftover Prime Rib Beef Barley Soup with Mushrooms will leave you planning to make a lot more prime rib roast in the very near future!

Get The Recipe
4. Breakfast Hash
Are you ready for the best day-after-Christmas breakfast ever?! Take a few minutes to chop your prime rib leftovers and some potatoes to get this better-than-restaurant quality breakfast started! Your family will love this hearty hash so much it may become a holiday tradition!
Prime Rib Hash (from leftovers)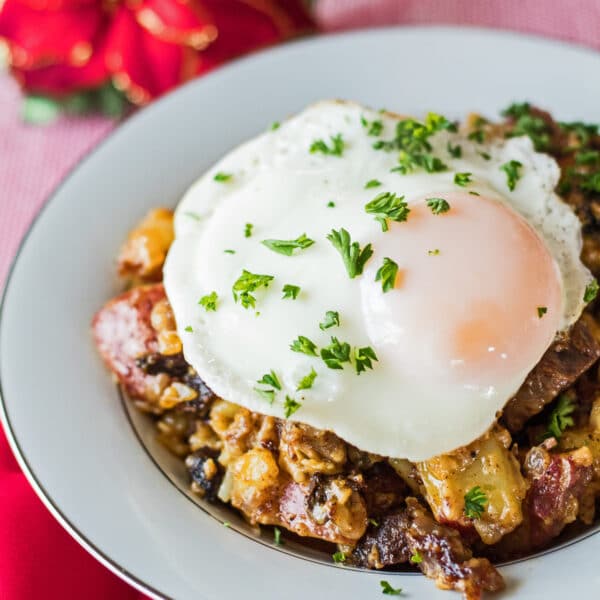 Who knew this simple Leftover Prime Rib Hash would be so incredible with its pan fried potatoes and prime rib beef chunks?! I'm not kidding! The first time I used the leftovers from a prime rib roast for a Christmas morning breakfast hash the whole family was just stunned at how great it was!
Get The Recipe
5. Chili
This hearty steakhouse chili is a super easy-to-make dinner that makes great use of your holiday leftovers! Tender pieces of medium-rare prime rib take your classic comfort food chili to an absolutely tasty luxury meal!!
Prime Rib Chili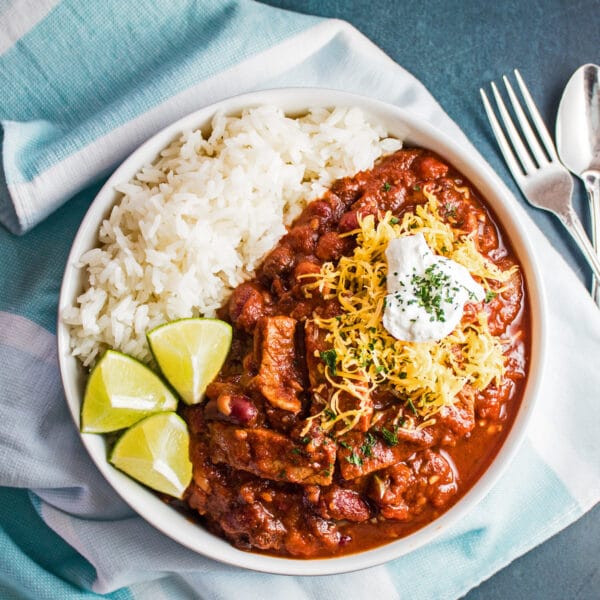 This easy to make Prime Rib Chili uses deliciously tender chunks of prime rib roast leftovers and my homemade chili seasoning mix! Add some sautéed onion and garlic, diced tomatoes and tomato sauce, and three types of beans for a wonderful leftover prime rib chili dinner!
Get The Recipe
6. Quesadillas
Talk about a crowd-pleasing way to really enjoy the deliciousness of your perfectly roasted prime rib! These quick and easy quesadillas are the perfect family meal for after the holiday cooking!
Leftover Prime Rib Quesadillas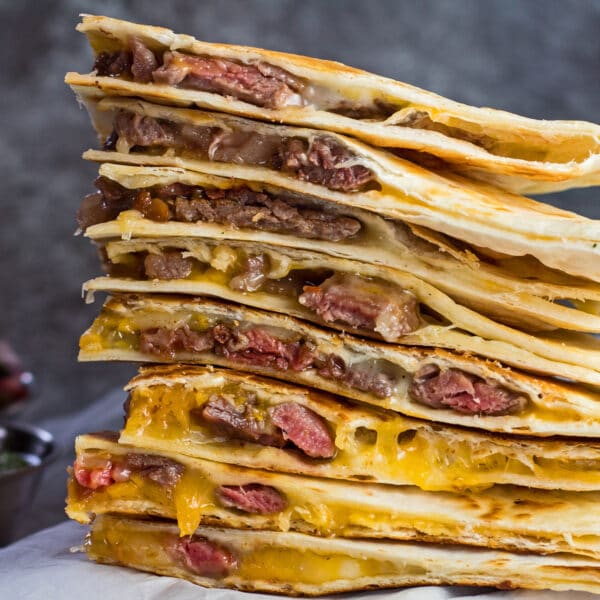 These tasty Prime Rib Quesadillas made with leftover prime rib are truly the ultimate in melty, cheesy, crispy quesadilla greatness! The tortillas are cooked until lightly golden, filled with a combination of the best melting cheeses, and tender pieces of perfectly medium-rare prime rib or steak!
Get The Recipe
7. Prime Rib Dip Sandwich
A classic use of prime rib is layering tender pieces of your prime rib roast on a toasted sandwich with or without melted cheesy goodness to round out the sandwich! Serve them with my fantastic prime rib au jus to use up any leftover jus too!
Leftover Prime Rib Dip Sandwich
Leftover Prime Rib Dip Sandwich is the perfect use for your leftover prime rib roast and the prime rib red wine au jus!
Get The Recipe
8. Prime Rib Philly Melt Sandwich
Amazing flavors loaded onto a toasted sandwich roll with tender prime rib, peppers, and onions, and topped with melted cheese!
Leftover Prime Rib Philly Cheesesteak Sandwich
Leftover Prime Rib Philly Cheesesteak Sandwich is an amazing combination of prime rib roast, onions, bell peppers, and melted cheese stacked into a toasted sandwich roll!
Get The Recipe
9. Prime Rib Pasta
This super easy 20-minute skillet dinner is an amazingly flavorful way to use up your prime rib roast leftovers, leftover au jus, and fat trimmings! It's such an easy dinner to make and really lets the prime rib shine as the star of the meal!
Prime Rib Pasta
My Prime Rib Pasta is a truly rich, hearty, and delicious use of leftover prime rib that's quick and easy to make! It's a fantastically tasty use of trimmed fat from your roast, any remaining au jus, and a generous portion of perfectly medium-rare prime rib roast beef!
Get The Recipe
10. Burritos
What can I say?! I love Mexican food, yum!! You're sure to love these fully loaded prime rib burritos as much as I do! Whether you choose to grill your burritos or not, they're fantastic and absolutely addictive!
Leftover Prime Rib Burritos
These tasty Leftover Prime Rib Burritos are everything you love about fantastically flavorful burritos with the addition of tender pieces of prime rib! I load my burritos up with cilantro lime rice, black beans, fresh chopped cilantro, pico de gallo, shredded cheese, and creamy guacamole for the perfect burritos!!
Get The Recipe
11. Tostadas
It was late summer in 2020 and I was totally on a Mexican week theme with my prime rib leftovers! Who can blame me?! These easy-to-make tostadas are fun and crazy delicious!!
My bite-size version here is a fantastic finger food appetizer, or make your homemade tostada shells with bigger tortillas. Either way, everyone will agree that this is your best idea ever!
Leftover Prime Rib Tostadas
These super tasty Leftover Prime Rib Tostadas are filled with layers of delicious flavors from tender, perfectly roasted prime rib to refried beans, fresh lettuce, pico de gallo, queso, and crema! My tostadas are served in homemade tostada bowls that can be varied in sizes to serve your prime rib tostadas as either appetizers or part of a family meal!
Get The Recipe
12. Ragu
Another fabulous prime rib pasta entree that's worth every minute of the wait! This elevated prime rib version of the classic Italian ragu alla bolognese is tasty, hearty, and a crowd-pleasing family meal!
Simmer this delicious sauce to perfection, add your tender pieces of prime rib leftovers, then serve over broad noodles. Don't forget the freshly grated Parmesan cheese to top this meal off perfectly!
Prime Rib Ragu
This hearty Prime Rib Ragu is a delicious take on the classic Italian ragù alla bolognese featuring tender chunks of perfectly roasted prime rib! A low and slow simmer brings all of the fantastic flavors together for a perfect prime rib pasta dinner that the whole family will love!
Get The Recipe
Stuffed Peppers
Breakfast Burritos
Taquitos
Stuffed Mushrooms
Fried Rice
Beef And Broccoli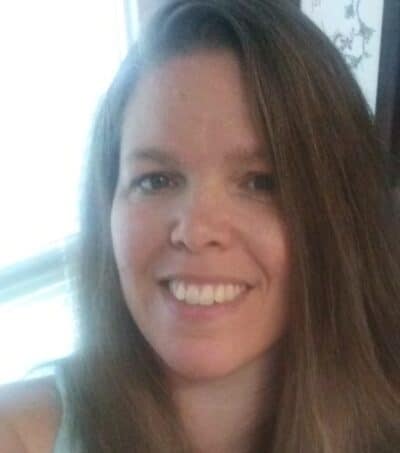 Angela is an at home chef that developed a passion for all things cooking and baking at a young age in her Grandma's kitchen. After many years in the food service industry, she now enjoys sharing all of her family favorite recipes and creating tasty dinner and amazing dessert recipes here at Bake It With Love!