If you're like me, you don't do anything halfway especially when we're talking about portions of unbelievably delicious prime rib roast ( or standing rib roast )! I always have more leftovers than I thought I would, and that's a great thing when you have all of these wonderful leftover prime rib roast recipe ideas!!
Start with a great prime rib roast like my Smoked Prime Rib Roast, Oven Roasted Prime Rib with Dry Rib Rub, or my Horseradish Roasted Garlic Crusted Prime Rib Roast for the perfect dinner.
More Prime Rib Collections: What To Serve With Prime Rib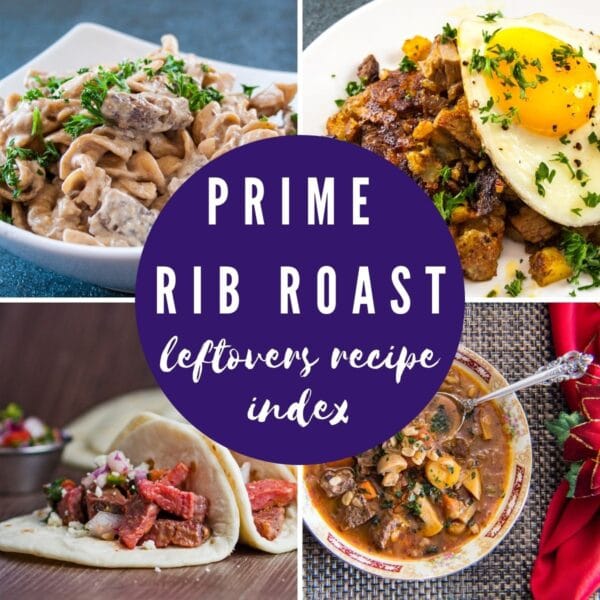 What To Do With Leftover Prime Rib
From tasty recipes for breakfast and lunch on Christmas Day to fabulous Leftover Prime Rib Roast Recipes for more special family meals later in Christmas week or after special occasion prime rib dinners. So if you're wondering what to do with your prime rib leftovers, here's your answer!
Of course, all of these recipes work just as wonderfully for leftover roast beef, leftover pot roast, or leftover steak portions!
Deliciously creamy beef stroganoff made with prime rib leftovers for tender chunks of perfectly roasted beef studded throughout this amazing pasta recipe! The original leftover stroganoff recipe is still the best and is totally worth every moment you have to wait during the quick cook time!
This super easy street taco style recipe is a wonderful way to use up your leftover prime rib and really let the flavors shine! They're super simple to make and you can add all of your family's favorite taco toppings to these quick prime tacos!
Rich and hearty are truly an understatement when talking about the amazing flavors in this prime rib soup! It's a great meal to get started on the oven while busy with any remaining holiday visitors. Plus, they'll be super impressed with this beefy soup for either lunch or dinner!
Are you ready for the best day-after-Christmas breakfast ever?! Take a few minutes to chop your prime rib leftovers and some potatoes to get this better-than-restaurant quality breakfast started! Your family will love this hearty hash so much it may become a holiday tradition!
This hearty steakhouse chili is a super easy-to-make dinner that makes great use of your holiday leftovers! Tender pieces of medium-rare prime rib take your classic comfort food chili to an absolutely tasty luxury meal!!
Talk about a crowd-pleasing way to really enjoy the deliciousness of your perfectly roasted prime rib! These quick and easy quesadillas are the perfect family meal for after the holiday cooking!
A classic use of prime rib is layering tender pieces of your prime rib roast on a toasted sandwich with or without melted cheesy goodness to round out the sandwich! Serve them with my fantastic prime rib au jus to use up any leftover jus too!
Amazing flavors loaded onto a toasted sandwich roll with tender prime rib, peppers, and onions, and topped with melted cheese!
This super easy 20-minute skillet dinner is an amazingly flavorful way to use up your prime rib roast leftovers, leftover au jus, and fat trimmings! It's such an easy dinner to make and really lets the prime rib shine as the star of the meal!
What can I say?! I love Mexican food, yum!! You're sure to love these fully loaded prime rib burritos as much as I do! Whether you choose to grill your burritos or not, they're fantastic and absolutely addictive!
It was late summer in 2020 and I was totally on a Mexican week theme with my prime rib leftovers! Who can blame me?! These easy-to-make tostadas are fun and crazy delicious!!
My bite-size version here is a fantastic finger food appetizer, or make your homemade tostada shells with bigger tortillas. Either way, everyone will agree that this is your best idea ever!
Another fabulous prime rib pasta entree that's worth every minute of the wait! This elevated prime rib version of the classic Italian ragu alla bolognese is tasty, hearty, and a crowd-pleasing family meal!
Simmer this delicious sauce to perfection, add your tender pieces of prime rib leftovers, then serve over broad noodles. Don't forget the freshly grated Parmesan cheese to top this meal off perfectly!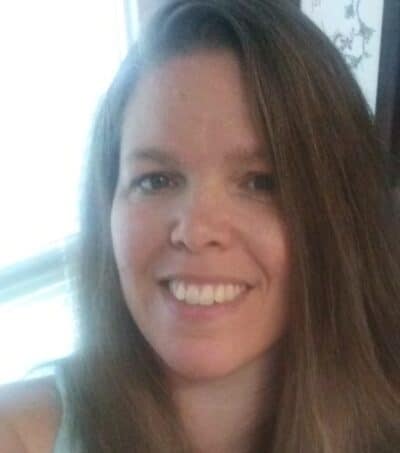 Angela is an at home chef that developed a passion for all things cooking and baking at a young age in her Grandma's kitchen. After many years in the food service industry, she now enjoys sharing all of her family favorite recipes and creating tasty dinner and amazing dessert recipes here at Bake It With Love!