All of the best leftover lamb recipes in one place so you can enjoy every last bit of your delicious lamb roast, shanks, chops, or steaks! There are savory breakfast recipes, robust spicy dishes, satisfying comfort foods, and some lighter fare that all feature tasty lamb roast leftovers!
The Best Leftover Lamb Recipes!
The weeks following Easter and Christmas I used to find myself scrambling to find new ways to use up leftover lamb meat. Over the years I've gathered up a few favorite recipes that are tried and true (and family approved), and I've featured them below.
In fact, we often look forward to enjoying the leftovers just as much as we did the original meal!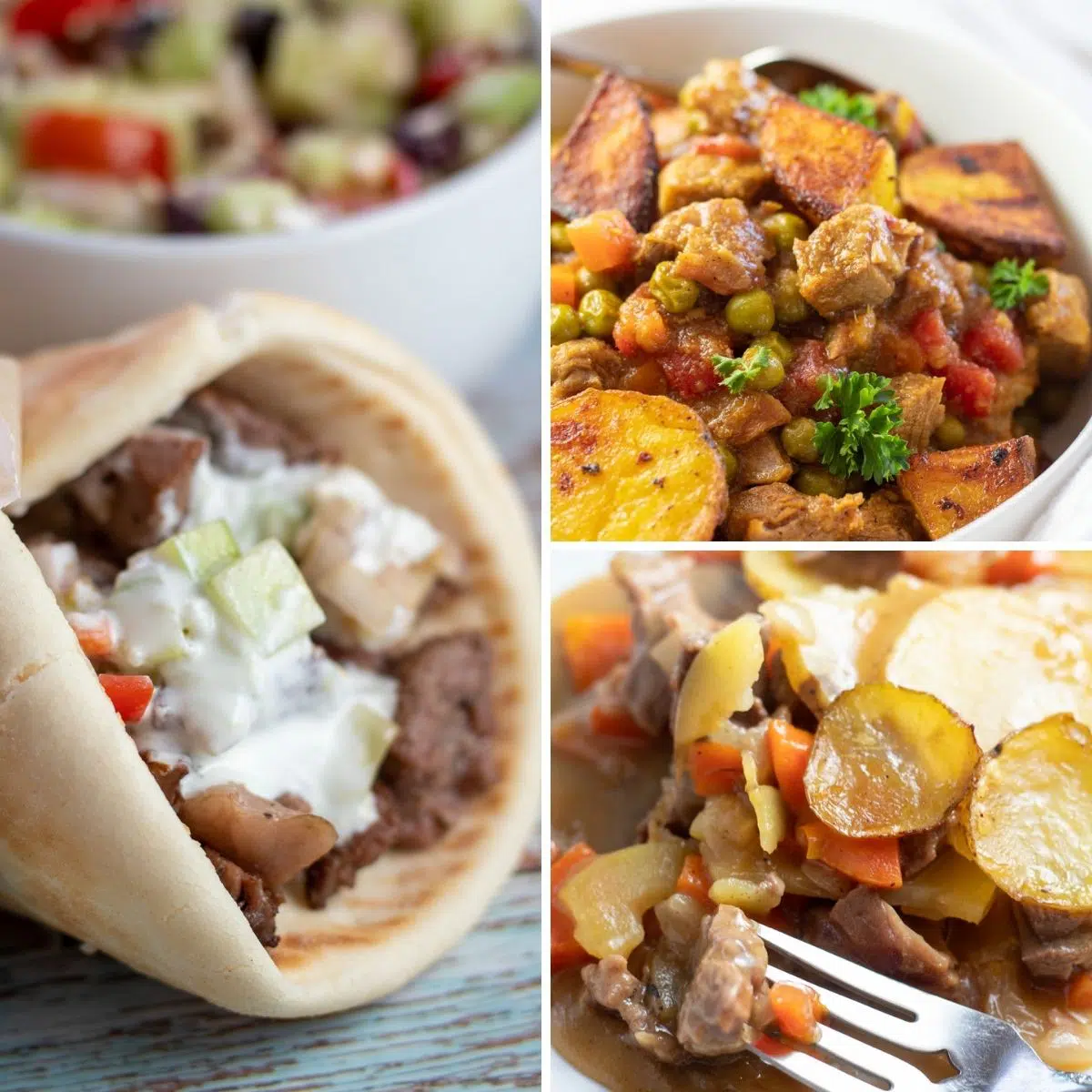 Jump to:
1. Lamb Gyros
Leftover lamb gyros are one of my favorite simple recipes to make when I have leftover leg of lamb roast. They're perfect for lunch or dinner, and can be made in just a few minutes!
They are delicious when kept simple with pita bread and lamb meat, but adding some Greek salad and tzatziki sauce really takes it to the next level.
2. Lamb Curry
If you're looking for flavor, there's no shortage of it with this leftover lamb curry. It's rich, it's comforting, and it's a wonderful way to use up any roast lamb you have taking up space in your fridge.
3. Lamb Lancashire Hotpot
New potatoes cooked until tender with some hearty veggies and flavorful leftover lamb, what's not to like? This recipe is no-fuss, chopping the veggies is the hardest part!
4. Shepherd's Pie
Let's face it, anything topped with mashed potatoes is comfort food. This leftover lamb shepherd's pie is no exception!
Beneath the savory potato topping, tender veggies, shredded leftover lamb roast, and an indulgent gravy tie it all together!
5.Lamb Ragu
If pasta is more your speed, try making some leftover lamb ragu! This recipe is quick and easy, plus the kiddos usually enjoy it just as much as the adults.
6. Lamb Burning Love
If you're a fan of potatoes then you will love this burning love made with leftover lamb! This traditionally Danish dish is generally made with bacon, but trust me when I tell you that lamb is just as tasty!
This is a quick and easy option if you're short on time but wanting to feed the whole family!
7. Lamb Fajitas
Fajitas are great because they are easy to customize! Leftover lamb fajitas are simple and delicious.
Lamb is just as tasty dipped in all your favorite fajita sauces as beef or chicken!
8. Lamb Shakshuka
This easy lamb shakshuka makes the perfect lazy breakfast for two. It features a spicy tomato sauce with poached eggs and, in this case, some tasty shredded lamb!
9. Leftover Lamb Stroganoff
A good stroganoff is always a hit! You can serve it on top of mashed potatoes, pasta, bread, rice, or whatever suits your mood.
It should be of no surprise that it's just as delicious with leftover lamb as it is with beef because it's a dish that's hard to mess up!
10. Greek Lamb Moussaka
If you aren't familiar with Greek comfort food, this is the place to start! In this recipe, leftover lamb is used to make a savory meat sauce that is layered up with eggplant and cheese then topped with creamy bechamel sauce.
It's easier than you'd think, and is definitely a must-try meal!
11. Irish Lamb Stew
Pre-cooked lamb means you don't have to simmer this stew for hours like a traditional beef stew. It features all the traditional stew veggies including carrots and potatoes, but you can also use up some of the veggies in the bottom of your crisper drawer if desired!
12. Lamb Tagine
This leftover lamb tagine (or tajine) is a simple one-pot meal that can be prepped up to 2 days in advance! It's a little fruity, a little spicy, and full of lots of flavor!
13. Lamb Sliders
Topped with tangy pickled red onions, these incredible lamb sliders feel gourmet with minimal effort on your part. A creamy Greek sauce is what sets these apart from your usual burgers!
14. Leftover Lamb Pizza
This lamb pizza is a flat bread, loaded with leftover lamb meat that's full of Middle Eastern flavor. There's no cheese on this pizza (just hear me out), but it is totally delicious with a drizzle of olive oil and yoghurt!
15. Leftover Lamb Tacos
Everyone loves tacos, and lamb makes an epic taco filling! Rather than taco seasoning, these tacos are flavored with Greek spices.
A cool and crunchy slaw gives them plenty of texture and will keep you from eating just one!
Any of the recipes listed above will make you thoroughly enjoy your lamb the second time around! Tell us which recipes you tried out by leaving us a message in the comment section!
📋 Recipe