They may have similar names, but when comparing pork loin vs pork tenderloin there are a few key differences you ought to know! Both pork loin and pork tenderloin are delicious, it all comes down to the meal you're trying to make!
Pork Loin VS Pork Tenderloin
You may have made the mistake of purchasing pork loin when your recipe called for pork tenderloin. People often confuse the two, or use their names interchangeably.
However, once you know the differences between pork loin vs pork tenderloin, they are easy to recognize!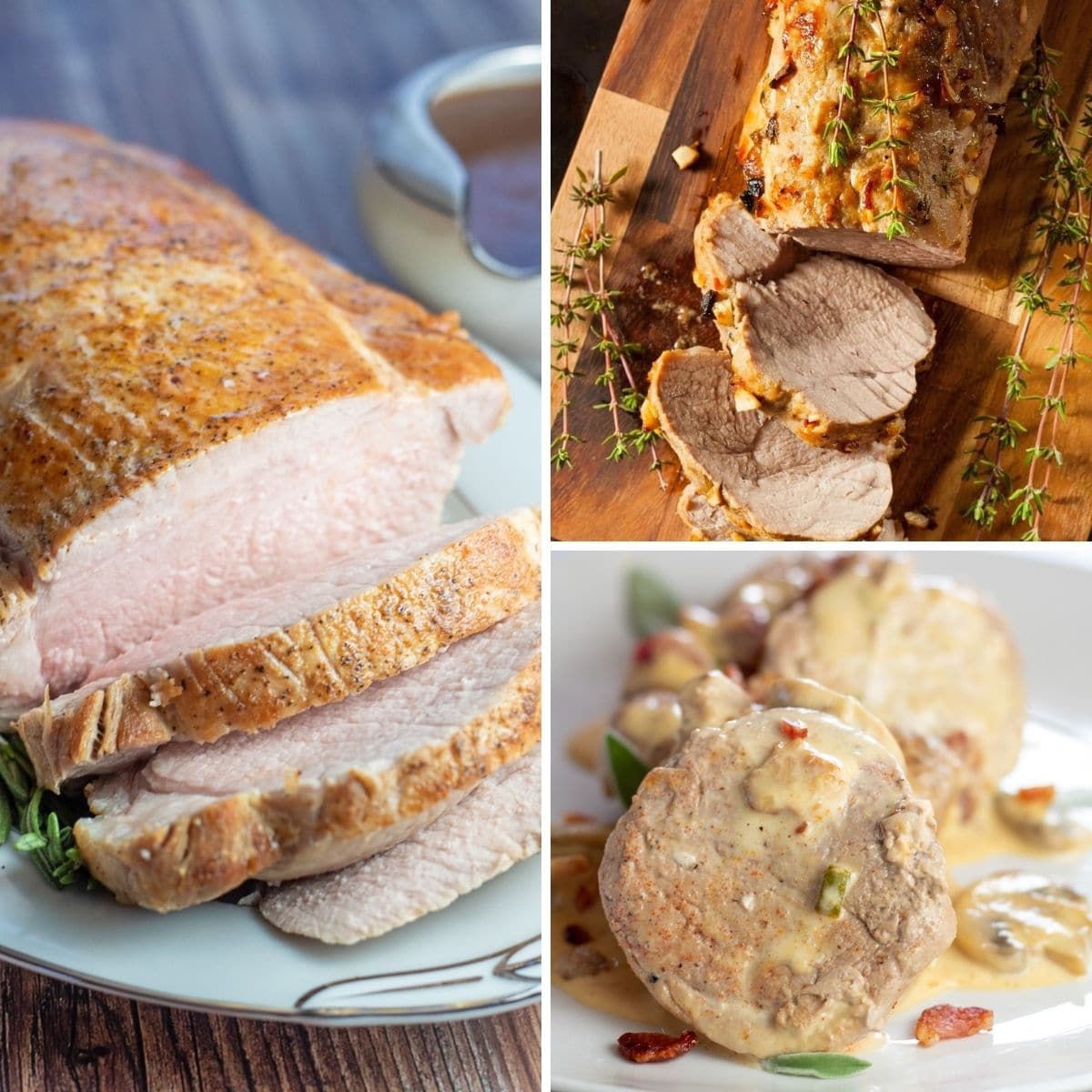 Jump to:
What is Pork Loin?
Pork loin is also known as: pork loin rib half, pork loin roast center cut, pork loin center cut, pork center loin roast, center-cut pork roast, center-cut pork loin roast, pork center cut rib roast, and pork loin center rib roast.
Pork loin can be purchased either boneless or bone-in.
Bone-in loins without backbone and the ribs 'Frenched' (the meat removed from the rib bone), are called pork racks. The pork racks are sometimes tied together to form a circle, this is called a crown roast of pork.
What is a Pork Tenderloin?
The pork tenderloin is also called: pork filet or pork fillet, pork tender, or Gentleman's Cut.
Pork tenderloin is a longer, thinner cut of meat from along the central spine of the pork. The tenderloin will always be boneless.
It is a very tender piece of meat, and one of the best cuts of pork.
Shared Similarities
The loin and tenderloin are from the same region of the pig (the back) but different areas. Both cuts are relatively lean with very little marbling and, because they are both pork, they do taste similar.
Other than the fact they both have 'loin' in the name, that is where the similarities end.
Differences
The most obvious difference is that pork loin is a larger cut than pork tenderloin. It is thick and wide with a large fat cap that covers the top.
Pork loins are large enough that they can be cut into boneless pork chops (pork loin chops).
Pork tenderloins are long and thin without much fat. They do well when cooked quickly at a high temperature while pork loin does well cooked low and slow.
Most tenderloins average between 1-1 ½ pounds, while most pork loins are well over 2 pounds.
Can You Substitute Pork Loin for Pork Tenderloin?
It is not recommended to swap pork loin for pork tenderloin in a recipe, or vice versa. The long cooking times necessary for cooking a pork loin will dry out a pork tenderloin.
The opposite is true if you try to swap a pork loin for a pork tenderloin. The meat won't cook all the way through and you will be left with raw pork!
If you need a meal to quickly feed a few people, a pork tenderloin is the way to go. If you have some time on your hands and need to feed a crowd, or want to have leftovers, a pork loin would be ideal.
📋 Recipe
Print Recipe
Leave A Comment
Love This Recipe?
Click On A Star To Rate It!
Pork Loin vs Pork Tenderloin: Differences, Similarities & How To Cook Each
They may have similar names, but when comparing pork loin vs pork tenderloin there are a few key differences you ought to know! Both pork loin and pork tenderloin are delicious, it all comes down to the meal you're trying to make!
Pin Recipe
Share on Facebook
Ingredients
1 ½

lbs

pork tenderloin

1

tablespoon

cooking oil

1

tablespoon

pork seasoning

(see recipe or use your favorite brand)

squeezed citrus fruit juice

(optional - use lemon, lime, or orange)
Instructions
Preheat your oven to 400°F (205°C) and lightly oil your cast iron skillet.

Rinse and trim your pork tenderloin (or tenderloins if you have two smaller tenderloins), then pat it dry using paper towels. Prick the surface of your tenderloin(s) then rub with your cooking oil.

1 ½ lbs pork tenderloin,

1 tablespoon cooking oil

Sprinkle generously with pork seasoning blend and then use your hands to massage the seasoning into your pork. Squeeze fresh citrus juice over the seasoned pork.

1 tablespoon pork seasoning,

squeezed citrus fruit juice

Heat the skillet over medium-high heat then sear the tenderloin(s), turning to sear all sides for 1-2 minutes each (about 5-6 minutes total).

Transfer your cast iron skillet (or oven-safe skillet or Dutch oven) into the middle of your oven's center rack and cook the pork tenderloin for 13-14 minutes or until the pork reaches your desired level of doneness. (*see notes)

Remove from the skillet and transfer to a cutting board or serving platter. Cover loosely with a square of aluminum foil and allow to rest for 10 minutes before slicing into rounds (or medallions) and serving.
Equipment You May Need
Notes
Use your preferred cooking oil, choosing one that is neutral in flavor and that has a high smoke point. Avocado oil, coconut oil, and olive oil are great choices.
Searing the roast can be skipped, although it adds to the taste and texture of your baked pork tenderloin. To skip this step, allow for more cooking time, up to 25-30 minutes.
Remove your pork tenderloin from the oven approximately 5°F below the desired doneness temp to allow for carryover cooking that will take place during the resting time.
Pork doneness: 145-150°F MEDIUM RARE, 150-155°F MEDIUM, 155-160°F MEDIUM-WELL, and 160°F WELL DONE
Nutrition
Calories:
246
kcal
(12%)
|
Carbohydrates:
2
g
(1%)
|
Protein:
35
g
(70%)
|
Fat:
10
g
(15%)
|
Saturated Fat:
2
g
(13%)
|
Polyunsaturated Fat:
2
g
|
Monounsaturated Fat:
5
g
|
Trans Fat:
1
g
|
Cholesterol:
111
mg
(37%)
|
Sodium:
89
mg
(4%)
|
Potassium:
694
mg
(20%)
|
Fiber:
1
g
(4%)
|
Sugar:
1
g
(1%)
|
Vitamin A:
101
IU
(2%)
|
Vitamin C:
1
mg
(1%)
|
Calcium:
47
mg
(5%)
|
Iron:
3
mg
(17%)
Baked Pork Tenderloin, pork loin vs pork tenderloin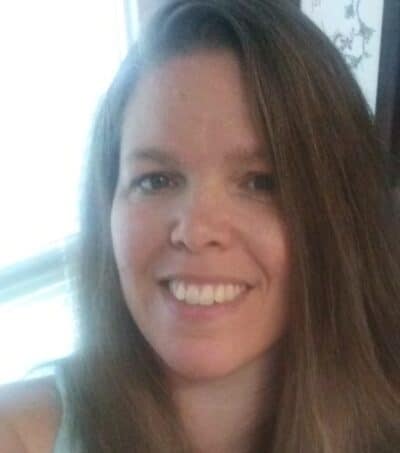 Angela is an at home chef that developed a passion for all things cooking and baking at a young age in her Grandma's kitchen. After many years in the food service industry, she now enjoys sharing all of her family favorite recipes and creating tasty dinner and amazing dessert recipes here at Bake It With Love!