These tasty Prime Rib Quesadillas made with leftover prime rib are truly the ultimate in melty, cheesy, crispy quesadilla greatness! The tortillas are cooked until lightly golden, filled with a combination of the best melting cheeses, and tender pieces of perfectly medium-rare prime rib or steak!

Leftover Prime Rib Quesadillas Recipe
When you're looking for easy ways to use up your leftovers from an amazing prime rib roast, recipes like this are not only super easy but also a family favorite that your kids will absolutely love! What do I love about it? The prime rib flavor stands out spectacularly!
The simple filling with no extras ( OK, I love adding black beans and/or diced chiles on occasion ) takes nothing away from the super tender prime rib slices or chunks. The seasoning that was on your roast adds flavor enough so save the 'extras' for the condiments that you serve these beef quesadillas with!
P.S. Your kids are going to ask for seconds!!
How To Make The Best Quesadillas with Prime Rib Leftovers
My prime rib quesadilla is an easy-to-make meal after cooking for the holidays! There's no need to reheat your leftover prime rib roast portions, just slice and get ready to enjoy a drool-worthy meal!
You will need 2 tortillas for each quesadilla. I'm using flour tortillas although corn tortillas are commonly used for quesadillas and add a wonderful flavor and texture.
Pick your cheese and grate about ¼ cup for each quesadilla, depending on the size of your tortillas. You only want enough cheese to lightly cover the tortilla and filling. The tortillas should still be visible through the cheese! See below for my top cheese picks for quesadillas.
What Cheese Is Best For Quesadillas
Easy to find cheeses are what I use for my steak quesadillas. My favorites for melting and flavor include Monterey Jack, Colby-Jack, and sharp cheddar for a bolder flavor. The Monterey jack melts the best, followed by pepper jack, Colby or Colby-jack, and cheddar is the least melty.
I don't usually make quesadillas of any variety with just cheddar. Cheddar will leave the most oil and can get clumpy. Use cheddar for flavor when paired with a mild cheese like Monterey Jack.
Some great choices of Mexican cheese that also melt extremely well include (in alphabetical order ):
Asadero - is actually also called queso quesadilla. The name implies its greatness and suitability to be an amazing cheese for your quesadillas!
Chihuahua - this is a pale yellow cheese with an overall mild but buttery flavor. This rounds out my top 4 Mexican kinds of cheese to use for quesadillas!
Manchego - this semi-soft white cheese is made of cow's milk when talking about queso manchego ( manchego is originally from Spain where it is made from sheep's milk ). It has a buttery taste and is a popular melting cheese for quesadillas.
Oaxaco - this is a semihard white cheese that is similar to Monterey Jack. It is an excellent melting cheese to pick!
Frying Your Quesadillas
Heat a large skillet or non-stick frying pan over medium heat and coat lightly with cooking oil using a pastry brush. *Coat again as needed, depending on how many quesadillas you are making.
Place the first tortilla into the heated frying pan and allow it to heat through. Add a light layer of your mixed cheeses, a handful of sliced prime rib filling, and then top with the remaining portion of cheese and the second tortilla. Cook until the cheese is melted and the tortilla is golden browned, or about 2 minutes.
Flip the quesadilla and cook the second side for another 2 minutes, or until lightly golden brown. Remove from the pan when done and repeat the process with the next quesadillas.
Tips for the Perfect Crispy Prime Rib Quesadilla
Pick your additional fillings with the moisture content in mind. Wet fillings like salsas and fresh-cut tomatoes should be used sparingly so that the tortillas do not get soggy. If your fillings, even the meat, are wet try dabbing them with paper towels to wick away the moisture before filling the quesadillas.
Use oil to pan-fry your quesadillas. Butter may taste fantastic, but it has a higher water content that will keep your quesadillas from turning out perfectly crispy!
Use freshly shredded or grated cheese rather than the bagged shredded cheese brands. The packaged cheeses have a treatment that is intended to keep them from clumping together, it also prevents the cheese from melting beautifully in your quesadillas!
Pan-fry your tortilla until warmed and air pockets form before adding your fillings. Spread a light layer of cheese, add your fillings, and top them off with the remaining cheese to hold everything together!
Don't laugh, but do use a good quality pizza cutter to cut your prime rib quesadillas into quarters or smaller.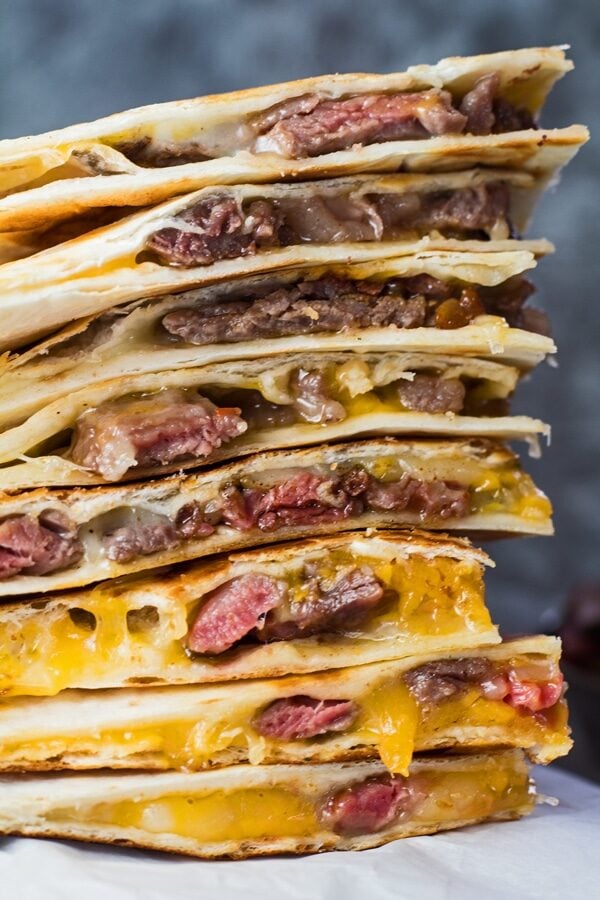 Do I Have to Use Prime Rib
Definitely not! Use a freshly pan-seared ribeye steak or leftover steak, leftover pot roast, roast beef leftovers, or even any steak fajita meat you may have not used up earlier in the week!
Looking for more fantastic ways to use your prime rib leftovers?! Check out my leftover prime rib recipes page for tasty ideas of what to do with leftover prime rib!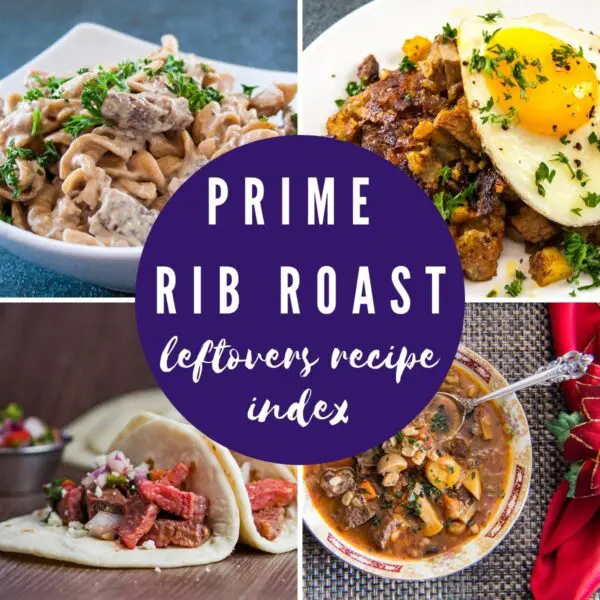 Serve your addictive Mexican food quesadilla with some salsa verde, guacamole, and pico de gallo!
📖 Recipe Card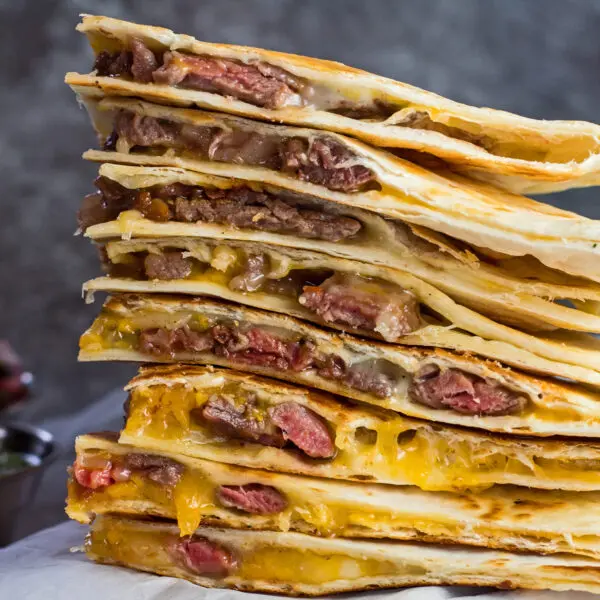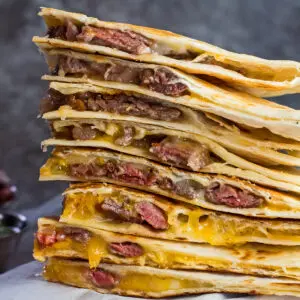 Print Recipe
Leave A Comment
Love This Recipe?
Click On A Star To Rate It!
Leftover Prime Rib Quesadillas
These tasty Prime Rib Quesadillas made with leftover prime rib are truly the ultimate in melty, cheesy, crispy quesadilla greatness! The tortillas are cooked until lightly golden, filled with a combination of the best melting cheeses, and tender pieces of perfectly medium-rare prime rib or steak!
Pin Recipe
Share on Facebook
Ingredients
1

tablespoon

olive oil

(extra virgin)

8

flour tortillas

(8 inch tortillas)

8

oz

prime rib roast

(sliced or chunked into easy to eat pieces)

½

cup

Monterey Jack cheese

(shredded)

½

cup

Sharp Cheddar Cheese

(shredded)
Help Us Out!
If you love a recipe, be sure to come back and share your ratings. This helps future users, and allows me to continue sharing free recipes! Angela
Instructions
Heat your large skillet or non-stick frying pan to medium heat with the olive oil. Spread the olive oil using a pastry brush or spatula to lightly coat the frying pan. *Add more oil as needed to keep your skillet lightly coated while cooking the additional quesadillas.

Combine your cheeses in a bowl or on the cutting board where you grated them. Warm the first tortilla in the heated frying pan then add a light layer of the combined cheeses, a handful portion of the cut prime rib, then top with the additional cheeses and the top tortilla.

Cook the quesadilla for about 2 minutes, or until the cheese is melted and the bottom is lightly golden browned.

Flip your quesadilla and cook the second side for an additional 2 minutes, or until the second tortilla is also lightly golden brown in color. Remove from heat and repeat with additional quesadillas.
Nutrition
Calories:
490
kcal
(25%)
|
Carbohydrates:
31
g
(10%)
|
Protein:
19
g
(38%)
|
Fat:
32
g
(49%)
|
Saturated Fat:
13
g
(81%)
|
Cholesterol:
62
mg
(21%)
|
Sodium:
600
mg
(26%)
|
Potassium:
242
mg
(7%)
|
Fiber:
1
g
(4%)
|
Sugar:
3
g
(3%)
|
Vitamin A:
250
IU
(5%)
|
Calcium:
275
mg
(28%)
|
Iron:
3
mg
(17%)
Leftover Prime Rib Quesadillas, prime rib leftovers, prime rib quesadillas, steak quesadillas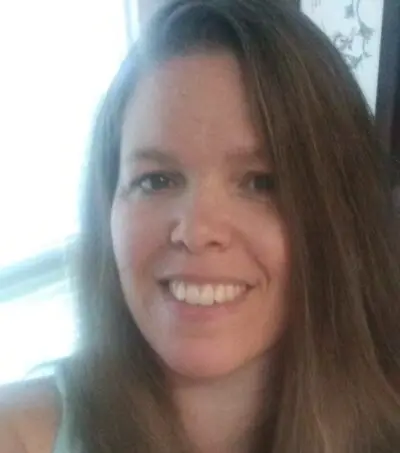 Angela is an at home chef that developed a passion for all things cooking and baking at a young age in her Grandma's kitchen. After many years in the food service industry, she now enjoys sharing all of her family favorite recipes and creating tasty dinner and amazing dessert recipes here at Bake It With Love!