These Thanksgiving breakfast recipes are a great way to keep your appetite on hold before it's time to sit down for the big meal. This list features effortless quick breakfasts, casseroles for feeding the whole family, and so much more! Eating a good breakfast is important because it's hard to cook Thanksgiving dinner on an empty stomach!
Thanksgiving Breakfast Ideas
Thanksgiving morning is often overlooked because everyone is holding out for the epic feast that's coming up later. Well, there's no reason to starve until dinnertime (even if you're doing all of the holiday cooking)!
These Thanksgiving breakfast recipes are stress-free and will keep you satisfied until it's time for turkey. Even if you have family in town, you can have a tasty breakfast for everyone on the table in no time!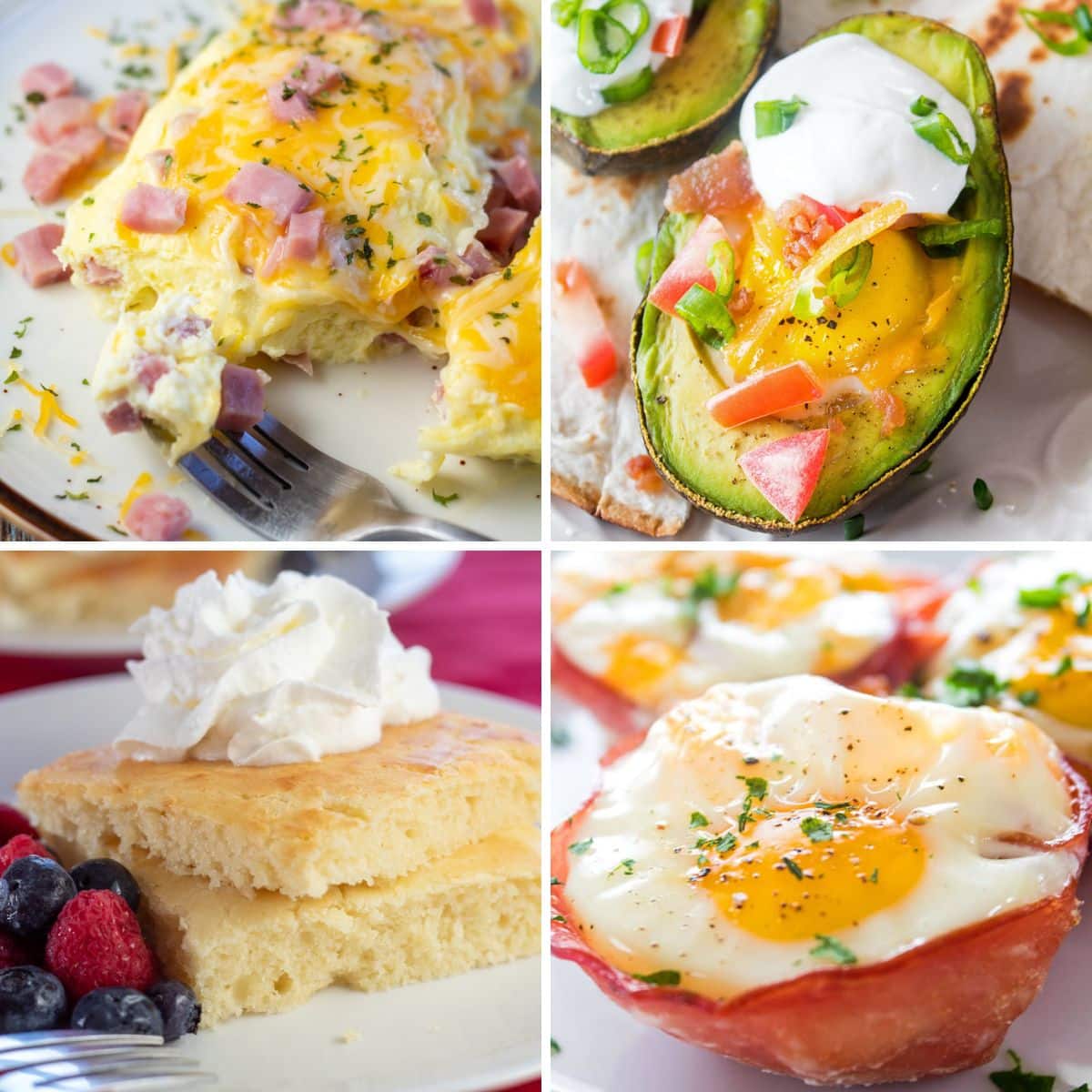 Jump to:
Breakfast Recipes For Thanksgiving Morning
Thanksgiving morning breakfast recipes are all about ease and the ability to feed a lot of people stress-free. Some of these recipes are more involved than others.
If you think you will have a particularly hectic holiday, just pick what suits your needs!
Whether you're a pro at hosting Thanksgiving dinner and holiday parties or giving it a try for the first time this year, you're sure to find my ultimate guide to planning Thanksgiving a help! Don't forget to safely thaw your holiday turkey early too!
1. Baked Eggs
You can make eggs with perfectly set whites and creamy yolks in no time by baking them! This recipe can easily be scaled up to feed any number of people. All you need is eggs, olive oil, and some salt & pepper!
2. Apple Pie French Toast Casserole
This casserole combines the flavors we all know and love from homemade apple pie and cinnamon French toast and turns it into one unforgettable breakfast. You can do most of the prep the evening before so that morning you just combine and bake!
3. Cracker Barrel Hashbrown Casserole
If you are serving breakfast to a crowd, this hashbrown casserole is the ultimate side dish. It's hearty and cheesy, plus it takes little-to-no prep time.
4. Air Fryer Bacon
Bust out your air fryer and whip up a batch of perfectly crispy bacon in minutes! No popping grease and no mess.
5. Apple Cider Baked Donuts
These baked donuts are ready to eat in just 35 minutes. Not to mention, they are full of spiced apple flavor and coated in sweet cinnamon sugar!
6. Potatoes O'Brien
Crispy skillet potatoes are a breakfast comfort food classic and you'll love this version with bell peppers and onions! You can dice the vegetables the night before to save some time in the kitchen.
7. Microwave Omelet
A microwave omelet can be just as fluffy and delicious as one made on the stovetop. From start to finish, it only takes 7 minutes (and you don't have to tell anyone how you made it).
8. Waffles
Whip up a batch of fluffy, homemade waffles in just 25 minutes! Then you can serve them as part of a spread with all of your favorite waffle toppings for everyone to choose from.
9. Sausage Egg and Cheese Breakfast Casserole
This casserole has all the elements of a well-rounded breakfast in one dish! Fluffy eggs, savory sausage, and melted cheddar cheese, what more could you ask for?
10. Apple Oatmeal Muffins
These apple oatmeal muffins are a nutritious and delicious way to start your Thanksgiving. You can make them the night before and they are easy to eat on the go!
11. Sheet Pan Pancakes
Instead of individual pancakes, try making one giant sliceable pancake for the whole family! It's just as fluffy as a traditional pancake and you don't have to flip it.
12. Omelet Roll
This omelet roll is filled with melted cheese and savory bits of ham. Instead of flipping and folding your omelet on the stove, you bake it and roll it into a jumbo omelet that can be sliced into 12 servings.
13. Avocado Egg Bake
If you prefer to keep it light for breakfast so you can indulge at dinnertime, avocado egg bakes are a great choice. Avocado becomes buttery smooth when baked and you can cook the eggs to your desired level of doneness!
14. Ham Egg Cups
With a muffin pan, ham, eggs, cheese, and some seasoning, you can make these 2-bite breakfast cups! It's as easy as layering the ingredients in the muffin tin and popping them in the oven.
15. Fried Bologna and Egg Sandwich
A quick breakfast sandwich will keep everyone happy and out of the kitchen while you start prepping for dinner. I make mine with fried bologna, a fried egg, and American cheese sandwiched between two toasted English muffins.
16. Sour Cream Scrambled Eggs
Adding a little sour cream to your scrambled eggs will change your scrambled egg game forever! This easy addition makes them so soft and creamy, you won't ever want them any other way.
17. Strawberry Buttermilk Crepes
Crepes are light and thin, so you don't overindulge before dinnertime. Add some fresh fruit and whipped cream and everyone will be sending their compliments to the chef.
🦃 Thanksgiving Dinner Menu Ideas
Did you try some of my Thanksgiving breakfast recipes? Let me know how they turned out in the comment section below!
📋 Recipe