Waffle toppings are the best way to customize and upgrade a simple waffle into the ultimate breakfast treat! Whether you like your waffles to be savory or sweet, there are a ton of options for you! This is the ultimate guide to making a waffle that you'll never forget!
Best Waffle Toppings
When you think of waffle toppings, syrup and butter are probably the first things that come to mind. While these are good options, there are so many more choices out there!
You can have a sweet or savory, fruity or rich, or light or hearty waffle meal! The possibilities are truly endless, so I have gathered up this list of the best waffle toppings around.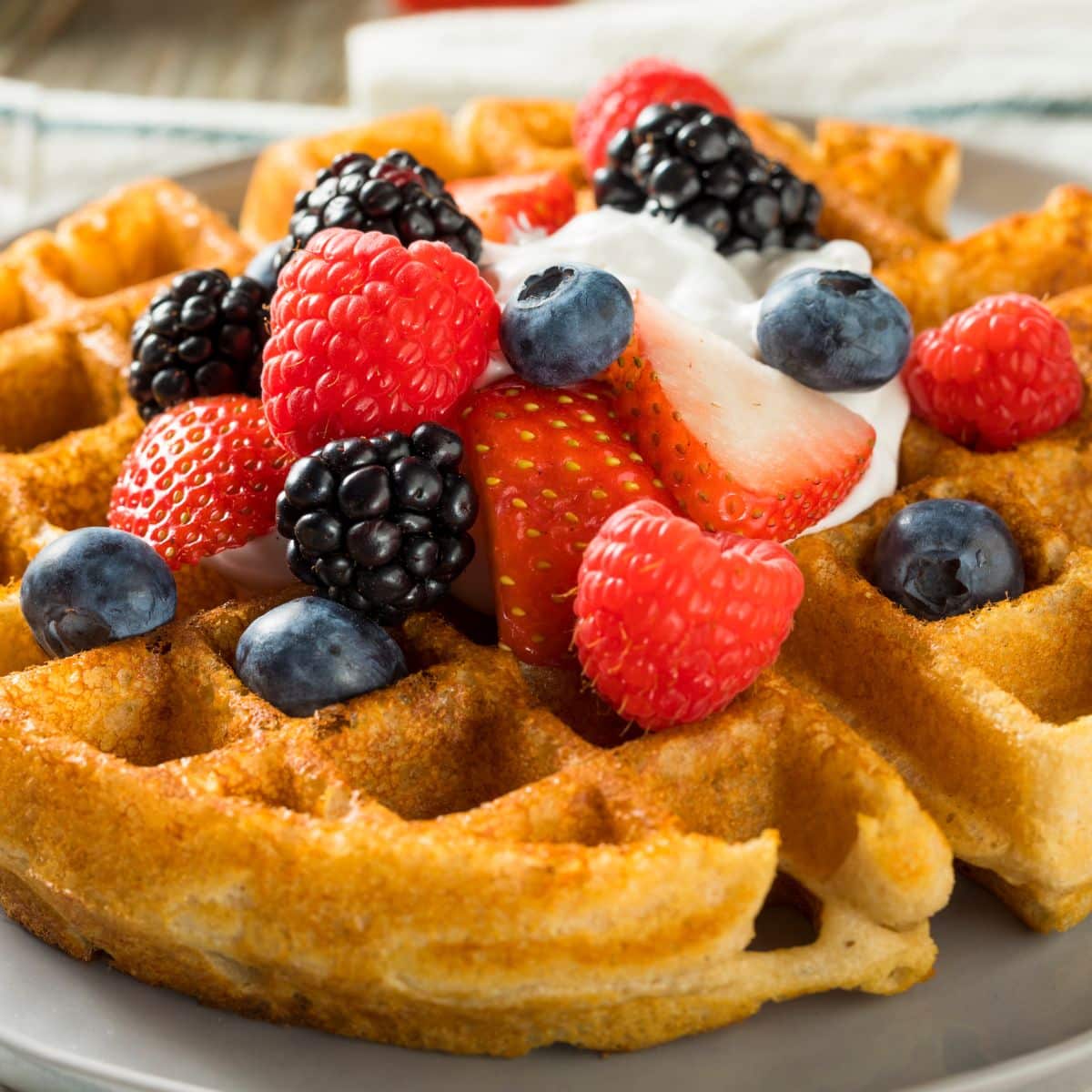 Jump to:
1. Whipped Cream
You should top every waffle with a massive dollop of homemade whipped cream! Not only is it delicious by itself, but it also pairs well with practically any other sweet toppings you like!
2. Maple Syrup
There is not a more classic pairing out there than waffles and maple syrup! So go ahead and use your waffles to sop up all of this sweet, golden goodness!
3. Butter
Maybe it's just me, but I believe that butter belongs on every waffle. It adds a rich and creamy element while allowing the flavor of the waffle to shine through!
4. Fried Chicken
Chicken and waffles is a Southern staple! This warm and comforting dish is salty, sweet, and extremely satisfying!
5. Country Gravy
Of course, gravy always goes great with a nice savory waffle dish! Whether you use it by itself or alongside some other toppings (like fried chicken or bacon), it will be delicious!
6. Cinnamon Sugar
You can never go wrong with a sprinkle of cinnamon sugar. You can use it as a single topping to simply bring some extra flavor to your waffles, or sprinkle it atop your other toppings as well!
7. Microwave Bacon
Add some slices of bacon on top of your waffles and then drizzle the entire thing with some maple syrup for the perfect combination of sweet and salty! Once you try it, you'll never be able to eat bacon alone again!
8. Cherry Pie Filling
For a sweet-yet-tart addition, top your waffles with some cherry pie filling! Personally, I think the homemade variety is much better, but you can also make the store-bought version taste great too!
9. Vanilla Icing
Just a drizzle of this sweet vanilla icing is all it takes to make your waffles extra delicious! The hardest part is just deciding if you want to drizzle a little or a lot!
10. Blueberry Syrup
This homemade blueberry syrup is a fruit lovers dream! Not only does it add a beautiful color to your waffles, but it also contributes a sweet and fresh flavor!
11. Raspberry Pie Filling
Instead of syrup, opt for a nice spread of raspberry pie filling. It adds a fresh and fruity twist that is completely crave-worthy!
12. Baked Cinnamon Apples
Let all of the cozy fall flavors shine with these tender and delicious cinnamon apples!
13. Pineapple Pie Filling
Pineapple might not be the first fruit to come to mind when thinking about waffles. However, the wonderful punch from this homemade pineapple pie filling is just the right amount of tang to make a truly tasty waffle!
14. Roasted Berries
These sweet roasted berries are a personal favorite of mine for topping just about anything. I love berries to begin with, and roasting them just makes them even better!
15. Lemon Curd
This lemon curd is sweet, tart, acidic, and packed with citrus all at the same time! Trust me when I say that it will take your waffles to the next level!
16. Texas Chili
If you're in the mood for some dinner, add a heaping scoop of Texas chili on top of your waffle! It works especially well if your homemade waffle is already savory (like one made from cornbread!)
17. Chantilly Cream
If you've never tried it, chantilly cream is ideally a sweeter version of whipped cream. If you're wanting an amazingly decadent waffle dessert, this will be your go-to topping!
18. Chorizo and Eggs
This satisfyingly savory combination pairs perfectly with waffles for a well-rounded and complete breakfast!
19. Toffee Sauce
This sticky and sweet toffee sauce will easily make your waffle an irresistible dessert! Add it by itself or pair it with some light and fluffy whipped cream!
20. Apple Curd
If you imagined a fruit spread that was completely fall-inspired, it would be this apple curd. It has a bold apple flavor and is complemented by bright notes of cinnamon!
21. Cajun Shrimp
For an unforgettable brunch, top your waffles with some zesty Cajun shrimp! Plus, you can make them in less than 10 minutes!
22. Strawberry Coulis
This thin strawberry sauce is even better than syrup! It is incredibly refreshing and addictive- you'll want to use way more than just a drizzle!
23. Vanilla Nice Cream
Turn this breakfast icon into a dessert dream by loading it up with some ice cream! This 'nice' cream features frozen bananas for a much healthier alternative!
24. Apple Pie Filling
If you love apple desserts like I do, you must be wondering why you have never considered topping your waffles with homemade apple pie filling! It brings all of the flavor of traditional apple pie right on top of your fluffy waffle.
25. Blackberry Pie Filling
This blackberry pie filling is a fantastic option if you don't have any syrup on hand (or simply want to try something new!) It is easy to make at home and tastes so much better than the canned variety from the store!
26. Pineapple Curd
For a tropical experience, use a spread of pineapple curd across the top of your waffles! It is so simple to make this homemade version, you'll have to try it for yourself!
With this list of delicious waffle toppings, there's no way to go wrong the next time you whip up some homemade waffles! Leave a comment down below and let me know which topping is your personal favorite!
😋 Tasty Recipe Collections
📖 Recipe Card