These macaron flavors are the best of the best options out there to completely satisfy your craving for some sweet macarons! From fruity to decadent to classic, I have a flavor you're going to love! Join me as we take a look at all of the best macaron flavors around.
Best Macaron Flavors
Macarons are such a versatile and fun bite-sized treat! They make wonderful additions to gift baskets, can be enjoyed as a snack, or served to a crowd!
I put together this massive list of over 30 delicious macaron flavors that are great for any occasion, any time of the year! You'll want to try them all!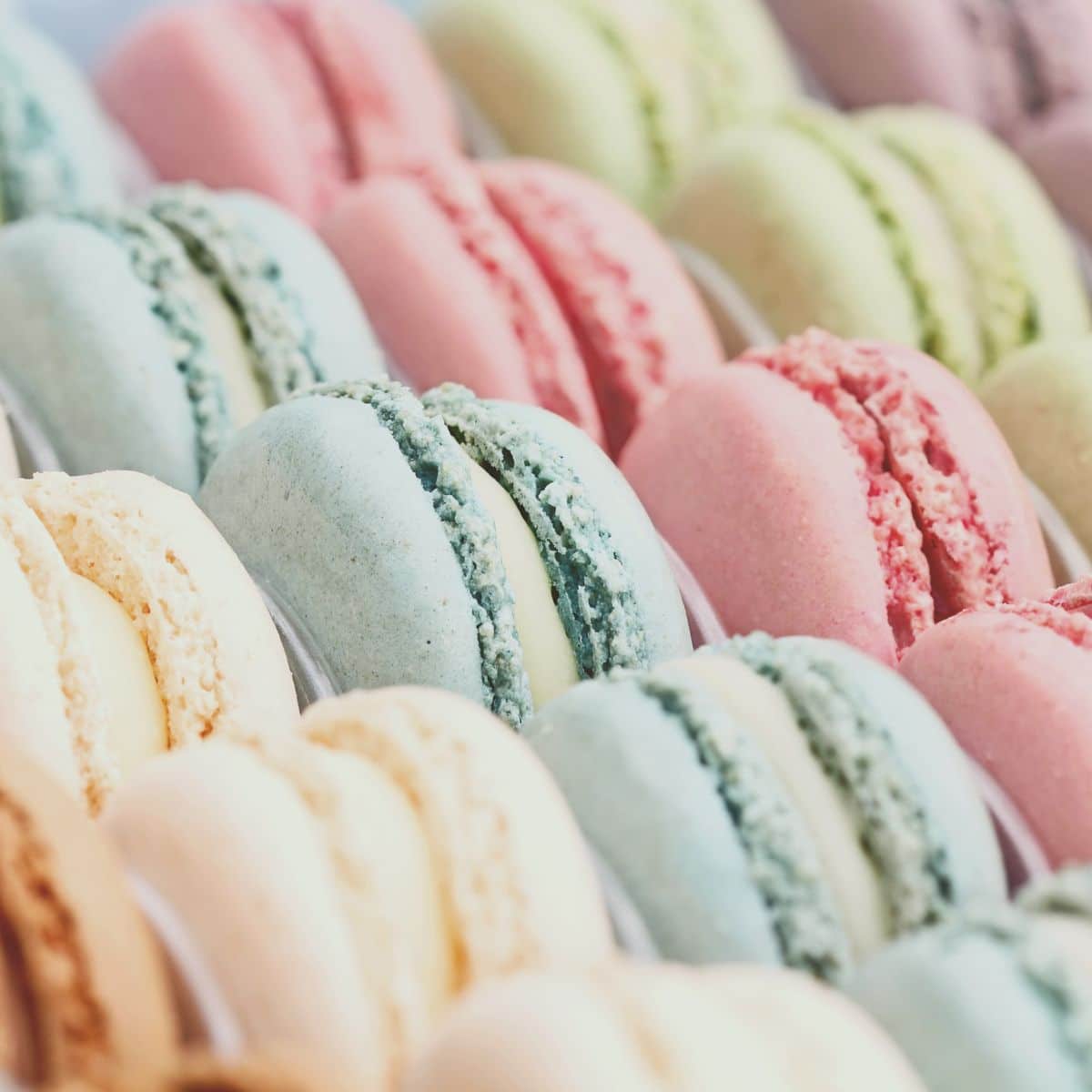 Jump to:
Difference Between Macarons & Macaroons
You have probably heard the terms macaron and macaroon be used interchangeably, right? However, they are not the same thing.
Obviously, they do have a similar ingredient list. One key difference, though, is that macarons tend to use finely ground almond flour whereas macaroons use shredded coconut!
In short, macaroons are chewy little coconut cookies while macarons are a French dessert made by sandwiching a sweet filling between two crispy almond-based cookies.
The confusion between these two items is more of a pronunciation error. Most of the time, when you hear someone say "macaroon", they are actually talking about the French macarons, but are just pronouncing them incorrectly!
1. Chocolate
These rich and decadent macarons have a chocolate, crisp exterior, and are filled with an indulgent chocolate ganache! They are sure to be a hit with any chocolate lovers!
2. Vanilla
These sweet, light, and airy vanilla macarons are the perfect way to satisfy any sweet craving! Enjoy them by themselves or with some coffee!
3. Red Velvet
These red velvet macarons are incredibly stunning to look at and are a treat to eat! They have a beautiful red velvet shell and are filled with sweet cream cheese frosting.
They will definitely be making an appearance in any Christmas gift baskets I make this year!
4. Strawberry
These macarons feature a refreshing strawberry flavor in both the shell and the filling! It uses ground-up freeze-dried strawberries, yum!
5. Lemon
These extra-citrus macarons are filled with both lemon buttercream and lemon curd! They're perfect for anyone who loves the flavor of lemons!
6. Key Lime
If you enjoy key lime pie, then you are in for a real treat with these macarons! They are filled with a rich key lime buttercream frosting!
7. Raspberry
These tasty macarons feature freeze-dried raspberries in the cookie and fresh raspberries in the filling! Yum!
8. Salted Caramel
If you're a fan of salted caramel desserts, this recipe will be a new favorite! They have a simple outer shell but are filled with homemade salted caramel buttercream!
To make things even better, they are drizzled with some more salted caramel and topped with coarse sea salt!
9. Pistachio
These beautifully green macarons use dry roasted pistachios that have been finely ground in a food processor and then sifted!
10. Strawberry Cheesecake
Strawberry cheesecake macarons use standard macaron shells. However, they have a sweet filling that is made with strawberry jam, cream cheese, sugar, and milk!
11. Nutella
Who doesn't love Nutella in every way shape and form? The shells themselves are classic macaron shells that have cocoa powder incorporated into them.
The rich and decadent filling uses both cocoa powder and Nutella to make a crave-worthy buttercream!
12. Coconut
Both the shells and the filling include coconut in these sweet macarons! The beige color makes them a perfect blank canvas for any decorations you could imagine!
13. Snickers
You may think that these macarons just taste like a Snickers bar. But let me tell you, they include actual Snickers in the filling! Yum!
14. Oreo (Cookies & Cream)
These Oreo macarons are exactly as delicious as they sound. For the filling, they use the actual cream filling from the inside of Oreo cookies!
15. Marshmallow
These sweet and chewy macarons are a perfect addition to your cup of hot chocolate!
16. Mocha
These coffee-flavored mocha macarons use instant espresso in both the cookie and the filling for an extra delicious flavor!
17. Matcha
If you aren't sure what matcha is, it is a type of green tea! If you are a fan of all things tea, go ahead and give these matcha-flavored macarons a try!
18. Eggnog
Eggnog macarons just sound like a perfect addition to any Christmas-time gift baskets! They have a hint of nutmeg and cinnamon and are filled with an eggnog buttercream!
These would be perfect for your holiday dessert table!
19. Peppermint
Another winter-inspired favorite flavor! These peppermint cookies are bursting with that cool and minty peppermint flavor, they even have crushed-up candy canes in them!
20. Wild Blueberry
These blue macarons have blueberry preserves in both the buttercream, as well as the center itself!
21. Birthday Cake
These funfetti-style macarons are loaded with tons of colorful and fun sprinkles! These are the perfect treat to gift for a birthday!
22. Champagne
Elegant and sophisticated, who knew the flavor of champagne could be contained in a small, bite-size cookie? The buttercream contains a tablespoon of your favorite brand of champagne!
These are fantastic for a bridal shower, wedding, or any other type of celebration!
23. Lavender
These lavender macarons have a hint of lemon in the shell for a lovely citrus flavor. The filling consists of a lemon honey buttercream that is to die for!
24. Mango
The buttercream filling in these macarons includes a mango reduction for an explosive mango flavor!
25. Chocolate Peanut Butter
Is there a better dessert combination than chocolate and peanut butter? These chocolate cookie shells are filled with a wonderfully salty peanut butter frosting!
26. White Chocolate
These gorgeous white chocolate macarons give me complete wedding vibes. They are filled with a sweet white chocolate ganache!
27. Pumpkin
Pumpkin is such a classic fall flavor, I love to make pumpkin-flavored desserts!
Use some pumpkin pie spice in the cookies themselves (as well as the buttercream) for the best flavor!
28. S'mores
If you want an out-of-this-world macaron idea, this is it! These s'mores macarons have a chocolate filling as well as a toasted jumbo marshmallow!
29. Apple Pie
These fancy cookies include an actual apple pie filling as well as buttercream! They truly taste just like an apple pie in little bite-sized treats!
30. Tiramisu
If you're a fan of this traditional French, coffee dessert, then this flavor is a must-try! The cookies have a vanilla-coffee-almond flavor while the filling uses instant coffee and Amaretto (or almond extract)!
💡 Tips & Tricks For The Best Macarons
Make sure that any of your refrigerated ingredients (such as eggs) have come to room temperature before using!
Weighing all of your ingredients is the best way to ensure that you have the most accurate measurements possible (which truly matters in macarons). After all, baking is a science!
Make sure you don't overmix your batter because it will cause your macarons to flatten out.
Don't skip out on sifting your ingredients. This is what helps to achieve the perfect texture!
If you don't have a macaron mat, you can simply print out a template to ensure they are all the perfect size!
Let your macarons rest for 30-60 minutes before putting them in the oven. This allows them to form the feet.
❓ FAQ
I hope this list of macaron flavors has inspired you to try something new! Leave a comment down below and let me know which flavor you are the most excited to try out!
🍩 More Sweet Collections
📋 Recipe