Waffles vs Belgian waffles - what is the difference, where did they originate, do they use the same batter, and which waffle maker do I need? I have all of the answers (and more) to these important questions! Here is the best guide to everything you need to know about waffles and Belgian waffles.
Difference Between Waffles & Belgian Waffles
Waffles are an incredibly popular breakfast staple in many households! I'm sure you've heard people talk about waffles and Belgian waffles, but do you know what the differences really are?
These two breakfast treats are actually more different than you might think. From recipes to origins and even toppings, there are a lot of variances between the two!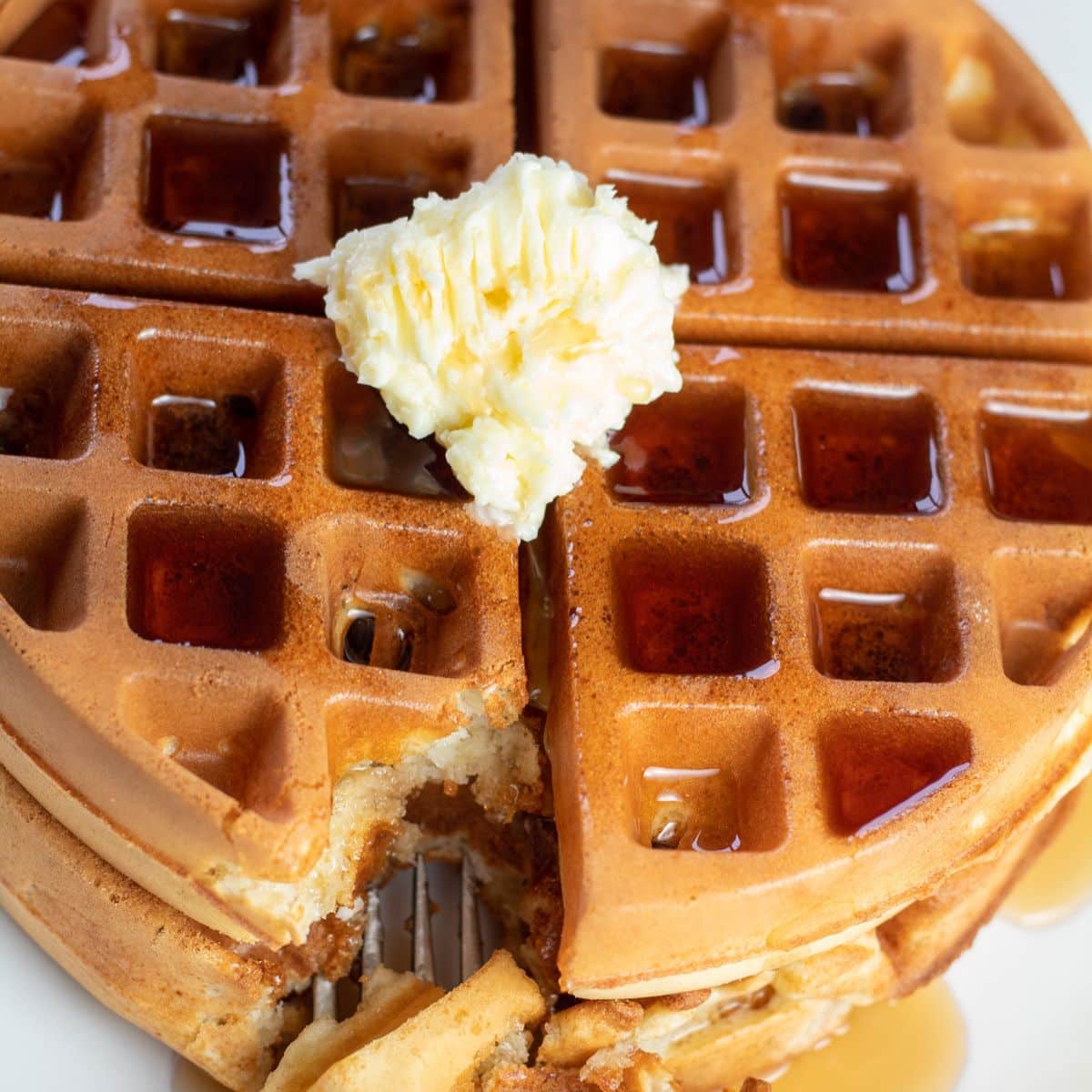 Jump to:
🤔 What Is A Waffle
Waffles can go by many different names. They might be referred to as American, classic, old-fashioned, regular, or traditional waffles.
This amazingly popular treat is enjoyed as both breakfast or dessert! It has a batter that is cooked between two heated plates- and you can even find a waffle iron in a ton of different shapes!
🤨 What Is A Belgian Waffle
Belgian waffles are a type of waffle that is made with a thin, yeast-based batter. They are made by being cooked between two heated plates that have large and deep pockets!
🌍 Origin
Would you be surprised if I told you that these two types of waffles don't even have the same background? They originated in different places during different time periods!
History Of Waffles
Waffles are actually one of the oldest breakfast options around! They date all the way back to ancient Greece. However, they are relatively different than the kind that you know and love today.
In Greece, the obelios (as the Greeks called them) used a cereal-based batter that was cooked between two metal plates. They didn't yet have the classic pockets found in waffles today, and they were meant to be savory!
Now, jump to Europe during the Medieval times when the Catholic church began serving waffles to accompany communion wafers. They would draw religious symbols on them and serve them after meals, calling them oublies.
As time passed, these waffles had an evolving taste due to the spices and seasonings that the Crusaders brought back with them from their expeditions!
As these popular treats begin to spread across all of Europe, they became known as wafers. They were cooked over an open fire between two metal plates with long handles. As the pans grew deeper over time, the name became wafel.
Now, the waffles that we all know and love today are pinpointed to two distinct countries: the Netherlands and Belgium.
Waffles gained global popularity as the Dutch version of wafles came to the United States with the pilgrims in 1620! The rest is history!
History Of Belgian Waffles
Belgian waffles were first created at The Brussels World Fair Expo in 1958. They were actually called the Brussels waffle. They were introduced to America in 1962 at the World's Fair, but no one seemed to care for them.
However, just a couple of years later at the 64-65 World's Fair, Maurice Vermersch offered a plain Brussels waffle as well as one that was topped with whipped cream and strawberries. Of course, the topped variety was a hit and the family changed the name to Belgian waffles.
🧇 Appearance
Traditional waffles are much thinner and smaller than Belgian waffles. They have small pockets while Belgian waffles have larger, deeper pockets.
🥣 Batter Recipe
There is a common misconception that both regular waffles and Belgian waffles use the same batter and are just cooked in different types of waffle makers. However, this is not true!
Belgian Waffle Batter
Belgian waffles have a batter that is yeast-based. It is actually fairly common for people to mix up the batter for a Belgian waffle and then allow it to sit overnight before cooking it in the morning.
These waffles always require a leavening agent or use egg whites to ensure that the waffles come out lighter-than-air and ultra fluffy!
Old-Fashioned Waffle Batter
Traditional waffles are denser than Belgian waffles. They also don't use yeast and have a batter that is more similar to pancakes (but still not the same).
Since regular waffles don't have yeast, they use baking powder as a leavening agent. You may find some Belgian waffle recipes also include baking powder, but they do not contain as much as American waffles.
🍳 Waffle Makers
Regular waffles can be made in any type of waffle maker you can find! They come in all kinds of special shapes, rectangles, circles, as well as different sizes!
However, Belgian waffles require a specific piece of equipment to cook them. You need a Belgian waffle maker! These waffle irons have the large and deep grids that Belgian waffles are known for.
Additionally, they have a unique way of being used. The batter is poured into the waffle iron, closed, and then flipped for the waffles to cook!
🍽️ Waffles vs Belgian Waffles
We've now discussed all the different components of these two tasty breakfast items.
Traditional waffles have been around much longer than Belgian waffles- and have evolved a ton along the way! These standard waffles are thinner and denser and use a recipe that does not involve yeast, unlike the Belgian variety.
While you can pour American waffle batter into any waffle iron you like, you need a specific Belgian waffle maker for a truly authentic Belgian waffle!
📊 Cheat Sheet
| | | |
| --- | --- | --- |
| | Standard Waffles | Belgian Waffles |
| Origin | Ancient Greece | Belgium - 1958 |
| Appearance | Thin, small pockets | Thick, large pockets |
| Recipe | More baking powder | Yeast, egg whites |
| Waffle Maker | Any type of waffle maker | Belgian waffle maker |
😋 Which Is Better
Of course, just like any food out there, the waffle that you think is the best is completely up to you! Some people prefer the thinness of standard waffles. However, others love that the deep pockets of Belgian waffles can hold a ton of tasty toppings! Which one do you prefer?
Now that you've read this guide all about waffles vs Belgian waffles, let me know what you think! Leave a comment down below!
❓ FAQ
Can Belgian Waffles Be Made In A Regular Waffle Maker?
Nope! The reason that this won't work is that the batter is made in a way that allows it to rise significantly. If you use a standard waffle maker, the batter won't be able to rise while it cooks. Of course, you won't have the traditional deep pockets either.
Why Do Belgian Waffles Need To Be Flipped?
If you've ever used a Belgian waffle maker, you know that they flip over while the waffle is cooking. This is for two reasons.
First, it helps the batter to spread out more evenly. Additionally, it helps the waffle to cook quicker!
What Are The Two Types Of Belgian Waffles?
There are two types of Belgian waffles: Brussels waffles and Liege waffles. The Brussels waffles are what you think of when you hear the term "Belgian waffle," as it is the same variety that was introduced to America.
Liege waffles are filled with clusters of pearl sugar that carmelize during the baking process. They have a thicker batter (similar to bread) and uneven edges.
📚 More Helpful Baking Comparisons
📋 Recipe
Print Recipe
Leave A Comment
Love This Recipe?
Click On A Star To Rate It!
Waffles vs Belgian Waffles: Waffles (Guide To Everything You Need To Know)
Waffles vs Belgian waffles - what is the difference, where did they originate, do they use the same batter, and which waffle maker do I need? I have all of the answers (and more) to these important questions! Here is the best guide to everything you need to know about waffles and Belgian waffles.
Pin Recipe
Share on Facebook
Ingredients
2

large

eggs

2

cups

all-purpose flour

(or whole wheat flour)

1¾

cups

milk

(or use buttermilk)

½

cup

vegetable oil

(or cooled, melted butter)

2

tablespoon

sugar

(or maple syrup - *see note)

4

teaspoon

baking powder

¼

teaspoon

salt

1

teaspoon

vanilla extract

½

teaspoon

cinnamon

(optional)

¼

teaspoon

nutmeg

(optional)
Instructions
Add your eggs into a large bowl and then whisk them until light and fluffy (*see note).

In the same bowl, add your flour, milk, and oil (or butter) and stir to combine.

2 cups all-purpose flour,

1¾ cups milk,

½ cup vegetable oil

Next, stir in the sugar (or syrup), baking powder, salt, vanilla, and the optional cinnamon and nutmeg, if using. Mix the batter until it is just combined, do not over-mix it.

2 tablespoon sugar,

4 teaspoon baking powder,

¼ teaspoon salt,

1 teaspoon vanilla extract,

½ teaspoon cinnamon,

¼ teaspoon nutmeg

Cover the batter and allow it to rest for 30 minutes before cooking your waffles. It can also be refrigerated at this point for another day. *Remember to start preheating your waffle iron about 5 minutes before you're ready to make a fantastic waffle breakfast.*

Once your waffle iron is fully heated, spray it with some nonstick cooking spray. Pour the batter into the waffle iron and cook until the waffles have turned a golden-brown color (*see note). This could take about 3-5 minutes, depending on your waffle iron.

Repeat with the remaining batter and serve immediately.
Equipment You May Need
Notes
For an extra delicious flavor, I love to swap out the sugar for maple syrup! It tastes so good, especially if I'm serving the waffles with syrup!
The more you beat your eggs, the lighter and fluffier your waffles will be! I like to separate the egg whites, beat them until fluffy, and then fold them into the batter with the yolks.
Let the waffle batter rest for 30 minutes for the BEST WAFFLES. Skipping this time results in chewy waffles that are not as great as they could be.
One great way to know that your waffles are done (without having to open the waffle iron) is to wait until it quits shooting out steam!
You can easily make this batter in advance for an easy breakfast the next day! Simply make the batter the night before and store it in the fridge. In the morning, give it a quick whisk before pouring it into the heated waffle iron.
To freeze: Wrap any leftover waffles in wax paper and place them into a freezer bag. Pop them into the toaster to reheat!
Nutrition
Calories:
397
kcal
(20%)
|
Carbohydrates:
41
g
(14%)
|
Protein:
9
g
(18%)
|
Fat:
22
g
(34%)
|
Saturated Fat:
5
g
(31%)
|
Polyunsaturated Fat:
11
g
|
Monounsaturated Fat:
5
g
|
Trans Fat:
0.1
g
|
Cholesterol:
63
mg
(21%)
|
Sodium:
148
mg
(6%)
|
Potassium:
443
mg
(13%)
|
Fiber:
1
g
(4%)
|
Sugar:
8
g
(9%)
|
Vitamin A:
195
IU
(4%)
|
Vitamin C:
0.01
mg
|
Calcium:
220
mg
(22%)
|
Iron:
2
mg
(11%)
waffles, waffles vs belgian waffles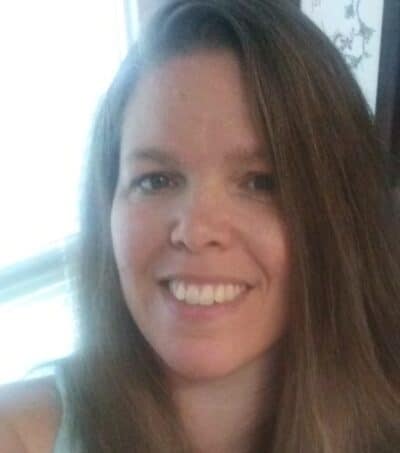 Angela is an at home chef that developed a passion for all things cooking and baking at a young age in her Grandma's kitchen. After many years in the food service industry, she now enjoys sharing all of her family favorite recipes and creating tasty dinner and amazing dessert recipes here at Bake It With Love!