The all-important question, butter vs shortening in baking, is a wonderful topic to explore that will also help you to bake better overall! The answer isn't so simple, so read all about it here to help you decide which is best!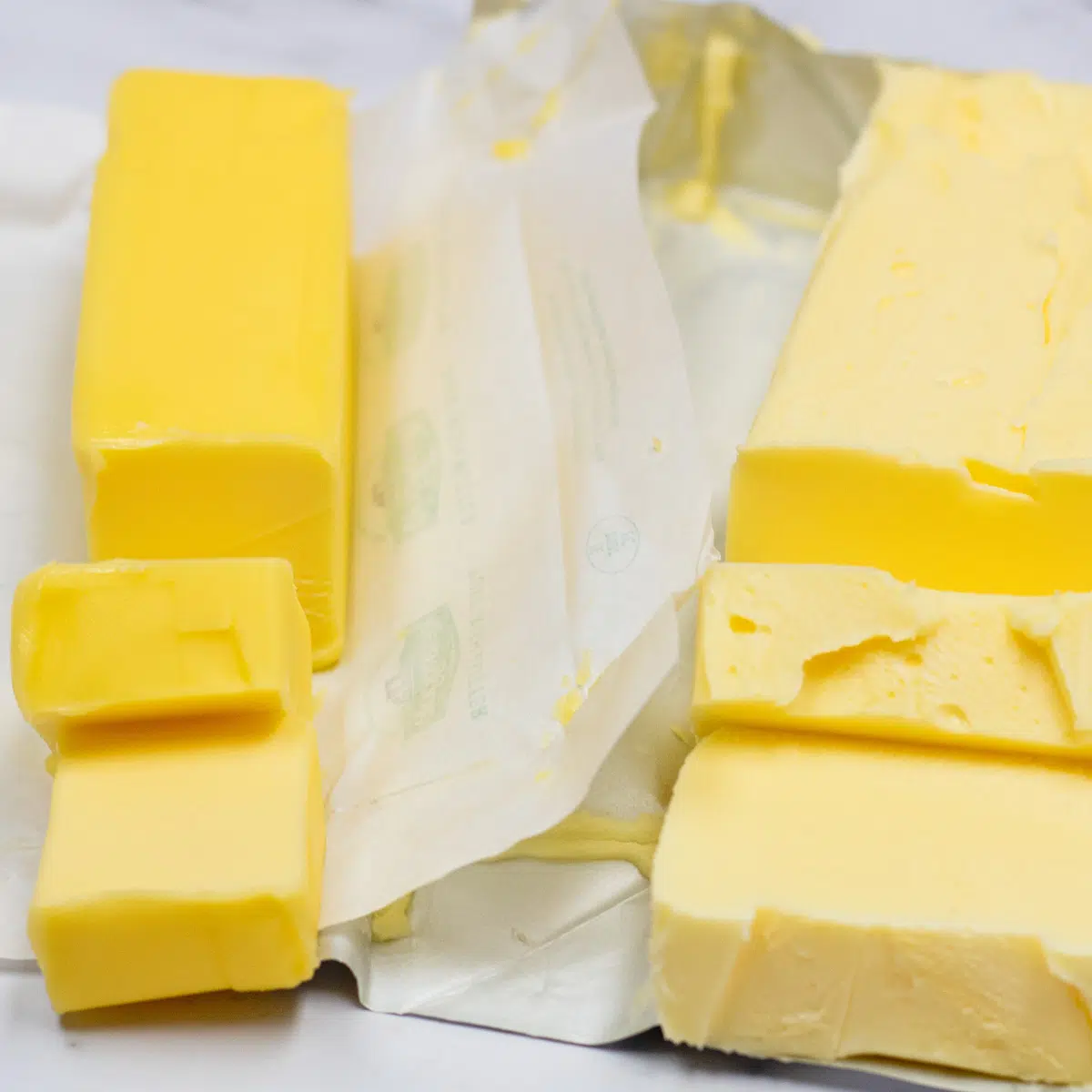 Butter and shortening are the two most commonly used fats in baking today, but which is best??
This is a commonly asked question that has that dreaded answer. It depends. Yikes, sorry!
There are actually quite a few considerations to think about when deciding which option is best for your particular recipe. After that, it all comes down to personal preferences.
Jump to:
Is It Better To Use Butter or Shortening When Baking?
Usually, when you think about making a baked treat it is to satisfy your "sweet tooth." This may make you think the most important ingredient to achieving the desired taste of a baked good is sugar.
However, the overall taste of a baked good has less to do with the sugar and more to do with the fat.
Achieving a certain taste, texture and even structure for baked goods will all come down to the type of fat you choose to use. So, what is the best fat you may ask? That all depends!
Fat can refer to oil, shortening, margarine, butter, or plain old lard. Butter and shortening are the most common types of fat used in baking though, so we will focus on those two for today.
Both butter and shortening have their place in the baking world. In most recipes, you can even substitute one for the other.
So why would you choose to use one over the other? The decision to use butter or shortening depends on your desired outcome in three areas: structure, texture, and taste.
Before diving into how butter and shortening impact the outcome of baked goods, it's important to look at the difference between the two.
What Is Shortening?
Recipes that call for shortening rarely tell us what shortening is or why we must use this strange concoction. Yet, we scoop out the white oily substance from the can in blind faith and trust it will turn into a delicious baked good.
If we follow the recipe correctly, it does!
Well, it's time to reward that blind faith in the kitchen and clear up any questions you may have about this curious kitchen staple.
The literal definition of shortening is, "any fat that is solid or semi-solid at room temperature." Just imagine that can of Crisco on the pantry shelf that maintains its perfect solid form year-round.
Shortening is made from plants. Specifically edible oils that have been extracted from olives, sunflowers, and soybeans. If it comes from edible oils, why is it solid and not liquid? That is the result of a process called hydrogenation.
There is a more complex scientific explanation of hydrogenation, but here is the simple explanation for the purpose of understanding shortening.
Vegetable oil (from olives, sunflowers, or soybeans) goes through a process that turns it from unsaturated fat (in the liquid state) to saturated fat (in a solid state). Thus, shortening = hydrogenated vegetable oil.
Why does this matter? Two reasons.
Shortening is a 100% fat with zero water content.
Shortening has a high melting point.
The two elements of shortening are the key to understanding how and when to use it in baking.
First, let's look at what butter is. Then we can compare how the two different fats are used in your favorite baked treats.
What Is Butter?
Butter is less confusing than shortening. It's a staple that many of us use daily in our kitchen. However, while you may use butter without question simply based on taste, there are more ways this favored fat can impact baking.
Butter is a dairy product that is made from churning milk. Therefore, unlike shortening that is 100% fat, butter is only 80% fat. The other 20% is about 16-18% moisture and about 2-4% milk solids.
The other 20% is what makes butter so different from shortening. Butter has a water content that shortening does not.
The water content in butter also impacts its melting point. Since butter is only 80% fat it will melt at lower temperatures and more quickly than shortening.
The biggest difference between butter and shortening
The fat content and the water content of butter and shortening are what create the differences in taste, texture, and structure when baking with these two ingredients.
Generally, shortening provides baked goods that are flakier and crumblier in texture. This is a result of the lack of water content.
As a result of the high melting point, treats like cookies will also be thicker and rounder.
On the other hand, treats baked with butter often result in a thinner or flatter structure since the butter melts and spreads faster. However, because of the water content in butter, your cookies will be chewier and other sweet treats will be moister.
These are the simple rules of when to choose shortening or butter. These rules vary slightly from recipe to recipe though.
Keep reading to see how butter and shortening impact all your favorite baked goods. This will help you determine which one you prefer, or when you can substitute one for the other.
Cookies
When deciding whether to use butter vs shortening for cookies it all comes back to your personal preference of texture, structure, and taste.
Using all butter will give you a deliciously chewy and moist cookie. However, remember that butter melts at low temperatures.
Therefore, cookies made with all butter will spread during baking. The result will be a flat, but chewy, cookie.
Due to the high melting point of shortening, using all shortening will give you a rounder and thicker cookie. However, the lack of water in shortening will create a cookie that has a crumblier texture.
While the texture is important, it doesn't replace the quality of taste. Butter will give you exactly that, a nice buttery taste. Shortening on the other hand is simply oil.
This will provide either no additional flavor or can result in the hint of an oily taste in the cookie, depending on the type of cookie.
With so many differences between the two choices, it may seem difficult to decide which direction to go. So why choose!
Cookies are the perfect sweet treat to use both shortening and butter!
Simply replace half of what the recipe calls for (either butter or shortening) with half of the other ingredient. Want the best of both worlds? A moist cookie that is also round?
This 50/50 split of butter and shortening will give you the best of both worlds! The perfect cookie: moist, chewy, buttery, and round!
Pie crusts
Many pie crust recipes call for shortening. This is because the perfect pie crust is often described as "nice and flaky." Using all shortening will give you exactly that – a nice flaky crust.
However, this doesn't mean butter is not a contender for a perfect pie crust!
When using only butter, the crust around the outside edges of the pie will be more golden. Moreover, the bottom of the crust will often be moist and denser. A crust made with shortening will be flaky throughout.
What about taste? Taste in pie crust comes down to preference.
The pie filling is usually the star of the show, so taste may not be as important when it comes to the crust. A crust made with shortening will be blander, while a butter crust will once again provide a rich buttery flavor. Try one of each and see what you prefer!
Breads
The use of butter and shortening when baking bread is more complicated than other baked goods.
Unless a bread recipe specifically calls for shortening it is best to use butter, especially for yeast bread.
Water helps yeast rise; therefore, the moisture content in butter is essential to achieving the desired rise, structure, and texture of the bread. If you choose to substitute shortening for butter in yeast bread you will need to adjust the rising time.
This will vary depending on the recipe; therefore, it is best to research what changes are needed for a specific recipe.
Quick bread recipes, or non-rising bread, are easier to modify. The general rules of baking with shortening and butter still apply.
While the moisture content is not necessary for allowing the bread to rise, it is still necessary for tasty, moist bread.
Using butter for quick bread like banana bread will result in a nice moist bread. Using shortening in these types of bread will result in a drier and often denser bread.
As always, remember to consider flavor. There's nothing quite like the buttery undertones of banana bread.
In addition, yeast bread that calls for salted butter can turn out quite bland if the butter is replaced with shortening.
Biscuits
Biscuits are the one baked good where the word "flaky" is associated with butter, rather than shortening.
If you imagine a biscuit with flaky layers and a golden top, butter is what you want. The water content in butter creates steam that creates little air pockets while baking.
This provides a nice rise in the biscuit and adds moisture to the dough. The result? Biscuits that are both flaky and moist!
In contrast, biscuits made with shortening will be crumblier, and a bit drier. Without the steam to create the natural rise from the air pockets, these biscuits will also be denser. The final texture may remind you more of an English scone.
Cakes
Different than cookies and biscuits you won't see an immediate difference in a cake that is baked with butter vs. shortening. Both cakes tend to rise about the same.
Differences in using shortening or butter are noticed more in the texture and sometimes flavor of the cake. A simple white or yellow cake made with shortening will give you a light and fluffy cake.
However, a simple cake like this may lose some of its flavor when made with shortening.
With a more complex flavored cake, like a carrot cake or a rich chocolate cake, substituting shortening for butter will not impact the flavor. In fact, the lack of flavor in the shortening is sometimes better so that the other flavors can come through.
Frosting
One of the biggest factors in deciding whether to use butter vs shortening for your frosting is based on what your frosting will be used for – and where it will be used.
Remember, shortening has a high melting point – meaning it only melts at high heat. Therefore, it will hold its shape in many different environments. Butter on the other hand will soften or even melt.
If you are decorating a cake that will be sitting on a table or outside for a long period of time – shortening is the best option. It will maintain its structure without any need for refrigeration.
However, if you decorate a cake with buttercream frosting and leave it sitting outside of the fridge for any length of time - your frosting will melt.
If you don't have to worry about frosting holding up under heat though, the taste of a good buttercream frosting is hard to beat!
So, what's better in the debate of butter vs shortening?
It all depends on the goal for your final baked treat, and your taste buds! Use the tips above to try some variations and see what you like best!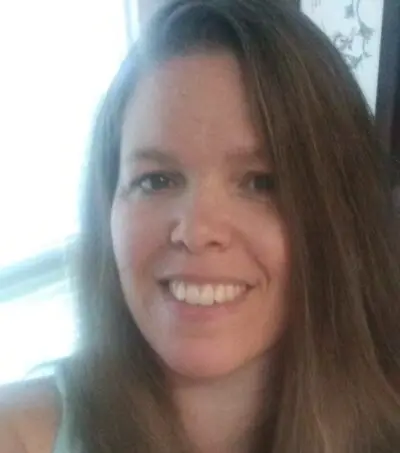 Angela is an at home chef that developed a passion for all things cooking and baking at a young age in her Grandma's kitchen. After many years in the food service industry, she now enjoys sharing all of her family favorite recipes and creating tasty dinner and amazing dessert recipes here at Bake It With Love!