Apple dessert recipes are the best way to use up some extra fresh apples for a sweet treat any time of the year! Here's a list of my all-time favorite desserts that all feature apples as the star! From pies to crisps and bars to cobbler, I have a recipe for everyone!
Best Apple Dessert Recipes
Apples are incredibly healthy, but some may say that they are even more delicious! Whether you like sweet apples, tangy apples, or sour apples there is an apple out there for you!
Apples make the best desserts and if you are looking for a delicious recipe made with apples, look no further! Below are the top apple dessert recipes that are easy to make!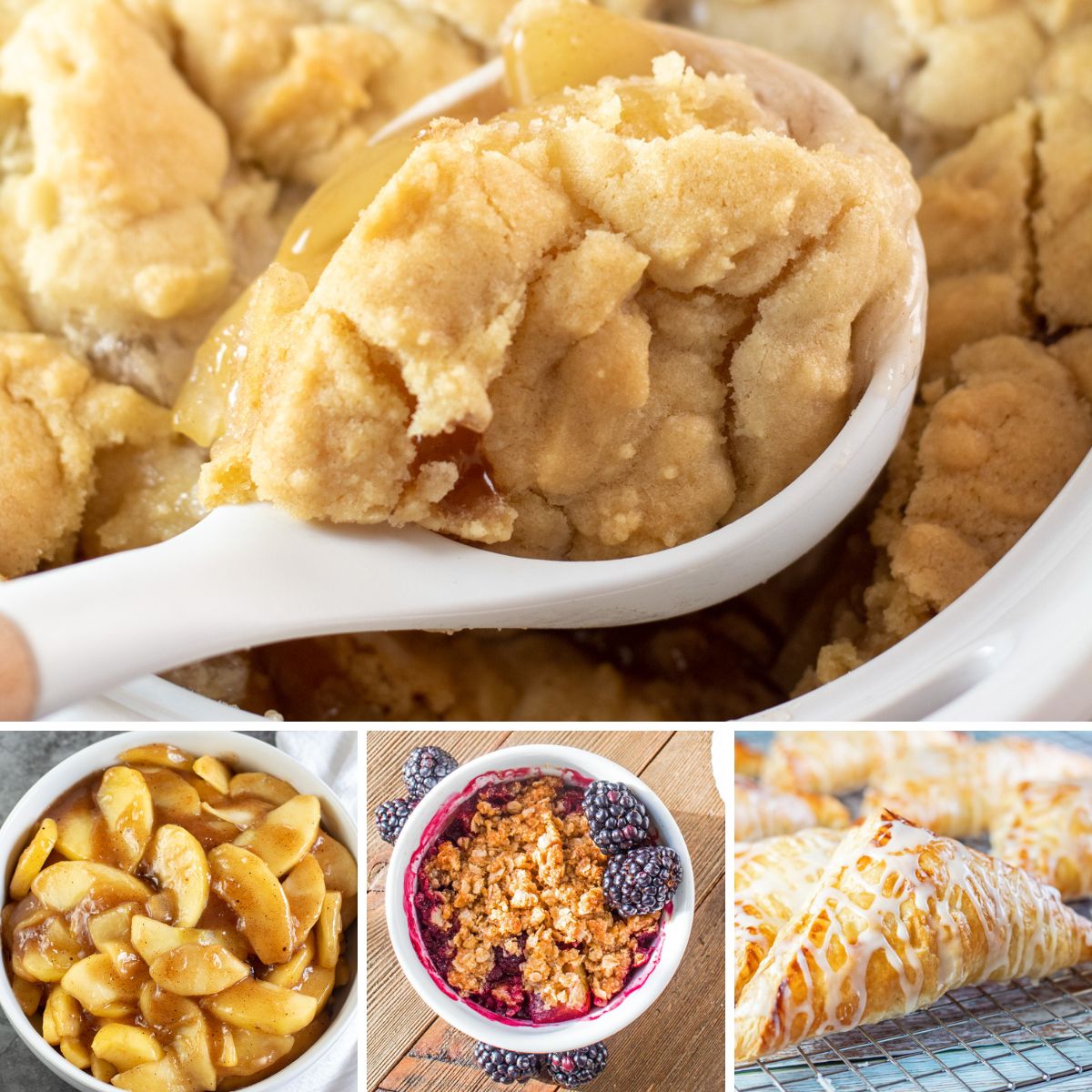 Jump to:
1. Apple Pie French Toast Casserole
Apple pie French toast casserole is great for breakfast or as a sweet treat! You will love the multiple layers of flavors and the delicious oatmeal streusel topping!
Top this casserole with your favorite syrup or whipped cream!
2. Apple Cobbler Bars
These apple cobbler bars are a great Autumn treat. They have a delicious buttery crust and an amazing vanilla glaze and are mixed with sweet apple filling!
Make these apple cobbler bars as thick or thin as you desire!
3. Sugar Cookie Apple Cobbler
Sugar cookie apple cobbler is an easy dessert that is great for everyone! This simple sweet treat uses prepared sugar cookie dough and canned apple pie filling, which make an out-of-this-world dish!
Top this cobbler with a scoop of vanilla ice cream or a dollop of cool whip!
4. Puff Pastry Apple Turnovers
These puff pastry apple turnovers are amazingly simple to make and very fulfilling. The puff pastry and apple pie filling not only give this dessert multiple layers of flavors, but they also create an amazing texture.
Top these turnovers with our sweet vanilla glaze and serve them with a hot cup of coffee!
5. Apple Crisp
I love apple crisp, it was one of the first desserts I learned how to make when I was young. It is soft, sweet, and gooey on the inside with a crispy topping on the surface, which makes it balanced and delicious.
Serve this apple crisp warm and top it with a cold scoop of vanilla ice cream!
6. Apple Curd
I love this apple curd recipe. I bet that you will love it too! Our apple curd is full of warm flavors and can be added to many recipes. Spice up your apple curb by adding nutmeg, ginger, or even cloves!
Apple curd is great hot or cold, and it's even more delicious when served with whipped cream!
7. Baked Cinnamon Apples
Bakes cinnamon apples are made with warm spices that heat you up on a brisk fall day! Baked cinnamon apples are perfectly tender and moist and can be served hot or cold.
These apples can be eaten alone or on top of waffles, pancakes, or French toast!
8. Apple Banana Bread
Apple banana bread makes my mouth water! It is full of sweet fruit and cinnamon with the perfect spongy texture. I love a thick slice of apple banana bread for breakfast, but it can be eaten any time of the day.
Serve this apple banana bread toasted with butter for an even more delicious flavor!
9. Bisquick Apple Cobbler
Bisquick apple cobbler will satisfy everyone's sweet tooth at your next party or potluck! This amazing dessert is easy to make and even better to eat.
Serve this cobbler warm with a scoop of French vanilla ice cream!
10. Apple Strawberry Crisp
Apple strawberry crisp takes apple crisp to the next level! This fan favorite is fresh and fruity with multiple layers of flavor and textures that everyone will enjoy.
Top your apple strawberry crisp with whipped cream or cool whip to make it even sweeter!
11. Blackberry and Apple Pie
Nothing is better than a giant slice of rich blackberry and apple pie! This pie is sweet and tangy with multiple spices that deepen the flavor.
Eat this pie alone or top it with your favorite brand of vanilla ice cream.
12. Apple Dump Cake
Apple dump cake is simple to make for nights when you want a sweet treat without the hassle! With multiple layers and even more delicious flavors, you will make this cake time and time again.
Don't forget to top your cake with a scoop of ice cream or a dollop of whipped cream for an even fancier presentation.
13. Apple Blackberry Crumble
Apple blackberry crumble is colorful and scrumptious! This crumble is simple to make but tastes like you spent hours in the kitchen with its gourmet presentation!
Top this crumble with a dash of cinnamon or delicious whipped cream!
14. Irish Apple Cake
This Irish apple cake is a one-of-a-kind masterpiece that is moist and will have your mouth watering! This cake is topped with vanilla custard sauce that you, your family, and your friends will love.
15. Apple Cake with Almonds
Apple cake with almonds has both crunchy and soft textures that allow it to dance around on your tastebuds. This apple cake is great for breakfast, lunch, dinner, or dessert!
This cake is great by itself but serving it with a giant scoop of ice cream is perfection!
With so many apple desserts to choose from on this list, I bet it is hard to pick which one is your favorite! Let us know in the comments which ones you love and why they are your favorites!
🍎 Apple Recipe Tips & Tricks
Choose the right apples for the job: Different apples are better for cooking or baking than others. Make sure you are using an apple variety that suits your recipe!
For a wonderfully tender pie crust: Make sure that all of your ingredients (like butter) are cold!
Use a combination of apples: Just because a recipe calls for one type of apple doesn't mean you can't use a variety! Mixing a tart variety and a sweet variety is key to getting the best flavor!
Use apple pie spice: To really bring out the natural warm apple flavors, use some homemade apple pie spice mix in any of your favorite recipes! The recipe doesn't even need to call for it, just sprinkle it in anytime you want to elevate the flavors!
Use vodka to get your pie crust extra flaky: Don't worry, it won't alter the flavor at all and it is completely safe for kids to enjoy! Check out my recipe for the best pie dough!
Make sure that you are storing your apples correctly: This will ensure that your apples are as fresh and tasty as possible! Learn how to store apples here.
❓ What Are The Best Apples For Apple Pie?
Believe it or not, different apple varieties are better for baking than others! My all-time favorite apples for pie are Granny Smith and Honeycrisp! Check out my article that is all about the best apples for apple pie.
❓ How Do You Keep Apples From Getting Mushy When Baked?
First of all, you must use the right kind of apples! If you use a softer variety, it will turn into applesauce in the oven. You want to make sure you are using a good baking apple that can hold up to the heat of the oven.
For a list of great baking apples, check out my post about best apples for an apple crisp!
Additionally, you need to have a thickener in your filling. Typically, this is flour or cornstarch. For a fantastic recipe that won't get mushy, try out my easy apple pie filling!
❓ Should I Bake My Pie Crust Before Adding Apples?
Blind baking your crust is a great trick to ensure you have an extra crispy bottom crust! Before doing anything, your pie crust needs to remain cold at all times.
Go ahead and weigh down the crust with some pie weights (or rice) and then par-bake it (the temperature and baking time will vary based on your pie crust recipe). Then, remove the weights and bake it a second time to ensure the bottom is nice and crisp.
🥧 More Baking Guides
📋 Recipe