Apple dessert recipes are the best way to use up some extra fresh apples for a sweet treat any time of the year! Here's a list of my all-time favorite desserts featuring apples as the star! From pies to crisps and bars to cobbler, I have a recipe for everyone!
Best Apple Dessert Recipes
Apples are incredibly healthy, but some may say they are even more delicious! Whether you like sweet, tangy, or sour apples, there is an apple out there for you!
Apples make the best desserts; if you are looking for a delicious recipe made with apples, look no further! Below are the top apple dessert recipes that are easy to make!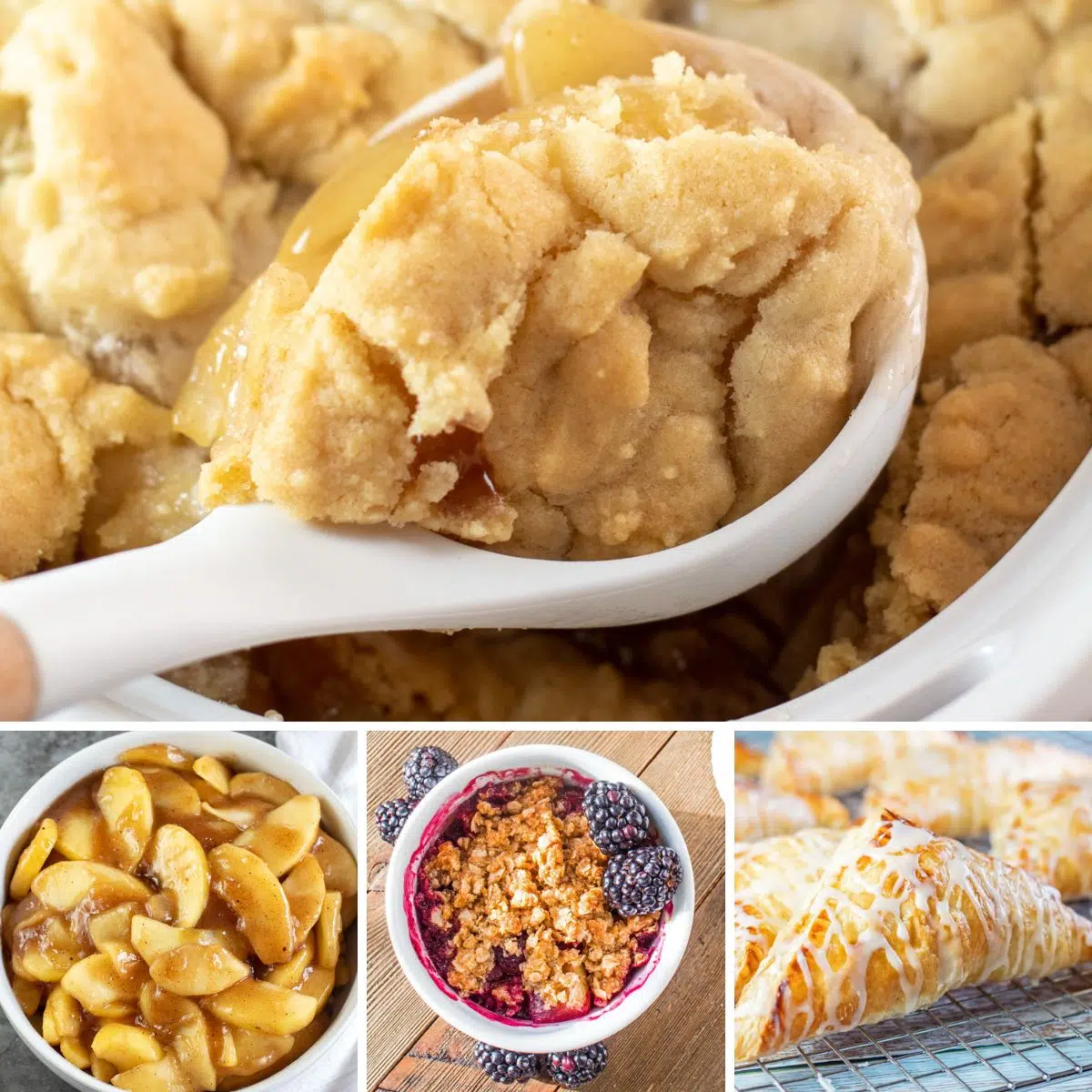 Jump to:
If you have your heart set on an apple cake specifically, here are all my favorite apple cake recipes in one place! You can also check out these fall baking recipes for more great desserts!
1. Apple Pie French Toast Casserole
Apple pie French toast casserole is great for breakfast or as a sweet treat! You will love the multiple layers of flavors and the delicious oatmeal streusel topping!
Top this casserole with your favorite syrup or whipped cream!
2. Apple Cobbler Bars
These apple cobbler bars are a great Autumn treat. They have a delicious buttery crust mixed with sweet apple filling, then topped with an amazing vanilla glaze!
Make these easy apple cobbler bars as thick or thin as you desire!
3. Sugar Cookie Apple Cobbler
Sugar cookie apple cobbler is an easy dessert that is great for everyone! This simple sweet treat uses prepared sugar cookie dough and canned apple pie filling, which make an out-of-this-world dish!
Top this cobbler with a scoop of vanilla ice cream or Cool Whip!
4. Puff Pastry Apple Turnovers
These puff pastry apple turnovers are amazingly simple to make and very fulfilling. The puff pastry and apple pie filling not only give this dessert multiple layers of flavors but also create an amazing texture.
Top these turnovers with my sweet vanilla glaze and serve them with a hot cup of coffee!
5. Apple Crisp
I love an apple crisp because it was one of the first desserts I learned how to make when I was young. It is soft, sweet, and gooey inside, with a crispy topping on the surface, making it balanced and delicious.
Serve this apple crisp warm, and top it with a cold scoop of vanilla ice cream!
6. Apple Curd
I love this apple curd recipe. I bet that you will love it too! My smooth and flavorful apple curd is full of warm spices and can be added to many recipes.
Apple curd is great hot or cold and is even more delicious when served with stabilized whipped cream!
7. Baked Cinnamon Apples
Bakes cinnamon apples are made with warm spices that heat you up on a brisk fall day! Baked cinnamon apples are tender and moist and can be served hot or cold.
These apples can be eaten alone or used as a tasty topping for waffles, pancakes, or French toast!
8. Apple Banana Bread
Apple banana bread makes my mouth water! It is full of sweet fruit and cinnamon with the perfect spongy texture. I love a thick slice of apple banana bread for breakfast, but it can be eaten anytime.
Serve this apple banana bread toasted with butter for an even more delicious flavor!
9. Bisquick Apple Cobbler
Bisquick apple cobbler will satisfy everyone's sweet tooth at your next party or potluck! This amazing dessert is easy to make and even better to eat.
Serve this cobbler warm with a generous scoop of French vanilla ice cream!
10. Apple Strawberry Crisp
Apple strawberry crisp takes apple crisp to the next level! This fan favorite is fresh and fruity, with multiple layers of flavor and textures that everyone will enjoy.
Top your apple strawberry crisp with whipped cream if desired (but it's delightfully tasty as-is)!
>>>>See all of my recipes HERE<<<<
11. Blackberry and Apple Pie
Nothing is better than a giant slice of rich blackberry and apple pie! This pie is sweet and tangy, with multiple spices that deepen the flavor.
Eat this pie alone, or top it with your favorite brand of vanilla ice cream.
12. Apple Dump Cake
Apple dump cake is a simple dessert to serve on nights when you want a sweet treat without the hassle! With multiple layers and even more delicious flavors, you will want to make this cake over and over again.
Don't forget to top your cake with a scoop of ice cream or a dollop of whipped cream for an even fancier presentation.
13. Apple Blackberry Crumble
Apple blackberry crumble is colorful and scrumptious! This crumble is simple to make but tastes like you spent hours in the kitchen with its gourmet presentation!
Top this crumble with a dash of cinnamon or delicious whipped cream!
14. Irish Apple Cake
This Irish apple cake is a one-of-a-kind, moist masterpiece that will have your mouth watering! This cake is topped with vanilla custard sauce that you, your family, and your friends will love.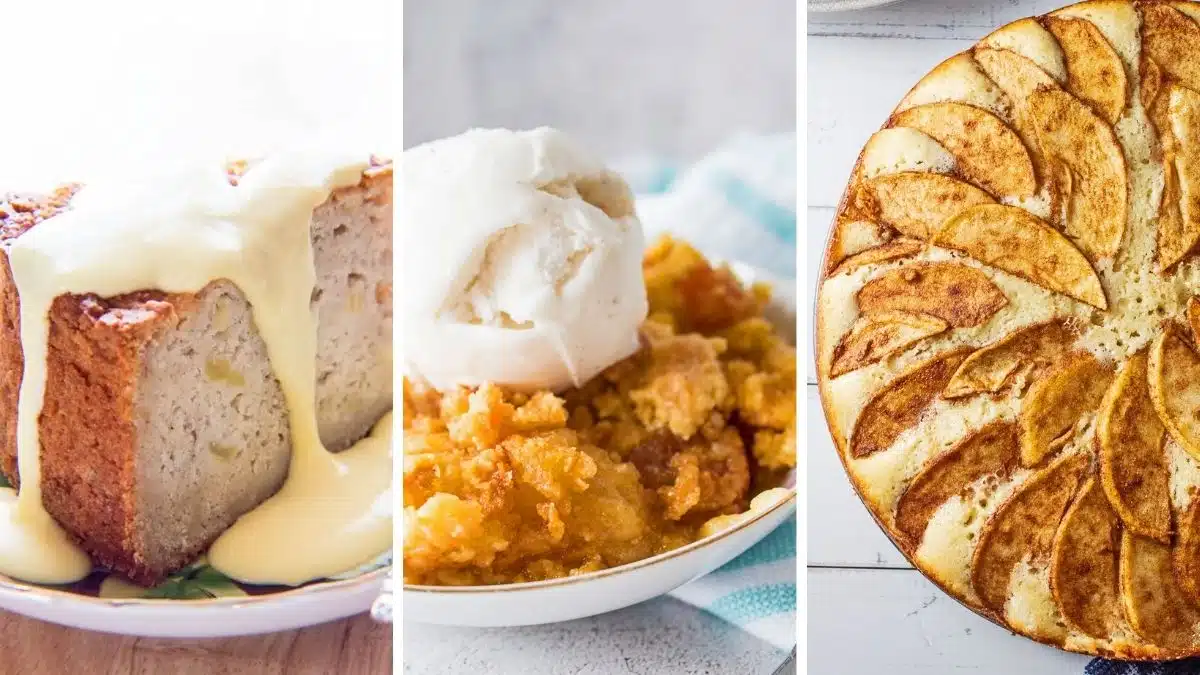 15. Apple Cake with Almonds
Apple cake with almonds has crunchy and soft textures, making it a satisfying treat! This apple cake is great for breakfast, lunch, dinner, or dessert!
This cake is great by itself, but serving it with a giant scoop of ice cream is perfection!
16. Cinnamon Apple Bread
This warmly spiced quick bread features chunks of fresh apples all throughout. I love enjoying a slice with a warm cup of coffee for breakfast, but it's also sweet enough to be dessert!
17. Apple Pie Monkey Bread
This pull-apart monkey bread is made with apple pie filling for a delectable dessert that never disappoints. You can even make things easier on yourself by using canned biscuits!
18. Dehydrated Apples
For a delicious and nutritious snack, try these easy dehydrated apples! Dehydrating them brings out their natural sweetness, though you could always add a dusting of cinnamon sugar if you'd like!
19. Cracker Barrel Fried Apples
These tender fried apples taste identical to the signature side dish from Cracker Barrel restaurants. They're cooked until tender in a sweet and sticky cinnamon syrup that will have you licking your plate clean!
20. Dutch Apple Cake
Dutch apple cake is somewhere between an apple pie and an apple cake. The moist, light cake is subtly sweet and has tender cinnamon apples baked right into the top!
21. Dutch Apple Pie
Dutch apple pie is similar to an American apple pie, except it is topped off with a brown sugar streusel topping instead of a pie crust! Don't worry. It tastes just as amazing with a cold scoop of ice cream.
22. Apple Cranberry Pie
Apple cranberry pie is perfect for any time of year, though it is a great way to offer an alternative to traditional apple pie during the holidays! The cranberries add a subtle tartness balanced beautifully by the sweet apples.
23. Apple Cider Donuts
These baked donuts are made with real apple cider, which is made with real apples, of course! The tender cake donuts are then tossed in cinnamon sugar for added deliciousness!
24. Baked Apples
Baked apples are a rustic dessert that is made by coring a whole apple and baking it until tender with a coating of butter, brown sugar, and cinnamon. You can fill the hollowed-out center with whipped cream, chantilly cream, or even ice cream!
25. Granny Smith Apple Pie
My go-to recipe for apple pie! Granny Smith apples hold up perfectly when baked, and their tartness balances out the sweetness of the sugar to make for the perfect apple pie.
26. Baked Cinnamon Apple Chips
Thin slices of apple baked in the oven until crispy and delicious! It doesn't stop there; there is absolutely no added sugar, just a dusting of cinnamon for a warm, spiced flavor!
🍎 Tips For Baking With Apples
When it comes to baking with apples, there are a few things that will make your job easier. You can learn all about the best apples for both cooking and baking here!
Choose the right apples for the job: Different apples are better for cooking or baking than others. Make sure you are using an apple variety that suits your recipe!
For a wonderfully tender pie crust: Make sure all your ingredients (like butter) are cold!
Use a combination of apples: Just because a recipe calls for one type of apple doesn't mean you can't use a variety! Mixing a tart and sweet variety is key to getting the best flavor! Here's a quick list of some of my faves:


Granny Smith: Tart and firm, they are excellent for pies and hold their shape well.
Honeycrisp: Sweet with a hint of tartness, they offer a crisp texture.
Braeburn: A balance of sweet and tart with a firm flesh.
Northern Spy: This variety is especially popular for pies as they are both sweet and tart.
Cortland: They don't brown as quickly, making them good for salads, and they have a nice tartness for baking.
Golden Delicious: Mildly sweet and versatile for many baking uses.
Jonagold: A hybrid of Jonathan and Golden Delicious, they offer both sweetness and a touch of tartness.

Use apple pie spice: To really bring out the natural warm apple flavors, use some homemade apple pie spice mix in any of your favorite recipes! The recipe doesn't even need to call for it. Just sprinkle it in any time you want to elevate the flavors!
Use vodka to make your pie crust extra flaky: Don't worry; it won't alter the flavor and is completely safe for kids to enjoy! Check out my recipe for the best pie dough!
Make sure that you are storing your apples correctly: This will ensure that your apples are as fresh and tasty as possible! Learn how to store apples here.
❓ FAQ
With so many apple desserts to choose from on this list, I bet it is hard to pick which one is your favorite! Let us know in the comments which ones you love and why they are your favorites!
🥧 🍰 🍪 More Baking Guides
📋 Recipe