These Thanksgiving stuffing recipes are the best of the best, so you can find the perfect dressing for you and your family this year! This list includes some classic recipes and gourmet stuffing ideas that will blow your guests away! You will have the most epic Thanksgiving feast with any of these stuffing recipes on the menu!
Best Holiday Stuffing & Dressing Recipes
Stuffing, dressing, whatever you call it, is an essential part of the Thanksgiving spread! Some recipes have savory sausage, some call for fresh fruit, and some use different ingredients altogether.
This list has something for everyone. Find a Thanksgiving stuffing recipe that sounds good to you and give it a try this holiday season!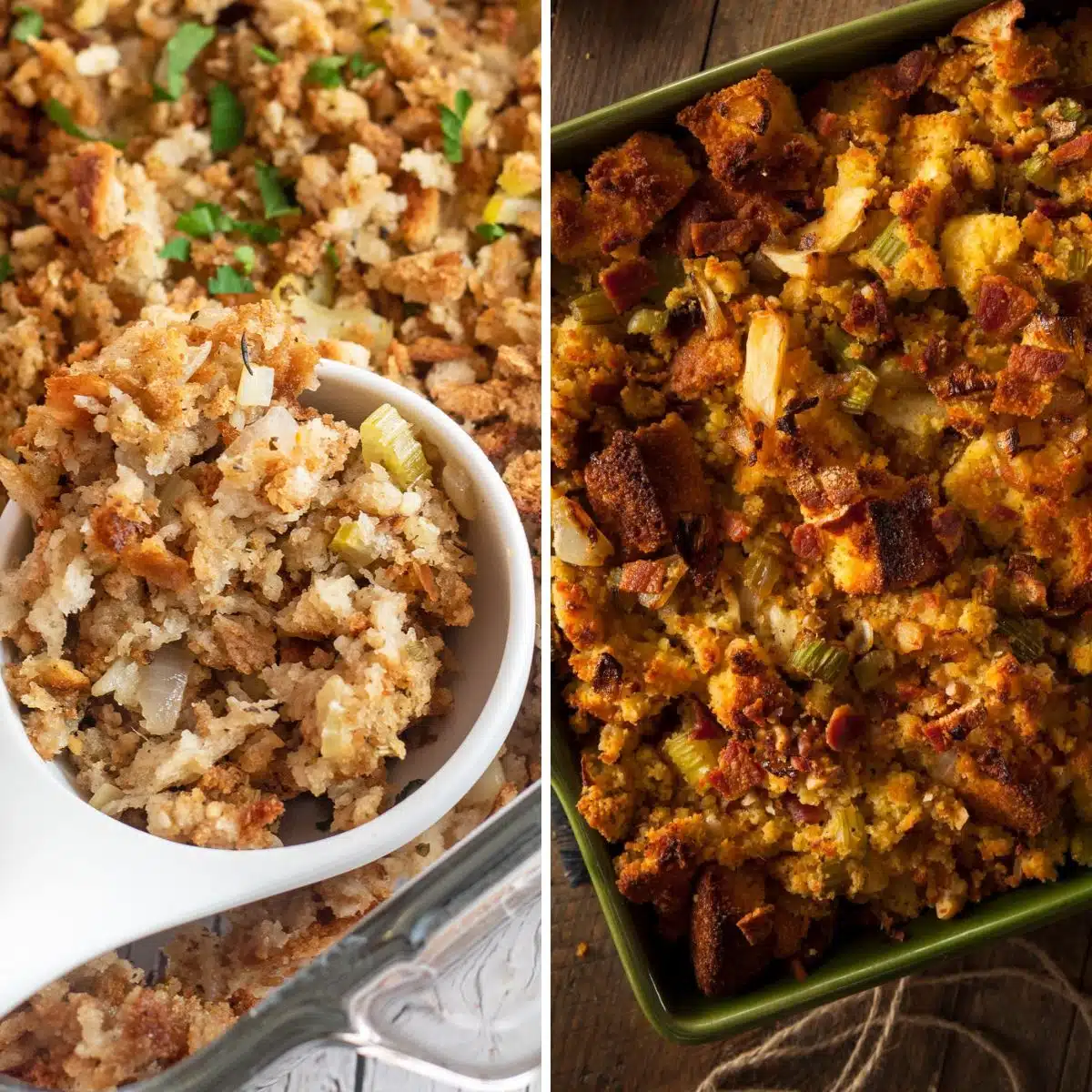 Jump to:
Stuffing & Dressing Recipes For Thanksgiving
If you don't have a go-to family Thanksgiving stuffing recipe, now's your time to find one! After all, every tradition starts somewhere.
Whether you're a pro at hosting Thanksgiving dinner and holiday parties or giving it a try for the first time this year, you're sure to find my ultimate guide to planning Thanksgiving a help! Don't forget to safely thaw your holiday turkey early, too!
1. Easy Stuffing
Pre-made stuffing cubes cut down on prep time in this easy recipe. With chopped celery, onion, garlic, and all the right seasonings, no one will know you cut any corners.
2. Oyster Stuffing
Oyster stuffing is an old-school classic recipe. Oysters add a briny depth of flavor without making it taste fishy. Just give it a taste and you will see what all the hype is about!
3. Air Fryer Sausage Stuffing
If there ever was a time to break out the air fryer, it's Thanksgiving! You can even use it to toast the bread before turning it into savory sausage stuffing.
4. Cranberry Stuffing
This incredible vegetarian stuffing is full of fresh apples and cranberries. The bread absorbs all the fabulous flavors from the fruits, vegetables, and broth.
5. Southern Cornbread Dressing
Cornbread dressing is a Southern classic that pairs perfectly with any main course! It's soft and fluffy with a comforting savory flavor.
6. Vegan Stuffing
Even your meat-loving family will enjoy this simple stuffing recipe. Instead of chicken broth, butter, and eggs, this version calls for vegetable stock, olive oil, and lots of crusty bread!
7. Keto Stuffing
Yes, you can still have stuffing on a keto diet! This low-carb stuffing will totally cure your cravings and you won't have to feel guilty one bit.
8. Turkey Apple Stuffing
Fresh apples and raisins add a delightful sweetness to this perfectly-seasoned stuffing. You can use it to stuff your turkey, or enjoy it as a side dish on its own!
9. Crockpot Stuffing
You'll be so busy in the kitchen on Thanksgiving day, that this crockpot stuffing recipe will be a lifesaver! Just cook your sausage and veggies, add it to the crockpot with bread stuffing, set it, and forget it!
10. Spinach And Artichoke Stuffing
This savory spinach and artichoke stuffing will take your Thanksgiving dinner to the next level! You can even substitute frozen spinach in a pinch.
11. Pineapple Stuffing
Pineapple stuffing is a dessert stuffing that closely resembles bread pudding! It shouldn't go inside a turkey, though your family may request you make it every year!
12. Crescent Roll Stuffing
Everyone loves crescent rolls so naturally everyone will love crescent roll stuffing! It's loaded with savory sausage, celery, carrot, onion, and plenty of fresh herbs.
13. Chestnut Stuffing With Fennel
The roasted chestnuts in this stuffing are buttery and sweet, they are the perfect complement to salty pancetta and fennel! This stuffing will pair perfectly with any entree on Thanksgiving or Chrismas!
14. Sheet Pan Stuffing
I love sheet pan recipes because you can toss everything together and cook it at one time! This recipe is particularly tasty because it features lightly caramelized brussel sprouts and crispy pancetta.
15. Butternut Squash Mushroom Stuffing
The earthy flavor of mushrooms pairs perfectly with butternut squash. There's no bread in this stuffing, but you can find collard greens, fresh herbs, and lots of flavor!
🦃 Thanksgiving Menu Ideas
Did you give one of these Thanksgiving stuffing recipes a try this year? Let me know how it turned out in the comments below!
📖 Recipe Card