These Thanksgiving dinner rolls & bread recipes will pair perfectly with all of your favorite holiday side dishes and entrees! There are fluffy rolls, flaky biscuits, soft breads, and so much more! Make your Thanksgiving spread the best one yet with any of these fantastic recipes!
Best Holiday Bread Recipes
No Thanksgiving dinner spread is complete without bread. You can butter it, dunk it in soup, or use it to sop up the extra gravy on your plate!
From dinner rolls to biscuits and everything in between, bread is a quintessential part of a holiday meal! Below are my absolute favorite and most popular Thanksgiving dinner rolls & bread recipes.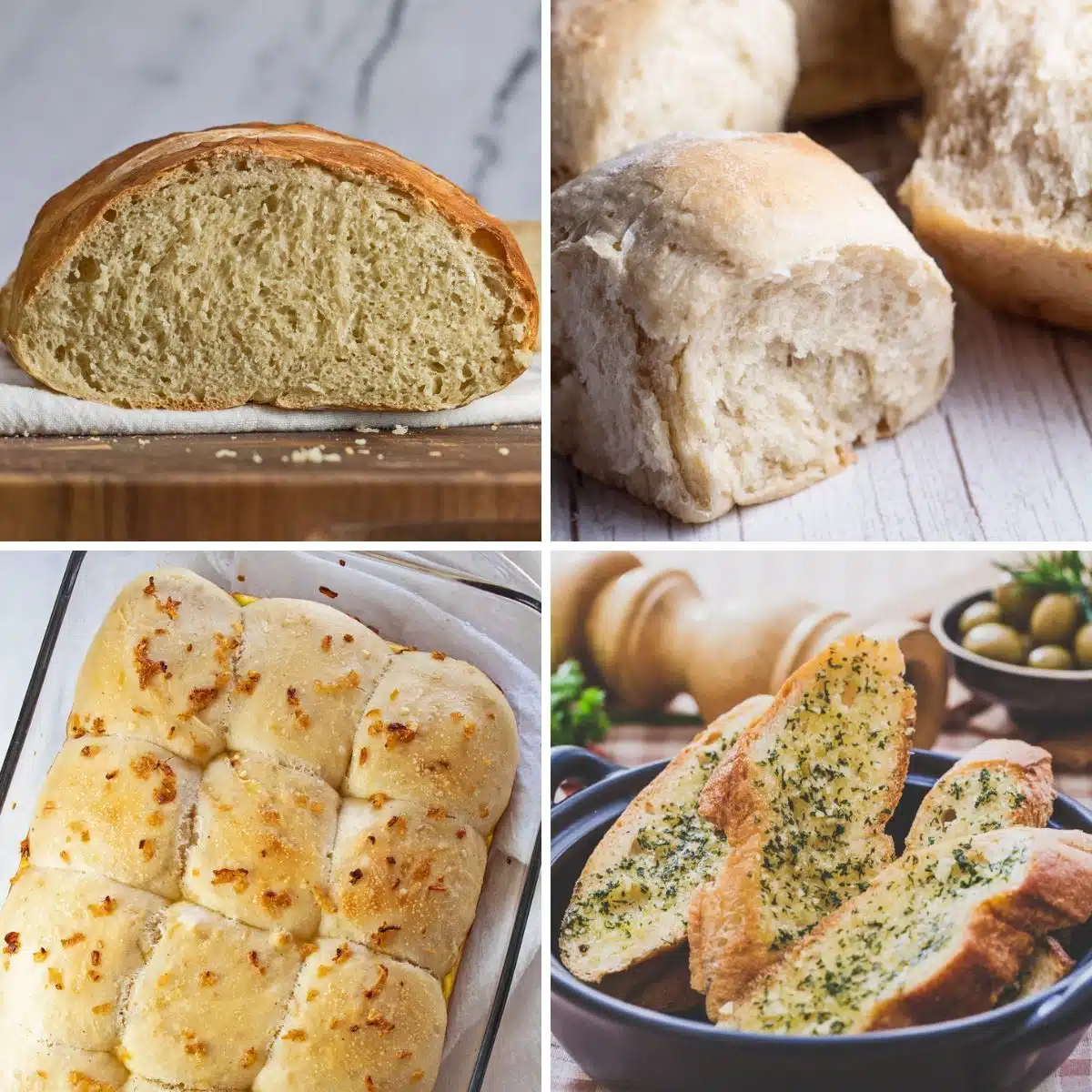 Jump to:
The Best Thanksgiving Dinner Rolls
You can't go wrong with any of the rolls, biscuits, or breads on this list. Some are savory, some are slightly sweet, but all will pair wonderfully with roasted turkey!
Whether you're a pro at hosting Thanksgiving dinner and holiday parties or giving it a try for the first time this year, you're sure to find my ultimate guide to planning Thanksgiving a help! Don't forget to safely thaw your holiday turkey early, too!
1. Onion Rolls
These tasty no-knead yeast rolls are speckled with bits of sauteed onion. The added sugar gives them a subtle sweetness that complements the flavor of the onion wonderfully.
These pull-apart rolls are great for beginner bakers. Best of all, they are ready to eat in less than 2 hours!
2. Oat Rolls
Oat rolls are ever-so-slightly sweet due to the inclusion of brown sugar. They are a fabulous addition to your favorite thanksgiving side dishes and they also make great turkey sliders with leftovers!
3. Rustic Bread
Clearly I love easy-to-make no-knead bread, and this is one of my favorite recipes! This rustic bread loaf is soft and just chewy enough.
You can butter it, you can toast it, you can use it for whatever you like!
4. Cheese Rolls
Cheese rolls are the perfect accompaniment to any meal! The yeast rolls are melt-in-your-mouth delicious and who can resist all that melted cheddar cheese?
As the dough rises, you'll have plenty of time to work on your other Thanksgiving dishes!
5. Oven Garlic Bread
Who says garlic bread can't be served on Thanksgiving? It goes with anything, Thanksgiving recipes included!
You can bake it to be soft & chewy, or make it extra crispy. It's totally up to you!
6. Pumpkin Streusel Bread
Pumpkin bread with all the warm flavor of pumpkin pie spice and a crumbly streusel topping. It's sweet enough to be dessert, but it can also be enjoyed right alongside the meal.
If you don't eat it all, this pumpkin streusel bread is fabulous with a cup of coffee at breakfast time!
7. 3 Ingredient Drop Biscuits
It doesn't get easier than these 3-ingredient drop biscuits. All you need is butter, self-rising flour, and whole milk!
The biscuits are so fluffy and tender. They only take 5 minutes to prep and 13 minutes to bake!
8. Garlic Herb Focaccia Bread
Impress your guests with this surprisingly easy-to-make garlic herb focaccia bread! It's soft, flavorful, and slices beautifully!
This recipe calls for rosemary and basil, but you can easily swap them for your preferred herbs. Add a little butter and this bread gets even better!
9. Rhodes Rolls
Frozen Rhodes dinner rolls are the best way to cut down on time spent in the kitchen on Thanksgiving day. All you have to do is take them out of the freezer, let them rise while you prepare the other dishes, and bake!
These rolls are so delightfully doughy and soft. The buttery salt and herbs on top makes them taste homemade!
10. Classic Dinner Rolls
You can't go wrong with some good old fashioned dinner rolls. After all, classics are classic for a reason.
Brush them with butter and no one will be able to resist putting one or two on their plate!
11. Pumpkin Shaped Rolls
Get in the holiday spirit with these pumpkin-shaped dinner rolls! Honey, cinnamon, and nutmeg are added for some extra fall flavor that helps these edible art pieces come together.
Surprisingly, these festive rolls are fairly simple. The stem is made with half of a pecan and the pumpkin shape is created by snipping vertical lines in the ball of dough!
12. Parker House Rolls
The inside of these Parker House rolls is buttery, soft, and just a tiny bit sweet. The outside gets nicely golden-brown and slightly crispy.
This recipe is very easy to follow and yields beautiful rolls every time.
13. Cloverleaf Dinner Rolls
Cloverleaf dinner rolls are made with milk dough which means they are soft and airy! The name comes from the three sections that are reminiscent of a clover.
The delightful pull-apart layers are perfect for dipping in gravy or scooping up mashed potatoes.
14. Garlic Knots
A double dose of garlic herb butter gives these homemade garlic knots loads of flavor. Best of all, they only require 6 simple ingredients to make!
You can even make these garlic knots in advance and freeze them. That's one less thing to do on Thanksgiving day!
15. Herb And Bacon Yeast Rolls
These herb and bacon yeast rolls are incredibly versatile. They pair well turkey, ham, or anything else for that matter.
You'll want to make these rolls year after year. After all, bacon makes everything better!
🦃 More Thanksgiving Recipes
Did you try any of these Thanksgiving dinner rolls & bread recipes? Let me know how they turned out in the comment section below!
📖 Recipe Card