These keto Thanksgiving recipes include some of the best low-carb dinner recipes for celebrating the holidays! There are keto versions of all your favorite Thanksgiving appetizers, side dishes, entrees, and even desserts! Just because you're keto, doesn't mean you can't indulge in an epic Thanksgiving feast!
Low Carb Thanksgiving Menu
If you are looking to enjoy a low-carb Thanksgiving, you have a couple of options. You could host Thanksgiving and use these tasty keto recipes to build a carb-friendly dinner menu.
If you aren't hosting, you can make some of these recipes for yourself and bring them along to Thanksgiving dinner with you! Either way, they will totally cure your craving for Thanksgiving food and you won't feel like you're missing a thing.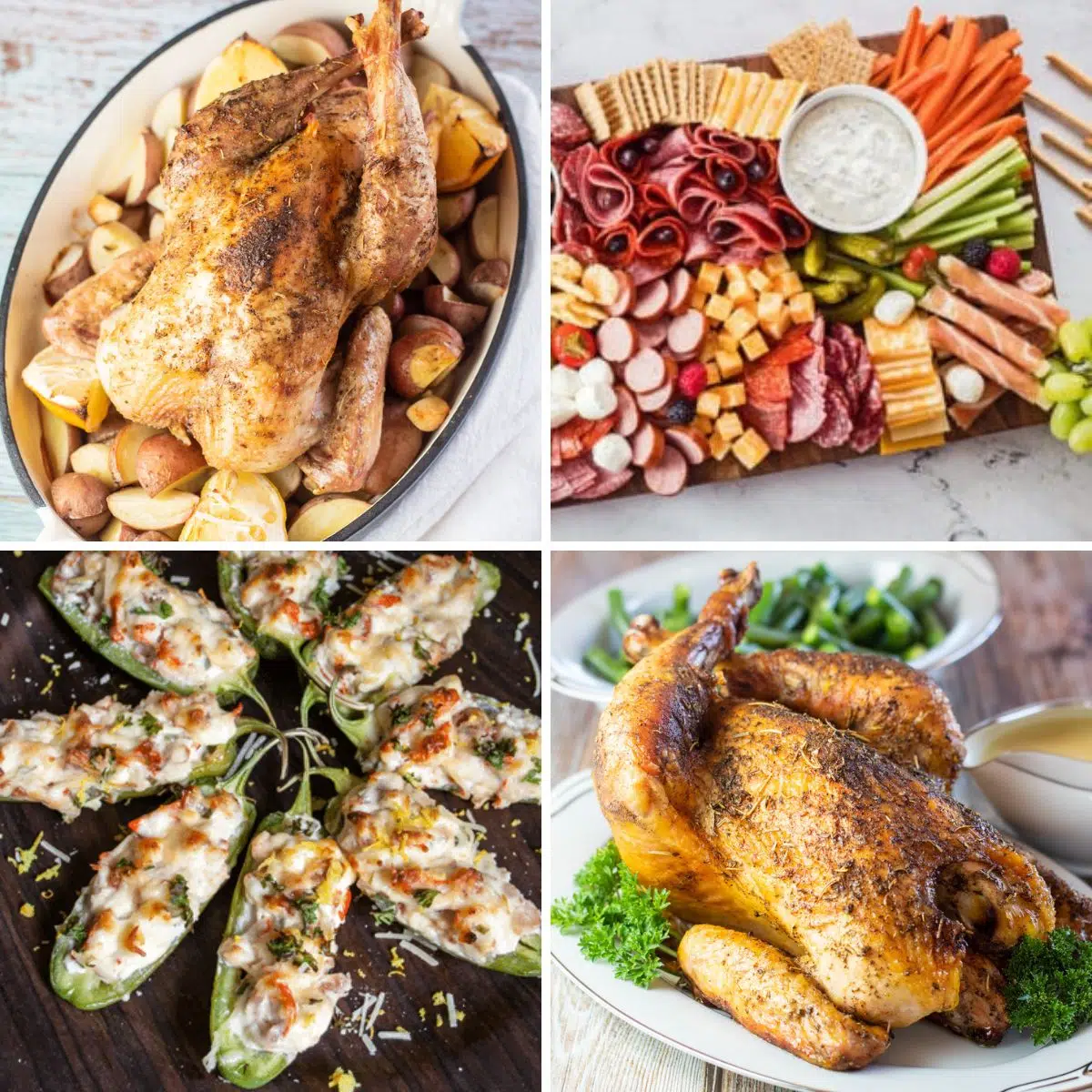 Jump to:
Whether you're a pro at hosting Thanksgiving dinner and holiday parties or giving it a try for the first time this year, you're sure to find my ultimate guide to planning Thanksgiving a help! Don't forget to safely thaw your holiday turkey early, too!
Even your carb-loving friends and family will be asking you for these recipes. They may be keto-friendly, but they are still delicious!
Appetizers
1. Charcuterie Board
Charcuterie boards are the ultimate appetizer for people-pleasing. They are easily customizable and you don't have to eat what you don't want to!
Meat and cheese are a safe bet when you are on keto. Stick to low-carb crackers or no crackers at all, and avoid sugary dips like honey.
2. Lobster Jalapeno Poppers
These lobster jalapeno poppers will make any dinner seem like a special occasion! They are loaded with chunks of lobster meat, crispy bacon, and chives.
Not to mention, they are delightfully cheesy!
3. Keto Bacon & Cheese Biscuits
These cheese and bacon biscuits are delicious whether you are keto or not! Almond flour keeps the carbs low while sour cream keeps the biscuits nice and moist.
They are chock full of melted cheddar and crispy bacon. You'll want to make these biscuits again and again!
4. Keto Bread
If you're craving classic fluffy bread, don't worry, I've got you covered. You can toast it, you can slice it, you can turn it into turkey sandwiches!
Grab some butter and enjoy a slice guilt-free!
‌Main Course
5. Oven Roasted Turkey
You can still enjoy a traditional Thanksgiving turkey if you follow a keto diet. This recipe is a tried and true classic that always yields perfectly tender, juicy turkey.
The simple seasoning still provides plenty of flavor and the skin browns and crisps up beautifully!
6. Roasted Quail
Qual is a nice alternative to turkey. It's an elegant protein with lots of flavor!
Plus, everyone gets their own bird to enjoy! This is a particularly great recipe if you and your family take advantage of quail season.
7. Roasted Sasso Chicken
This is no ordinary chicken! Sasso chicken has a unique, rich flavor that is more comparable to duck than your usual roasted chicken.
It's truly a treat! What better time to enjoy this special recipe than at Thanksgiving dinner?
8. Cauliflower Mac and Cheese
Cauliflower mac and cheese is a fantastic low-carb recipe any time of year. It's delightfully cheesy with chunks of sausage and a crispy pork rinds and Parmesan topping.
You can also serve this mac and cheese as a side dish, if you prefer. Trust me, you won't even miss the pasta!
Side Dishes
9. Roasted Butternut Squash
Butternut squash is so easy to prepare and a little seasoning goes a long way! Not only that, but it's surprisingly filling.
Roasting the butternut squash brings out a subtle sweetness that perfectly balances its savory flavor. This simple recipe is both nutritious and delicious!
10. Green Bean Casserole with Bacon
This keto green bean casserole is a family favorite. There are 3 kinds of cheese, so it's extra cheesy and delicious.
It also has a crispy pork rind topping that will have everyone wondering how it is possibly low carb!
11. Roasted Brussel Sprouts
People either love or hate brussel sprouts. If you love them you're in luck because this recipe is simple and super tasty!
The outside leaves get slightly caramelized which adds a crispy element and lots of nutty flavor!
12. Green Beans Almondine
This classic French recipe includes fresh green beans and very thinly sliced almonds. A light seasoning of garlic, salt, and pepper is all it takes!
This recipe only takes about 20 minutes and boy, is it a delicious addition to any Thanksgiving spread.
13. Baked Bacon Wrapped Asparagus
It's hard to believe that a recipe so easy turns out so exquisite! Bacon makes everything better, and asparagus is no different.
This low-carb side dish is suitable for even the fanciest of parties. In fact, you'll only want to eat your asparagus wrapped in bacon from here on out!
14. Sugar-Free Cranberry Sauce
Most people think of sugar when they think of cranberry sauce, but fear not. With this keto recipe, you can have your cranberry sauce and eat it too!
All you need is fresh cranberries, water, orange zest, vanilla extract, and some monk fruit sweetener. It really couldn't be more simple.
15. Keto Turkey Gravy
Most gravy is made with flour as the thickener, but this recipe calls for xanthan gum. Reserving the pan drippings from your turkey is key for getting a rich turkey flavor!
This gravy comes together in no time. It's great for spooning over turkey, mashed cauliflower, or soaking up with keto bread!
16. Keto Stuffing
I'm sure you thought stuffing was totally of the menu, but that's not true! This stuffing is made using low-carb cornbread, so you still get to indulge in this holiday favorite.
With bits of onion and celery scattered throughout, this stuffing will remind you of the kind grandma used to make. Except this version won't ruin your keto kick!
17. Cauliflower Mashed Potatoes
Mashed cauliflower is arguably one of the most popular keto alternatives to carbs. With only 4 ingredients, this creamy, buttery cauliflower mash will rival even the most delicious mashed potatoes.
With just 5g of net carbs, you can't afford to not have this recipe on your table. It only takes 15 minutes to make, too!
Dessert
18. Keto Pumpkin Cheesecake
This pumpkin cheesecake is rich and decadent, everything you want a dessert to be! In fact, I prefer it to pumpkin pie.
The cream cheese and pumpkin filling is smooth and creamy with a slight tang from the cream cheese. It's pretty much addicting.
19. Keto Pecan Pie
Yes, low-carb pecan pies are a thing! You can't even tell by looking at it that this pie is keto-friendly.
It has all the texture and flavor you want from a pecan pie. With none of the guilt!
These keto Thanksgiving recipes will keep you on track without making you feel like you're missing out! Tell me which ones you tried and how they turned out in the comments below!
😋 More Low Carb Recipes
See more Thanksgiving →
📖 Recipe Card