These Tuesday night dinner Ideas are the most stress-free way to feed the whole family at the end of a busy work day. The recipes are easy and filling, and there are plenty of different options to choose from! With this list, you won't have to worry about what's for dinner ever again!
Easy Tuesday Night Dinner Recipes
Mondays are a drag and Wednesdays are Humpday, but what about Tuesdays? You work just as hard on Tuesday as every other day of the week, so you shouldn't have to spend all night in the kitchen!
These easy family recipes will have you looking forward to Tuesdays. Enjoy a quick home cooked meal with the family then kick back and relax!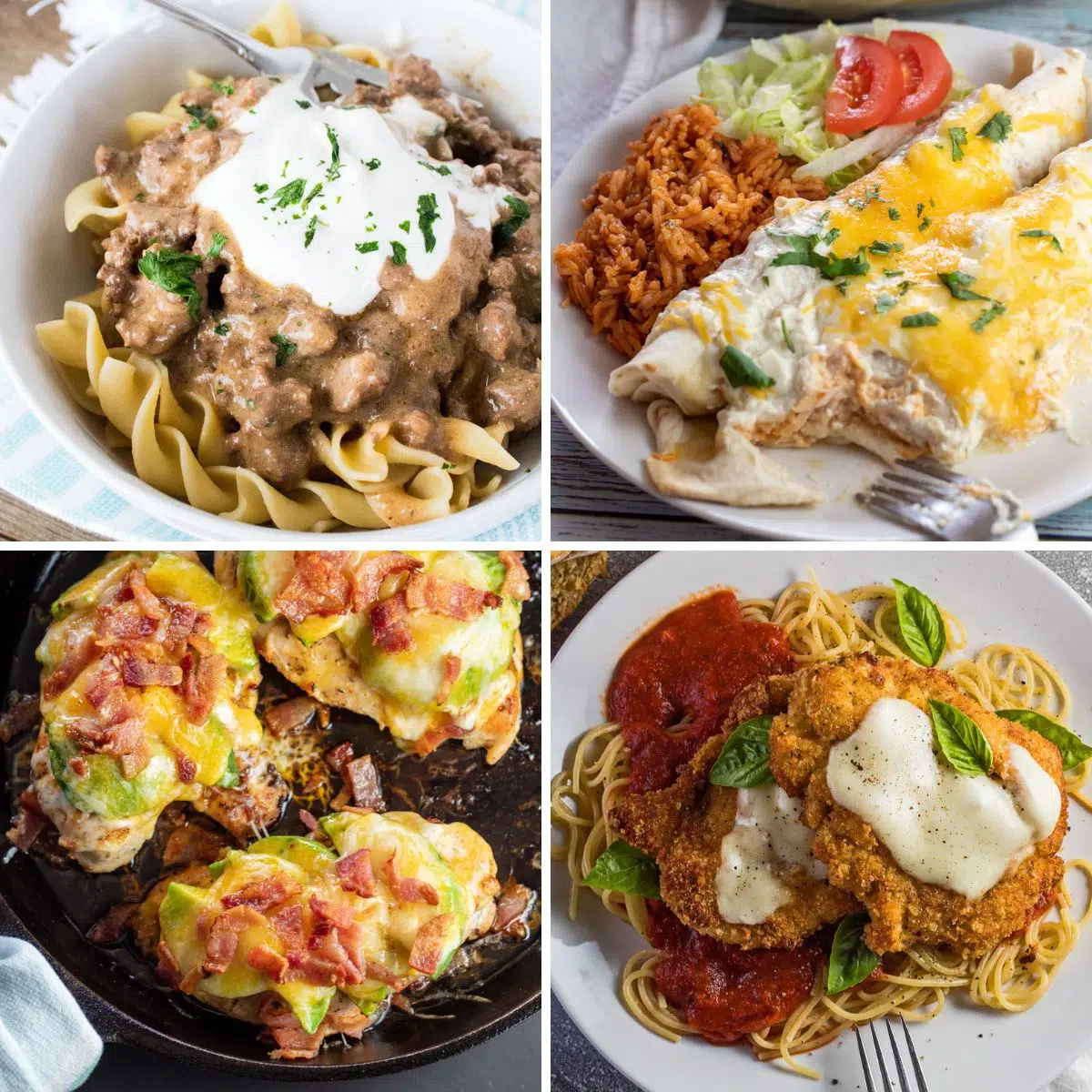 Jump to:
Easy After Work Dinner Recipes
Tacos aren't the only meal to look forward to on Tuesdays. These tasty recipes are sure to be family favorites that you won't mind making again and again!
See more of my easy casserole recipes that are perfect for any weeknight dinner!
1. Chicken Divan Casserole
You will want to add this casserole to your weekly rotation for sure. It's super cheesy and comforting while simple at the same time!
Snag a rotisserie chicken from the deli to cut down on prep time!
2. Sheet Pan Steak Fajitas
These sheet pan fajitas couldn't be more simple! Just add strips of steak and your family's favorite veggies and bake.
Serve them with soft tortillas and your favorite toppings. If you like the idea of sheet pan fajitas, I have chicken and shrimp fajitas too!
3. Ground Beef Stroganoff
Beef Stroganoff is a classic family dinner and this easy version is one of my favorite recipes! It's a quick 30-minute recipe but it has all the flavor you expect from a beef Stroganoff.
Buttery egg noodles and earthy mushrooms balance the tangy sour cream gravy. It is comfort food at its finest!
4. Italian Sausage Bake
This 5-ingredient sausage bake is always a hit with kids and adults alike! All you need is Italian sausage links, pasta, spaghetti sauce, cheese, and basil.
Cook the pasta, combine the ingredients, and bake!
5. Baked Salmon in Foil
Foil pack recipes are always delicious! This recipe takes salmon and wraps it up with lemon, olive oil, garlic, butter, and salt & pepper.
Bake everything together until your salmon is flaky and tender. Serve it with some asparagus, rice, roasted potatoes, or whatever sounds good to you!
6. Crockpot Chicken and Gravy
Anything made in the crock pot is going to be pretty easy! Crockpot chicken recipes are some of my favorite weeknight dinners.
You only need 3 ingredients for this recipe. Chicken and gravy can be served on top of mashed potatoes, rice, or even buttered noodles!
7. Walking Taco Casserole
This casserole has all the flavor of a walking taco from the fair! There's beef taco meat, cheese, green chiles, and crispy tortilla chips.
It only takes 35 minutes from start to finish. I love adding a dollop of whipped cream and some salsa, but you can add any of your favorite taco toppings!
8. Baked Avocado Chicken
These baked avocado chicken breasts are a great low-carb dinner option the whole family will enjoy. The sides you serve are up to you because this is one entree that goes with anything!
9. Crockpot Cube Steak
This smothered cube steak tastes like old-fashioned home cooking, even though it's basically hands-off! Just pop the short list of ingredients into your crockpot before work and you have a savory main course ready when you get home.
10. Bisquick Chicken and Dumplings
Bisquick baking mix makes this recipe so quick and easy! The biscuits are light and fluffy and the savory chicken broth is deliciously warm and comforting. Everyone loves chicken and dumplings!
Check out all of my fabulous Bisquick recipes for tasty dinners, breakfasts, appetizers, and more!
11. Sour Cream Chicken Enchiladas
Enjoy a Tex-Mex Tuesday by making these sour cream enchiladas! This version uses green enchilada sauce and plenty of cheese, chicken, and of course, sour cream!
12. Chicken Parmesan
Who knew chicken Parmesan could be so easy to make? This has all the classic elements: crispy, thinly sliced chicken breast, a fabulous marinara sauce, and melted mozzarella. All in 35 minutes!
13. Panko Baked Cod
If your family likes seafood, this crispy baked cod is sure to be one of their favorites. Cod is a mild white fish, and the buttery panko crust adds such a nice contrast! Not to mention, it cooks up quickly!
14. Hamburger Helper Beef Stroganoff
This one-pot beef Stroganoff recipe is creamy and full of flavor! It's a copycat of the Hamburger Helper version, but without all the added sodium and preservatives.
You can have it on the table in just 35 minutes!
15. Beef Enchilada Casserole
All the flavor of homemade beef enchiladas in one easy-to-make (and easy-to-eat) casserole! No rolling tortillas here, just layers of beef, cheese, enchilada sauce, chiles, tomatoes, and onions!
16. Chicken Schnitzel
Chicken schnitzel is the German version of crispy fried chicken cutlets and boy are they tasty! Best of all, they only take 20 minutes to make!
17. Red Beans and Rice
This is a quick and easy version of this Southern classic comfort food. Chunks of sausage and canned red beans all over a heaping pile of white rice, what's not to love?
18. Hamburger Steaks
Cook up some juicy hamburger steaks for your family this Tuesday and they will be asking where this recipe has been! The brown mushroom gravy is so savory and delicious, even the kids will love it.
19. Million Dollar Baked Chicken Breast
This chicken breast tastes like a million bucks! It's covered in three different types of gooey melted cheese and crispy bits of bacon!
20. Shredded Chicken Tacos
Tacos had to make the list because you can still have Taco Tuesday when you're busy! It only takes 25 minutes to make this juicy shredded chicken, and it's perfectly seasoned with chicken taco seasoning!
21. Cajun Sausage Pasta
Cajun sausage pasta is a flavor-packed one-skillet meal. The pasta sauce is made with cream cheese and heavy cream, so it is rich and velvety. Juicy slices of andouille sausage and zesty Cajun seasoning tie it all together!
😋 Quick & Easy Side Dishes
What are some of your family's favorite Tuesday night dinner ideas? Drop the recipes in the comment section below so I can give them a try!
📖 Recipe Card
‌