All of the best mushroom substitute options are shared here and they're tailored to whether or not you need to replace flavor, texture, or both! I've even included some notes on working around some of the more unique mushrooms to best match their familiar flavors!
The best substitutes for replacing the taste and texture of mushrooms!
Mushrooms. You either love them or hate them. Maybe you love them, but you're allergic to them. Whatever the reason may be, there are plenty of times in the kitchen when you may need a substitute for this common veggie.
When considering what type of substitute to use for mushrooms there are two things to consider: taste and texture.
Jump to:
If you don't mind the taste of mushrooms, but you hate the texture – you may want a substitute that provides that umami mushroom flavor.
However, if you don't love even the mild taste of mushrooms but enjoy the meaty texture – you may want a substitute for texture.
Maybe you love mushrooms – taste and texture – but you just forgot to pick them up at the store.
Whatever your need for a mushroom substitute may be, there are plenty of delicious mushroom substitute options for everything from taste to texture.
🍄 No Mushrooms
---
Sometimes the best substitute is no substitute at all. In dishes like casseroles or a stir-fry, mushrooms are usually used to provide bulk rather than flavor. In this case, it can be easier to simply leave the mushrooms out.
However, you will want to increase the other ingredients to take up the "space" of the mushrooms. Simply use extra veggies you have on hand for the recipe, such as extra green beans in a green bean casserole or extra carrots in a stir-fry.
Here are my favorite mushroom substitutes for everything from soups to stir-fry.
🍄 Mushroom Substitutes for Texture, not Taste
---
The following are the best substitutes for when mushrooms are the main character in a recipe. These are dishes like casseroles, stir-fries, soups, or even vegetarian dishes where the mushrooms make up the bulk of the dish.
1. Tempeh
Tempeh is made from soybeans and provides a nice meaty texture in dishes. It has its own unique flavor that is different from mushrooms. However, it does provide a similar earthy taste to mushrooms.
With its earthy taste and texture, tempeh is a great substitute for any dish where mushrooms are the primary ingredient.
2. Tofu
Tofu is another soybean product but has a much milder flavor than tempeh. Due to its lack of flavor, tofu easily picks up on the other flavors around it. Therefore, if you want to mimic the texture AND taste of mushrooms you can add some umami flavoring to the dish.
Important note when cooking with tofu: tofu absorbs the water it is packaged in; therefore, you need to extract the water from the tofu before cooking with it. You can do this by placing the tofu between two towels and pressing.
3. Zucchini
Zucchini has a mild taste and also easily picks up the flavors of other ingredients. This makes it a great substitute for button mushrooms. However, zucchini has a much higher water content than mushrooms.
Therefore, it works best as a substitute in something like stir-fry. Using zucchini in place of mushrooms in a baked dish, like a casserole, may add too much moisture and make the dish soggy.
4. Eggplant
Eggplant provides a similar texture to mushrooms. Like zucchini, it will easily pick up the other flavors in the dish. It also has a high-water content.
Use it in a similar fashion as you would zucchini or remove excess water before baking with it. To remove the water, sprinkle cut pieces with salt, let sit for about 10 minutes, then wipe off the moisture. *This process works best when repeated.
5. Walnuts or Pecans
Mushrooms are a popular substitute for meat in vegetarian recipes. Also nuts are also a great substitute for meat. Therefore, walnuts or pecans are a delicious mushroom meat substitute!
To get the most mushroom-like texture, soak the nuts in water overnight and then grind them up the next day. This will provide you with a wonderful meat-like texture that you can use to replace mushrooms in meatless burgers or sauces.
🍄 Mushroom Substitutes for Taste, not Texture
---
The following are the best substitutes for when you want a distinct mushroom flavor, but not actual mushrooms. These are also great ways to add mushroom flavor to any of the substitutes above.
6. Umami Seasoning
Mushrooms have a distinct flavor that does not fall into the familiar palates of sweet, salty, bitter, and sour. This distinct flavor is more closely associated with the savory palate known as "umami." Therefore, umami seasoning is the best choice to mimic the real flavor of mushrooms.
It will provide you with a distinct and savory mushroom flavor in soups like a homemade cream of mushroom soup, or sauces like mushroom gravy. This is also a great substitute for dishes that call for particularly pungent mushrooms like Porcini or Shiitake.
7. Beef Broth
The earthy and savory umami flavor palate is not specific to only mushrooms. Slowly booked beef shares this similar flavor. Therefore, beef broth makes a great substitute when you want the savory flavor, but without the mushroom taste.
Use beef broth in sauces, soups, or add it to substitutes like tofu or zucchini as a substitute for texture and taste.
🍄 Non-Mushroom Substitutes
---
There are many recipes that call for mushrooms that really don't require mushrooms. Think of pizzas or pasta where mushrooms are added as a topping or an ingredient in soups where they feel like a bonus ingredient.
In recipes where the mushrooms are not required for a specific taste or texture, you can be more creative with your substitutions. You can simply replace the mushrooms with an alternative to add a new flavor and texture!
Here are some yummy options for when you want to get creative and replace mushrooms with something new.
8. Sun Dried Tomatoes
Sun-dried tomatoes will provide a completely new bold taste to a dish. Try them out as a pizza topping or mixed into your favorite pasta.
9. Artichoke Hearts
Use artichoke hearts that have been marinated for a bright vinegar taste, rather than a savory taste. Similar to sun-dried tomatoes, these are great for toppings or mixed into pasta.
10. Onions
Grilled or sautéed white onions are an excellent replacement for mushrooms when you want something that is a bit sweet, but also savory. Try adding them on top of pizza, tossed into pasta, or even mixed into salads and soups.
11. Leeks
Like onions, leeks will provide a similar sweet take on a dish when they are cooked. They are great as a replacement for mushrooms in baked dishes like chicken Marsala or other similar pasta dishes. You can also toss them into soups or on top of pizzas!
12. Russet Potatoes
Russet potatoes are a good replacement for mushrooms when you want to add more volume to a soup or casserole. However, be mindful that their starchiness will make the dish heartier so you may want to use less than what the recipe calls for in mushrooms.
13. Garbanzo Beans
Garbanzo beans are a quick and easy replacement for mushrooms in soups and salads. If adding them to soup, be mindful that they will not need to cook as long as mushrooms and may get mushy if overcooked.
14. Miso
Miso is a paste made from soybeans. It is commonly used in Japanese dishes. Miso has a strong and distinct flavor that is different from other seasonings (like umami). If you want to experiment with new flavors in your soups or sauces, miso is a fun replacement to try in place of mushrooms.
🍄 Mushrooms for Mushrooms
---
What about if you really love mushrooms and just can't find any fresh ones? Canned or dried mushrooms are the next best thing!
15. Canned Mushrooms
Canned mushrooms are easy to keep in your pantry and can be used in any recipe that calls for fresh mushrooms. Buy a couple of cans the next time you're at the store to keep on hand in a pinch!
16. Dried Mushrooms
Dried mushrooms often have a much stronger flavor than fresh or canned mushrooms. Therefore, use about half of what the recipe calls for and taste-test as you go. You may not need as many as the recipe calls for.
When looking for a mushroom substitute there is not one single thing that will give you the exact flavor and texture. However, there are several substitutes you can use to modify a recipe or create a brand-new flavor.
As long as it tastes good to you, then you have found the perfect substitute!
📋 Recipe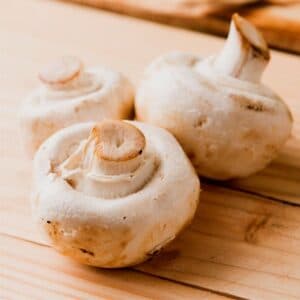 Print Recipe
Leave A Comment
Love This Recipe?
Click On A Star To Rate It!
Mushroom Substitute (Best Substitute For Mushroom Texture or Flavor)
All of the best mushroom substitute options are shared here and they're tailored to whether or not you need to replace flavor, texture, or both! I've even included some notes on working around some of the more unique mushrooms to best match their familiar flavors!
Pin Recipe
Share on Facebook
Ingredients
Best Mushroom Substitute - Texture & Flavor
1

cup

canned or dried mushrooms
Best Mushroom Substitute - Texture
Best Mushroom Substitute - Flavor
1

teaspoon

umami seasoning

(do not use if you have mushroom allergies)
Instructions
Best Mushroom Substitute - Texture & Flavor
Use 1 cup drained, canned mushrooms or 1 cup rehydrated, dried mushrooms in equal amounts as fresh mushrooms for your recipe.

1 cup canned or dried mushrooms
Best Mushroom Substitute - Texture
Use 1 cup cubed or sliced tempeh in a 1:1 ratio as fresh mushrooms.
Best Mushroom Substitute - Flavor
Use umami seasoning to taste. Start with a small amount and add more as needed.

1 teaspoon umami seasoning
Notes
*Nutrition information is calculated for the tempeh only.
Nutrition
Calories:
320
kcal
(16%)
|
Carbohydrates:
16
g
(5%)
|
Protein:
31
g
(62%)
|
Fat:
18
g
(28%)
|
Saturated Fat:
4
g
(25%)
|
Polyunsaturated Fat:
6
g
|
Monounsaturated Fat:
5
g
|
Sodium:
15
mg
(1%)
|
Potassium:
684
mg
(20%)
|
Calcium:
184
mg
(18%)
|
Iron:
4
mg
(22%)
how to substitute for mushrooms, mushroom substitute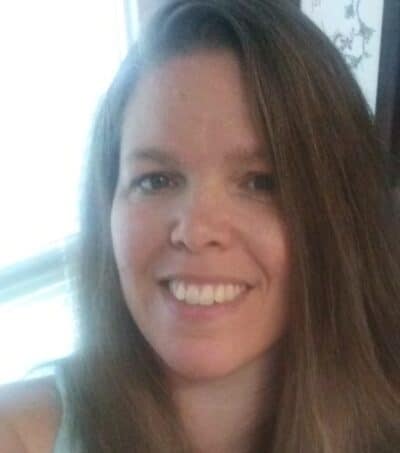 Angela is an at home chef that developed a passion for all things cooking and baking at a young age in her Grandma's kitchen. After many years in the food service industry, she now enjoys sharing all of her family favorite recipes and creating tasty dinner and amazing dessert recipes here at Bake It With Love!