A box of Bisquick can go a long way and this list of incredible Bisquick recipes proves just how versatile everyone's favorite baking mix is! From sweet to savory, breakfast to dinner, when it comes to homemade cooking Bisquick can do it all!
Best Bisquick Recipes for Tasty Treats!
When I think of Bisquick®, I usually think of pancakes. However, Bisquick is so much more versatile than most people would ever think!
From desserts to dinners, and of course breakfast, or anything between, Bisquick is a busy chef's best friend. The best thing about using Bisquick in recipes is the ease and speed it creates in the kitchen.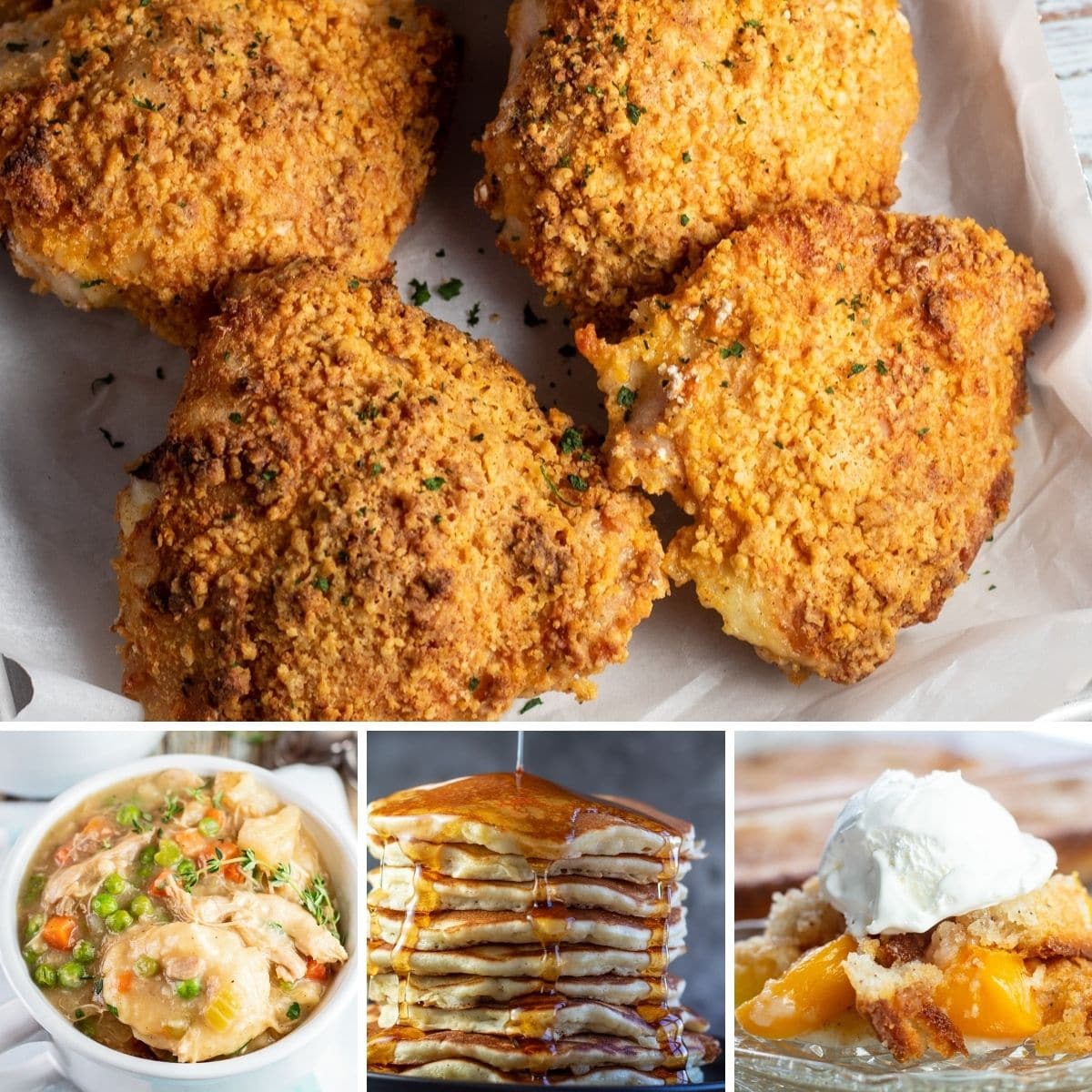 Jump to:
Traditional recipes that usually take hours are cut down to at least half the time, sometimes more. From your favorite desserts to a hearty dinner dish, Bisquick has got you covered!
1. Pancakes
We'll start with the obvious because you can't discuss Bisquick without mentioning fluffy, delicious pancakes! The traditional Bisquick pancake recipe is so simple, a kid could do it on their own.
Bisquick also has an ultimate pancake recipe that includes a few additional ingredients such as vanilla, sugar, and baking powder. No matter which recipe you choose, the pancakes will always turn out just as they should- fluffy, golden, and delicious!
2. Apple Cobbler
Sweet spiced apples and a flaky Bisquick crust are a match made in heaven. Top it with a scoop of vanilla ice cream for a comforting dessert you won't soon forget.
All the flavors of fall are in this cobbler, but it tastes amazing all year long!
3. Peach Cobbler
Apple isn't everyone's cup of tea, so if a summery cobbler is more your speed, try this bright and fruity peach cobbler! Bisquick makes baking a homemade crust fuss-free so this is a great quick and easy dessert to throw together last minute.
More importantly, it tastes equally delicious with ice cream!
4. Sausage Cream Cheese Balls
Made with a blend of salty pork breakfast sausage, cheddar and Parmesan cheese, and of course, Bisquick, these sausage balls are always a crowd-pleaser.
These snack-sized balls of cheesy goodness make a wonderful appetizer for any occasion, and they are easy to eat on the go!
5. Fried Chicken
Who knew Bisquick would make the perfect crispy breading for fried chicken? This little secret produces some of the most flavorful, perfectly textured fried chicken I've ever had.
Best of all, it can be made in the oven without all the mess associated with frying in oil! (And it's healthier, too!)
6. Chicken and Dumplings
Chicken and dumplings is a classic comfort food and with this recipe, it is practically effortless to make! Using Bisquick cuts down on the time it takes to make delicious dumplings that will hold up in hot soup.
Try this recipe if you're craving creamy chicken and dumplings soup just like grandma used to make!
7. Coffee Cake
Coffee cake is a classic and this simple recipe using Bisquick is as nostalgic as it gets. Topped with a crumbly cinnamon streusel, this cake can be enjoyed as a dessert or for breakfast with a steaming cup of coffee.
8. Biscuits
Another recipe we can't forget to mention when discussing Bisquick is of course, biscuits! I mean they're practically it's namesake.
Fluffy, golden biscuits are just minutes away, and they taste much better than anything that comes from a can.
9. Original Waffles
When I think of waffles, I think of lazy weekend mornings. Sleeping in, taking my time to wake up, and having a nice big breakfast. The key to a great waffle is the crispiness on the outside and the fluffiness on the inside.
That's exactly what these Bisquick waffles are. Light, fluffy, crispy, and oh so delicious. Add your favorite toppings and enjoy!
10. Scones
These soft and somewhat sweet scones are the perfect addition to your breakfast. With Bisquick, sugar, butter, and egg it's sure to be a hit with the whole family.
You can easily add berries, chocolate, or any other item to elevate these tasty breakfast treats. Skip the bread and make this wonderful recipe today!
11. Muffins
Muffins are a great breakfast treat for any day of the week. They make you feel like you're eating a cupcake or a fun treat.
These Bisquick Muffins are so versatile, light, and fluffy. All you need is the Bisquick, sugar, milk, and any flavoring you'd like. You can do lemon, blueberry, chocolate, cinnamon, or whatever your heart desires.
12. Crepes
What I love about crepes is how thin and light they are. This French favorite is a simple recipe with Bisquick, milk, and eggs.
These crepes are a wonderful dish on their own. But don't be shy and treat them like a pancake with toppings such as berries, whipped cream, or chocolate.
13. Banana Bread
Banana bread has to be the favorite baked bread we make at our house. We don't do zucchini, apple, or even pumpkin, but you can bet there is always a loaf of banana bread around.
This Bisquick banana bread recipe is a favorite due to how moist, flavorful, and delicious it is.
14. Cinnamon Rolls
We used to make my grandmother's cinnamon roll recipe all the time. These days we don't always have the time it takes to make them. Enter this Bisquick cinnamon roll recipe!
Don't tell grandma but these are almost as good as hers. Easy to make and if you close your eyes and take a bite, you can't tell the difference in taste.
15. Pie Shell
This recipe is quick and easy. We used to make pie shells from scratch and it was a delicate balance of ingredients. Anyone who's ever made pie crust from scratch can attest to that.
This recipe takes the guesswork out and creates such an easy-to-make and delicious pie crust. Simply use your Bisquick, butter, and water, and voila! A perfect pie crust every time.
16. Turkey Pan Gravy
Gravy making can be intimidating for some newer cooks. It doesn't have to be though. This Bisquick gravy is easy to make and delicious.
While it is using Turkey drippings, you can use any other dripping you like such as roast beef. A couple of tablespoons of your Bisquick, drippings, and a little broth and you've got a gravy to be proud of.
17. Impossible Quiche
There is nothing impossible about this easy and delicious recipe. While this recipe uses bacon, onion, and Swiss cheese in its quiche, you can use the ingredients you prefer.
That's the great thing about a quiche, they are customizable. The key here is the easy-to-make quiche crust with Bisquick, milk, and eggs.
18. Pizza Dough
Pizza night is part of the American dream it seems. While takeout pizza is good, it's even better and more fun to make your own at home.
This recipe is so easy with only Bisquick, water, and flour. Once you've got your dough formed then it's time to get your little artists and create your pizza masterpiece.
19. Peanut Butter Blossoms
I can't lie. These peanut butter blossom cookies are my all-time favorite cookie ever. The delicious peanut butter paired with chocolate; you can't go wrong in my opinion.
Even better, these cookies come together with just five ingredients topped with a Hershey's kiss! Combine, bake, cool, and top with a Hershey's Kiss. Try not to eat them all in one sitting, I dare you.
20. Strawberry Shortcake
This easy dessert is great to make on the fly when you have unexpected guests show up and you've got some strawberries on hand.
It's light, creamy, fresh, and simply great. Milk, sugar, butter, and Bisquick create your shortcake, and the yummy strawberries complete the dish.
21. Impossible Cheeseburger Pie
Just like the quiche above, there is nothing impossible about this pie. This pie is a cheeseburger pie, however, you can make it what you want with other ingredients.
What makes it a pie is the Bisquick poured over the top and then baked. It's a creative and different take on a dinner (or lunch) pie.
22. Pumpkin Pie
When making pumpkin pie we don't usually think of using Bisquick. After trying this recipe, you may never go back to your old ways of pumpkin pie-making. The trick here is that the Bisquick is combined with the pie ingredients, so there is no traditional pie crust.
A light crust will form while baking though, tricky isn't it. The result is a pie that is creamy and custardy with all the wonderful flavors of pumpkin pie.
23. Cheesecake
Like the pumpkin pie above, this cheesecake uses the same method. Mix a majority of the ingredients, including Bisquick, and pour into a pie pan. Once it's baked and cooled, you add an additional topping of sour cream, vanilla, and sugar.
Top with your favorite berries or drizzle with chocolate and caramel sauce and you've got a delicious dessert ready to be devoured.
There you have it, the best recipes you can get out of your box of Bisquick!! Let us know in the comments which ones you make.
📋 Recipe