These quick & easy shrimp recipes are so flavorful and delicious, they are the perfect way to end your busy weekday! They are loaded with flavors, spices, and sauces, and are all incredibly easy to make! Your family will request these quick & easy shrimp recipes every night of the week!
Best Quick & Easy Shrimp Recipes
Shrimp is an affordable, versatile, and healthy protein with a whole lot of flavor! There's no wonder shrimp is extremely popular all over the world, as it tastes great in such a wide variety of meals!
Here is a list of the best quick and easy shrimp recipes that can all be made in 20 minutes or less!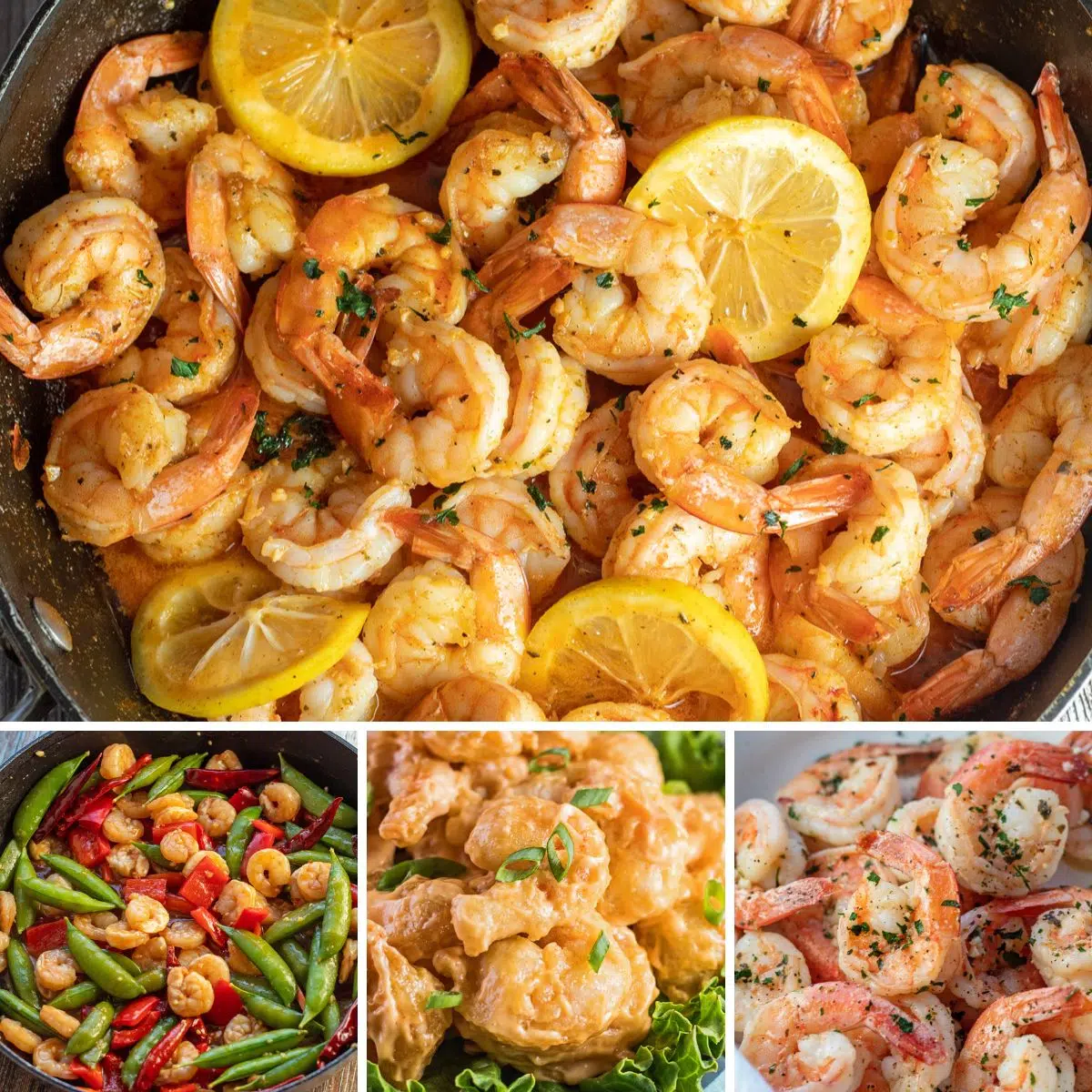 Jump to:
1. Cajun Shrimp
In under 10 minutes, you will have a quick, zesty protein ready to eat! I love to add this Cajun shrimp to some rice for a delicious and satisfying dinner!
This easy weeknight dinner is exactly what you need!
2. Garlic Butter Shrimp
The tender, juicy garlic butter shrimp from this recipe are what dreams are made of! The delectable sautéed shrimp are covered with a buttery garlic sauce that is to die for.
Whether you enjoy it with some pasta or just eat it by itself you won't be disappointed!
3. Air Fryer Frozen Shrimp
Using the air fryer makes this dish ridiculously easy. The shrimp in this recipe is very simple, yet extremely flavorful!
They make the perfect shrimp cocktails!
4. Shrimp Scampi
This shrimp scampi is not only quick and easy, but it's better than anything you'll get at a restaurant! Make this your easy weeknight meal or skip the pasta and make it a low-carb specialty!
My shrimp scampi is so delicious and saucy, it's too good not to share!
5. Shrimp With Garlic Sauce
This super quick meal is loaded with perfectly cooked shrimp, veggies, and a heavenly garlic sauce! You won't even miss getting takeout, because you can have this dish ready in just 20 minutes.
Add, remove, or substitute practically anything you want in this super versatile and tasty meal!
6. Lemon Garlic Shrimp Pasta
It's time to add this lemon garlic shrimp pasta recipe to your weekly dinner menu because you are going to want to eat it all the time! It's great for weeknights because it's fast and easy, but it'll taste like it just came from a restaurant!
This flavorful dish is sure to be a winner with your family!
7. Dynamite Shrimp
This is the ultimate appetizer that will wow all of your friends and family! It's spicy, flavorful, and fried to pure perfection!
The dynamite sauce combines mayo, Sriracha, and sugar to make a sauce that you'll want to dip everything in!
8. Creamy Coconut Shrimp
This creamy coconut shrimp is so good it will put all the Chinese buffets out of business! Sweet coconut is paired with some citrusy lime to make the ultimate, creamy sauce!
Serve it over some rice and dinner is served!
9. Hunan Shrimp
If you're wanting to take the spiciness up a notch then look no further! This Hunan shrimp is a light, healthy dinner that is packed with heat!
Stir fry in some veggies or serve it with rice, you can't go wrong with this fabulous quick & easy shrimp recipe!
10. Sheet Pan Shrimp Fajitas
This one-pan meal is an absolute winner because it's incredibly tasty, easy to make, and doesn't leave a mess in the kitchen! Why choose chicken or beef fajitas when you can mix it up and use some tender and juicy shrimp fajitas?
Serve these flavorful shrimp and veggies on a warm tortilla along with your favorite toppings!
11. Bang Bang Shrimp Pasta
Easy, quick, cheap, and delicious- can it get any better? This zesty and creamy meal works great any day of the week!
When you serve this tasty shrimp pasta dish for dinner there won't be any left!
12. Garlic Shrimp Pasta
This elegant garlic shrimp pasta is a go-to quick & easy shrimp dinner in my house! Even though this dish is simple and quick, it is overflowing with big flavors!
A perfect dinner that your whole family is sure to love is only 20 minutes away!
No matter which of these quick & easy shrimp recipes you choose, you're going to love it! Next, leave a comment down below so you can let me know which shrimp dish you're the most excited about!
📋 Recipe