This delightfully tangy Dynamite Shrimp appetizer combines crispy batter-fried shrimp that's been tossed in a tangy sriracha mayo sauce! It's a combination that is well-loved at Japanese restaurants but that is incredibly easy to re-create at home for the whole family to enjoy!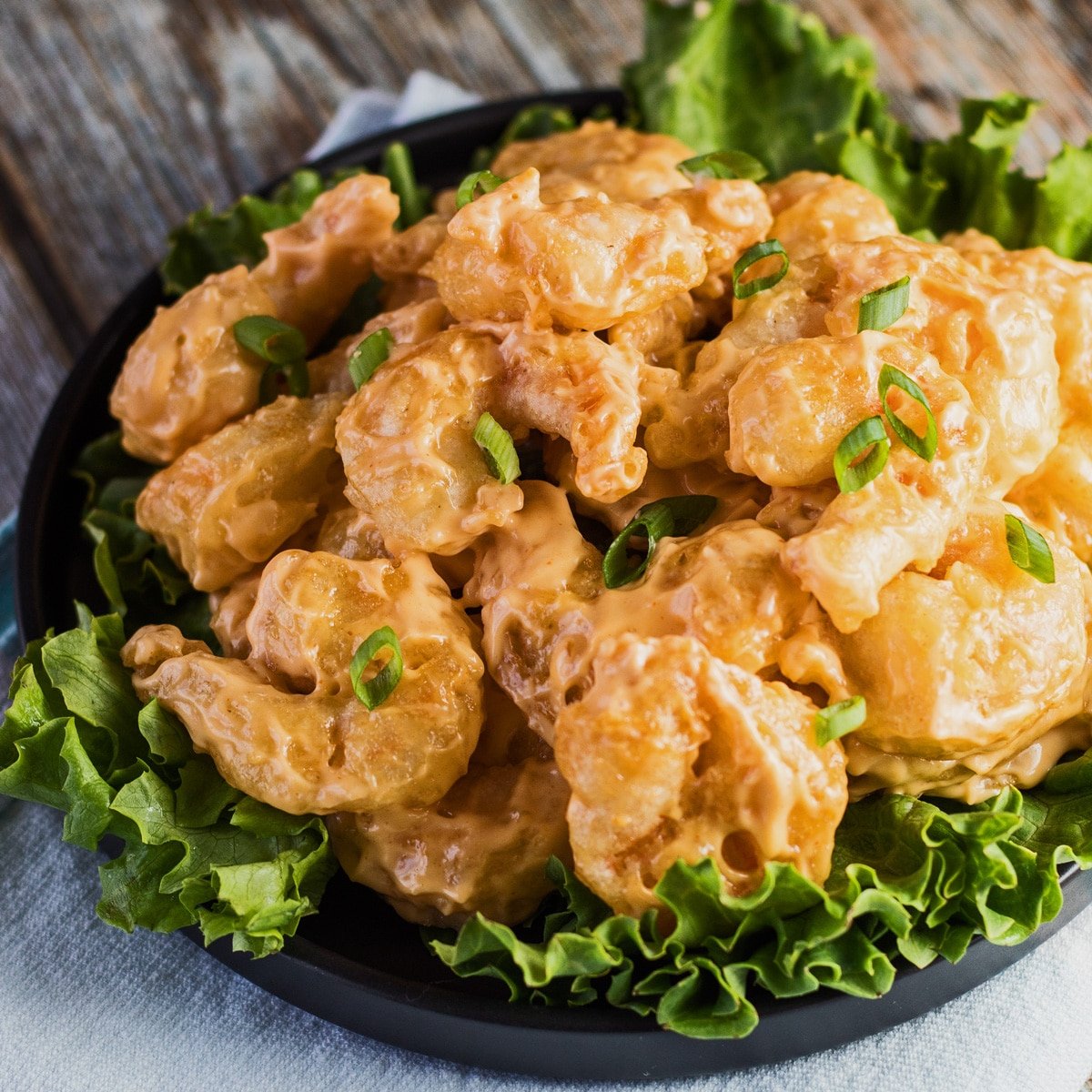 You can order this spicy and flavorful shrimp appetizer at almost any Japanese restaurant, but my homemade copycat recipe is just as good and so incredibly easy! This recipe is very similar to my bang bang shrimp pasta, which is a bit sweeter because of the honey and chili sauce.
Either way, both names let you know that the taste of sriracha and mayonnaise together is powerful! The flavor really does explode in your mouth!
Jump to:
Dynamite Shrimp was made popular in the US by P.F. Chang's, but don't you love it when you can easily replicate a yummy restaurant dish at home in just a few minutes? If the answer is YES and you love shrimp, this is your new favorite homemade appetizer!!
🥘 Ingredients
All you need are a few pantry staple ingredients and the shrimp! No deep fryer needed! You can easily fry this flavorful shrimp appetizer up in a frying pan!
Shrimp Batter
All-Purpose Flour - The base and bulk of your batter.
Cornstarch - This is a commonly used thickening agent. When used in combination with flour, it is said to produce a more tender and flakier crust on fried foods.
Baking Powder - When mixed with salt, this makes fried foods crispy and crunchy.
Salt - Makes the batter come together when fried and adds flavor.
Ground White Pepper - Black pepper can also be used, either add a touch of seasoning to the simple batter.
Shrimp - Some say rock shrimp must be used with this recipe, but I have had great results with all kinds of shrimp. My favorite is large (30 count) raw shrimp that have been peeled and deveined.
Seltzer Water - You can also use plain water, but the bubbles in the seltzer create little pockets of air that expand when heated. This gives the battered shrimp a lighter texture. Club soda is another great option!
Canola Oil - For frying. You can substitute any neutral-flavored oil, such as vegetable, soybean, or corn oil.
Dynamite Sauce
Mayonnaise - Any brand will do, but avoid Miracle Whip, since it is already sweetened and will make your dynamite sauce too sweet. The best brands are Hellman's and Duke's for flavor!
Sriracha - You can substitute Sambal Oelek (chili paste) here, as it is a close cousin to classic Sriracha and similar in texture. In a pinch, crushed chili flakes or cayenne pepper will work also. However, you won't have the thickness of the sauces that make the dynamite sauce consistency so perfect!
Sugar - A tiny bit of sweetness really complements the spice!
🔪 Step-By-Step Instructions
Now it's time to batter the shrimp and fry to delicious crispiness! The dynamite sauce is the star of this recipe, yet it can easily be whipped up in a minute or two while the shrimp is frying!
Batter & Fry the Shrimp
Using a frying pan, wok, or Dutch Oven, heat up just enough oil at medium-high heat to cover and fry the shrimp (about ½ an inch).
Mix together all of your dry ingredients - including 1 ½ cups all-purpose flour, ¾ cup cornstarch, 1 ½ tablespoon baking powder, ¼ teaspoon of ground white pepper, and ¼ teaspoon salt. Dredge your raw shrimp in the mixture and shake off any excess powder.
Set the shrimp aside on a tray or cutting board.
Next, take the seltzer water and mix it into your dry ingredients. Whisk until smooth.
Take each shrimp and dip them individually into your batter, holding them over the bowl for a few seconds to let the excess batter drip off.
Gently place the shrimp in the oil and fry until golden color, or until you can see that the shrimp is pink and cooked. *Leave space between your shrimp for even cooking.
Cook the shrimp in small batches, depending on how large your pan is. Transfer the cooked shrimp onto a plate or tray lined with paper towels.
Finish With the Dynamite Sauce
All you do is combine the mayonnaise, sriracha, and sugar in a bowl and stir until fully combined. *Ideally, combine the sauce before making the shrimp and refrigerate for at least 30 minutes to let things 'come together'.
Then, place the fried shrimp in a large bowl, toss with the dynamite sauce and serve immediately - and that's it!!
If you want a simple garnish, black sesame seeds look great against the orange-colored sauce and give a little extra crunch. You can also serve the shrimp in individual small bowls on a bed of lettuce. Add some sliced green onions if you're feeling fancy!
If you are a lover of all things air fried, you can try this recipe, but the homemade batter would make an incredible mess. To make Dynamite Shrimp with your air fryer, buy prepacked breaded shrimp, cook in the air fryer, and then toss with the sauce right before serving.
This easy shrimp recipe is typically an appetizer, but you could easily make a family meal out of it by using larger shrimp and doubling the sauce. Remember to save a little sauce aside for dipping at the table. Enjoy your dynamite shrimp!!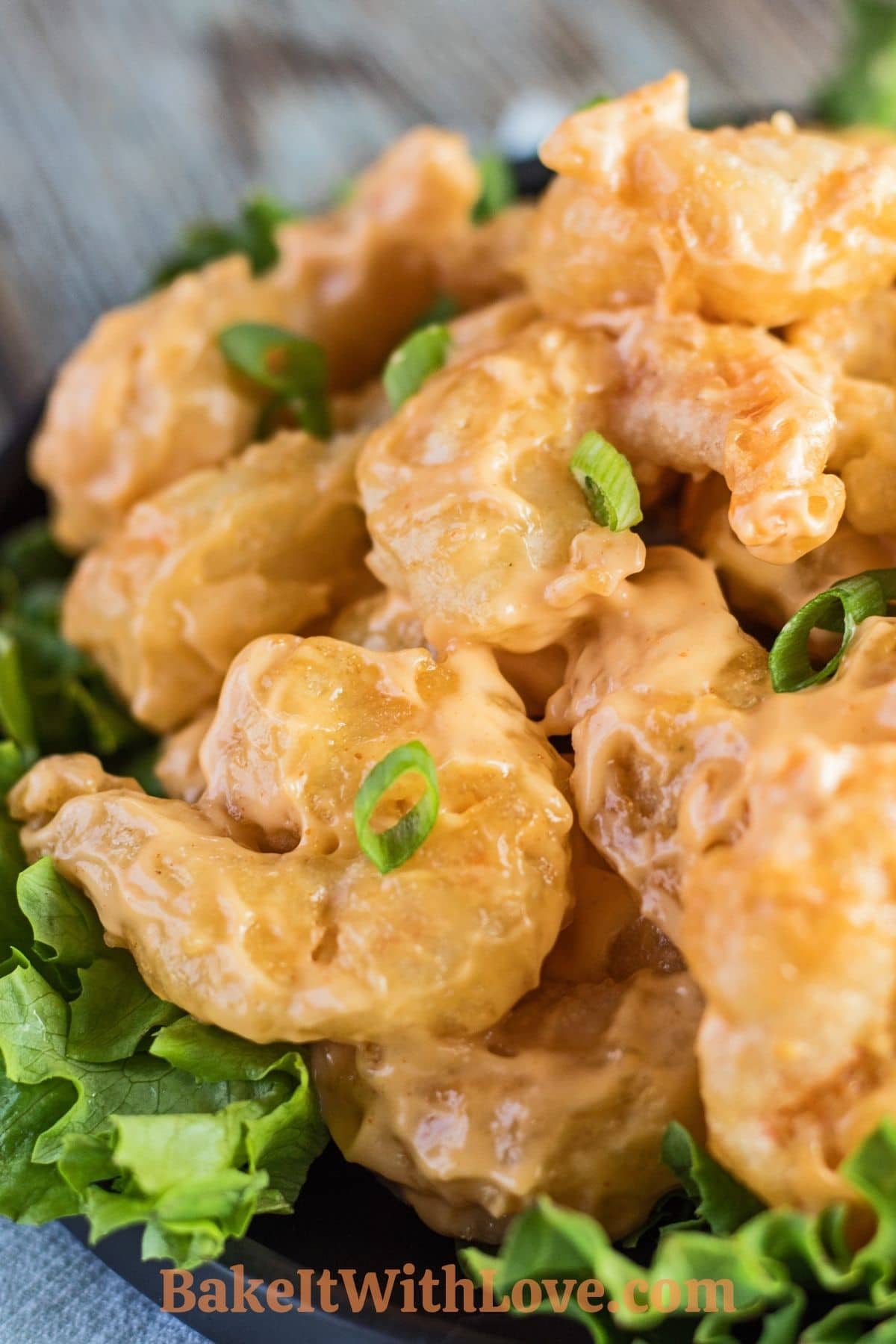 🥡 Storing & Reheating
Once your shrimp is fully cooled, transfer it to an airtight container. The shrimp will keep for up to 3 - 4 days in the refrigerator.
Reheating Your Shrimp
Reheating is best done quickly at a higher temperature. Because the shrimp has been fried and then sauced, it will be difficult to get a great crispy fried shrimp texture later.
Use a toaster oven or your oven broiler to bring the dynamite shrimp back to your preferred warmth. Watch the shrimp closely so that they don't end up over-cooked and super hard!
Serve after tossing in leftover dynamite sauce for a light re-coating and you're good to go!
📋 Recipe
Print Recipe
Leave A Comment
Love This Recipe?
Click On A Star To Rate It!
Dynamite Shrimp
This delightfully tangy Dynamite Shrimp appetizer combines crispy batter-fried shrimp that's been tossed in a tangy sriracha mayo sauce! It's a combination that is well-loved at Japanese restaurants but that is incredibly easy to re-create at home for the whole family to enjoy!
Pin Recipe
Share on Facebook
Ingredients
Dredge & Shrimp Batter
1 ½

cups

all-purpose flour

¾

cup

cornstarch

1 ½

tablespoon

baking powder

¼

teaspoon

salt

¼

teaspoon

ground white pepper

(or ground black pepper)

1

lb

shrimp

(peeled and de-veined)

1 ½

cups

seltzer water

canola oil

(for frying)
Dynamite Sauce
1

cup

mayonnaise

1

tablespoon

sriracha

1

tablespoon

sugar
Instructions
Batter & Fry the Shrimp
Heat your deep frying pan, Dutch Oven, or wok with enough oil to fry the shrimp in (about a ½-inch) over medium-high heat.

Mix together the 1 ½ cups all-purpose flour, ¾ cup cornstarch, 1 ½ tablespoon baking powder, and ¼ teaspoon each of salt and ground white pepper (or ground black pepper). Dredge the shrimp in the dry mixture, dust off any excess, and set the shrimp aside on a cutting board, plate, or tray.

Whisk the seltzer water into your dry dredge ingredients until the batter is smooth. Dip each shrimp individually, allowing the excess batter to drip off a bit, then place them into the heated oil. Fry until light golden brown and you can see the shrimp take on the pink 'cooked' color.

Cook in batches if needed and transfer the cooked, battered shrimp to a paper towel-lined plate or tray.
Dynamite Sauce
In a small bowl combine the 1 cup mayonnaise with 1 tablespoon each of sriracha sauce and sugar.

Place the fried shrimp into a large bowl and add the sauce (I only use about ¾ of the sauce, reserving some for serving the appetizer). Toss until the shrimp are thoroughly coated and serve immediately.
Notes
I use the large size (30-count) raw shrimp when making this tasty appetizer.
Nutrition
Calories:
386
kcal
(19%)
|
Carbohydrates:
32
g
(11%)
|
Protein:
14
g
(28%)
|
Fat:
22
g
(34%)
|
Saturated Fat:
3
g
(19%)
|
Trans Fat:
1
g
|
Cholesterol:
155
mg
(52%)
|
Sodium:
747
mg
(32%)
|
Potassium:
307
mg
(9%)
|
Fiber:
1
g
(4%)
|
Sugar:
2
g
(2%)
|
Vitamin A:
21
IU
|
Vitamin C:
4
mg
(5%)
|
Calcium:
188
mg
(19%)
|
Iron:
3
mg
(17%)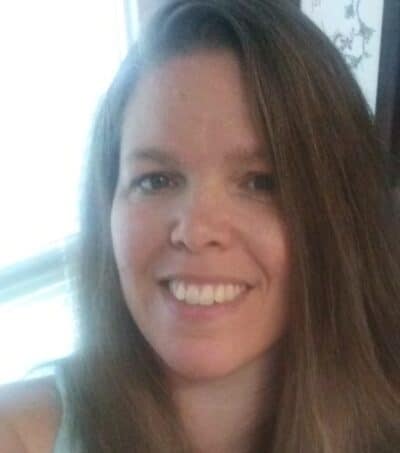 Angela is an at home chef that developed a passion for all things cooking and baking at a young age in her Grandma's kitchen. After many years in the food service industry, she now enjoys sharing all of her family favorite recipes and creating tasty dinner and amazing dessert recipes here at Bake It With Love!