These condensed soup recipes include casseroles, crockpot dishes, and even stuffed peppers that are all made using canned condensed soup! Condensed soup is perfect for adding a creamy and savory element to any gravy or sauce! All of these recipes are filled with bold, rich flavors that are sure to be a crowd-pleaser!
The Best Condensed Soup Recipes
A good can of condensed soup can bring such a great, creamy element to a dish! Not to mention, there's a crazy amount of different flavor options to choose from!
I always keep my pantry stocked with a variety of canned condensed soup for when I need them! Below is my list of recipes that all have one thing in common: condensed soup!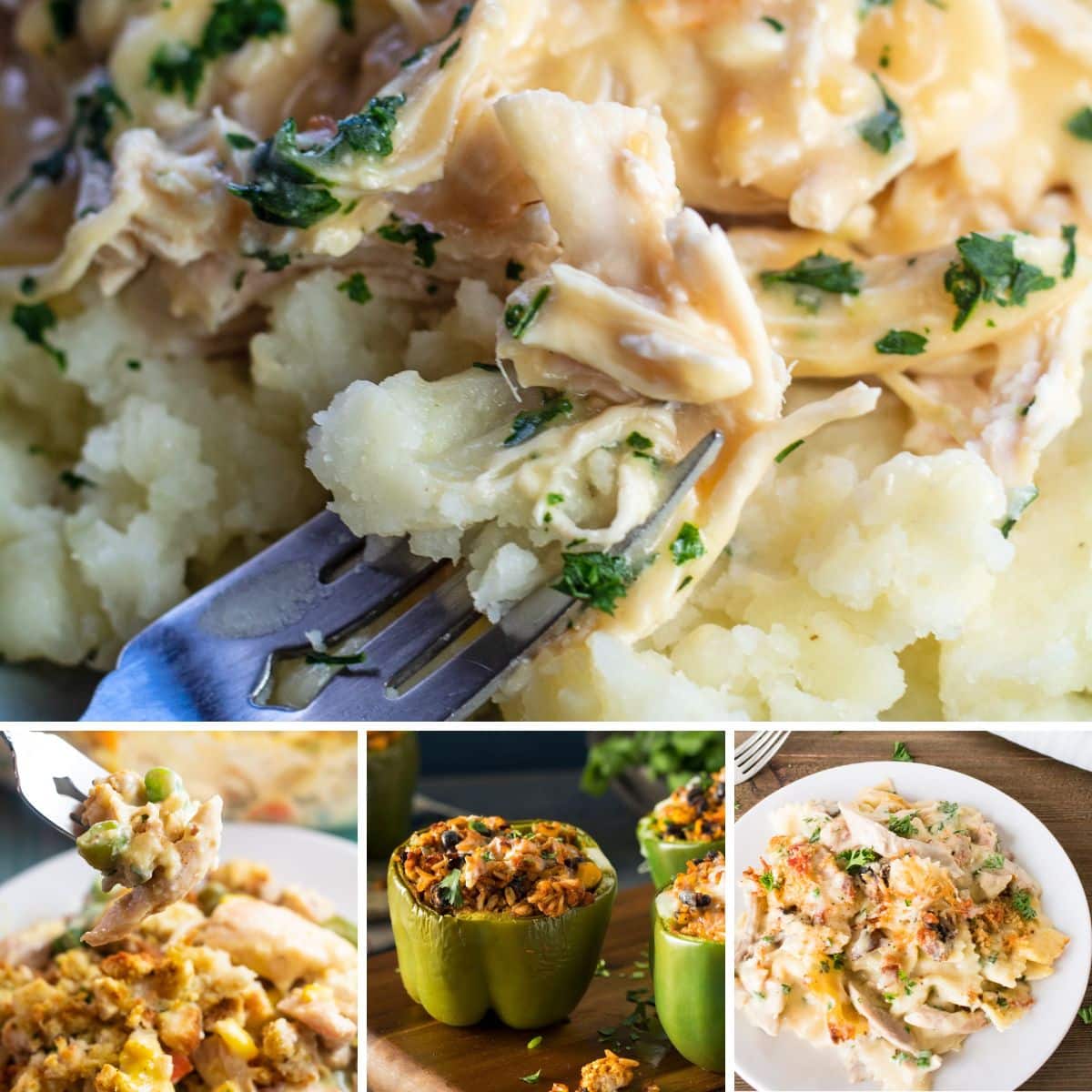 Jump to:
Canned soup is often used to make fantastic casseroles. If you are on the hunt for some easy family dinner ideas, I have a page dedicated solely to casserole recipes!
1. Cheesy Chicken Broccoli Rice Casserole
This creamy, cheesy, and tender casserole will leave you feeling satisfied and comforted! The rice is cooked in chicken broth to make it extra flavorful!
2. Doritos Chicken Casserole
This kid-friendly casserole is fun to make and full of flavor! The Doritos and chicken pair together to create a deliciously dynamic duo!
3. Stuffed Green Peppers
This easy and healthy meal is a great way to get kids to finally eat more veggies! These stuffed green peppers use condensed tomato soup as a base for a thick and creamy sauce!
4. Crockpot Cube Steak
This ridiculously easy dish features beefy cube steaks, onion soup mix, and condensed cream of mushroom soup for a savory and satisfying meal! I love to serve this on top of a bed of rice!
5. Bacon Cheddar Green Bean Casserole
This casserole is one of my all-time favorite comfort foods because of all the big flavors! The creamy filling uses cream of mushroom as a base and then it's layered with bacon, cheese, and green beans, and then topped with a satisfying crunch from fried onions!
6. Chicken Stuffing Casserole
This hearty and creamy casserole is a great condensed soup recipe for any time of the year! The sauce is made using condensed chicken soup that adds a delicious savory chicken flavor!
7. Crock Pot Pork Chops
With only 10 minutes used to prepare this meal, it couldn't get any simpler! Perfectly cooked pork chops topped with a delicious mushroom gravy have never tasted so good!
8. Leftover Turkey Rice Casserole
This meal is hearty, creamy, and coated with a crunchy Panko topping! This casserole is extra easy since you get to use up some leftovers!
9. Crock Pot Chicken & Gravy
My crock pot chicken & gravy recipe only uses 3 ingredients, but is still a hit with everyone! I love to take this creamy, flavorful chicken and serve it over a bed of rice!
10. Tuna Noodle Casserole
If you're a fan of tuna then this casserole will blow you away! It is comforting, delicious, and surprisingly only takes 40 minutes!
11. Chicken Divan Casserole
I love casseroles for how easy, delicious, and comforting they are. Cream of chicken soup, chicken broth, milk, and cheese make a warm and creamy sauce in this casserole!
12. Chicken Spaghetti with Rotel
This easy, cheesy meal is something that dreams are made of! Choose your favorite condensed soup (chicken or mushroom are my preference) to make a delicious and creamy base for the sauce!
13. Tater Tot Hamburger Casserole
This tater tot hamburger casserole is exactly as delicious as the name implies! It is kid-approved and loved because it has all of your favorite fast-food flavors bundled together!
14. Leftover Turkey Tetrazzini
This pasta dish is a mouthwatering, creamy meal that will certainly wow your entire family! Add in any of your favorite toppings to this super customizable casserole!
15. Slow Cooker Salisbury Steak
Obviously, everything is better with gravy on it! This incredibly easy, slow-cooker meal tops some savory Salisbury steak with a made-from-scratch, irresistible gravy!
Give these condensed soup recipes a try the next time you need an easy dinner recipe! Leave a comment down below and then let me know which meal you're going to make next!
📋 Recipe