These easy dessert recipes are perfect for days when you have minimal ingredients or are short on time but still want a sweet and tasty treat! No matter what your favorite flavor is, from fruity to chocolate, you'll be able to find it on this list! Every one of these dessert recipes is so easy that any beginner baker or kitchen novice can make them!
The Best Easy Dessert Recipes
The secret to making the best, easy dessert is to use a minimal amount of ingredients while also spending as little time as possible preparing it! You don't need a list of 20 items or have to spend hours in the kitchen to make a rich, delectable dessert!
This list of my best easy dessert recipes showcases my favorite sweets that are easy to prepare and don't take any fancy ingredients!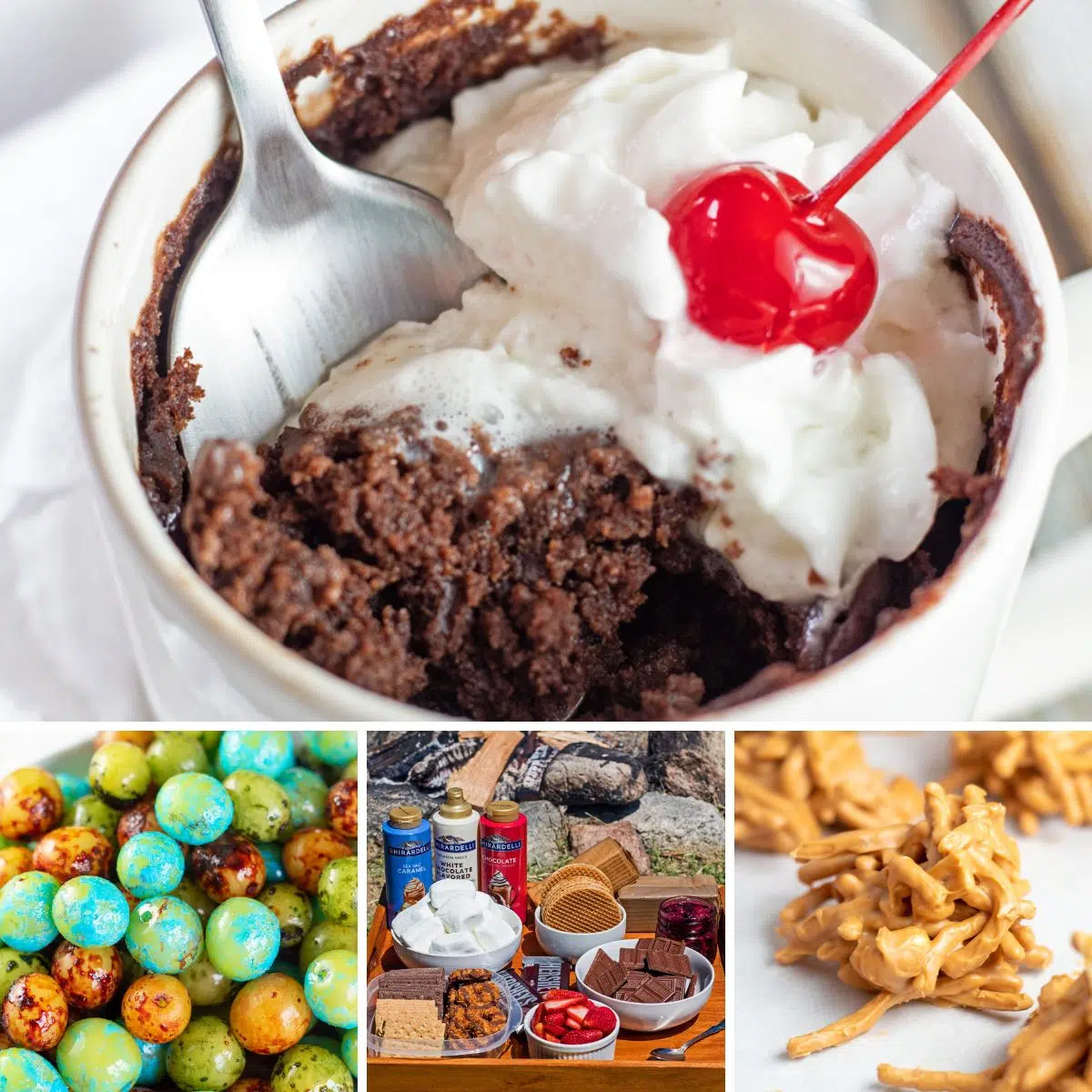 Jump to:
1. Weight Watchers 7Up Cake
This guilt-free cake uses 7Up to add some extra lemon flavor and make the cake super moist and fluffy!
2. Chocolate Frosting Fudge
My rich and decadent chocolate frosting fudge uses only a tub of frosting and chocolate chips- it can't get any easier!
3. S'mores Board
Customize your next campfire dessert with this indulgent and kid-friendly s'mores charcuterie board!
4. Crack Grapes
These crazy fun, colorful grapes are rolled in crushed Jolly Ranchers for a sweet and tasty treat!
5. Nutella Mug Cake
Grab a mug and get ready to enjoy this super easy and decadent Nutella mug cake that only uses 4 ingredients!
6. Mandarin Orange Jello Salad
This cool and creamy Jello salad will give you all of the sweet Dreamsicle vibes with some mini marshmallows and whipped cream!
7. Coffee Cake Mug Cake
Enjoy a sweet cinnamon coffee cake with a crumbly streusel topping that is made in the convenience of your microwave!
8. Chocolate Mug Cake
It's time to satisfy that chocolate craving with this rich, moist, and decadent chocolate mug cake! It is one of my favorite easy dessert recipes because you don't have to share!
9. Banana Mug Cake
If you have some extra bananas you need to use up, you need to try out this delicious banana cake with a sweet brown sugar glaze!
10. Cherry Blueberry Dump Cake
This effortless dessert will give you all of your favorite fruity, cobbler flavors with only 5 minutes of prep work!
11. 3 Ingredient Peanut Butter Cookies
There's no need to make a grocery run with this recipe! These 3 ingredient peanut butter cookies are mouthwatering, sweet, and ready in 15 minutes!
12. No Bake Haystack Cookies
For all the butterscotch lovers- these sweet and salty cookies have only 4 ingredients and the perfect bit of crunch!
13. Chocolate Covered Strawberries
Perfect for any celebration, these romantic chocolate-covered strawberries will have your guests feeling special!
14. Chocolate Chip Mug Cake
This single-serving cake is a perfect way to satisfy your need for something sweet without having to clean up a bunch of dishes!
15. Chocolate Protein Powder Mug Cake
The protein powder in this cake will give you the nice chocolatey flavor you need with none of the guilt!
16. Crockpot Christmas Crack
These chocolate and peanut butter clusters give just the right amount of crunch and only take 5 minutes of prep time!
17. Peach Dump Cake
When you're craving some delicious peach cobbler this dump cake will give you exactly what you need with none of the hassles!
18. Cherry Chocolate Dump Cake
Put a scoop of ice cream on top of this rich chocolate and cherry cake for the ultimate dessert!
19. Oreo Mug Cake
This Oreo cake is irresistibly chocolatey and fluffy and it only uses 2 ingredients!
20. Pineapple Dump Cake
You'll love the tropical, fruity flavors in this sweet and easy dump cake!
21. Peanut Butter Mug Cake
Add some chocolate chips into this delicious peanut butter cake for an extra sweet treat!
22. Vanilla Mug Cake
If you're wanting a classic dessert but are short on time- this vanilla mug cake is fluffy, sweet, and ready in 2 minutes!
23. Campfire S'mores
Make sure to bring some Graham crackers, marshmallows, and chocolate the next time you go camping. You don't want to miss out on this tasty treat!
24. Microwave Peanut Butter Fudge
This sweet and creamy peanut butter fudge is perfect for your next family get-together!
25. Fork Biscuits
These simple, yet tasty, cookies are a perfect addition to your morning cup of coffee!
26. Air Fryer Cinnamon Rolls
Golden, sticky cinnamon rolls are baked to fluffy perfection using only your air fryer!
27. Crockpot Applesauce
Whether it's a snack, dessert, or lunch, this easy recipe will make you never want to get store-bought applesauce ever again!
28. Fudge Covered Oreos
Classic Oreos are dipped into rich and creamy fudge creating a chocolate lover's dream!
29. Fruity Pebbles Treats
These chewy and crispy Fruity Pebbles treats are a fun and delicious twist on the traditional Rice Krispies treats!
30. Tanghulu
Choose any of your favorite fruit to be coated in a sweet and glossy glaze for this Chinese-inspired dish!
31. Lucky Charms Marshmallow Treats
These extremely addicting Lucky Charms bars have marshmallows in the cereal while still being coated in melted marshmallows! Yum!
32. Vanilla Tray Bake
This classic vanilla cake is fit for a crowd and topped with a creamy and smooth homemade buttercream frosting. It's one of the best easy dessert recipes for feeding a crowd!
33. No Bake Butterscotch Cookies
These chewy cookies require no oven and are loaded with that classic butterscotch flavor!
34. 2 Ingredient Lemon Bars
These lemon bars are so light and flavorful that no one will believe you made them with only 2 ingredients!
35. Apple Dump Cake
When you're short on time, this dump cake will bring you the classic flavors from an apple pie but with none of the efforts!
36. Chocolate Peanut Butter No Bake Cookies
These chewy, fudgy no-bake cookies have just the right amount of sweet peanut butter!
37. Pineapple Sunshine Cake
A cake that is this tropical, fruity, and fluffy is bound to become your new favorite summertime dessert!
38. No Bake Maraschino Cherry Chocolate Crisps
These no-bake crisps are overflowing with chocolate, peanut butter, cherry, and coconut delight!
39. Peanut Butter Oatmeal No Bake Cookies
Try these chewy and sweet cookies that are overflowing with delicious peanut butter goodness!
40. Chocolate Oatmeal No Bake Cookies (Without Peanut Butter)
The chewy texture of the oatmeal is combined with heavenly fudgy goodness to make the ultimate sweet treat!
41. No Chill Rolled Sugar Cookies
With this easy recipe, you can still have all of the fun of making and decorating sugar cookies without having to wait for them to chill!
42. Banana Pudding Poke Cake
Fresh bananas, cool whip, banana pudding, and Nilla wafer come together to make this flavorful, fan-favorite cake!
43. Chocolate Chip Stuffed Raspberries
These fruity and simple snacks are the best for when you want something that is just a little sweet!
44. Jello Grapes
Your kids will have a blast helping you make these fruity and fun rainbow grapes coated in tasty Jell-O!
These easy dessert recipes use only a few ingredients, are quick to prepare, and are still sweet and satisfying! Leave a comment down below and let me know what your favorite dessert is!
📖 Recipe Card