Eye-catching is an understatement when you're talking about these fun Jello Grapes (Colorful Candy Grapes) that taste so delightfully tangy whether you use fresh or frozen grapes! The rainbow frosted grapes are so easy to make, and a great project to do in the kitchen for kids of all ages!
Jello Grapes Recipe (Colorful Candy Grapes)
This was originally inspired by a Pinterest image, and we've seen many more since. On Pinterest, this style of gelatin-coated candied grapes can be found as Frosted Grapes, Sour Patch Grapes, Glitter Grapes, and the Jello, Candy, or Candied Grapes that my family and I refer to them as here.
They're so colorful and appetizing that we just had to try them out. We made these colorfully fun grapes for Lauren's class at school, and what a hit they were!!
Lauren and I counted 97 candy grapes from the bag of green grapes that we used when we made these, so there was plenty for her class of 25 students to each have a few and extras for teachers and staff to try as well.
We have also had great fun and success with the colorful Crack Grapes too! Made with crushed candy that is rolled into a candy syrup coating over the grapes, be sure to try them too!!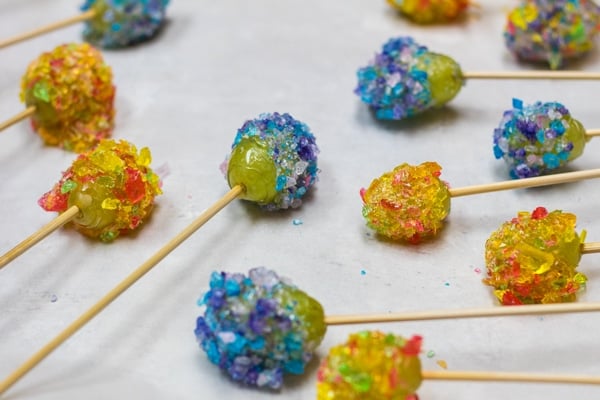 How To Make Jell-O Candied Grapes
To make these, we lined a large baking sheet with parchment paper and set up our small bowls. One for water, and 6 more for our Jello powder flavors that we put ⅓ of each package of gelatin into. We used some of the specialty flavors that Jello currently offers, Kool-aid flavors grape, orange, and cherry, and Jolly Rancher flavors blue raspberry, watermelon, and green apple.
When Lauren and I make our candy grapes, we used green grapes. Any seedless grape will work.
Also, this version of candied grapes is made with just three ingredients - grapes, Jell-O, and water. They are made without corn syrup (plus sugar and water) that is cooked to make the candy coating of other candied grapes.
Start by inserting toothpicks into the stem end of the grape, then dip into your bowl of water. Alternate which Jello flavors you coat the grapes in, rolling the grapes through the dry gelatin to thoroughly coat each individual grape.
To make the coating step easier, slant your bowls with the Jell-O powder so that they are tilted and easier to get even coverage on the grapes.
Set the coated grapes onto the parchment paper and allow them to dry for about an hour before carefully removing the toothpicks to serve. When allowing them to dry, I have refrigerated and chilled during the drying time and I have also simply left them on the counter to dry.
Both work well, but maybe not so great to leave them out to dry during the summertime? 🙂
These delicious candy grapes DO freeze extremely well. Just take the baking sheet that you are drying the grapes on and place it in the freezer. Once the grapes are frozen, you can transfer them to a plastic storage container or freezer bag.
There are multiple methods or instructions for this simple no-bake snack, the easiest methods for coating the grapes with Jell-O gelatin powder include:
#1 - as I have made these, using toothpicks. It takes a few minutes longer, but I think it's easier and less messy.
#2 - using your fingers, and rolling the grapes in the gelatin powder. Much quicker, but your fingers would be super sticky!
#3 - using a plastic (ziploc) storage bag to shake the grapes in each color. Another quick method, but the grapes aren't coated that evenly.
When Lauren and I are coating the grapes, we can easily see and adjust coverage. I can only imagine the gelatin powder that would come away with my sticky fingers if we made these by hand!!
This recent batch was made for another class treat. We're taking in a couple of varieties of candied grapes on Monday, and Lauren absolutely loved making these again!
This time around, there was a Starburst candy-flavored gelatin 'Duo' pack available with four flavors (including Blue Raspberry, yay!!). I used half a pack of each color to make about 50 grapes. Other than that, all things were done as directed below and they're still fun to make and tangy tasty!!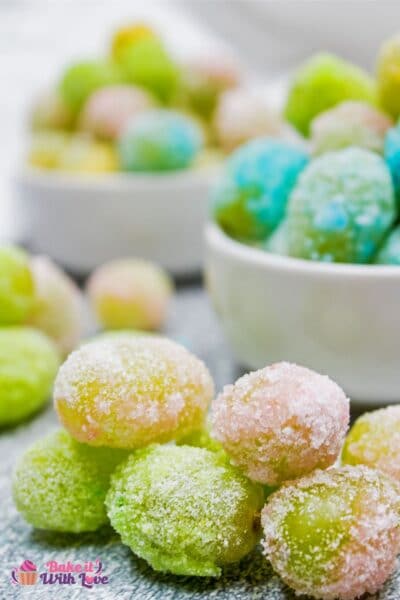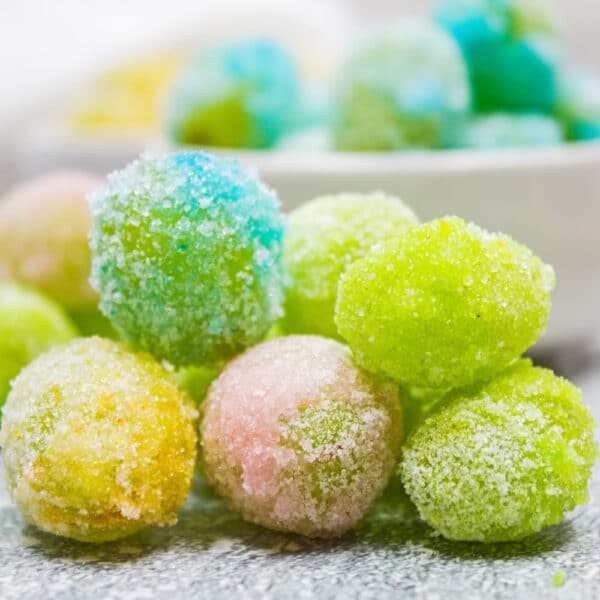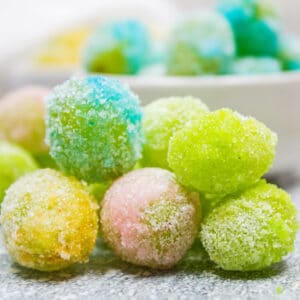 Print Recipe
Leave A Comment
Love This Recipe?
Click On A Star To Rate It!
Jello Grapes (Colorful Candy Grapes)
Eye-catching is an understatement when you're talking about these fun Jello Grapes (Colorful Candy Grapes) that taste so delightfully tangy whether you use fresh or frozen grapes! The rainbow frosted grapes are so easy to make, and a great project to do in the kitchen for kids of all ages!
Total Time
1
hour
15
minutes
Pin Recipe
Share on Facebook
Ingredients
1 bag

grapes

(seedless, typically 2-3 lbs per bag)

4-6

Jello gelatin flavors

(we used 6 flavors, only ⅓ each pack of Jello - or we used 4 flavors, a ½ of each pack)

½ c

water

(for dipping)

100

toothpicks
Instructions
Wash grapes and set up a working area either some free counter space, a large baking sheet or cooling rack that is lined with parchment paper (or aluminum foil or wax paper). Set up several small bowls (4-6 depending on how many flavors you have picked out) with ⅓ of each of the Jello flavors and another small bowl with the water.

Insert toothpicks into the stem hole at the end of each grape, dip them into the water and then alternate which Jello flavor you dip each grape in. Place coated grapes on the parchment paper to dry, leaving the toothpicks in place.

Once chilled and the gelatin is set, the toothpicks are easily removed. Place in a bowl and serve.
Nutrition
Serving:
10
grapes
|
Calories:
63
kcal
(3%)
|
Carbohydrates:
17
g
(6%)
|
Protein:
1
g
(2%)
|
Fat:
1
g
(2%)
|
Saturated Fat:
1
g
(6%)
|
Sodium:
3
mg
|
Potassium:
173
mg
(5%)
|
Fiber:
1
g
(4%)
|
Sugar:
14
g
(16%)
|
Vitamin A:
60
IU
(1%)
|
Vitamin C:
3
mg
(4%)
|
Calcium:
9
mg
(1%)
|
Iron:
1
mg
(6%)
Colorful Candy Grapes, Jell-o DIY, rainbow candied grapes
Save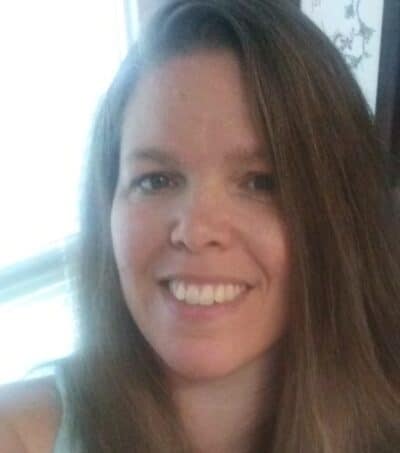 Angela is an at home chef that developed a passion for all things cooking and baking at a young age in her Grandma's kitchen. After many years in the food service industry, she now enjoys sharing all of her family favorite recipes and creating tasty dinner and amazing dessert recipes here at Bake It With Love!